Take an exhilarating aerial tour of Aegina island in this 3-minute video from the AeginaGreece.com travel & information website
Want to see a Greek Island while visiting Athens, but don't have time for an overnight trip? Consider hopping over to Aegina for a day.
Situated in the Saronic archipelago, Aegina is one of several islands that can easily be visited on a daytrip from the city. It's just 20 kilometers from the Athens port of Piraeus, and can be reached in a mere 40 minutes on a Flying Dolphin ferry. (If you're not keen on riding a hydrofoil, you can get to Aegina in around 75 minutes or so on a conventional ferry ship.)
But since there's so much to see and do on Aegina, it's a great spot to spend several days or longer, if you've got the time.
Explore the island in tours, on foot or by bicycle
The island is famous for its pistachio nut production, but it also boasts beautiful beaches, charming villages, and numerous historic sites and museums.  Organized sailing and on-land tours are available, but many of the island's attractions can be visited on foot or by bicycle.
You'll see many of those places in the video posted above, which was produced by the AeginaGreece.com travel website in the summer of 2014.
Directed, filmed and edited by Alexander Berg, the video shows the harbour at Vagia, the top of Mount Oros, the famous Aphaia temple, a small church in Vathi, the ancient site of Kolona, the areas around Portes, Agia Marina, Souvala and Agii, as well as "the waters south from Agia Marina, the view from top of Moni island towards Marathonas and Vrochia, Perdika, the cathedral and monastery of Agios Nektarios, the hill side of Palaiachora, the area around Mesagros, fields around Vagia, view from top of Moni island towards Perdika and area around and view towards the port of Aegina town."
Consult AeginaGreece.com for comprehensive information on how to get to Aegina, where to stay, and what to see and do there.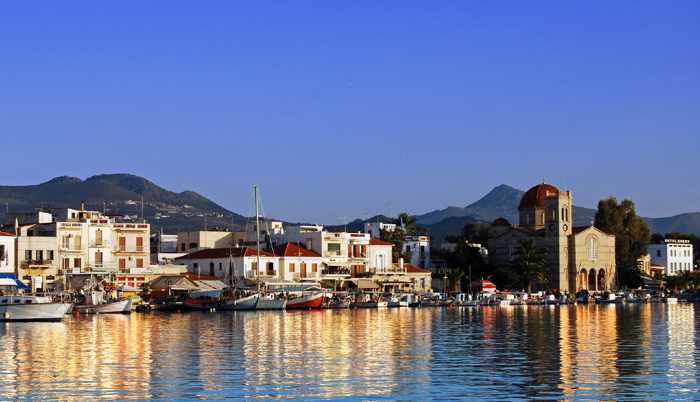 Aegina Town, the port and commercial center of Aegina island. The photo is from the website for Gritzas Cruises, one of numerous companies offering daytrips from Athens to Aegina and other Saronic islands.