A new tourism video aims to show travellers that whether they prefer to spend their holidays taking a leisurely look at local history, culture,  food and wine, or keeping a faster pace with outdoor sports activities, beach fun and lively nightlife — or maybe a mix of both — there's an extensive range of exciting activities and fascinating attractions awaiting them in Heraklion
A newly-released tourism video is inviting visitors to "discover the other part of yourself" in Heraklion (often spelled Irakleio), the biggest city on Crete, in 2020.
Notes posted on the video's YouTube page say the nearly 3-minute-long film "presents a vivid city with unique images in every corner, in every step. With flavors, sounds and aromas you'll never forget!"
"Stroll around Heraklion, in its market and beaches, visit its archaeological sites, its monuments and its museums. Enjoy the authentic Cretan lifestyle and gastronomy. Feel how living like a true local here in Heraklion, really is! Discover all 5+1 civilizations that make Heraklion truly unique, so full of experiences that you will wholeheartedly enjoy all year round," say the release notes.
Produced by the Heraklion Municipality Tourism Department, the film was published on January 7.
"We are waiting for you, here in the heart of the most important island in the Mediterranean, 'where Crete begins'!" the video release notes say, quoting the city's official tourism slogan.
Should you be interested in finding yourself in Heraklion this year, I've collected website links to a fistful of recent Greek magazines that spotlight things to see and do in Heraklion and its surrounding area. The articles are packed with superb photos and useful information about major monuments and attractions, events, and alluring places to enjoy  either traditional or contemporary Cretan food and drink.
♦ The Greece Is | Crete 2019 special issue includes an insightful article about Knossos Palace (at page 72), a map highlighting top attractions to check out in the region beyond Heraklion city limits (pages 144-5), and recommendations for things to see and do during a 2-day city break in Heraklion (page 146).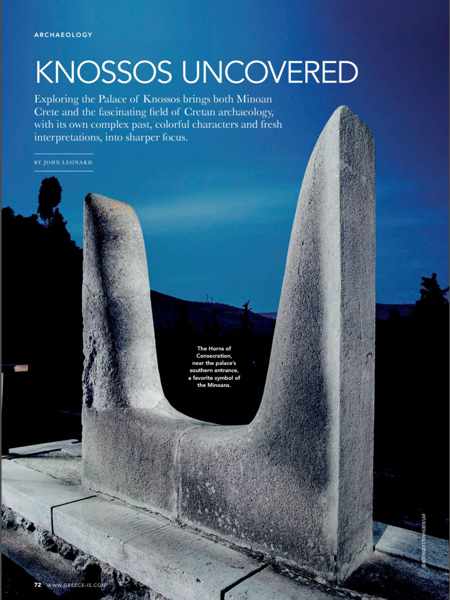 In Knossos Uncovered, writer John Leonard recounts a visit to the Palace of Knossos, which he notes is "Greece's most popular, best-known archaeological destination after the Athens Acropolis."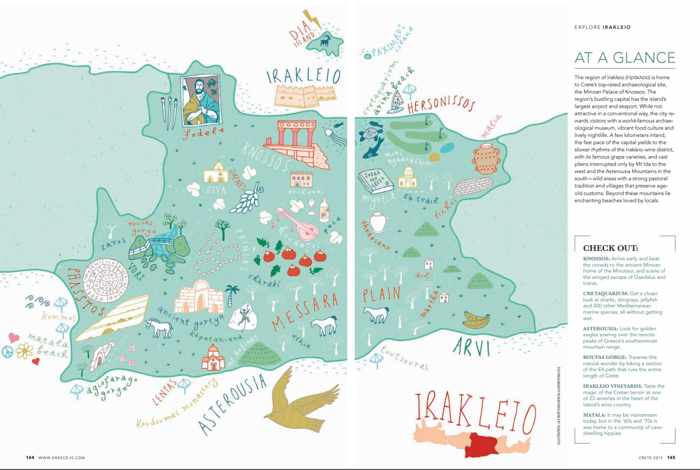 A highlights map indicates "at a glance" places to explore in the municipal region beyond the city of Heraklion/Irakleio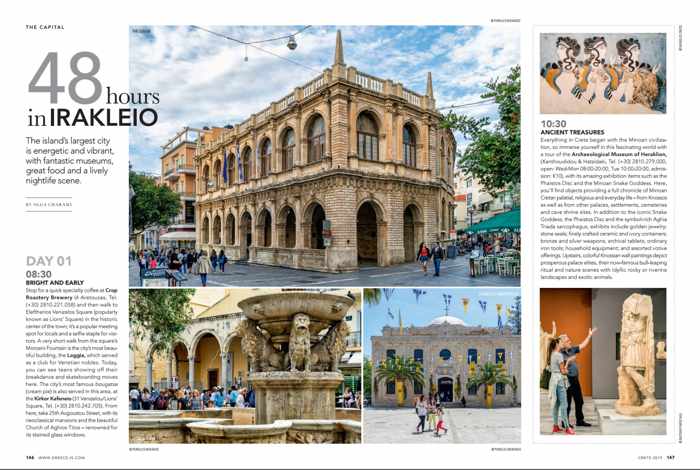 Heraklion is an ideal city break destination, and the Greece Is feature 48 hours in Irakleio is an excellent guide to help plan a short visit.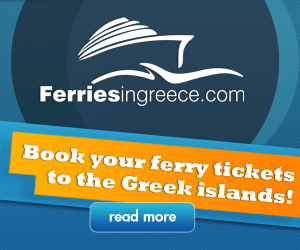 ♦  The just-published White Issue of Fly, the on-board magazine of Sky Express airline, includes a 7-page spread spotlighting key attractions, events and places near Heraklion, including the Natural History Museum, CretAquarium, Knossos Palace, the Messara Plain and Archanes village. The quick-read article is iIlustrated with beautiful photos by Perikles Merakos.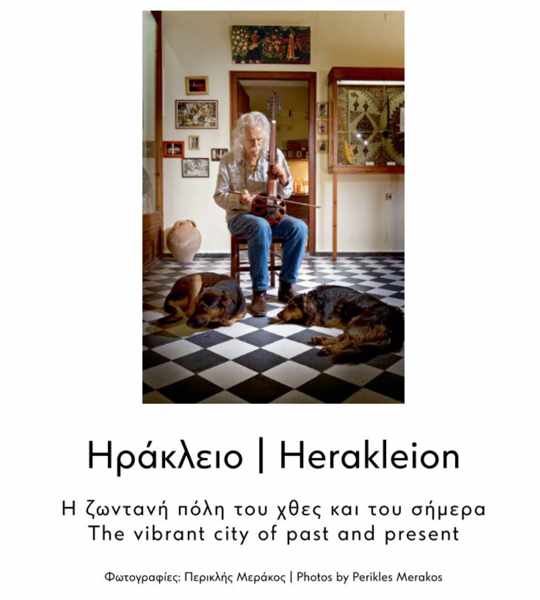 This photo feature from Sky Express airline's Fly magazine highlights several noteworthy attractions in and near Heraklion
♦ Issue 77 of Blue Magazine, the on-board publication of Aegean Airlines, includes a 13-page "guide to the good life in one of Greece's most vibrant cities." It spotlights two of Heraklion's micro-breweries, various coffee shops where visitors can experience traditional Cretan cafe culture, restaurants offering either authentic island food or contemporary "creative" Cretan cuisine, as well as cocktail bars and lounges. The guide also describes the new Heraklion Cultural and Conference Center and an emerging "hot spot" district of the city that's rapidly gaining popularity for its food and beverage offerings.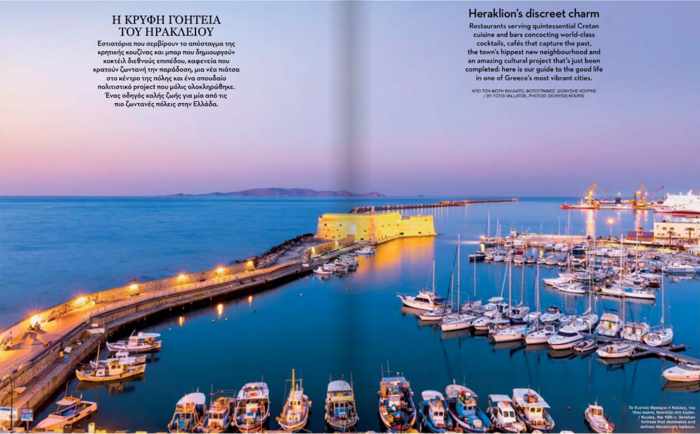 A Blue magazine guide lists places to visit for coffee, cocktails, locally-brewed beer, traditional Cretan food and modern creative cuisine
♦ Heraklion gets feature coverage in two articles in the Summer 2019/Spring 2020 issue of Minoan Wave, the on-board magazine for the Minoan Lines ferry company.  In one, writer Olga Charami joins local resident Spiros Staridas, who has published a cultural map of Heraklion, for a fascinating tour of historically significant city sights most visitors would overlook (including segments of ancient city walls preserved inside two fashion clothing shops). The other is a short 3-page piece suggesting specific places visitors should consider dropping by for pastries, coffee, raki or cocktails, and either traditional Cretan cooking or contemporary Mediterranean cuisine.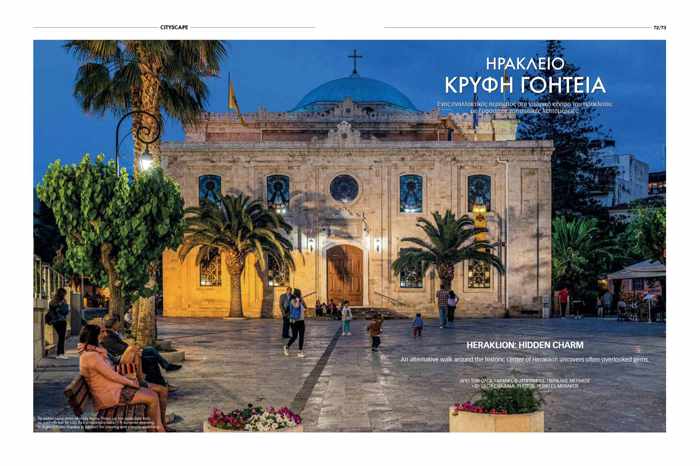 The article Heraklion: Hidden Charm takes readers on "an alternative walk" through the city's historic center to discover "often-overlooked gems."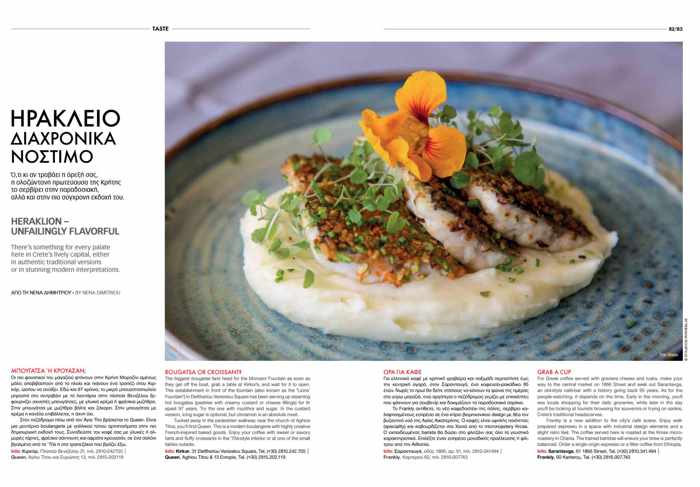 The short but sweet article Heraklion: Unfailingly Flavorful tells visitors where to taste delicious pastries and desserts; raki, cocktails and other beverages; and their choice of either traditional or modern Cretan cuisine.