~ continued from page 1 ~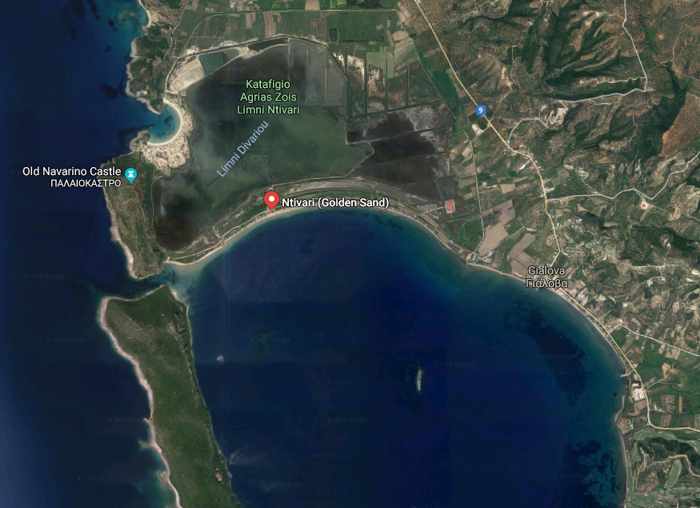 A Google satellite view of the long curving arc of Divari beach on the northwest side of Navarino Bay in Messenia. Though not as spectacular and famous as the almost perfectly semicircular Voidokilia beach nearby (pictured at upper left),  Divari is a delightfully long strip of golden sand.
We drove directly to the end of the beach road where we found a spot to park the car just a few dozen steps from the water. Although we had seen numerous people sunbathing and walking along the first kilometer of the beach, this part of Divari was almost empty, with only five other people in sight.
When facing the bay from this section of the beach, visitors look straight across the sparkling turquoise water to Sfakteria, an uninhabited, hilly Island covered in trees and greenery.  This particular part of the bay is known as the Sykia Pass, and is so shallow that it's possible to wade and swim from Divari to an island sand spit called Glossa beach. Looking to the left, the town of Pylos is visible in the distance across Navarino Bay, while off to the right is the steep, rocky headland crowned by the remains of the Navarino Castle. At this end of Divari, the beach varied in width from about six meters to 12 meters, and was fairly pristine, with driftwood, patches of dried grasses and other natural debris scattered on the sand. The shallow bay was clear and clean, and a light breeze lapped water onto the shore.  Calm and peaceful, it was an idyllic setting.
Three of us headed off on our hike up to the castle, while the fourth member of our group found a good spot on the sand to enjoy some reading and sunbathing during our absence.
Although I'm glad I made the trek to the castle, I wish we'd had time to spend a couple of hours on the beach afterward — but Voidokilia was the must-see attraction of the day, and that's where we went next. I would love to come back sometime for a "Divari day," so I can walk the full length of the beach, swim and see the shipwreck near the shore. And perhaps even cross the Sykia pass to check out Glossa beach on Sfakteria Island. 
If you're planning a trip to Messenia or elsewhere in the western Peloponnese, and hope to spend some time at a scenic seaside area, check these links for photos, videos and information about Divari and other gorgeous beaches nearby:
♦ The Divari page on the Feel Greece travel guide;
♦ The Pylos beaches page on the Pylos Travel in History website; and    
♦ The Fantastic Beaches page on the website for Gialova Gardens, a complex of rental bungalows and villas near the village of Gialova.
Below are more of our photos, followed by a Foti's Videos film of landscapes at Divari and the surrounding area.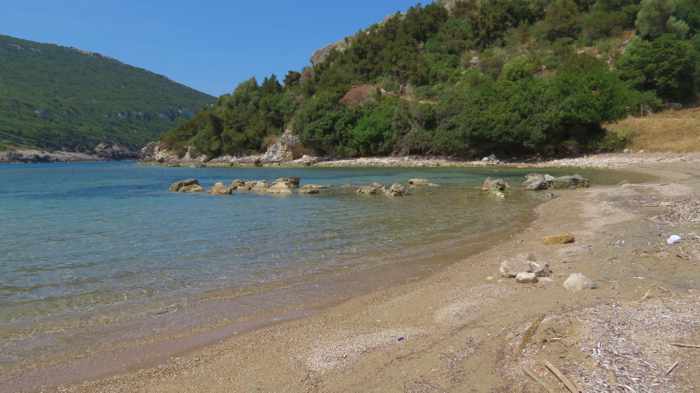 Divari beach ends at this spot below the big hill on which the old Castle of Navarino was built
Divari beach view toward a soaring cliff on Sfakteria Island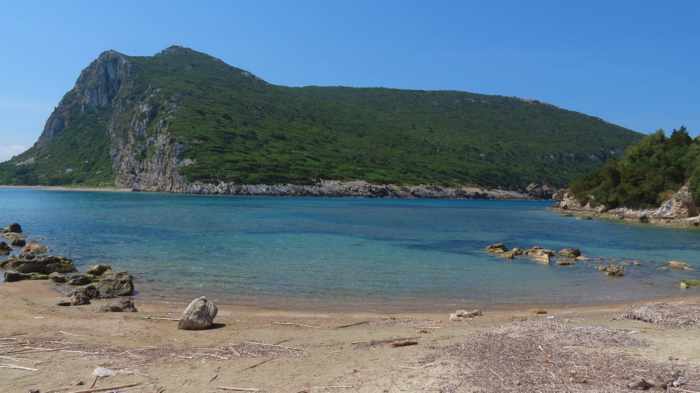 Another view of the narrow bay between Divari and Sfakteria island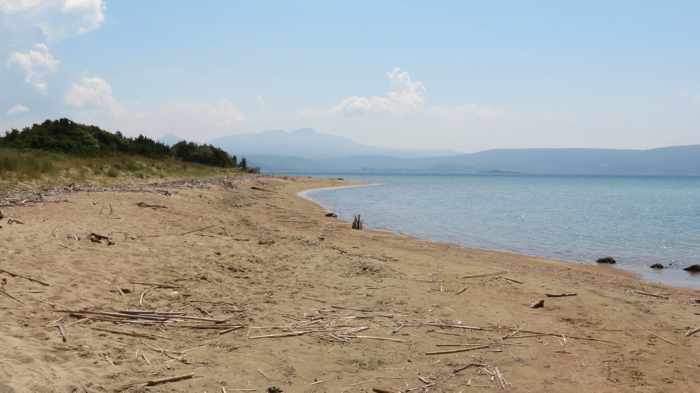 View along the beach and across part of Navarino Bay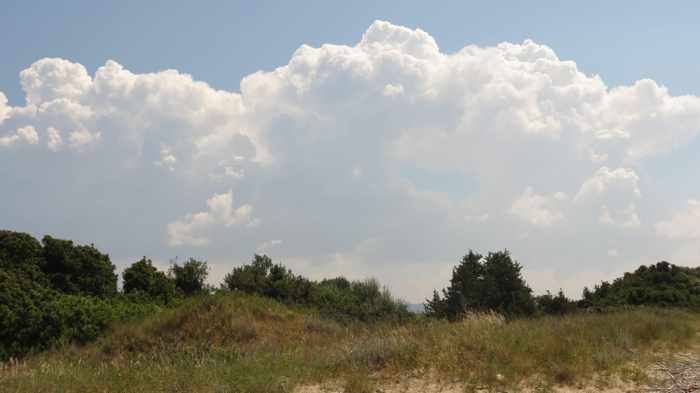 Big fluffy clouds above the dunes and trees behind Divari beach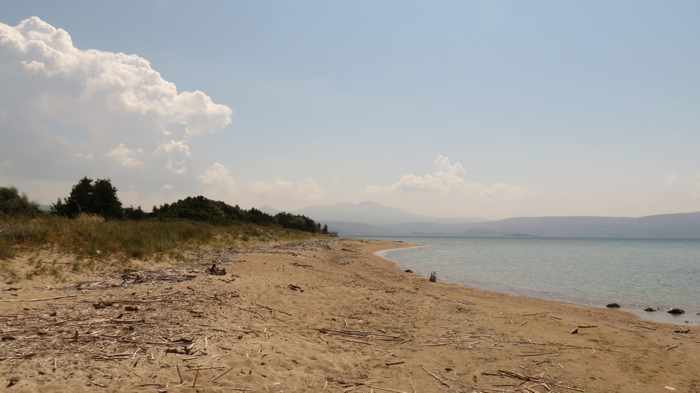 The clouds never blocked the sun while we were at the beach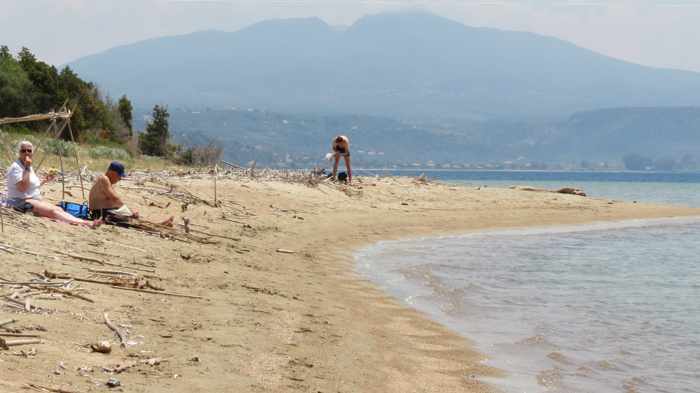 Three of the five people we saw on this part of the beach while we were there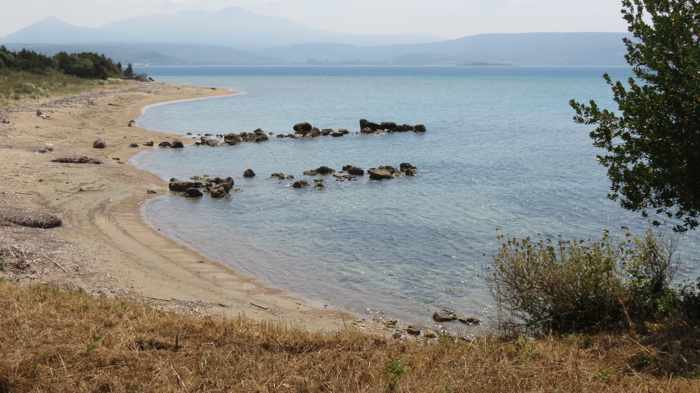 View from the hill at the northwest end of the beach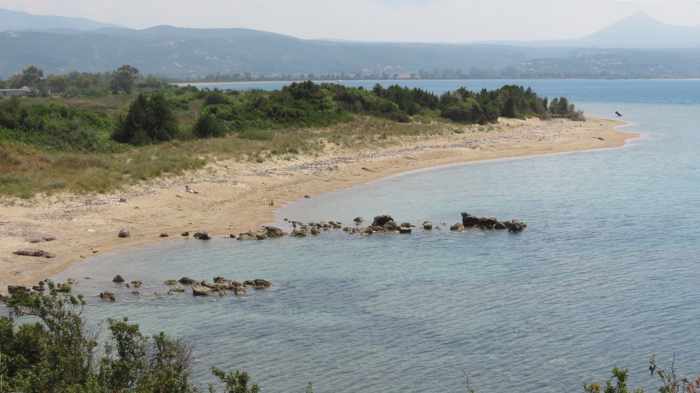 View from the footpath to the old castle of Navarino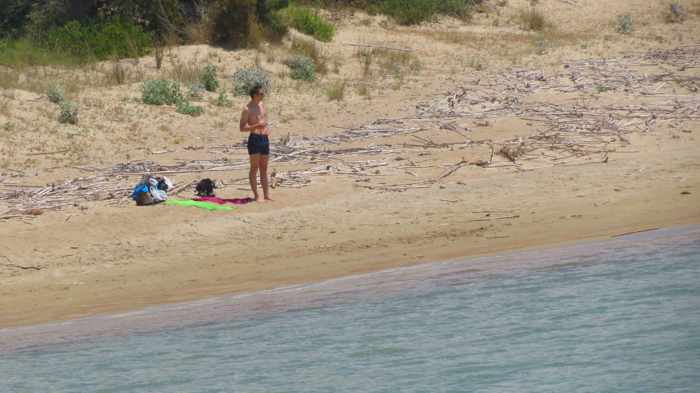 A visitor takes in the scenic views from Divari beach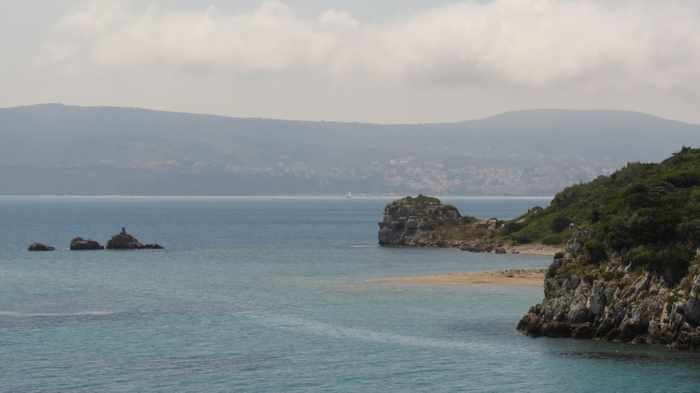 The narrow section of bay known as the Sykia Pass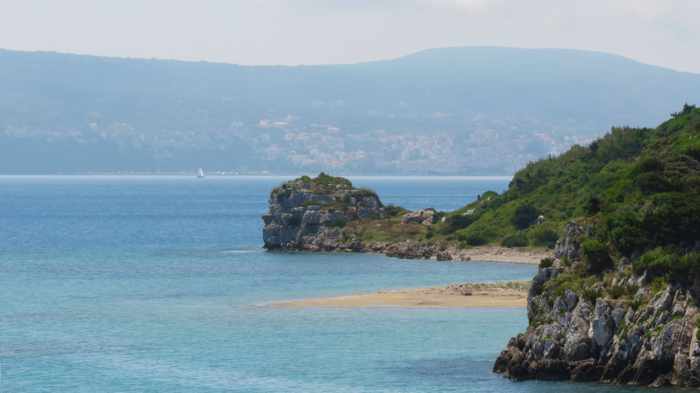 Glossa beach is the local name for the slender spit of sand that juts into the bay from Sfakteria island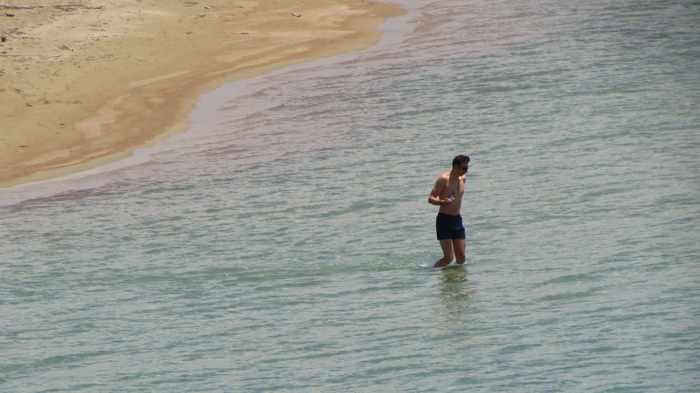 At this part of the beach, known as the Sykia Pass, the water is so shallow that people can wade far into the bay and then swim the remaining short distance to Glossa beach on Sfakteria island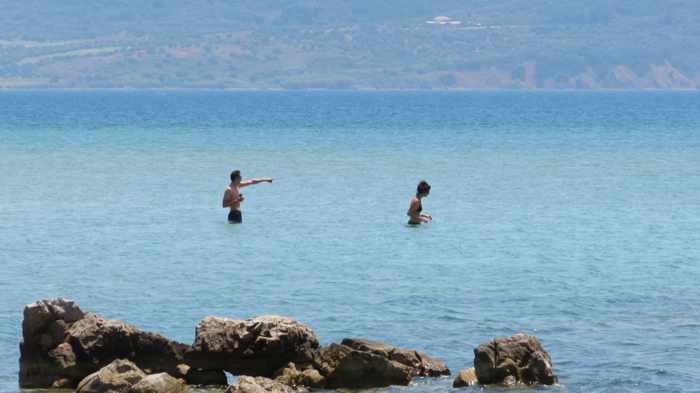 This couple reaches waist-deep water as they approach the halfway mark to Sfakteria island …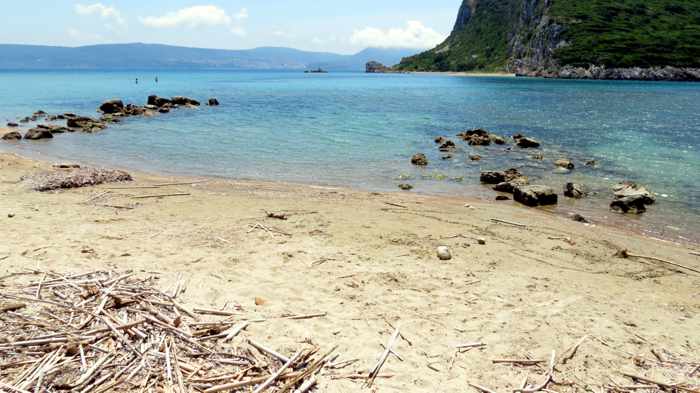 … and you can see them near the upper left corner of this picture as they made their way toward Sfakteria island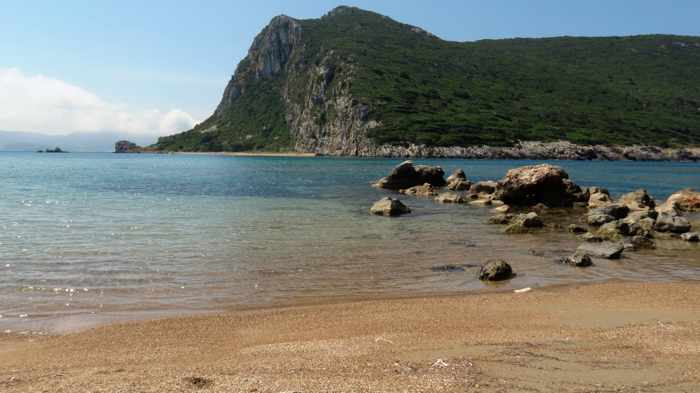 A parting view of the northern end of the beach
This 4-minute film by Foti's Videos will show you landscapes and coastal scenery at Divari, Voidokilia, Glossa beach, and other spots near Navarino Bay