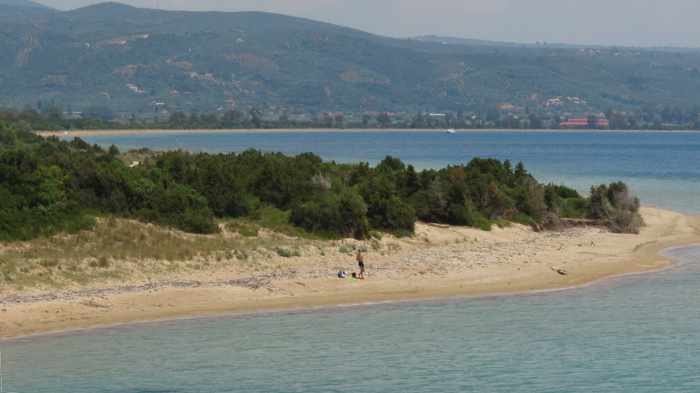 A bend near the northwest tip of Divari, also known as Golden Sands Beach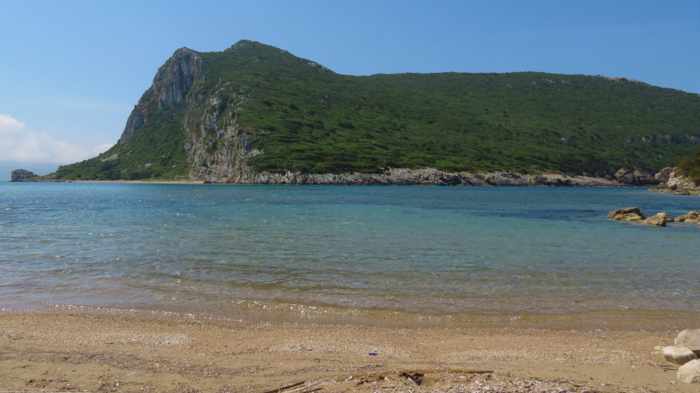 The shallow bay between Divari beach and Sfakteria Island
Delightful Divari: Sunshine, warm temperatures, two beautiful sandy beaches, a crumbling ancient castle and superb Greek food.  Combine those ingredients and you'll cook up a perfect vacation day in Greece — as we discovered during our 2017 spring holiday in the western Peloponnese.
I recently wrote about our bucket-list visit to Voidokilia, one of the beaches we got to see on the third day of a  road trip through Messenia. The other beach we enjoyed was Divari (Ntivari in Greek), an enticing ribbon of golden sand that curves along the northwestern coast of Navarino Bay near the town of Pylos.   (I will tell you about the castle and food another time.)
Divari was the first stop on our agenda, since it would bring us close to a footpath leading to the ruins of the old Castle of Navarino,  a.k.a. Paleokastro, an historic site we were keen to explore. To get there from our hotel base in Marathopoli, we drove down the two-lane Kyparissia-Pylos highway (Route 9) to the village of Gialova, where signs directed us to the Divari access road. 
The beach extends a considerable distance — approximately 1.5 kilometers, in fact — and sections are visible from the dirt road that runs its full length. Evergreen trees, bushes, and dunes block some views of the beach, but open areas between the trees reveal plenty of tempting places to spread a towel or a mat. If you want to sit on a chair or under the shade of an umbrella, though, you have to bring along your own gear — unlike many popular beaches in Greece, Divari is not organized with rows of rental lounge chairs and umbrellas, and isn't lined with beach bars and tavernas.
Please click on the link under the video below to continue reading and see more photos of Divari beach.
This aerial video by Manolis Gialyrakis features great views of Divari beach and a shipwreck close to the shore
CONTINUED ON PAGE 2