The NEL Lines Aqua Spirit ferry departs Andros en route to Tinos and Syros on the evening of May 29 2015.
That's the Spirit: While we were watching a beautiful sunset from our terrace at the Aneroussa Beach Hotel on Andros on May 29, a passing ferry caught my attention. It was the Aqua Spirit, one of several ships operated by NEL Lines, and I was surprised to see it in service. During the past year, many if not most of its scheduled sailings have been either disrupted or cancelled entirely because of mechanical problems as well as labour disputes by 500 seamen who claimed they had not been paid wages for months. In fact, just before we travelled to Greece in late May, online travel forums were peppered with posts by frustrated holidaymakers who wondered if they could rely on NEL Lines service for their summer island hopping itineraries.
NEL Lines has a 43-year history of shipping in Greece, but has experienced financial difficulties in recent years, reportedly teetering on the verge of bankruptcy at least once. Its frequent service disruptions have caused headaches for Greek citizens and tourists  seeking to travel between islands in the Cyclades. (The Aqua Spirit and its sister ship, the Aqua Jewel, operate on routes connecting nearly two dozen different isles in the Cyclades.)
New investors now running NEL Lines
Because of the continuing problems with NEL, Greece's Coastal Transportation Council (SAS) met last Thursday (June 18) to determine if it would declare NEL in forfeit of its privilege to operate, and to decide if it would bar the company from running ferries in the Cyclades. As the Greek Travel Pages reported that same day, the Council did vote in favour of declaring NEL Lines in forfeit. However, it postponed its decision about banning the company from continuing to operate in the Cyclades after being advised that a new group of investors had taken over NEL and hoped to relaunch the firm once it had settled outstanding obligations to employees and government agencies.
The matter will ultimately be decided by Greece's Alternate Shipping Minister, Theodoros Dritsas.
Greek Travel Pages said Hellenic Seaways has expressed interest in operating to the Cyclades from the Lavrio port in Attica in the event NEL is barred from providing the service.
Fingers crossed that the issue is resolved quickly …we have relied on NEL Lines for some of our Cyclades island hopping, and would have used them on our recent holiday had we been able to count on the Aqua Spirit sailing as scheduled.
 [Editor's Update June 24 2015: Greek media have today reported that the Alternate Shipping Minister declared NEL Lines forfeit, thereby barring the company from operating ferries in the Cyclades.  Next step is for the Greek Shipowners Association for Passenger Ships (SEEN) to hold a process in which qualifying shipping companies can bid to win a 3-month operating permit for service to the Cyclades. For its part, NEL will be seeking new business opportunities to replace the lost ferry contract. Greek Travel Pages reported that NEL issued a statement saying: "The company is exploring ways to replace these revenues by leasing its ships for charter travel in Greece, or preferably abroad, granted that it has been proven that coastal shipping in this continuing and intensifying financial crisis is no longer a profitable business."
[Update June 26 2015:  Greek Travel Pages has reported: "For the next three months the Greek coastal ferry operator Hellenic Seaways will run the route connecting the Western Cyclades with Syros and other islands of the Cyclades complex, according to a decision by the Greek Shipping Ministry." In three months' time, the government will open tenders for continuing service on the routes.]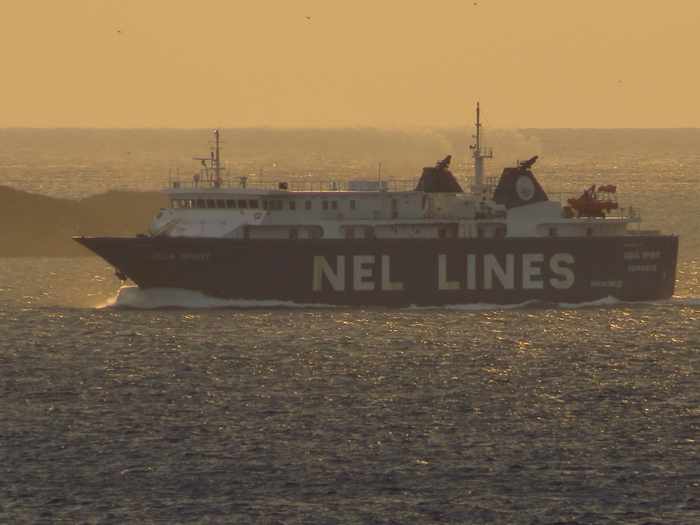 The Aqua Spirit departs Andros on its way to Tinos and Syros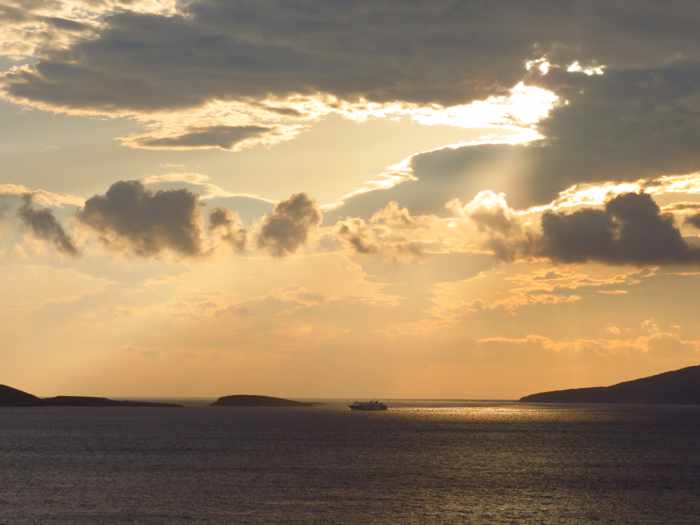 Aqua Spirit steams across the horizon while we watch the sunset from our hotel near Batsi on Andros