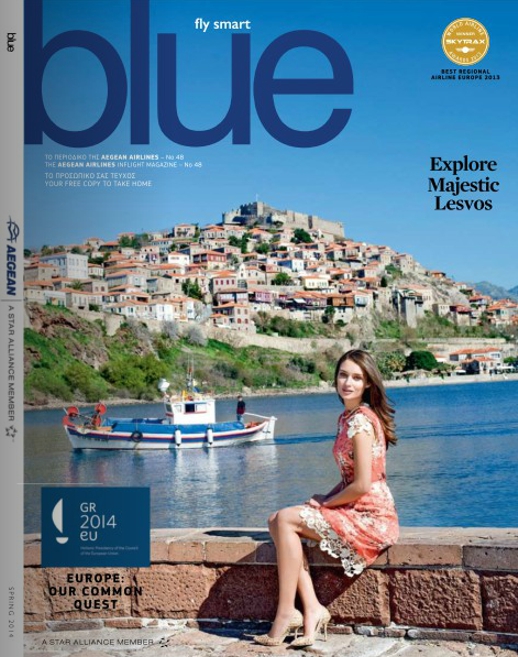 The spring edition of Aegean Airlines' Blue magazine features a cover photo of the town of Molyvos and its Byzantine-era hilltop castle on Lesvos island
On our list: Friends who haven't yet been to Greece keep wondering why I find it so difficult to decide where we should go on our Greek holidays. They think that if you've seen one Greek island, you've seen 'em all, so they simply can't comprehend why I spend so much time checking flights and ferry schedules to see if we could visit places in an island group we haven't been to before, or perhaps explore the Peloponnese, Pelion or other parts of mainland Greece instead.
"Why not just stick to Mykonos or Santorini? The islands can't be that different from one another," one friend has remarked several times. It's a reaction I find hard to fathom, particularly since she — and most of our other friends, family and acquaintances who have made similar comments — return to the exact same vacation resorts in Florida, California, Hawaii and Mexico year after year.
Friends have urged us to visit Lesvos
Although we do have favourite islands we're always happy to revisit, we try to expand our horizons by going to new places whenever we can work them into our travel dates. We have a list of nearly a dozen islands that we're eager to see in the next three to five years, but some aren't easy to reach in May (our typical travel period) because of extremely limited or awkward ferry connections at that time of year.
However, one place we're confident we will see sooner, rather than later, is Lesvos — an island we've been urged to visit by numerous friends who are well-travelled in Greece, and who understand how each destination there is special and unique.
Although we won't get to see Lesvos when we return to Greece next month, I continue to read up on it from time to time — and so far I have been liking everything I have seen (I haven't read a single negative comment yet). And when Aegean Airlines published a profile of Lesvos in the recently-released spring edition of its in-flight magazine, Blue, I honestly felt a strong tinge of regret for leaving Lesvos for a future vacation.
'The island that has it all'
With an appealing photo of beautiful Molyvos village on its cover, Blue magazine invites readers to "Explore Majestic Lesvos," and offers five key reasons explaining why "the island that has it all" deserves attention:
◊ The traditional cuisine
Article author Fotis Vallatos recommends several tavernas and ouzeris that serve scrumptious meals, including mezedes, fresh fish and other "delights from the sea." They include Ermis and Kalderimi in the port town of Mytilene, Papeli's at Agiasos, Baluchanas in Perama, Stratis Maganas's ouzeri in Skala Neon Kydonion, Petri Taverna in Petri village, Mrs Maria's canteen on Chrousos beach, and Ouzadiko tou Baboukou at the Molyvos harbourfront.
◊ Charming villages
"Many of the island's hamlets remain untouched by development and tourism," Vallatos notes, and certain driving routes — like the road from Mytilene to Plomari — pass through "enchanting landscapes and villages."
"Agia Paraskevi is a wonderful traditional settlement. Mantamados is famous for its ceramics and dairy products, mainly cheese.  Molyvos is home to a magnificent fortress. the beautiful Sykaminia seems to have stepped out of an old movie, while Skala Sykaminias is where you will find the impressive Panagia Gorgona (Mermaid Madonna) Church, which is built on a rocky outcrop in the harbour," he writes.
◊  Beautiful beaches
Vallatos points out that Lesvos can proudly lay claim to one of the country's "most stunning" beaches, at Chrousos, and boasts many other "standout" strands, including the four adjoining beaches at Agioi Anargiroi, just past the Eftalou thermal baths.
◊  Unique bays
"Wonderful, off-the-beaten track fishing villages" are scattered along Gera Bay, while the Rodotihos, an Archaic stone wall measuring 50 meters long by 6 meters high, is a top attraction at Apothika.
◊  The petrified forest
Rounding out Vallatos' convincing set of reasons for revisiting Lesvos is what he feels could well be "the country's most amazing natural heritage site" — the petrified forest near Sigri village.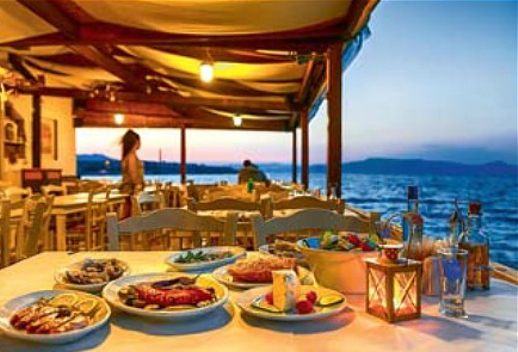 The Baluchanas taverna in Perama. This photo, by Perikles Merakos, appears in Blue magazine's feature article about Lesvos.
Superb food, scenery and local hospitality
But as anyone who has already been to Lesvos is bound to tell you, there are countless more reasons why the island is a must-see destination. One that I hear repeated most often is the welcoming, friendly nature of the local residents. The people, the food, the scenery and the history all combine to create an outstanding vacation experience that keeps drawing people back for more.
As one of my friends insists, "You will fall in love with Lesvos and keep coming back."
That seems to be a sentiment commonly expressed online by repeat Lesvos visitors — as well as by people who loved visiting the island so much they moved there.
As TripAdvisor.com members RobandCarol posted in TA's Lesvos travel forum in January, "BEWARE. Lesvos will capture your heart. Be it Molyvos, Petra, Anaxos or anywhere else on Lesvos. This island has a magical quality, even Aristotle was seduced."
Other forum participants have agreed, saying Lesvos stole their hearts, too — and now they can't wait to make their annual holiday trips to the island. Several have said they would love to move their, too, as RobandCarol did five years ago.
Click here to read the online version of the Blue magazine feature and see more Lesvos photos by Perikles Merakos.
For additional information about Lesvos, check out the websites Lesvos: The unspoiled beauty and Travel to Lesvos.