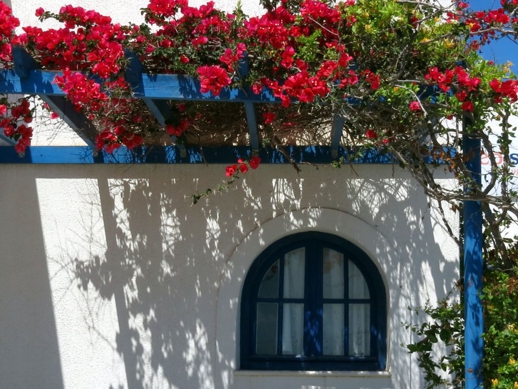 A bougainvillea-covered trellis shades a window at the Epi Studios Matsas Windmill hotel in Naoussa village on Paros
Colourful corner: It finally feels like spring in Toronto today, but we've got still got a few weeks to go before spring flowers begin to bloom. Gardens, yards and parks are foul-smelling, muddy swaths of brown and grey as remaining patches of dirt-covered snow and ice gradually melt away.
To get a glimpse of greenery and spring flowers in the meantime, I've been looking through photos from my May 2012 visit to Paros, where vibrant gardens and landscaping around whitewashed houses provided picture-postcard scenes throughout Naoussa village.
One corner in Naoussa was particularly colourful thanks to the bougainvillea,  flowers, bushes and trees growing on the grounds of Epi Studios Matsas Windmill, a hotel complex of 18 kitchen-equipped studios a short walk from Ag Anargyroi beach.
Not much information available online
Out of curiosity, I searched online for information about the hotel, to see what the rooms look like and find out what it costs to stay there.
Surprisingly, I couldn't find a website for the property — only dozens of listings for it on booking sites like Expedia, otel.com, dhr and others. Although the listings include some photos showing the traditionally-decorated rooms, I couldn't find prices — all the dates I entered into the various different search fields showed no availability. And there aren't many online reviews providing descriptions of what it's like to stay there. For instance, the Epi Studios listing on TripAdvisor.com only has four reviews, the most recent of which was posted in 2010.
Nonetheless, Epi Studios is still a picturesque place to see if you happen to stay elsewhere in Naoussa and take a walk around the town, as the photos below indicate.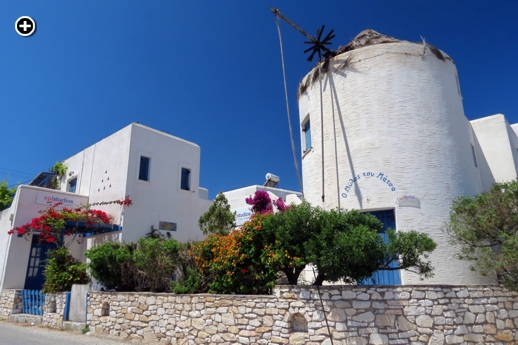 Street view of Epi Studios Matsas Windmill
Another street view of the Epi Studios and Matsas Windmill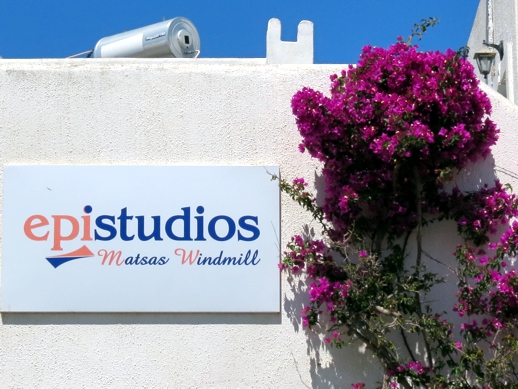 Bougainvillea clings to the wall beside the Epi Studios sign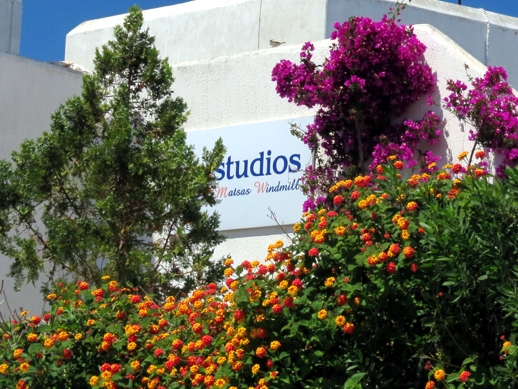 Flowering shrubs add more bursts of colour in the gardens at Epi Studios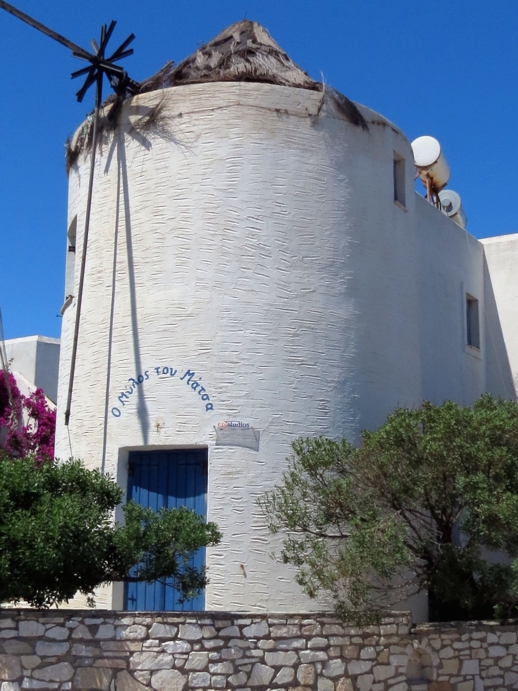 A view of the Matsas Windmill, which stands proudly near the corner of an intersection in Naoussa village