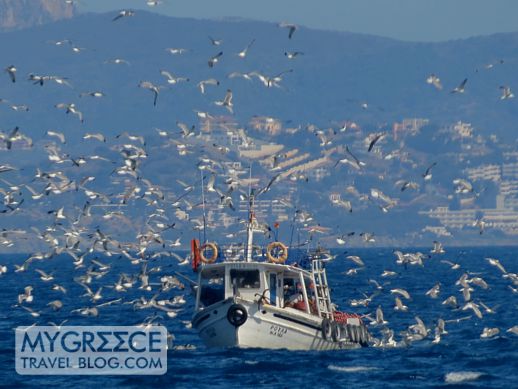 Seagulls swarm above and around the fishing boat "Poyla" as it makes its way back to harbour in the bay near Varkiza on the Athens-Sounion highway
Bay watch: If you happen to get hungry while sightseeing on the Attica peninsula southeast of Athens, here's a tip for finding the freshest seafood on the Saronic coast: drive to the port at Varkiza and watch for the seagulls. I can guarantee they will guide you to the best catch of the day — before it's even off the boat!
Last month, I was among a group of travellers that took a road trip down the peninsula to visit Cape Sounion and other scenic and historic points of interest. While driving back to Athens in late afternoon, we stopped  for coffee at a seaside café next to the fishing harbour and marina at Varkiza (just off Leoforos Poseidonos, the Athens-Sounion Route 91 highway). An eagle-eyed member of our group suddenly pointed out to sea and shouted: "Look at all the seagulls!" I had to use the telephoto zoom on my camera to see what she was referring to — a flock of dozens of seagulls flying above and around a fishing boat in the bay. (The boat was aptly named "Poyla," which is Greek for "bird.") I've seen seagulls follow fishing boats before, but I've never seen so many birds doing it at one time.
The gulls were waiting for any leftovers that might be available once the fishermen unloaded their catch at the Verkiza pier, where customers can purchase fish and other seafood at stalls just steps away from the fishing boats. We walked over to check out the catch of the day, and flapping tails on the counters confirmed that the fish were as fresh as could be!
Below are some photos that will show you what to watch for if you're shopping for fresh fish.
A member of our group called everyone's attention to a flock of seagulls that she saw swarming around a fishing boat in Varkiza bay …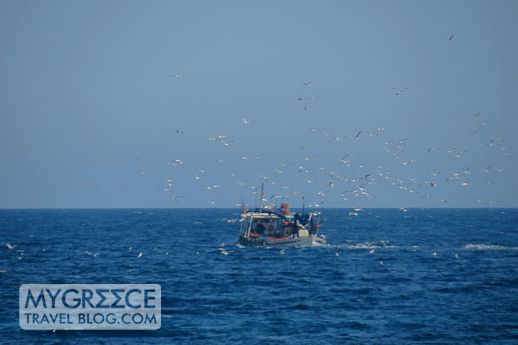 I couldn't see the birds until I zoomed in with my camera's telephoto lens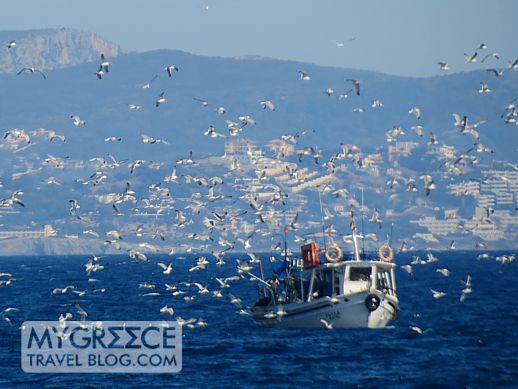 Scores of birds where swooping in the air above the boat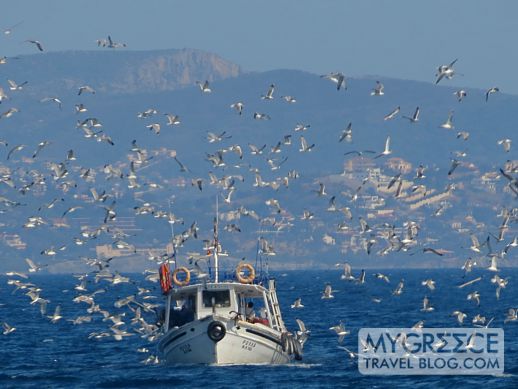 Last year I published a photo of seagulls trailing a fishing boat in Egali bay on Amorgos. I was amazed by the number of birds I saw in that instance, but was stunned to see many dozens more gulls in the flock following the "Poyla."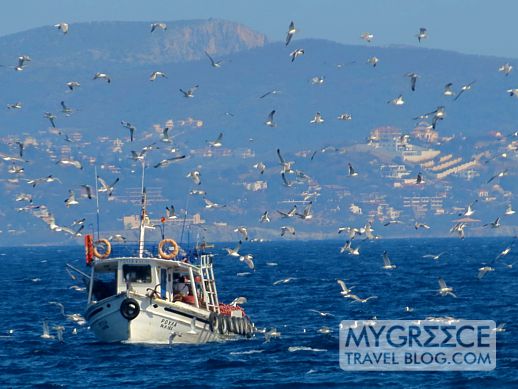 Varkiza is just one of many good places to stop to enjoy the spectacular Saronic coast scenery along the Athens-Sounion highway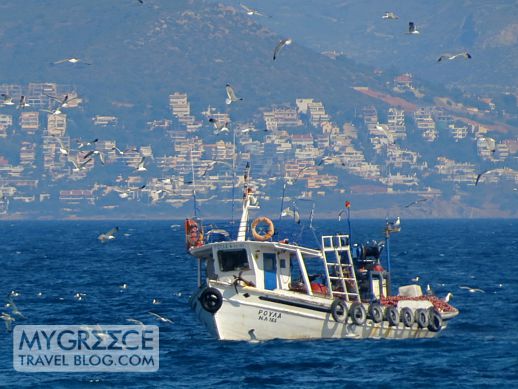 There are beaches, marinas, resorts, restaurants and scenic lookout points both at and near Varkiza, and all along the coastal highway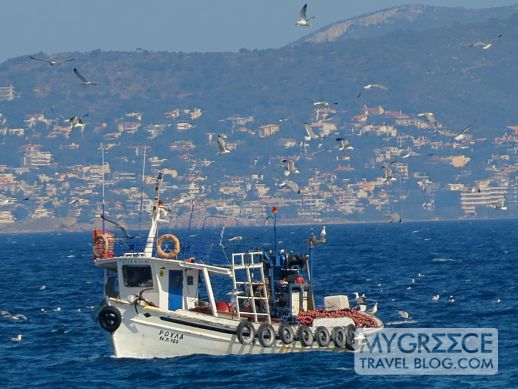 The flock starts to thin out as the "Poyla" approaches the Varkiza pier …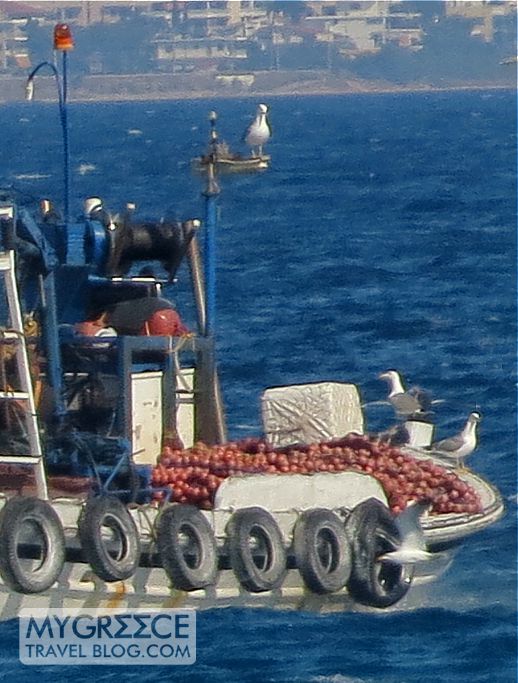 … but three birds have found comfy spots to sit and enjoy the rest of the ride to port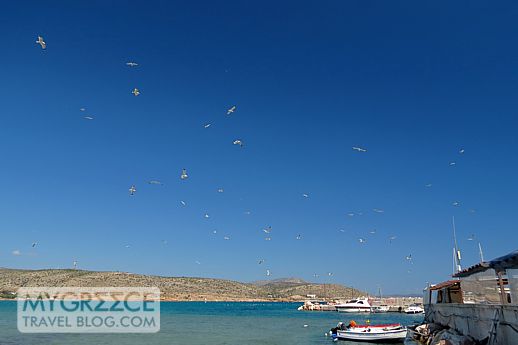 Some of the seagulls have flown ahead to soar above the pier…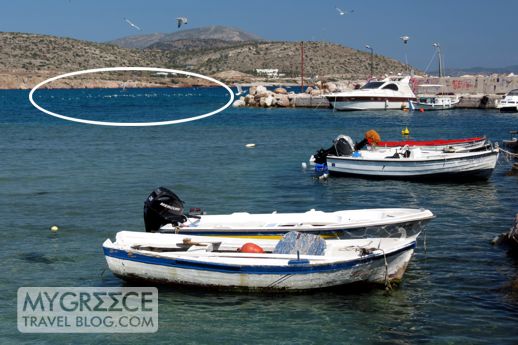 … while dozens more bob in the water near the fishing boat pier …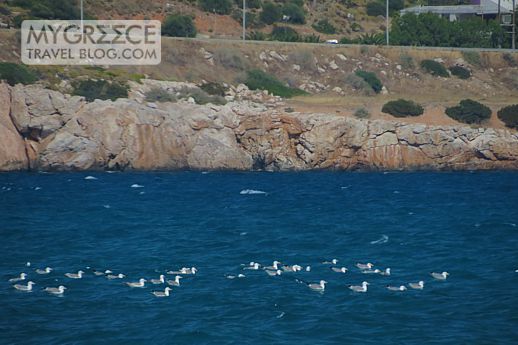 … where they patiently wait for the "Poyla" to dock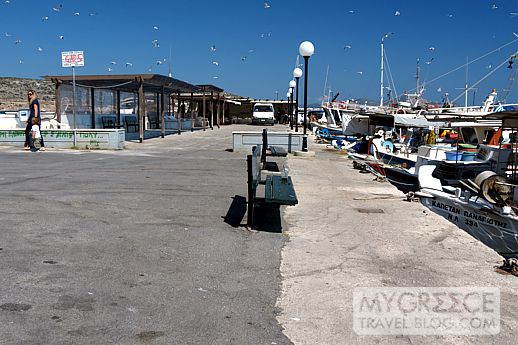 The fishermen sell some of their catch at kiosks right on the pier