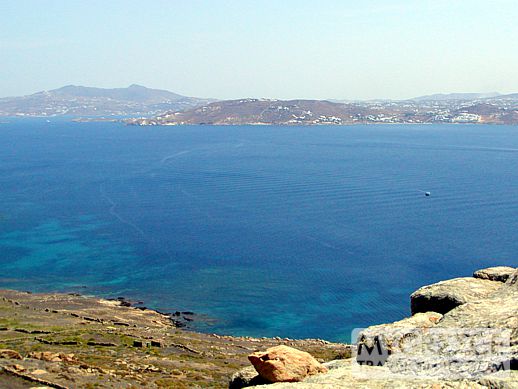 The Mt Kynthos summit offers excellent views of Mykonos and other islands
Above all: Back in the 7th Century B.C., it was the site of the Sanctuary of Zeus Hypsistos. Nowadays, the summit of Mt Kynthos is a scenic sanctuary for people seeking an escape from the Delos crowds, a quiet place for a picnic lunch, or just a great lookout point to take in the sweeping panoramic views of nearby islands and the turquoise Aegean Sea.
The mountain is just over 110 meters tall, and its summit is accessed by stone-paved steps and dirt trails that climb the steep mountainside above the Kynthion and the Sanctuary of Agathe Tyche. It looks like a daunting hike, but if you're in reasonable shape it won't take much time or effort to ascend the path at a comfortable pace.
Up top, you can rest and recharge in the sun while sitting on one of the large rocks or broken foundation stones — all that's left of the ancient sanctuary for Zeus — or savour the views of surrounding islands, including Ano Rematiaris and Kato Rematiaras (the two small islands near the Delos harbour), Rinia, Mykonos, Tinos, Paros, Naxos and more. The summit also lets you gain a better appreciation for the vast extent of the ruins you hiked past to get there.
Below are more photos from our hike up Mt Kynthos (I can't believe we took these in 2004 — we're long overdue for another trip to the top!).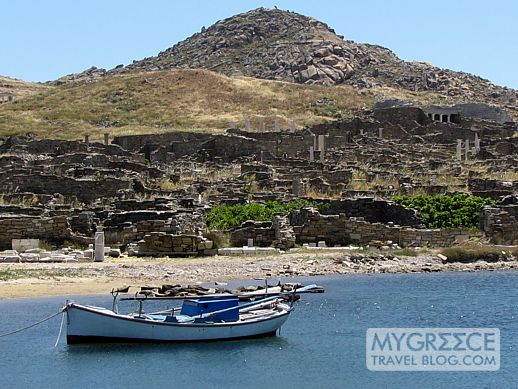 You will see Mt Kynthos as you walk from the harbour to the entrance gate …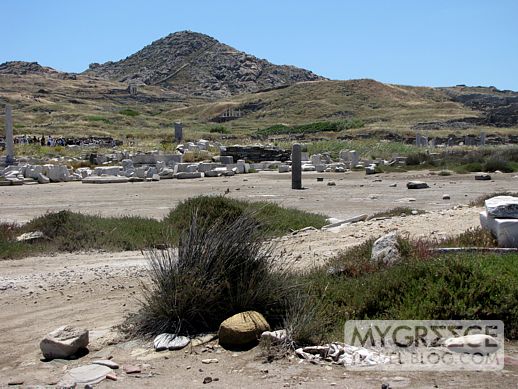 … and as you explore ruins at many different sites on the island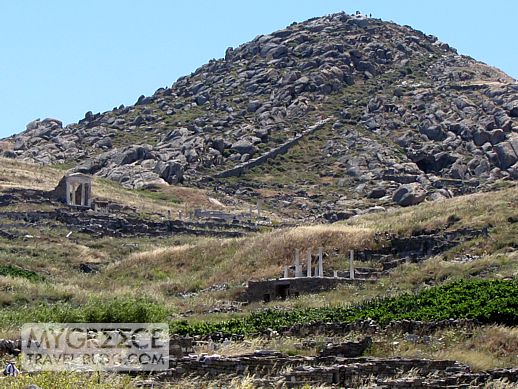 The lower slopes of the mountain are covered in ruins and monuments…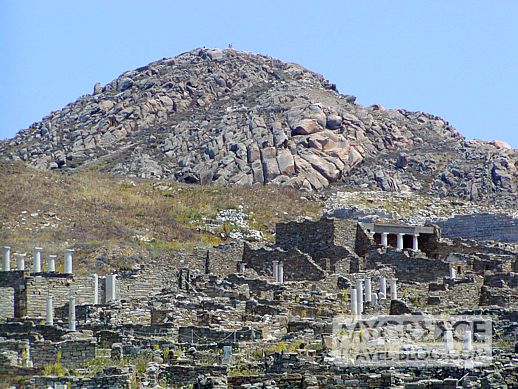 … including the House of Dionysus, left, and the House of the Masks, right …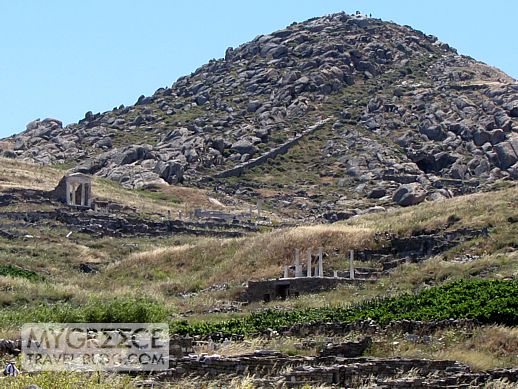 … as well as the Temple of Isis, left, and the House of Hermes, right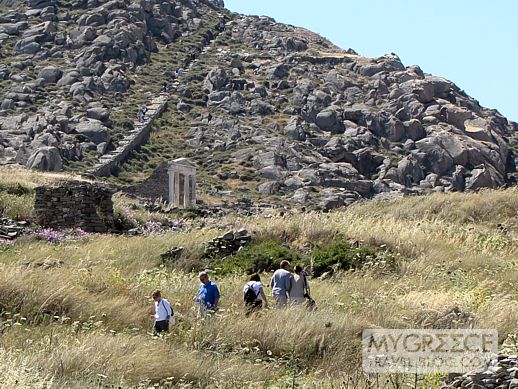 The stone stairs rise up the mountainside just past the Temple of Isis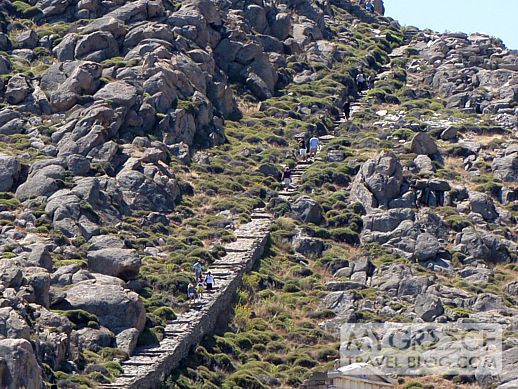 Small groups of sightseers climbing up — and back down — the stone steps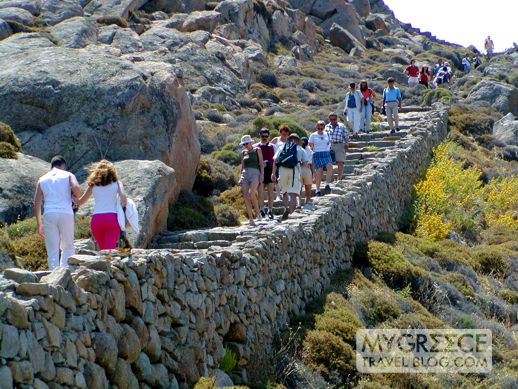 A closer view of visitors negotiating the stone steps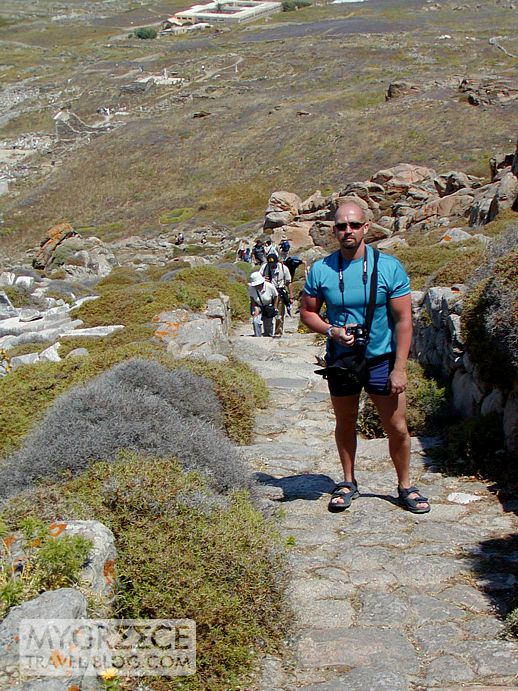 It's a steep climb up the path …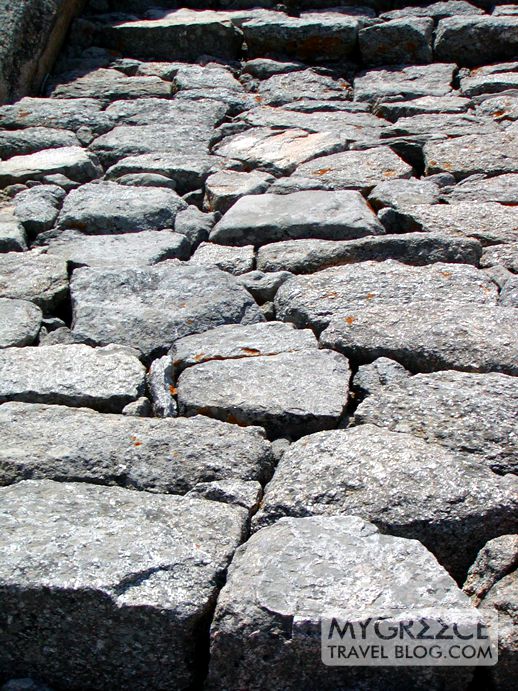 … which is built from thousands of rocks like these. Ladies, leave your heels at the hotel! We watched a woman in high heels attempt the climb … she turned back after stumbling into her boyfriend's waiting arms a few times.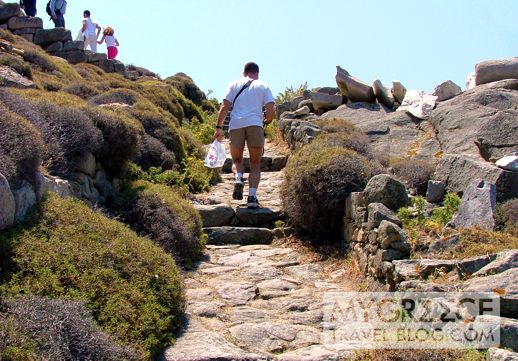 That's me climbing the path to the summit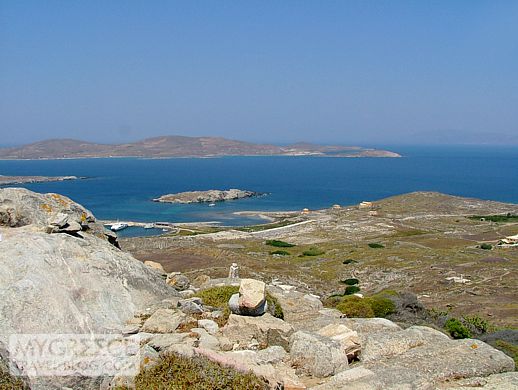 The small island in the center of the photo is Ano Rematiaris; behind it is Rinia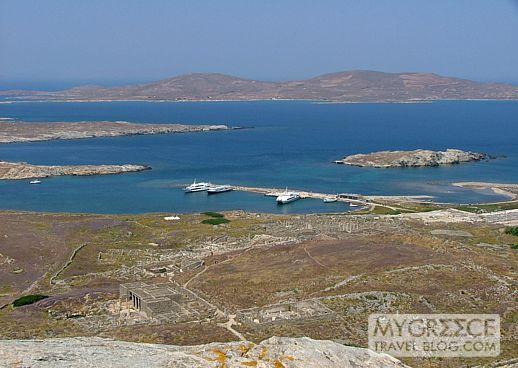 A great view of the House of Masks, lower left, the Delos harbour, and Rinia island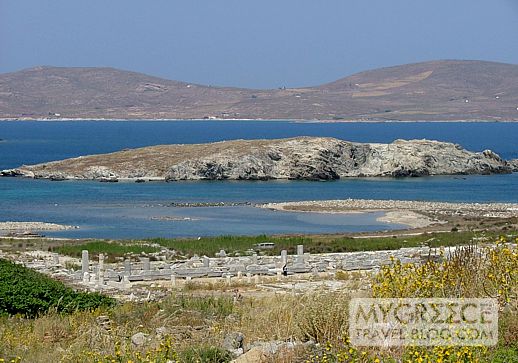 Ano Rematiaris island in the foreground, Rinia island in the background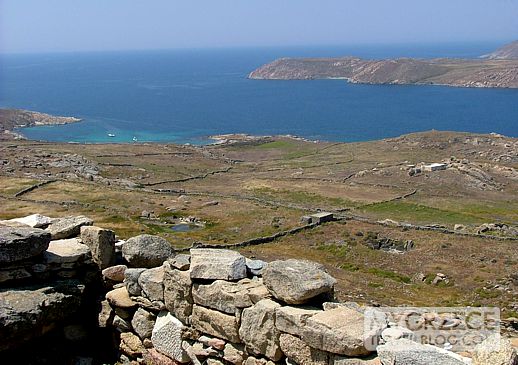 At upper left you can see two sailboats in the curved bay along the west coast of Delos; Rinia island extends across the upper right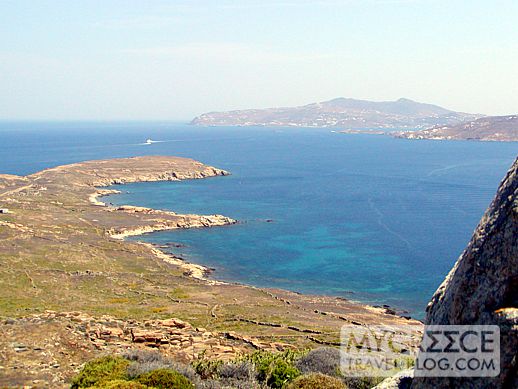 A view of Mykonos from the summit of Mt Kynthos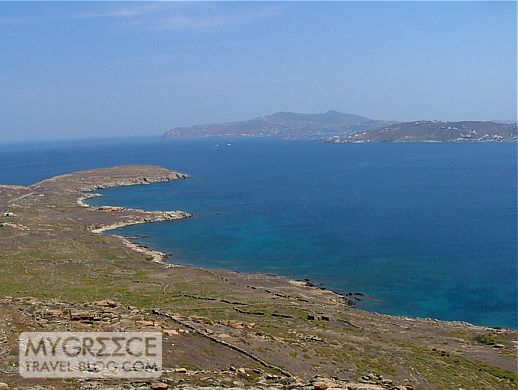 Another great view of Mykonos from the mountaintop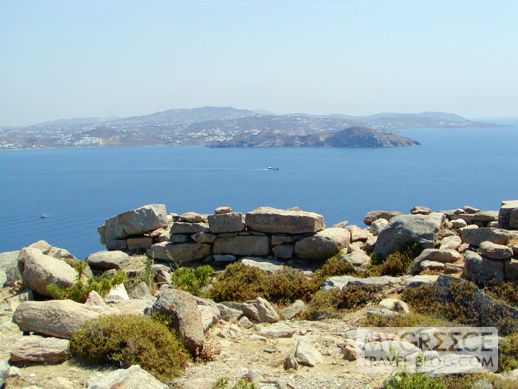 Mykonos provides a backdrop for some of the sanctuary ruins atop Mt Kynthos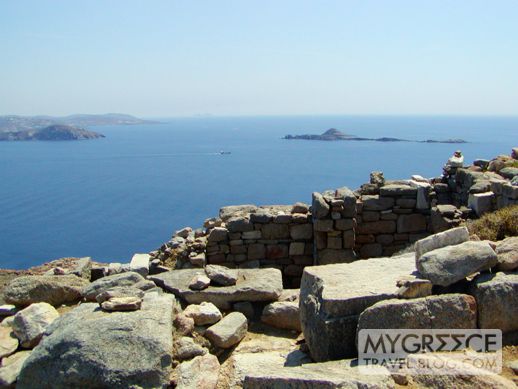 A section of stone wall and a collection of foundation stones in the foreground; Mykonos, left, and Praso and Sfontili islands in the background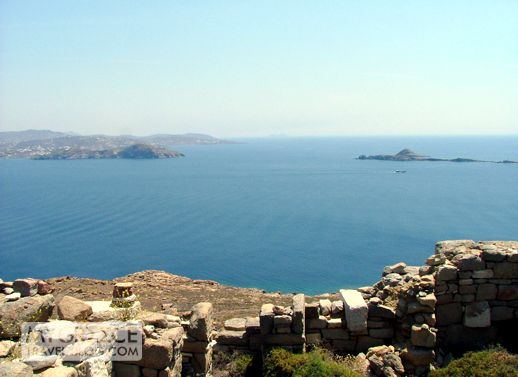 The southeast tip of Mykonos, left, and Praso and Sfontili islands at right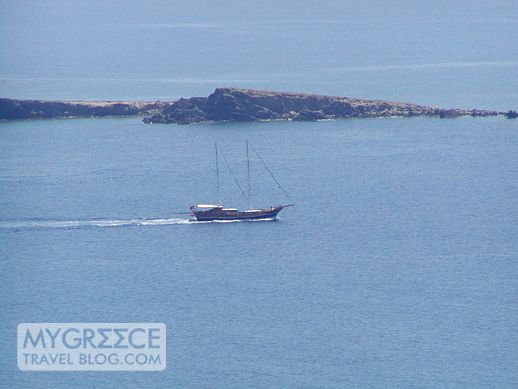 A twin-masted wooden Turkish yacht passes Praso island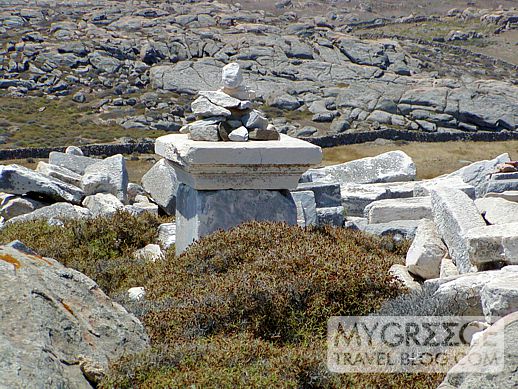 Some visitors have created their own monuments with rocks and building remnants collected from the mountaintop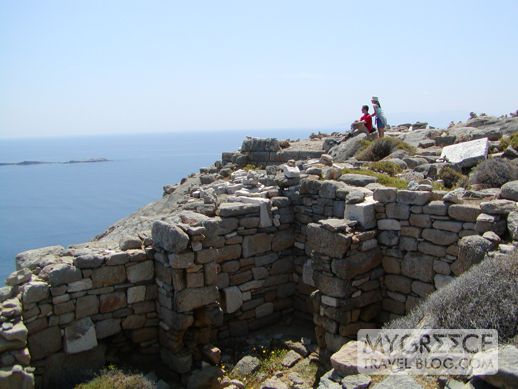 Two visitors enjoy the views from the summit, near some of the ruins from the ancient Sanctuary of Zeus Hypsistos