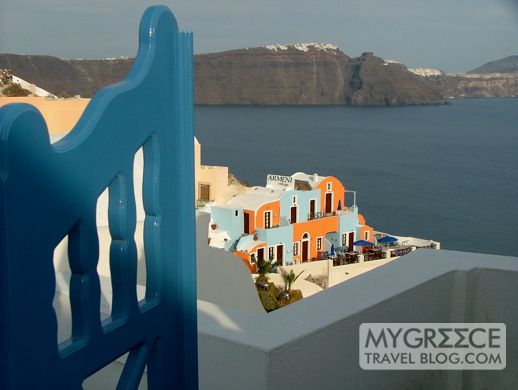 The snow-white Santorini clifftop villages of Imerovigli and Fira provide a dramatic, distant backdrop for the distinctive blue and orange colours on the exterior of the caldera-view Armeni Village Rooms & Suites …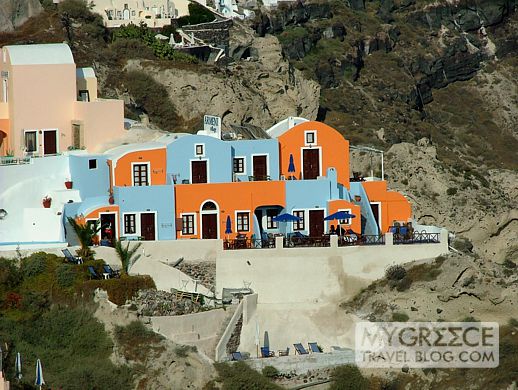 … which we photographed during a visit to Oia in 2005  …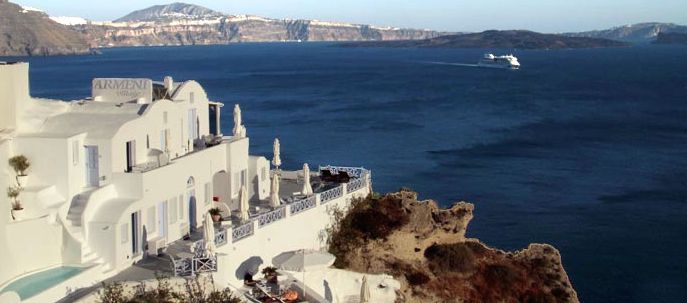 … but as this photo I discovered today on the Armeni Village website indicates …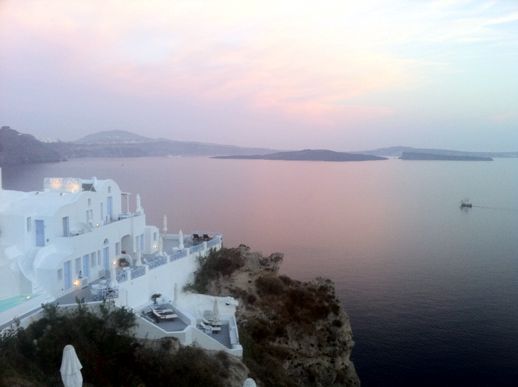 … the hotel has ditched the blue and orange, and now sports a simple stark white exterior. (Photo from the Armeni Village Rooms & Suites website.)

Santorini whiteout: We've been to Santorini three different times, but I've always had vivid memories of a specific hotel we photographed in the incredibly picturesque and romantic village of Oia back in 2005 — memorable because of its distinctive blue and orange exterior.
After looking at the photos today, I checked out the Armeni Village website and was surprised — and, to be honest, a little dismayed — to see it doesn't look quite the same. The blue and orange paintjob is history, and the hotel now sports a simple but sophisticated stark white exterior.
The Armeni Village certainly looks elegant, and expensive, but to me seems to have lost much of its charm and appeal by whitewashing its eye-catching colour scheme. Now, it's just another typical white Greek luxury hotel on a spectacular cliffside location.
But at least one important thing hasn't changed: the hotel's incredible caldera views.
If you want to experience them for yourself, you can still reserve a double room for as little as €110 per night — provided you can travel in April or early May. If you wait until June, that same room will cost you €170. And if you can't travel until July or August, get ready to fork out at least €230 per night. Might sound like a lot of money for a room, but then it's in Oia … and that marvellous, timeless view is priceless.