xx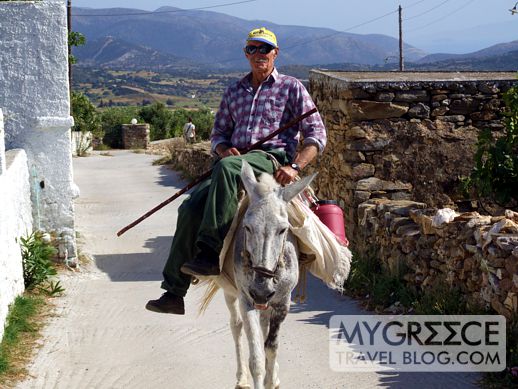 On Naxos, we encountered this man riding a donkey on a narrow country road …
xx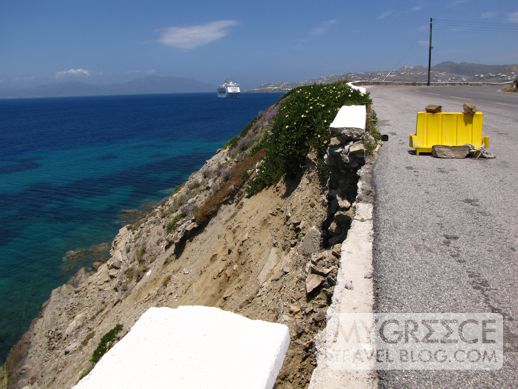 … while on Mykonos, we discovered a different kind of natural road hazardx
x
Goats on the road
What's it like driving on the islands? On Amorgos, it was actually a lot of fun. The roads were in excellent condition, and for most of the day, we had them almost entirely to ourselves, occasionally passing another car (usually a rental full of tourists, like us) or a construction truck. But we did encounter some unexpected hazards while driving the mountain highway from Egali to Chora. Three consecutive times we rounded sharp bends in the road to find ourselves practically face-to-face with goats standing smack in the middle of the asphalt. Since we were moving uphill at the time in a four-cylinder Hyundai Atos Prime that didn't have much power, I wasn't driving very fast and had time to stop. But if I had been driving a vehicle with more guts, or been driving downhill, there's a strong chance a hapless Amorgian goat would have become roadkill — and we would have wound up on the hook for a €450 insurance deductible for front-end collision damage. Just minutes after those close calls, we rounded another corner to find a huge herd of goats — there were at least 50, and possibly as many as 100 in total — walking en masse up the middle of the highway. After our three earlier close encounters with the local goat population, I was driving a lot slower, so I had plenty of time to stop for the herd.  I thought we would have to wait a few minutes for all the goats to pass before we could continue but, to our total amazement, the goats suddenly started shuffling to the sides of the road, politely clearing a path down the middle of the pavement. I slowly moved the car forward as the goats clomped past, single-file, just inches from our windows. Later in the day, on our way back to Egali, we encountered a sheep standing in the middle of a bend in the road just outside Chora. Unlike the goats, he stood stubbornly in his spot and just glared at us, making it clear he had no intention of budging. I drove around him slowly and stopped the car so I could get out to take his picture. He baaa'd at me a few times, then gradually moved away to graze on the side of the road.

Shakey legs
On Crete, we rented a car for a daytrip from Heraklion to Chania. The drive along the smoothly paved two-lane national highway was fine for the most part, except while descending a mountain about a half hour away from Heraklion. Twice in the space of as many minutes, I had close calls with goats that were standing in the middle of the road on sharp, blind curves. (Why the heck do these creatures always decide to stop in spots where drivers can't see them from a distance?) Fortunately, I was able to hit the brakes and swerve out of the way without hitting the goats, but just barely. The rest of the driving was unremarkable until we returned to Heraklion just in time for evening "rush hour." I took the wrong highway exit and got lost navigating my way down busy one-way streets, trying to find my way back to the rental office. Much to the chagrin of local motorists, I was driving slowly to watch for street signs. Impatient locals honked and cursed, and kept cutting in front of me whenever they had a mere split second to squeeze past oncoming traffic. I narrowly avoided rear-ending cars so many times that my legs started shaking to the point I could barely apply the brakes and the clutch!
xx
Constant close calls

Driving on Mykonos was even more nerve-wracking. The locals race at breakneck speeds down the narrow, twisting roads, and tend to stick right on your tail when following behind — even when you stop at an intersection on a steep hill or get stuck behind vehicles (like ATVs) slowly crawling up sharp inclines. I have driven a stick shift only a handful of times in the past 20 years, so I kept popping the clutch — which of course meant the car would suddenly lurch and roll backwards, nearly banging into the front bumper of the car behind because there was barely room or time for me to brake. I had countless close calls, and constantly worried that I had made a big mistake by waiving the collision insurance because I was paying with my VISA card. Luckily, I made it through the day without scratching or denting the car and having to make an overseas call to find out if my VISA benefits were as good as the credit card company claims.
Driving on fumes
On Naxos, the driving started out as great fun, but turned into a white-knuckle experience we laugh about now. We rented a car so we could do a round-the-island drive that I'd read was a spectacular "must do" activity on Naxos. We could have taken a bus tour, but those day-long excursions cost nearly triple the price of a rental. Besides, we wanted to see things at our own pace, rather than having to sit in a bus and wait for specific scheduled stops so we could take pictures. The staff at the car rental agency told us the trip would be easy — they showed us the route on a map, and said the roads were all paved and in excellent condition — and they promised we could do it with less than €10 of gas in the tank. I bought €15 of fuel just to be on the safe side, and we headed out. But as we wound our way down a very long series of hair-raising hairpin mountain turns en route to the seaside village of Apollonas, I noticed the gas gauge was pointing to empty. No worries — I would fill up when we reached the village in just a few minutes' time. Or so I thought. We couldn't find a gas station in the remote resort area, so I asked a souvenir shop owner where I could get fuel. When he said the closest station was 20 minutes' away, just outside Naxos Town, I freaked — I didn't think we had a hope in hell of driving back up and over the mountain with little more than fumes in the tank! But he assured me that if the gauge was on the red line, but not below it, we could make it; he had done it himself many times. The gauge was in fact right on the red line, but I was a bundle of nerves the entire drive, convinced the tank would run dry and strand us on the mountain in the blazing 38-degree Celsius heat (we had not seen any other vehicles on the road either while driving to Apollonas or heading back to Naxos Town, so I felt certain we would have to wait hours in the hot sun before being rescued if we did run out of gas). When we reached the gas station, I felt so relieved I could have kissed the pumps!
Narrow roads and steep hills
 My personal experience is that driving in the islands is much the same as driving in the city back home — it's just that the road hazards are different. In the city, there's more traffic, and you have to watch for pedestrians or cyclists suddenly darting into your lane. In the Greek Islands, there's less traffic, but you have to be alert for goats and sheep wandering in the middle of highways, especially on sharp corners, or locals riding donkeys down country roads. But there are some particular perils to beware of. Greeks seem to drive very fast, and tend to drive closely behind other vehicles.Their tailgating isn't much of an issue if you're driving a vehicle with automatic transmission, but since those are few and far between on the islands, chances are good that you'll be driving a standard — so when you're forced to stop on a steep slope with another car just inches behind, it's a big challenge to avoid a bumper bump.
On islands like Mykonos, roads can be extremely narrow and steep — especially those leading to most of the popular beaches. Since many roads are enclosed by stone walls on each side,  there's often insufficient room for oncoming vehicles to pass.  So it's common to have to back up and pull unnervingly close to the wall to allow another vehicle to squeeze past. (A woman from Texas told me that her plans to visit some of the remote beach areas on Mykonos last month went out the window during a harrowing shuttle bus ride from the port to the hotel; after her husband saw how fast the locals drive on the tight, hilly roads, he became "too nervous to drive," refused to rent a car and insisted they travel by bus instead! And in an online trip report, another Texas traveller described her experience driving the narrow roads on Santorini for the first time in July. "The streets weren't bad," she wrote, "it was just that two cars cannot easily fit side by side in some spots — and God forbid you have a large truck or a bus coming at you. I had numerous terrifying moments when I had to share a very narrow place in the road with an oncoming tour bus, with stone walls on both sides of the road so no room for error! Thank God for our friend's calming personality. We got through it all with only a banged up side mirror.")
Would it be easier to drive around the islands on a motorbike, scooter or ATV? Absolutely — if you have experience driving those vehicles. I don't, so I won't even consider renting one — especially since I have met people who suffered broken limbs after wiping out in scooter accidents on Mykonos. (A Toronto couple recently reported in the TripAdvisor.com Greece forums that they had "a rather serious motorbike accident" on Mykonos, and had to be airlifted to a hospital in Athens.) But if you feel comfortable on a motorbike, that would be a cost-effective way to get around — and you certainly wouldn't have to worry about making room for oncoming traffic when you drive down narrow beach roads.
Just be sure to get an International Driver's Permit before you leave home to travel to Greece. Most rental agencies won't ask if you have one, but if you get stopped by the police, you could face big fines if you don't have an IDP. And if you get into an accident and don't have an IDP, you might not be covered by insurance. The permits are available in Canada from any CAA office, and in the USA from any branch of the AAA. In 2019, they cost only $25 CDN and $20 US, respectively, if you supply two passport-style photos (there's an additional charge if you need them to take your photos, which they can do on the spot). It's a minimal expense which is well worth the peace of mind the IDPs provide.
Below are photos showing road conditions on some of the islands we have visited: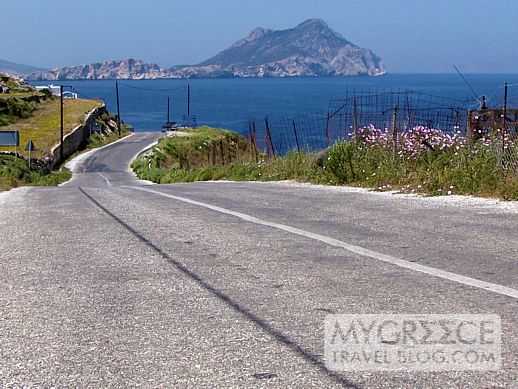 On Amorgos, the drive from Egali to Chora offers great views of Nikouria Island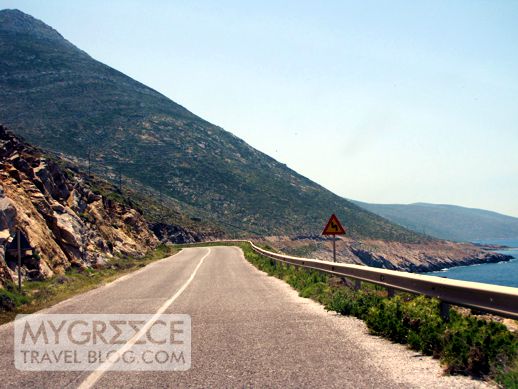 There was almost no other traffic on the day we rented a car on Amorgos …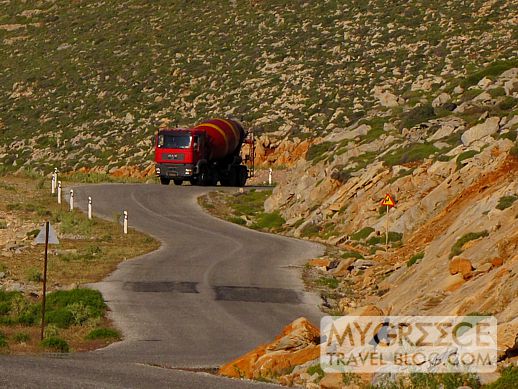 We occasionally passed other cars (usually rentals), as well as some construction vehicles, like this concrete truck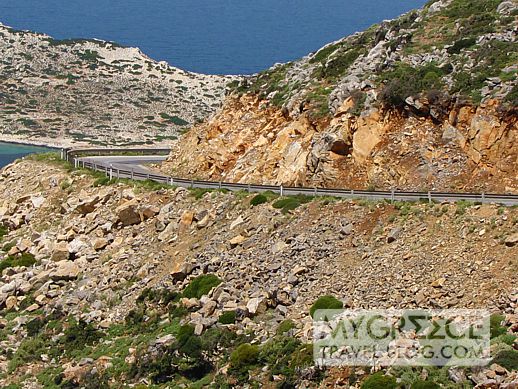 When we came around sharp mountain corners, like this one, we discovered goats standing on the middle of the road …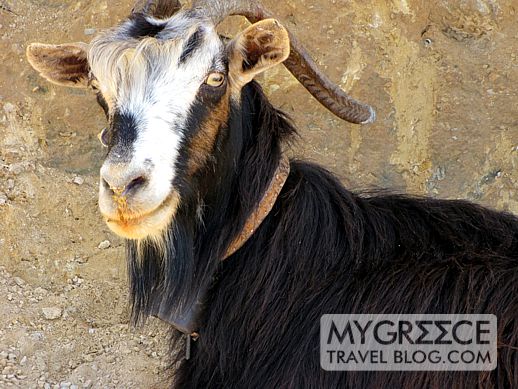 … including this one, who slowly moved out of our way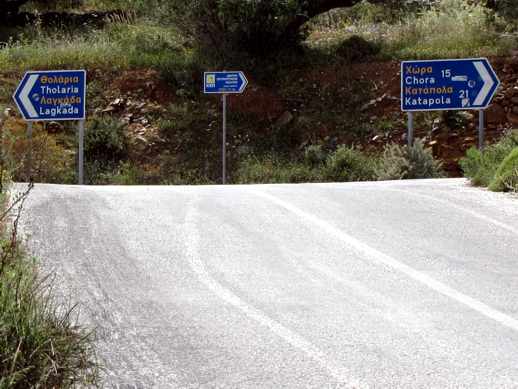 Road signs in the Greek Islands are usually bilingual (Greek and English), like these ones just outside Egali on Amorgos …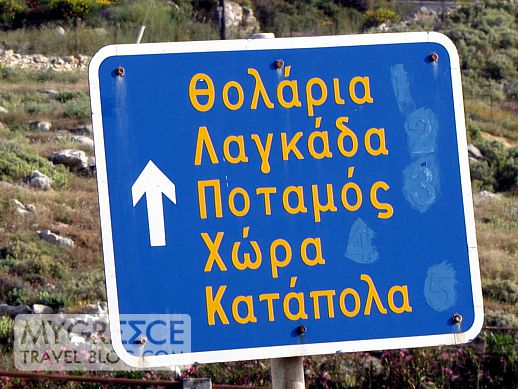 But sometimes signs are only in Greek, like this one pointing the way to Tholaria, Lagkada, Potamos, Chora and Katapola on Amorgos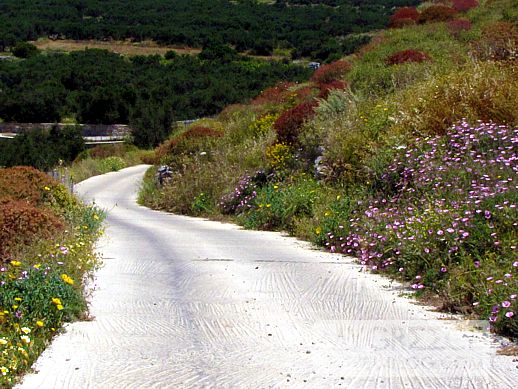 Colourful spring flowers along the road from Egali to Lagkada on Amorgos …
… seen here looking in the opposite direction, toward Nikouria Island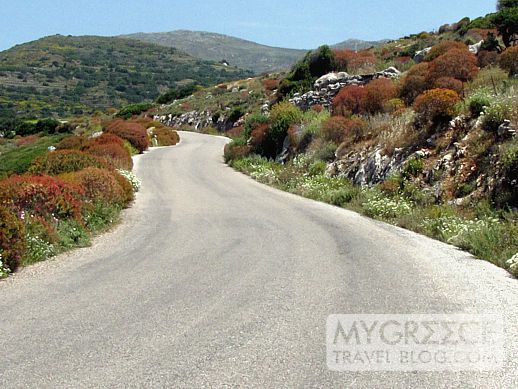 Roads in the Greek Islands are usually narrow, with no shoulders …
... so when cars try to squeeze past each other, there often isn't enough room and a collision sometimes occurs, like this three-car mishap in Egali on Amorgos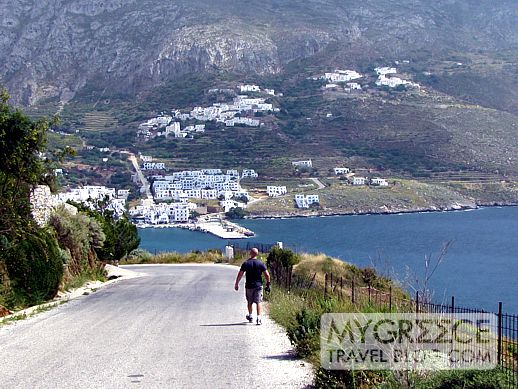 This road on Amorgos offered terrific views overlooking the port town of Egali and the villages of Potamos on the mountainside above it …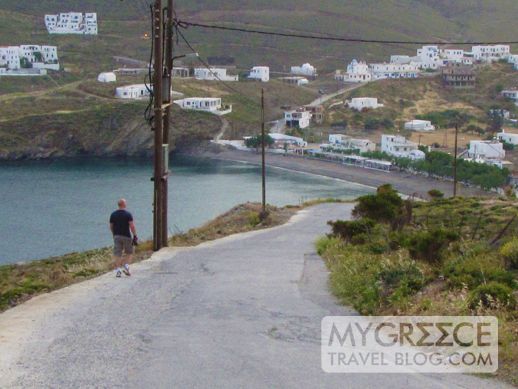 … while this road provided great views of the Livadi beach area on Astipalea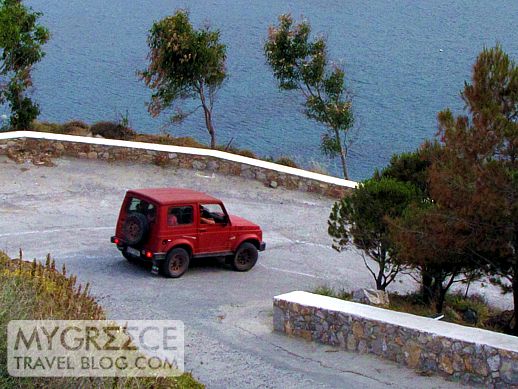 A jeep negotiates a sharp hairpin turn on the road above Livadi on Astipalea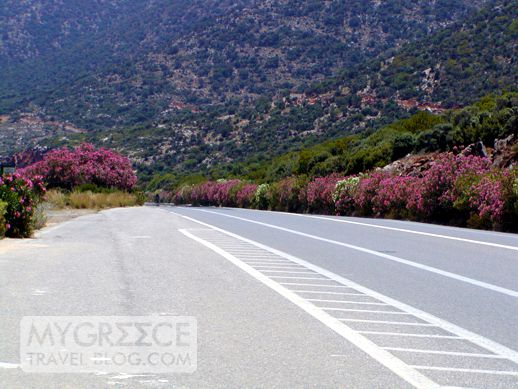 Colourful blooms along the main highway on the north coast of Crete, somewhere between Heraklion and Chania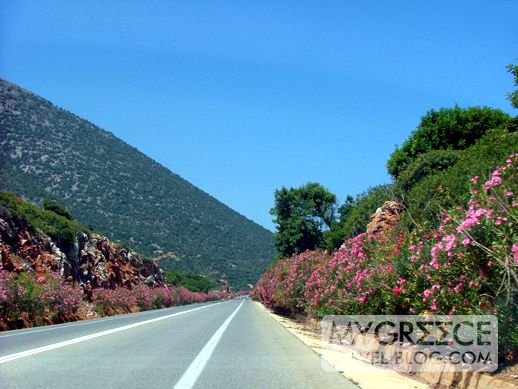 The Crete highway is often referred to as the "national road"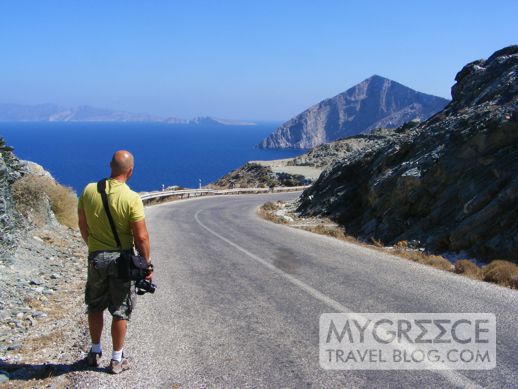 There's breathtaking scenery along the Folegandros highway between Chora and Ano Mera, with views of nearby Sikinos island (top left)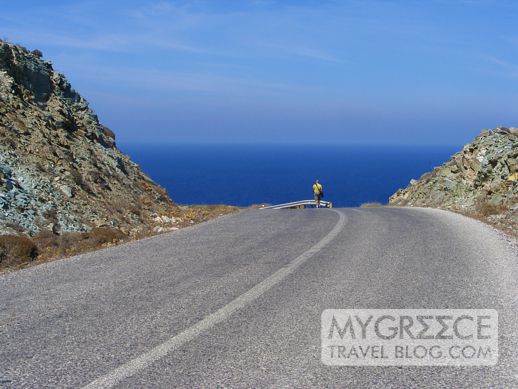 A view of the Aegean Sea from a bend in a road on Folegandros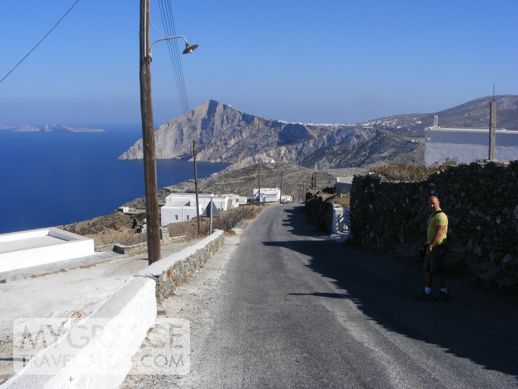 The road narrows as it passes through the village of Ano Mera on Folegandros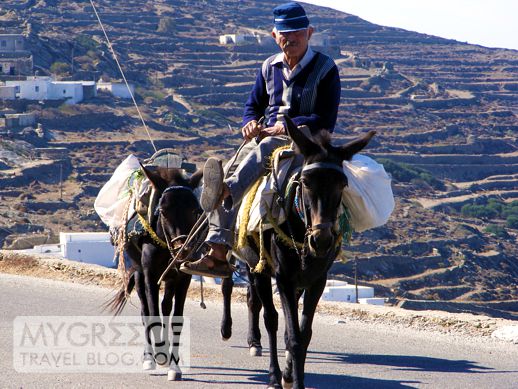 A man with three mules took up most of the space on the road to Ano Mera on Folegandros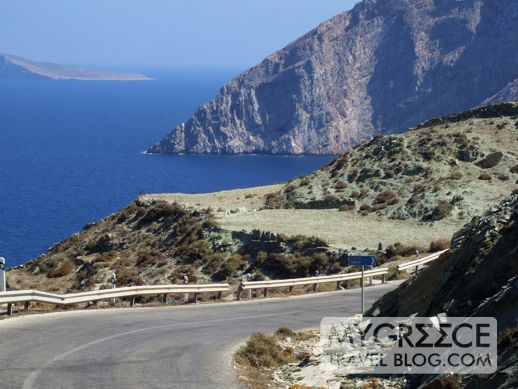 Scenery along the road between Chora and Ano Mera on Folegandros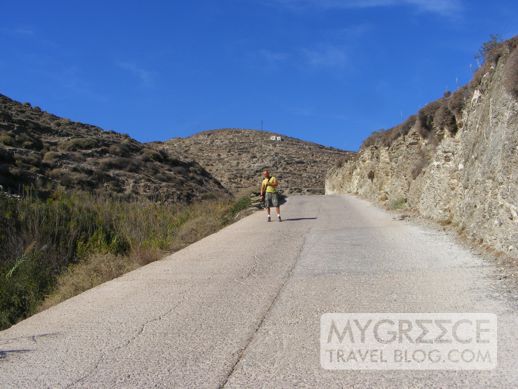 The road down to Agkali beach on Folegandros is much, much steeper than this photo suggests …with a sharp drop-off into a gully on the left.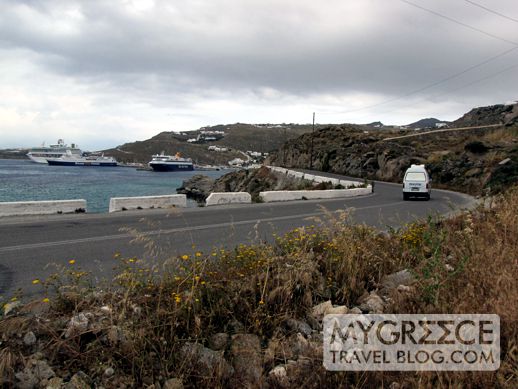 On Mykonos, a two-lane road runs from the new port at Tourlos to Mykonos Town …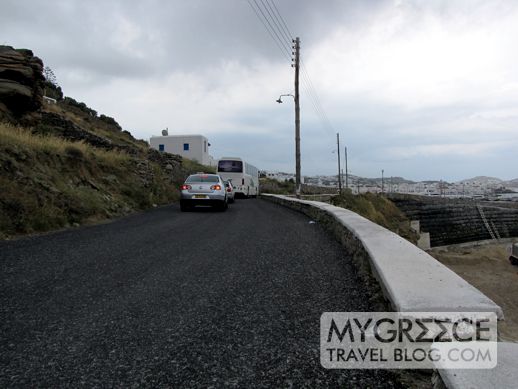 … narrowing as it approaches the Tagoo district and Old Port area on the edge of Town. Note that there are no sidewalks on this busy road between the two ports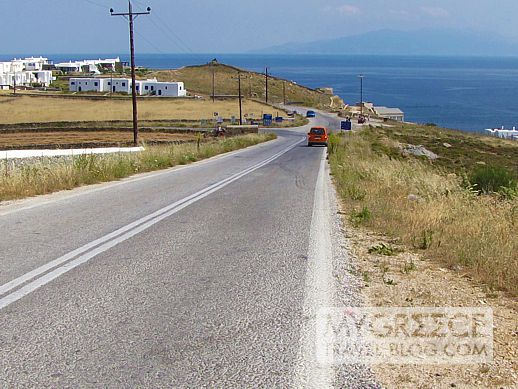 On Mykonos, this long straight stretch of paved highway …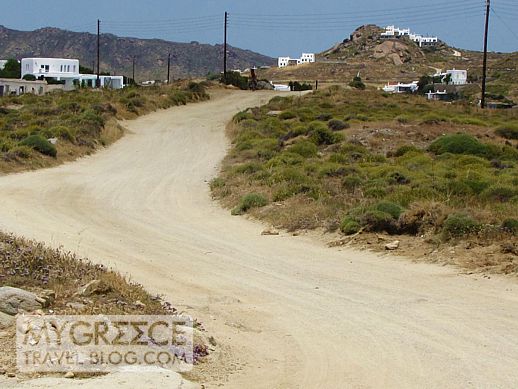 … gives way to dirt roads leading to Kalafatis and Kalo Livadi beaches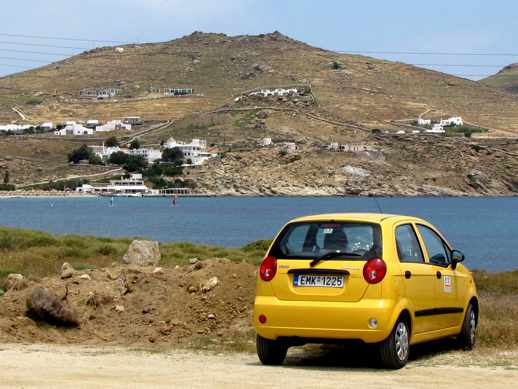 Our rental car, parked on the side of a road overlooking Kalafatis bay and beach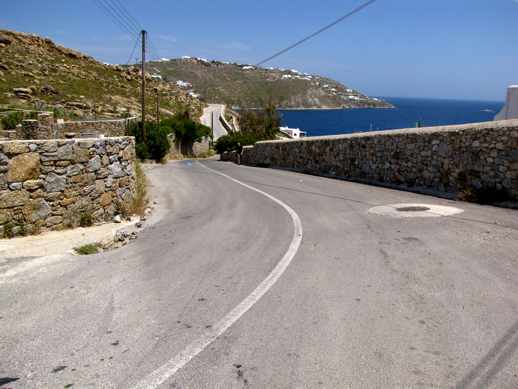 On Mykonos, some roads have plenty of room for buses and large vehicles to pass, like this one that winds from Ornos beach to Agios Ioannis beach  …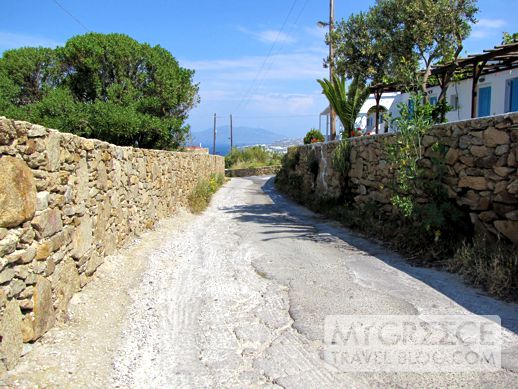 … but many roads on the island are narrow, lined on each side with stone walls, and leave little, if any, room for vehicles to pass …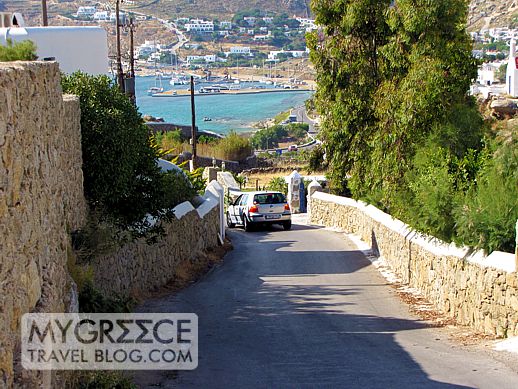 … like this road on a hillside in the Tagoo district …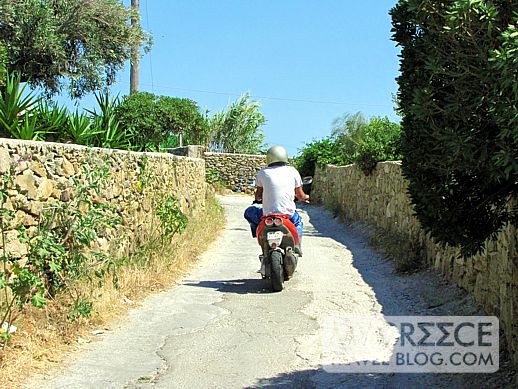 … and this lane in the island's Fine Arts District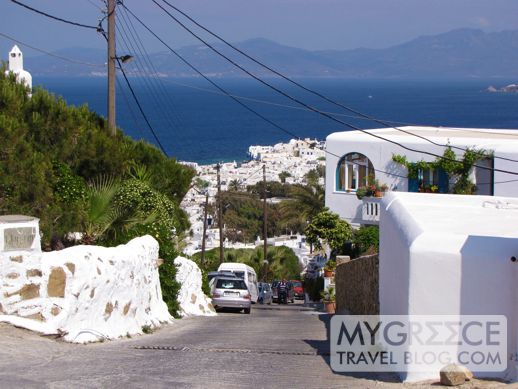 This road in the Fine Arts District of Mykonos, seen from the driveway entrance to the Elysium Hotel, is extremely steep …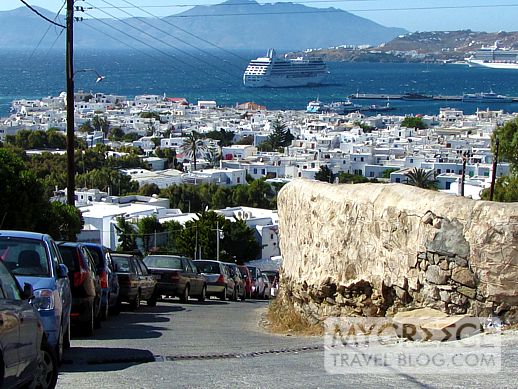 … it's also fairly narrow, and always lined with parked cars …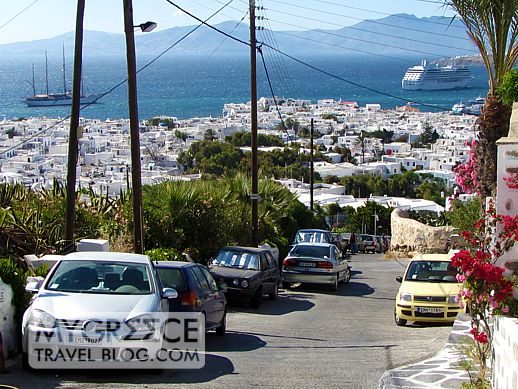 … and if that's not challenging enough for a driver to negotiate, there's always the distraction of the wonderful views of Mykonos Town and nearby Tinos island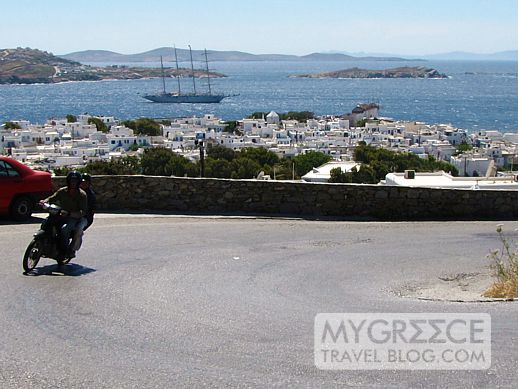 Great views overlooking Mykonos Town from another road on a steep hill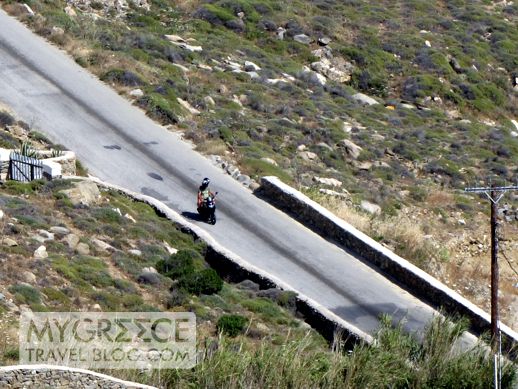 Two tourists on a scooter near Agios Stefanos beach on Mykonos. Scooters are a cost-efficient way to travel, but they can also be dangerous for riders who aren't accustomed to driving them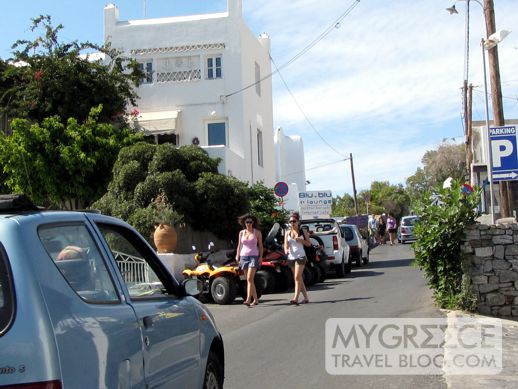 Pedestrians pose a hazard to motorists driving on the narrow Mykonos roads, like this one leading from Mykonos Town to the Old Port and the Tagoo district …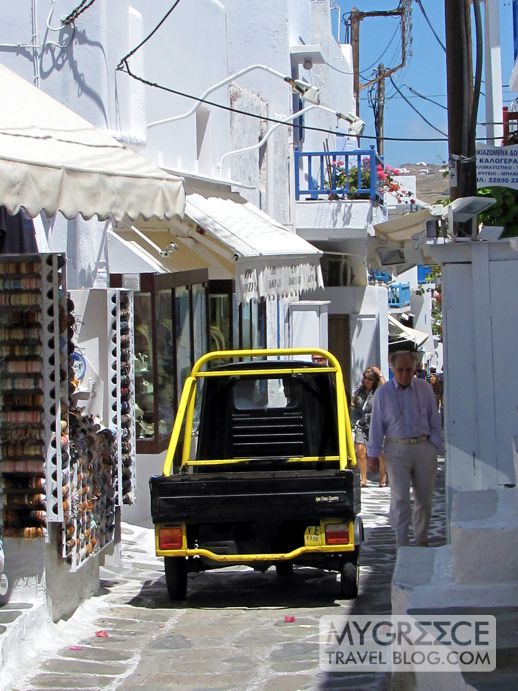 … but cars are banned from most of the narrow streets and lanes in Mykonos Town itself. Only small service vehicles are permitted in the Town's pedestrian zone
xx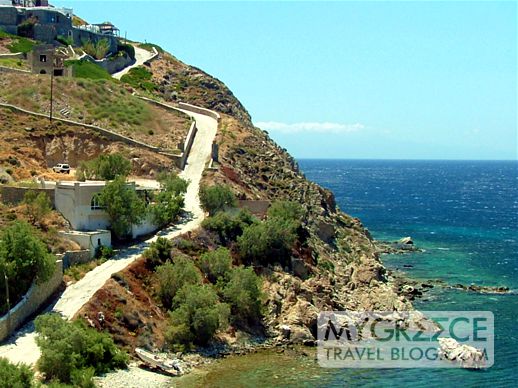 There are some incredibly steep roads on Mykonos, like this one that climbs a hill at Elia beach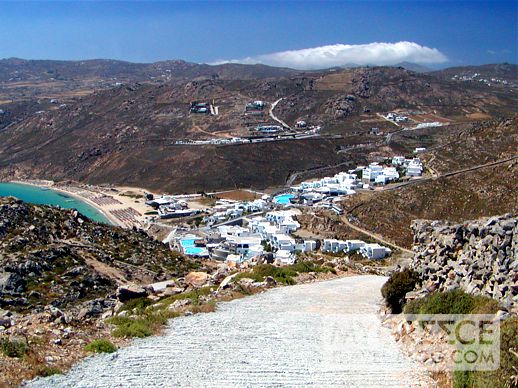 Another steep road overlooking Elia beach and hotels on the surrounding hillsides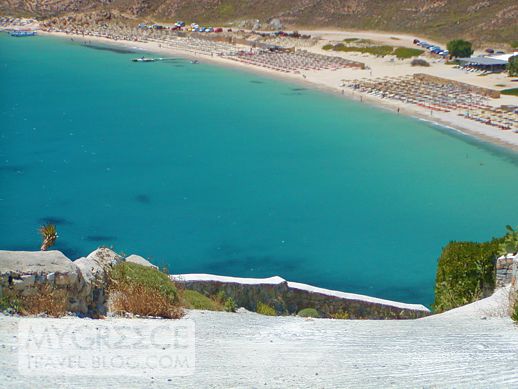 Great views of Elia beach from one of the steep mountain roads on Mykonos
We never encountered much traffic on Naxos, including this tree-lined road in the hills high above the beaches on the island's southwest coast …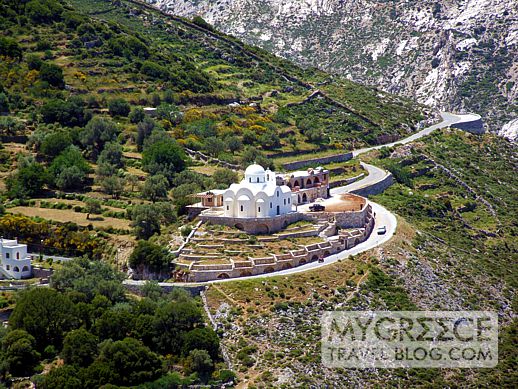 … or on this highway near a monastery in the mountains above Filoti village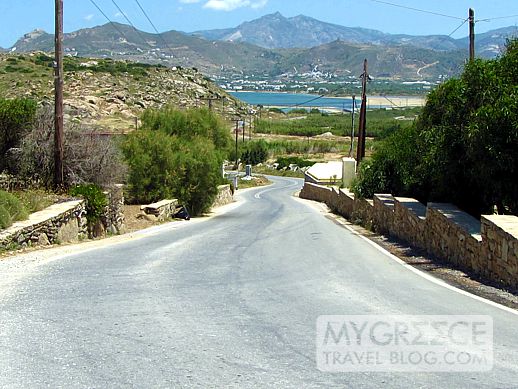 This road, in the Stelida area of Naxos, offered views of Agios Georgios Bay and the outskirts of Naxos Town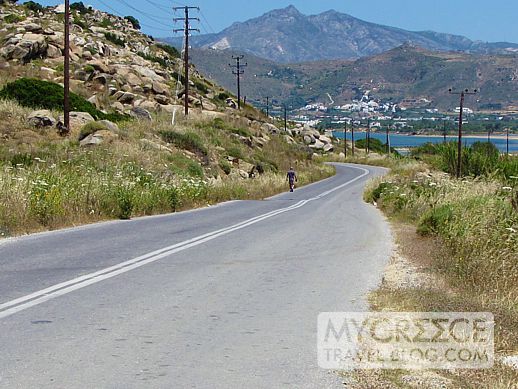 Another view of the road from Stelida to Naxos Town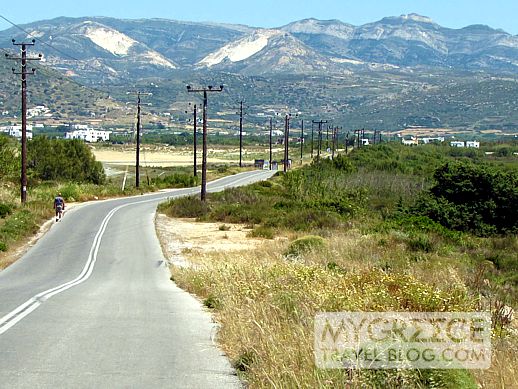 The drive from Stelida to Naxos Town takes less than 10 minutes …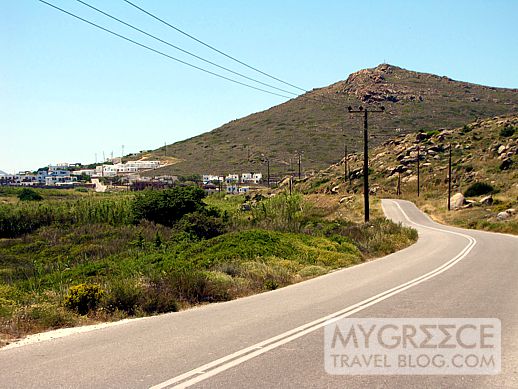 … but walking the route takes about an hour. This is a view in the other direction, looking toward Stelida mountain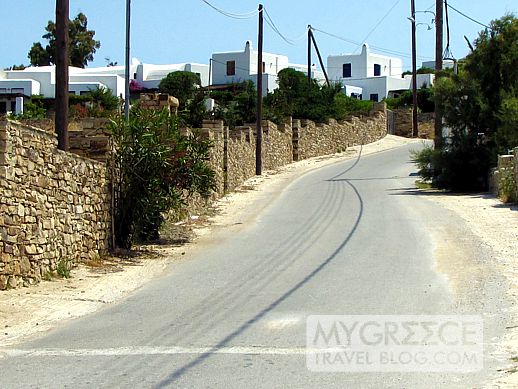 Like Mykonos, the beach access roads on Naxos tend to be narrow, like this one leading from Stelida to Agios Prokopios beach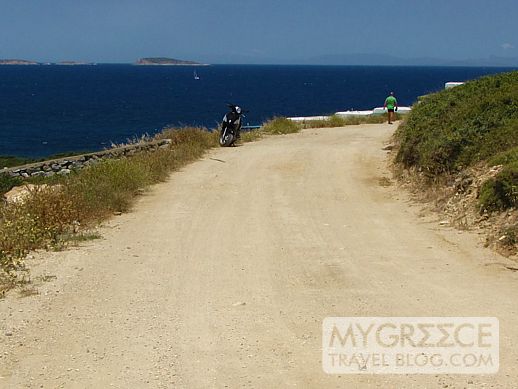 Though many roads on Naxos are paved, many are not — including this one on a Stelida hillside facing nearby Paros island …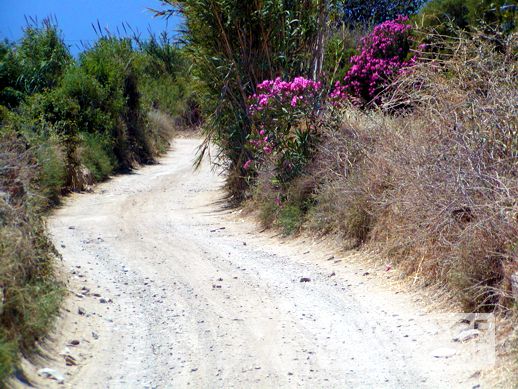 … as well as this dirt road between Plaka and Mikri Vigla beaches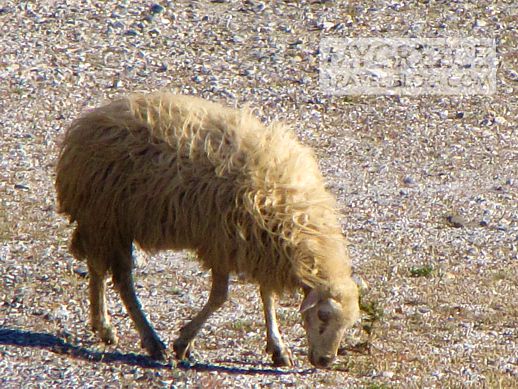 Remember the stubborn sheep on the bend in the road on Amorgos? It eventually moved out of harm's way … but who knows for how long
x
XX