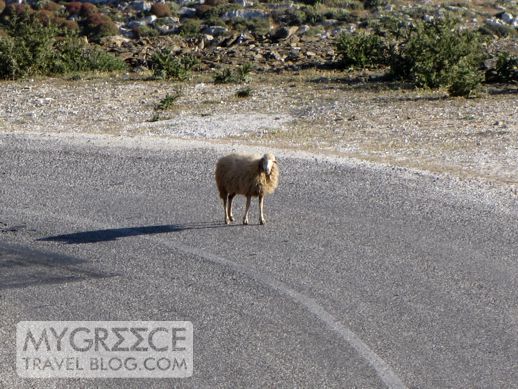 A sheep stands on a bend on the main Amorgos highway near Chora. We also passed many goats on the roads while driving around the island …
xx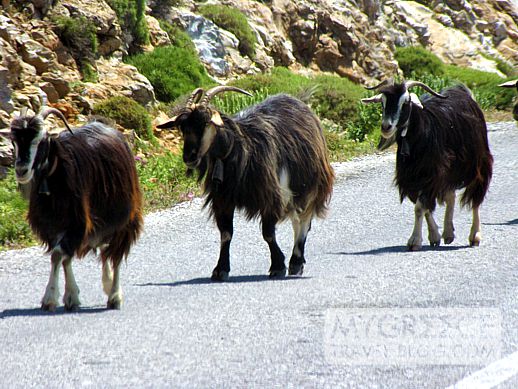 … including these three, who were in a herd of several dozen goats ambling along a stretch of highway between Egali and Chora on Amorgos
Highway hazards: One of the features we love best about the Greek Islands is the beautiful beach, sea, mountain and village scenery, and our favourite way to see it is on foot. Some islands, including Amorgos, Folegandros, Paros and Sifnos, boast excellent walking and hiking routes, with networks of well-established footpaths and donkey trails criss-crossing scenic mountain and valley terrain. Santorini has some fantastic footpaths, too, including the famous clifftop trail between Fira and Oia that presents spectacular caldera views every step of the way. And on some islands, including Kos, Milos, Naxos, Patmos and Samos, mountain bike rentals have offered a fun fresh-air option for getting around and seeing the sights.
When it's not practical or feasible to hike or bike to the places we want to see, we usually rely on local buses — a cheap and easy way to get around islands like Mykonos and Santorini. But since we typically travel in low season, bus service can be infrequent or unreliable, particularly on some of the smaller islands that aren't as popular with tourists. So we have occasionally rented cars to tour around islands and see places we couldn't reach by bus.
We don't enjoy driving while on vacation, though, because we like to check out the scenery and take photos — something that's difficult for a passenger to do (and impossible for the driver) when you're speeding down an island road or highway. So you could count on just one hand the number of times we have rented cars in Greece (only once on each of Amorgos, Crete, Mykonos and Naxos).
But when we have used rental vehicles to get around, we have quickly discovered some typical road hazards and dangers that first-time drivers in Greece should be aware of before getting behind the wheel and heading off on a road trip.
PLEASE TURN TO PAGE 2 FOR TEXT AND MORE PHOTOS