Now, it's true that Santorini might have a bit of an edge; after all, it's got bragging rights to a world-famous caldera that overlooks a volcano island, and it has four separate villages with whitewashed buildings that spill over the top and down the sides of rugged cliffs high above the sea. Images of Santorini's stunning scenery and superb sunset views feature prominently on post cards, calendars and other souvenirs sold throughout Greece. But when it comes to breathtaking views and beautiful scenery, Amorgos is almost as well-endowed.
Naturally blessed with rugged coastlines, imposing mountains and verdant valleys, Amorgos has two ferry ports with picturesque fishing harbours, a charming traditional Cycladic village (Chora), a variety of beaches scattered around the island, and Chozoviotissa, a magnificent fortress-like monastery built against the side of a sheer cliff about one thousand years ago. There are scores of splendid sunset-viewing vistas, too, plus one of my favourite Amorgos features:  The Big Blue.
If you're a cinema buff, you might recall that scenes in "The Big Blue," the 1998 diving movie by French director Luc Besson, were filmed on Amorgos. Since the film was released, The Big Blue has become a nickname of sorts for Amorgos, with writers often using it to describe the extraordinary and exquisite tones of blue in the Aegean Sea around the island, and particularly off the east coast below the Chozoviotissa monastery, where some of the movie's diving sequences were shot.
When I saw the striking shades of turquoise and blue in the crystal clear waters off Amorgos with my own eyes, I was absolutely awestruck. I have spent hours gazing at the gorgeous sea around Santorini, but I can't begin to describe how exhilarated and fascinated I felt viewing the Aegean off Amorgos for the first time — the sublime sight actually left me speechless. Especially off the coast below the Chozoviotissa Monastery, where the colours and textures of the calm sea slowly and gradually changed as the intensity of the late afternoon sunlight started to fade. That was more than two years ago, but the images are still so vivid and clear in my mind it seems like only yesterday. Unfortunately, the images from my camera don't do justice to the astonishing colours and marvellous scenery, but I think they will still give you a good impression of how breathtaking the coastal views on Amorgos truly are. I highly recommend visiting Amorgos to see for yourself — I know you won't be disappointed!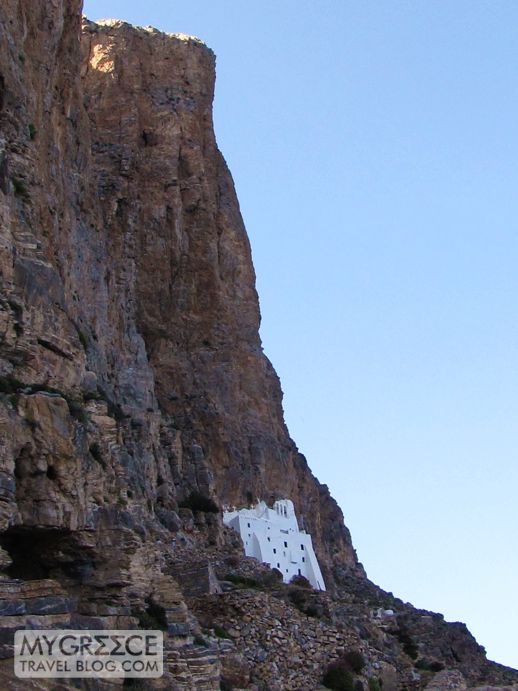 The fortress-like Chozoviotissa Monastery clings to the face of a sheer cliff soaring hundreds of feet above the sea on the east coast of Amorgos. It's one of the most spectacular sights on the island, but the vibrant blue and turquoise colours in the water of the Aegean Sea a few hundred feet below are equally enthralling.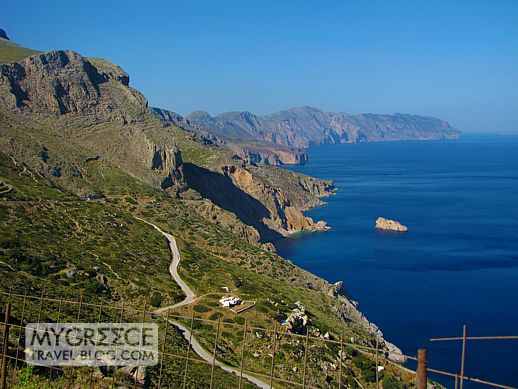 The east coast of Amorgos near the Chozoviotissa Monastery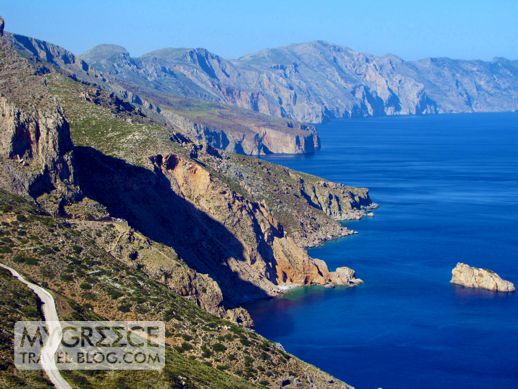 Not visible in this photo, the Monastery is situated above the area in dark shadow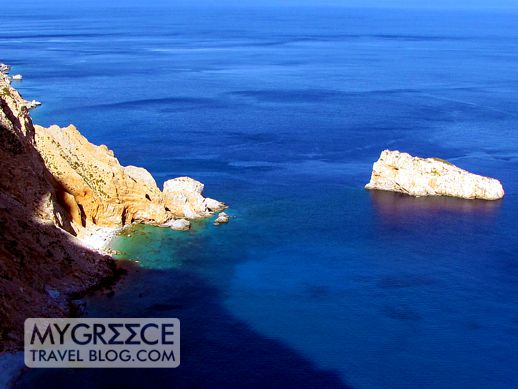 Mikro Viokastro Island sits close to the coast below the Chozoviotissa Monastery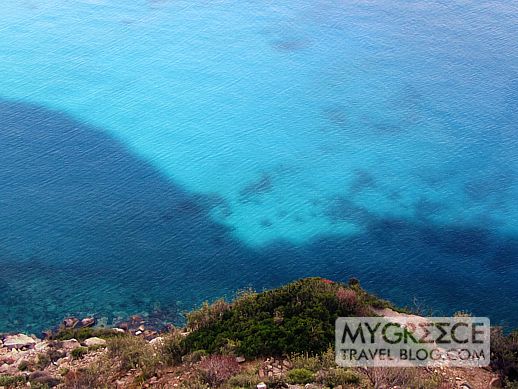 Looking down at the sea from the stone pathway to the monastery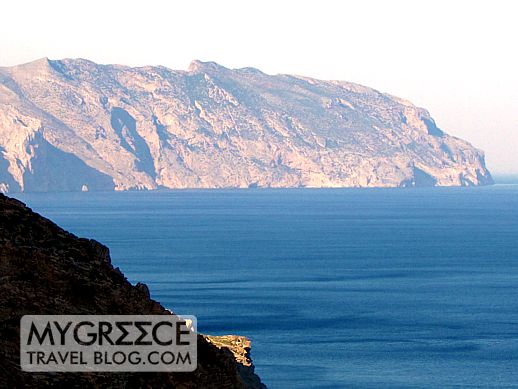 A view from the monastery of the rugged east coastline of Amorgos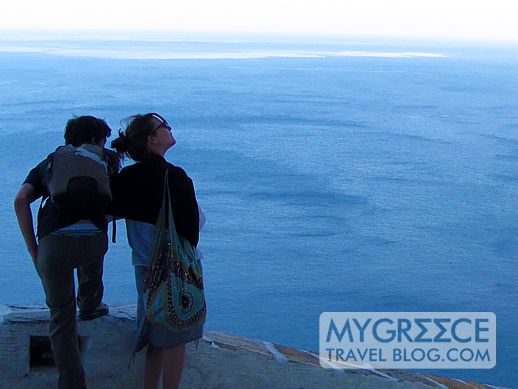 Tourists admiring The Big Blue from the pathway to the monastery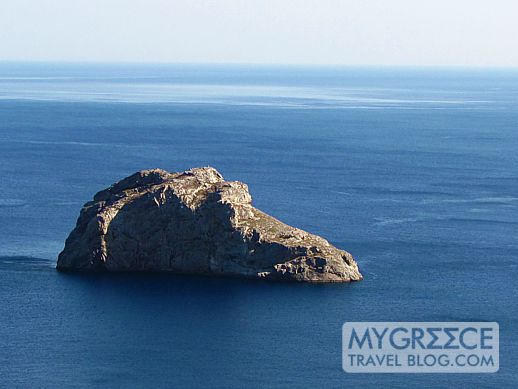 Calm blue seas surround rocky Megalo Viokastro island, one of two shoe-shaped islands off the coast near the monastery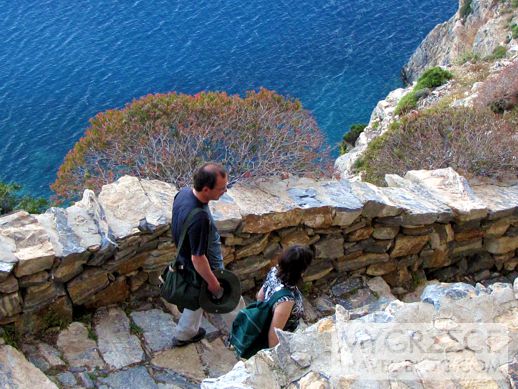 Tourists depart the Chozoviotissa monastery along the stone path above the sea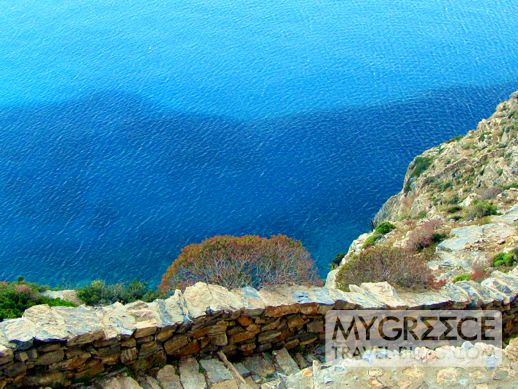 Vivid shades of blue and turquoise in the sea below the monastery path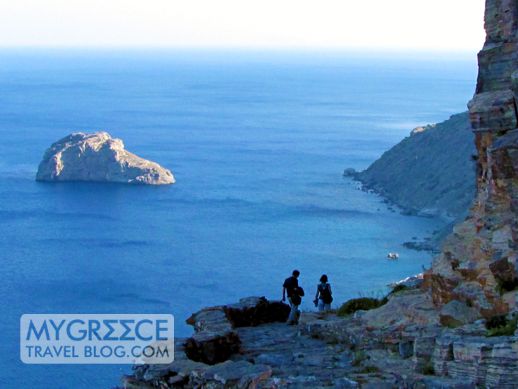 A view of the monastery path and Megalo Viokastro island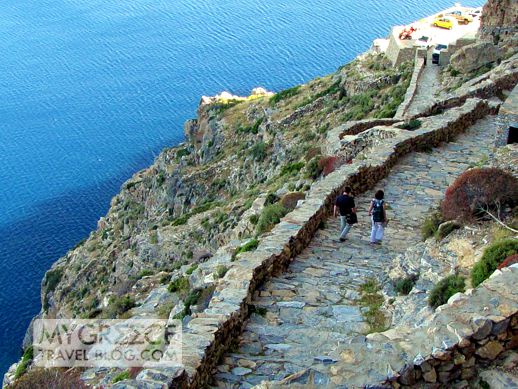 The parking lot for monastery visitors is visible at the top right corner of the photo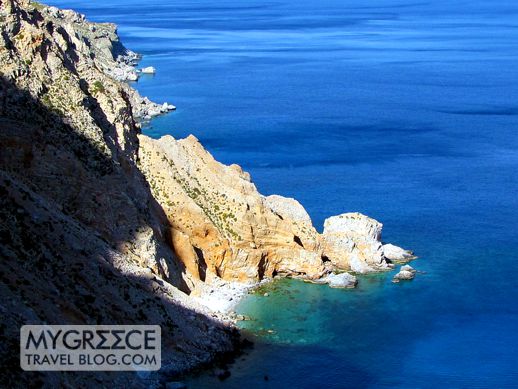 Vivid tones of turquoise and blue in the sea below the monastery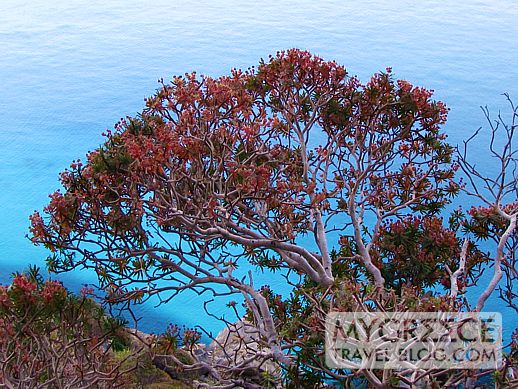 Trees and shrubs cling to the cliffside above the sea, next to the monastery path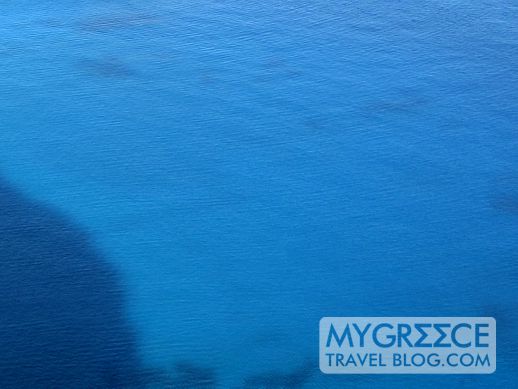 The Big Blue Aegean Sea below the monastery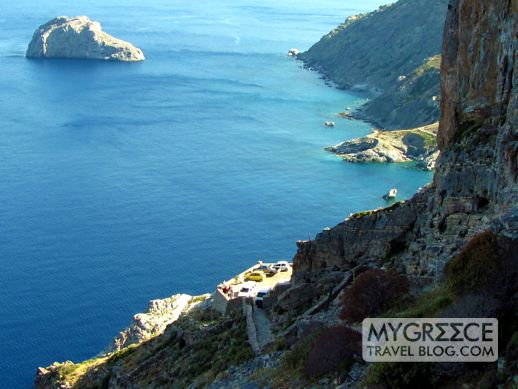 A view of the coastline to the southwest of the monastery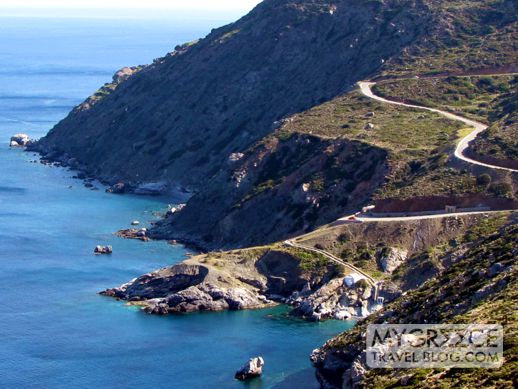 The road winds down to the Agia Anna and Kambi beach areas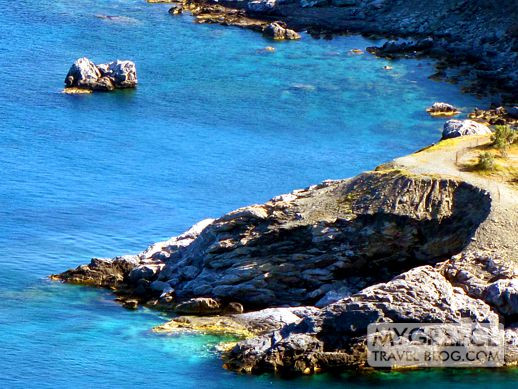 A crater-like shape on the coastline near Agia Anna beach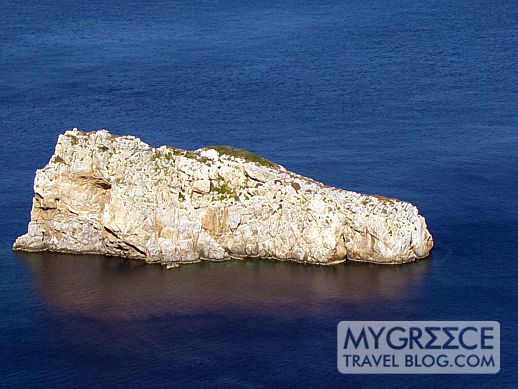 A reflection of Mikro Viokastro island glimmers on the deep blue sea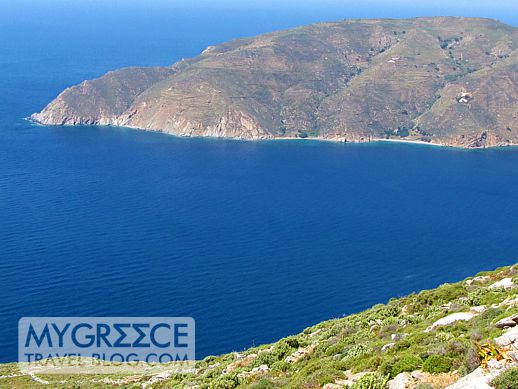 Vivid blue sea in Egali Bay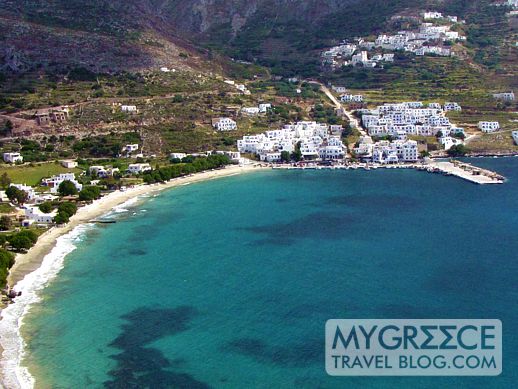 Overlooking the long sweeping curve of Egali beach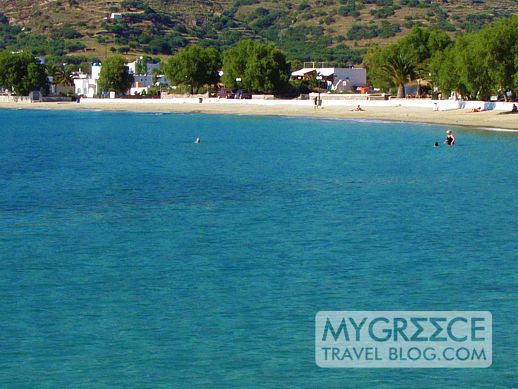 Gorgeous turquoise water off sandy Egali beach
Flowering bushes on the side of the steep slope above Egali Bay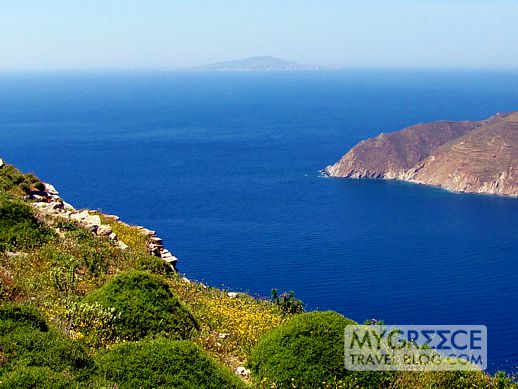 Naxos is visible in the distance in this view from a mountain above Egali Bay
Another view of Egali Bay from a mountain path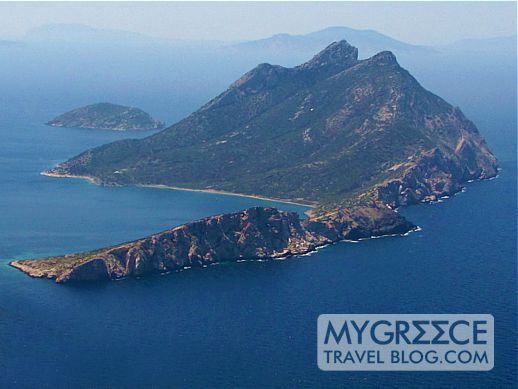 Nikouria island viewed from an Amorgos mountain path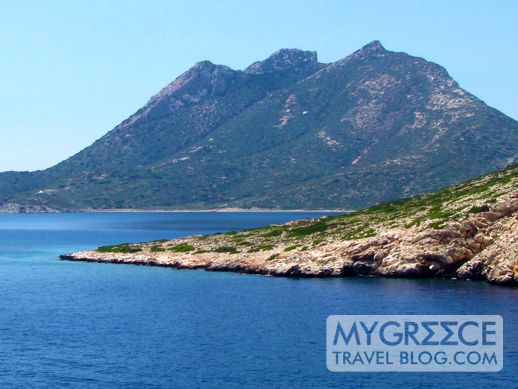 Nikouria island viewed from the highway linking Egali to Katapola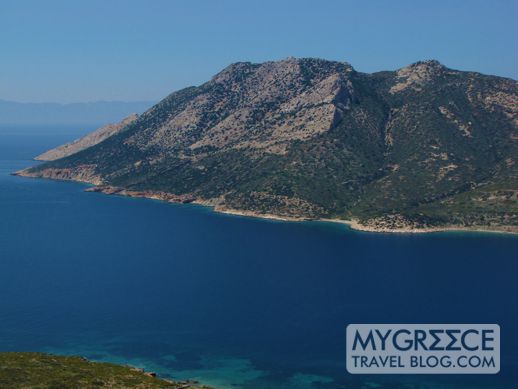 Kalotyri Bay between Amorgos and Nikouria Island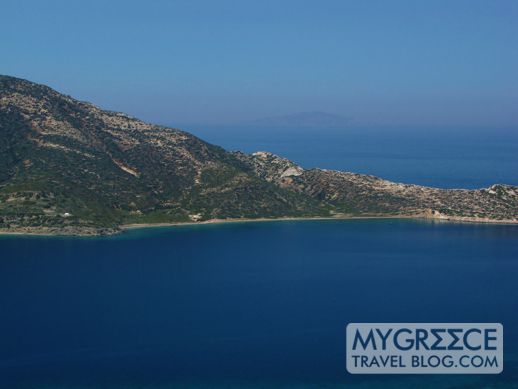 Kalotyri Bay and Nikouria Island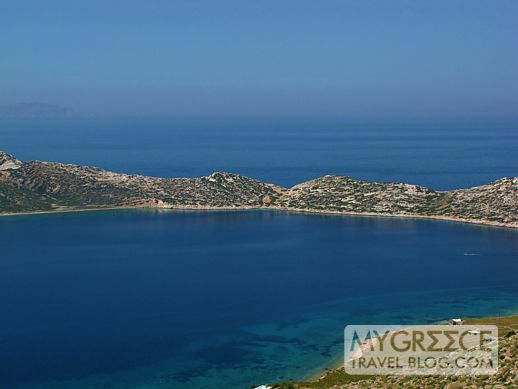 Kalotyri Bay and Nikouria Island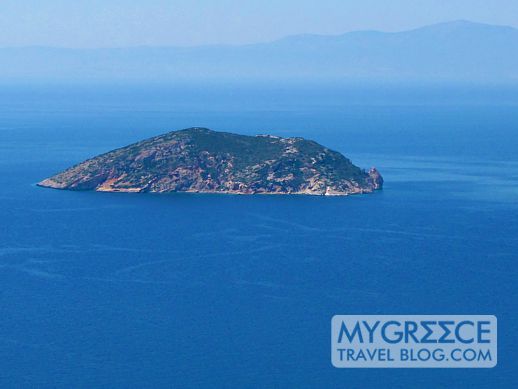 Grambonissi island sits a short distance to the west of Nikouria Island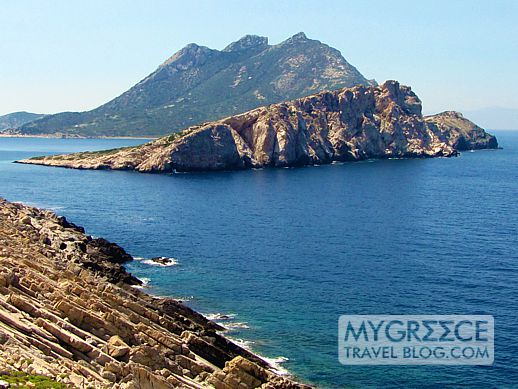 The northeast side of Nikouria Island, facing Egali Bay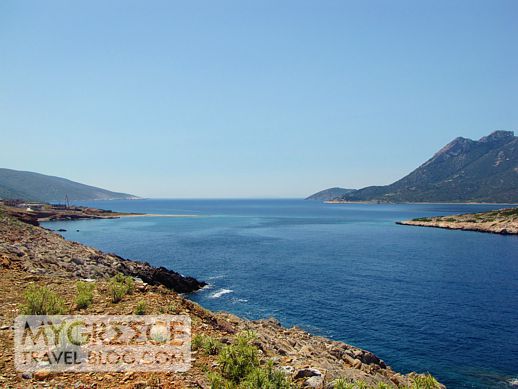 A view of Kalotyri Bay and Agios Pavlos beach (center left)
Agios Pavlos beach is a slender sliver of sand that juts into Kalotyri Bay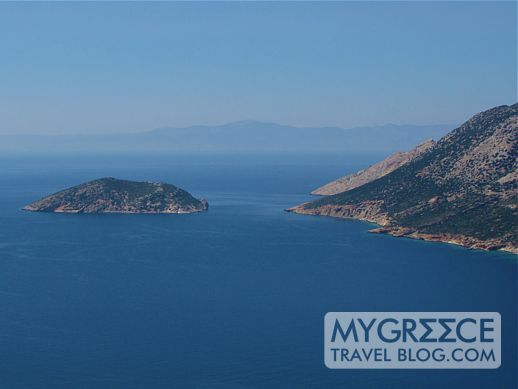 Grambonissi island and Nikouria island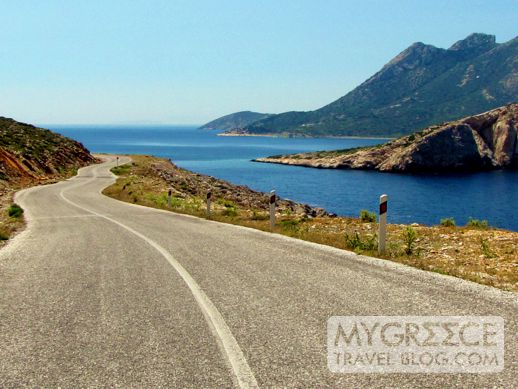 Approaching Nikouria Island and Kalotyri Bay on the island's main highway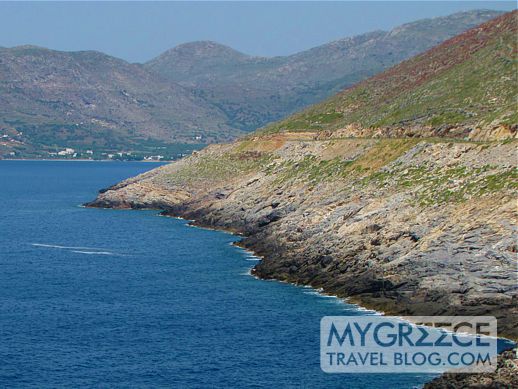 The rugged coastline a short drive southwest of Egali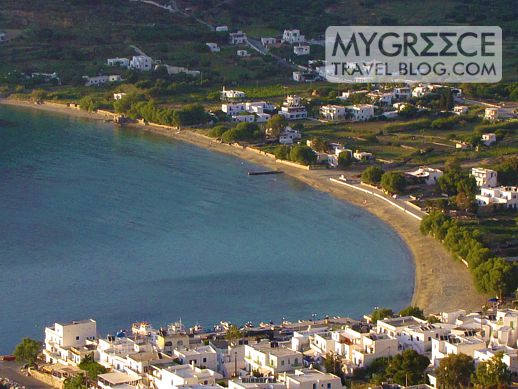 Overlooking Egali beach and bay from the mountain village of Potamos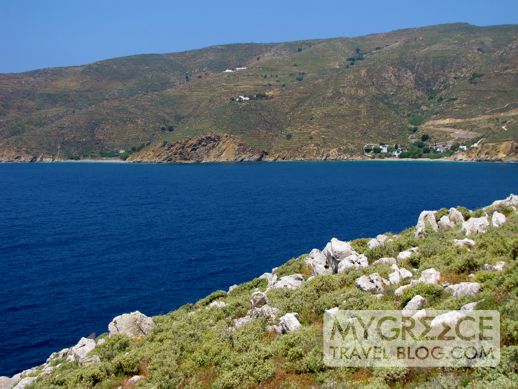 Egali Bay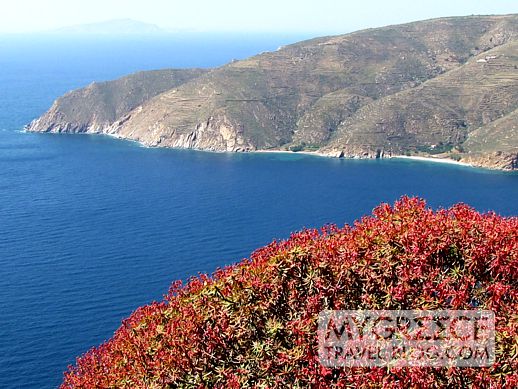 A flowering shrub high above Egali Bay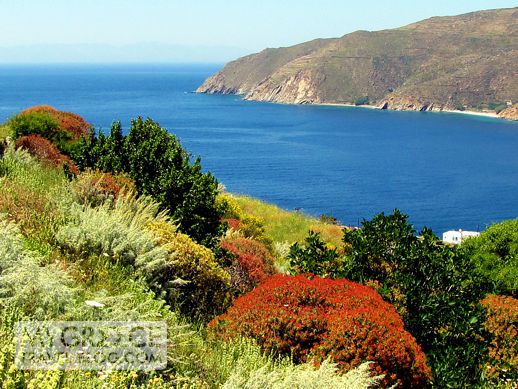 More colourful spring flowers above Egali Bay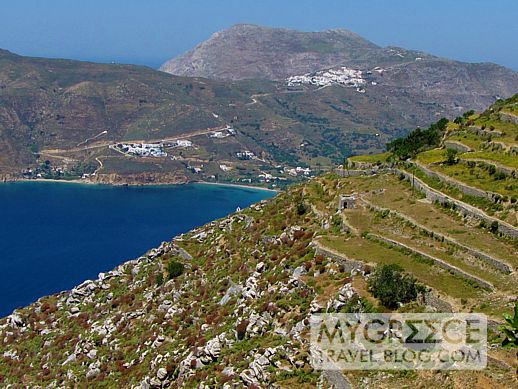 Tholaria village on a mountain high above Egali Bay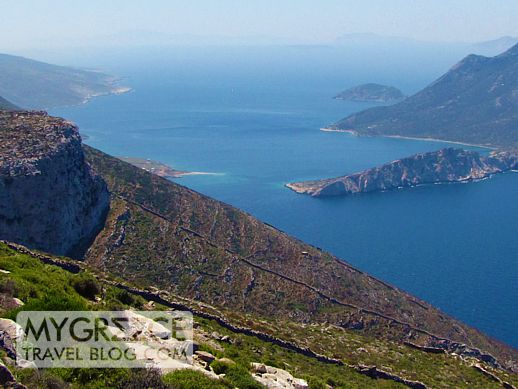 View towards Kalotyri Bay from an Amorgos mountain trail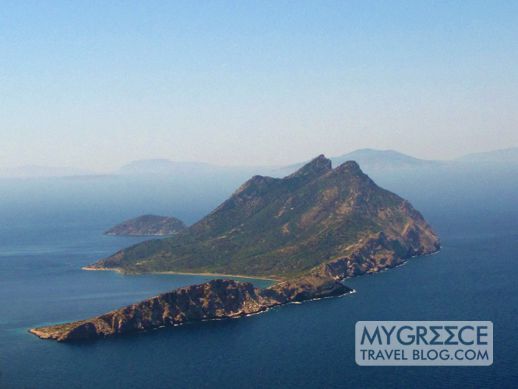 Nikouria Island