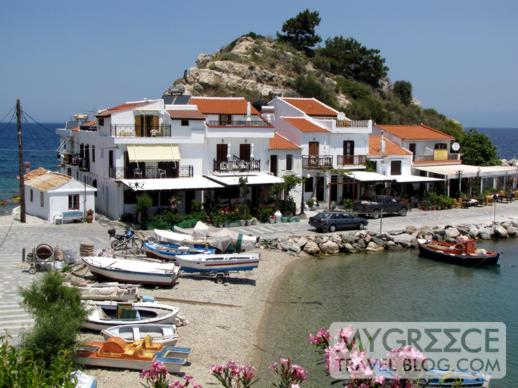 Houses, tavernas and boats beside the harbour in Kokkari
Hotel hopping: Samos was our third (and final) island destination in 2010.  Like Patmos, it had terrific scenery, good hiking and cycling, and was another laid-back, perfect place for relaxing. We enjoyed it almost as much as Patmos, and may have liked it more if our meals had been enjoyable as the two we had at Flisvos taverna. That's not to say the food wasn't good on Samos; it was. Our meals just weren't as memorable as the ones we had on Patmos. We had a great time here, but again had only one regret about going: not enough time. Samos is a large island and, as it turned out, we got to see only a small part of it. But that means there's so much more for us to see next visit.
What we liked about Samos:
The walking & cycling. We had a blast cycling from Vathi, the main port town on Samos, to the scenic seaside village of Kokkari, as well as through the resort area called Kalami. Eploring Vathi's steep, stepped streets on foot was fun, too. When we first approached Vathi, in a taxi from the port town of Pythagorion (where we had arrived by ferry from Patmos), it looked like a small city — much bigger than we'd been expecting — and we weren't sure we would like it. But it grew on us, and we really enjoyed it.
The scenery. Until this holiday, most of our island hopping had been in the Cyclades, where the islands share some common visual characteristics: rocky, barren landscapes dotted with whitewashed cube-shaped houses and picturesque blue-domed churches. Samos was completely different: its mountains and hillsides were lush and thick with trees and green vegetation, while its buildings topped with terra cotta-coloured tile roofs gave it somewhat of a western Mediterranean look and feel. But like the islands in the Cyclades, Samos had gorgeous mountain, coastline and beach scenery, charming towns and friendly people.
The views from our hotels. We spent our first night at the waterfront Hotel Samos in Vathi, where our balcony had terrific views of the town and Vathi Bay. We spent the next three nights at the Andromeda Hotel in Kalami, where we had even better views of mountains, coastlines and Vathi Bay, not to mention spectacular sunsets.
Here are a few photos from our visit.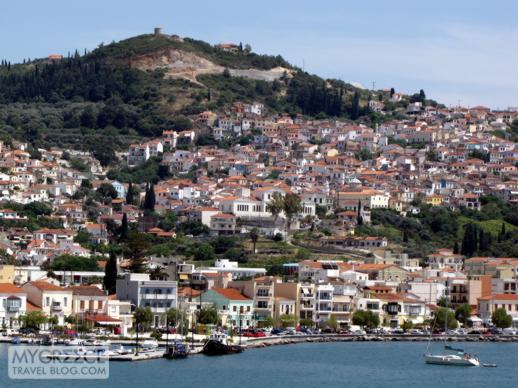 Houses with terra cotta-coloured tile roofs in the port town, Vathi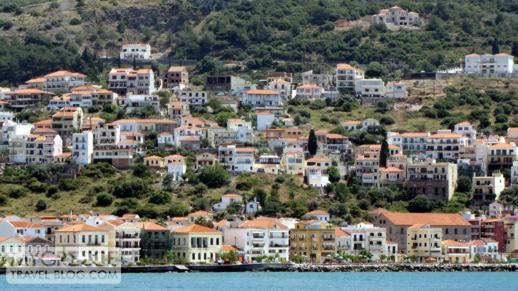 Houses on a hillside above Vathi Bay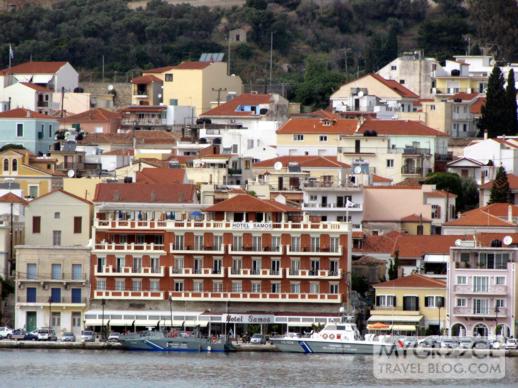 Hotel Samos in Vathi, where we spent our first night on the island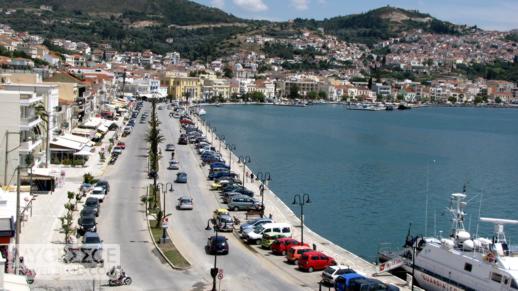 A view of the Vathi waterfront from the Hotel Samos rooftop patio
Businesses along the waterfront street in Vathi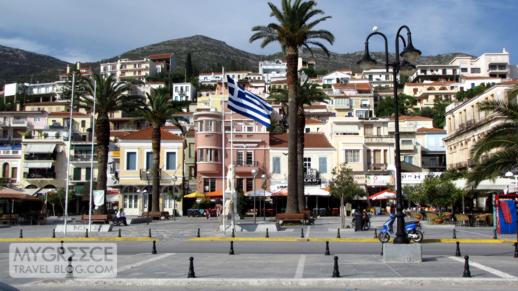 The main town square in Vathi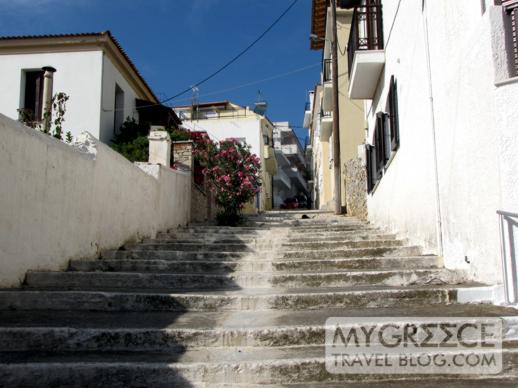 A steep stepped street in Vathi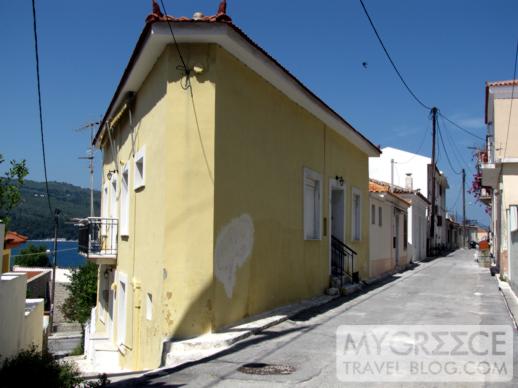 A street in Vathi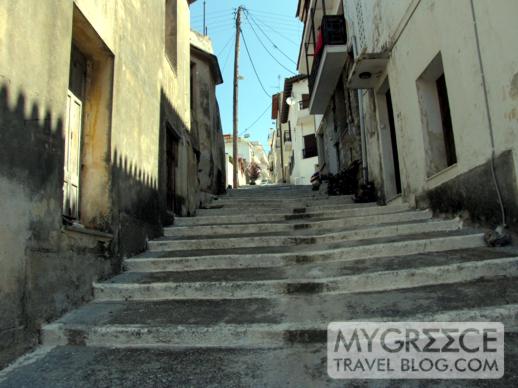 Another Vathi street with dozens of steep steps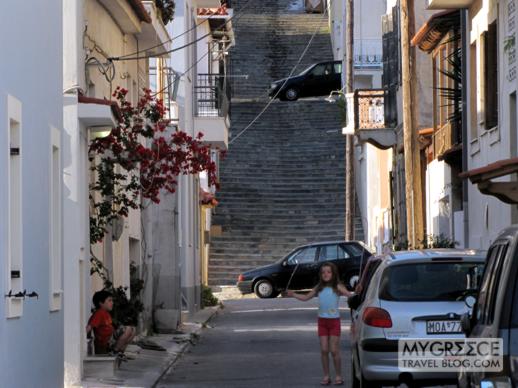 Kids playing on a street in Vathi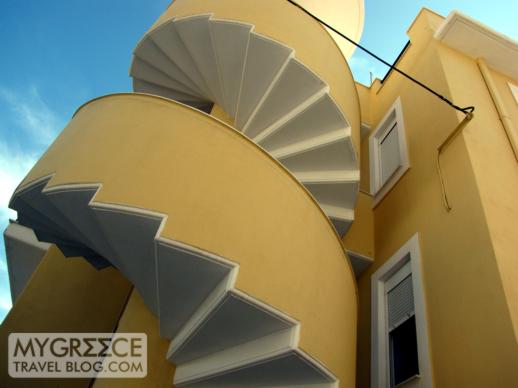 A spiral staircase at an apartment building in Vathi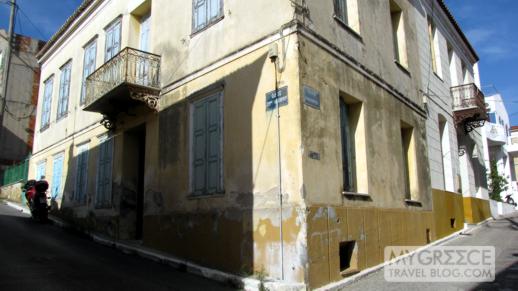 A building at the corner of two hillside streets in Vathi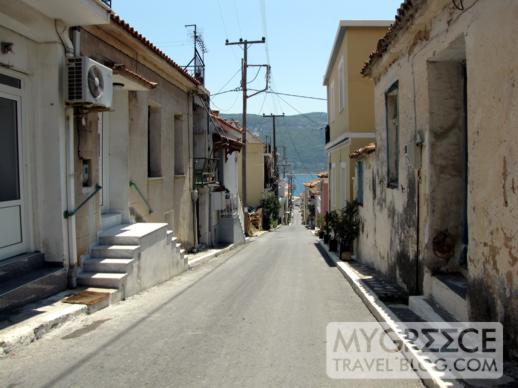 A long street leading down the hill toward Vathi Bay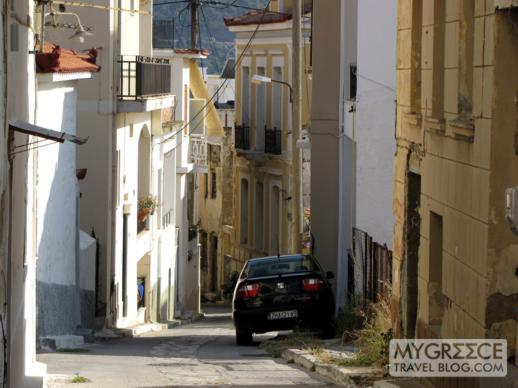 A car parked on a steep road in Vathi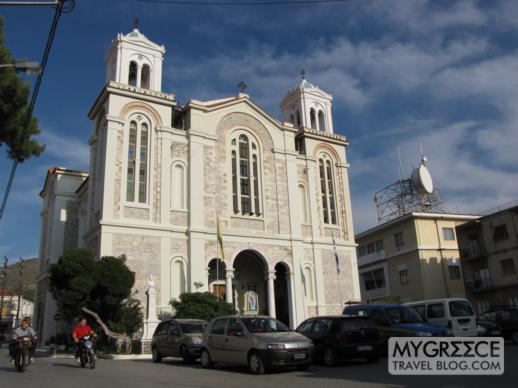 A huge church in Vathi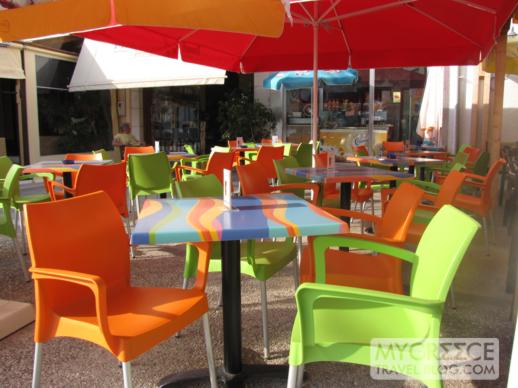 A colourful café in the main town square in Vathi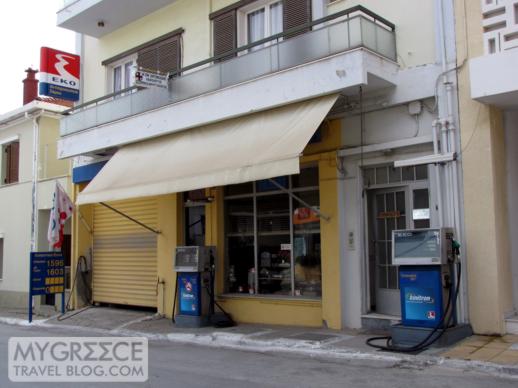 A gas station on the street level of an apartment building in Vathi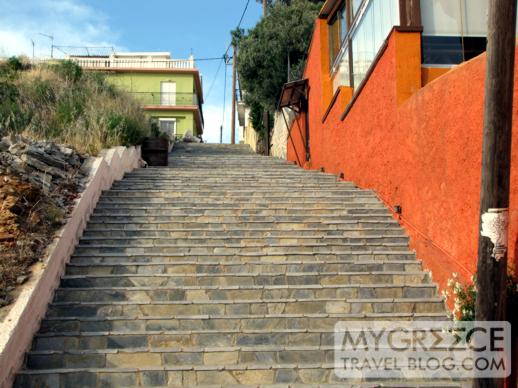 Another steep Vathi street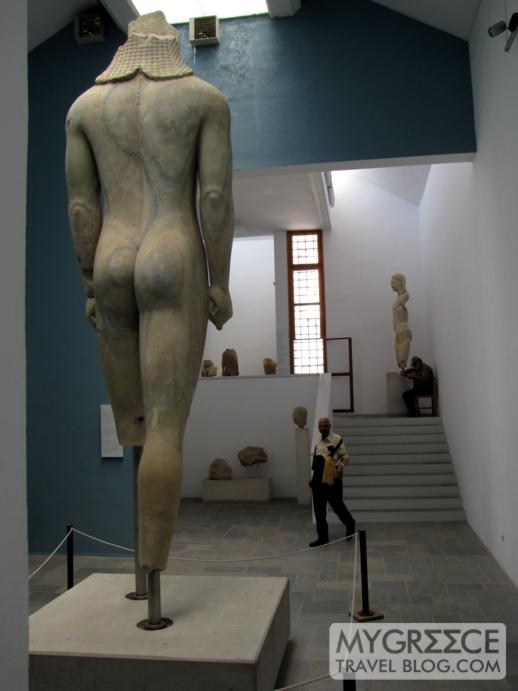 The Colossal Kouros in the Vathi archaeological museum is almost 5 meters tall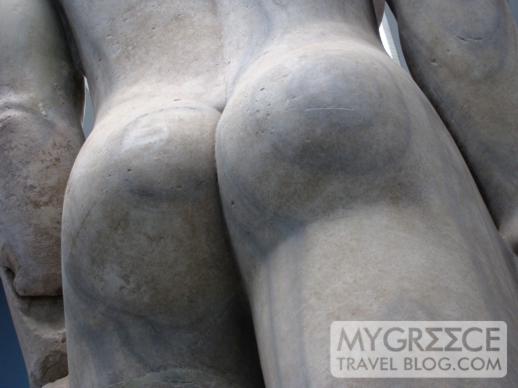 I know people at my gym who would kill to have a rock-hard butt like this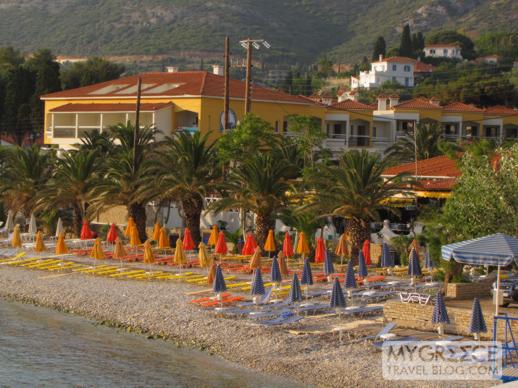 Colourful umbrellas on Gagou beach near Vathi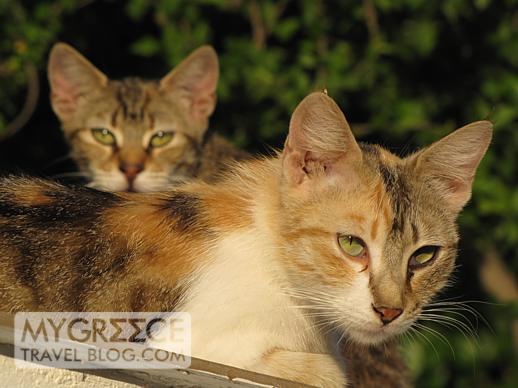 Two cats outside a house near Gagou beach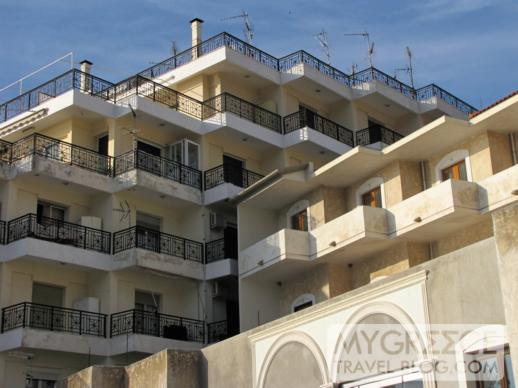 Apartments overlooking Roditses beach a short walk from Vathi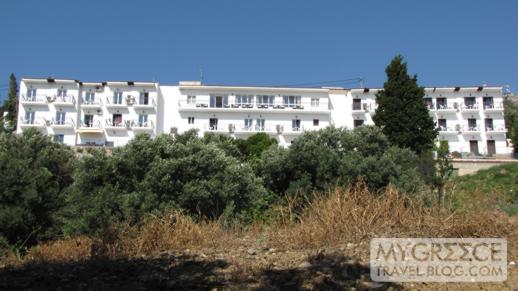 The Andromeda Hotel in Kalami, where we stayed for three nights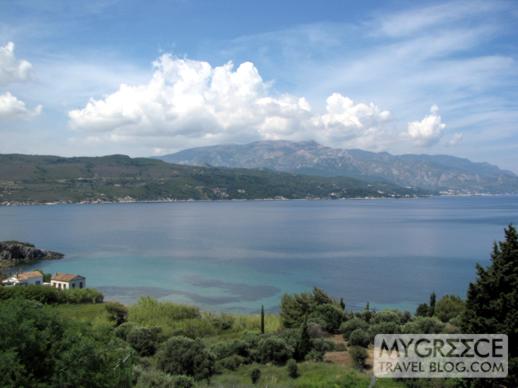 Our balcony at the Andromeda Hotel had views across Vathi Bay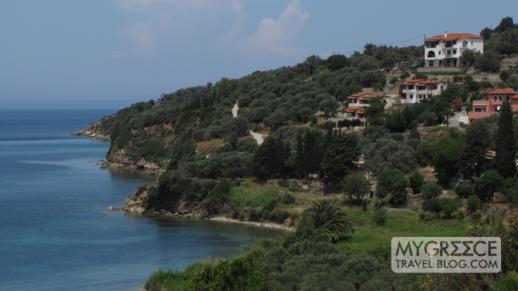 Our balcony also had views of houses on the hillside above the Kalami coastline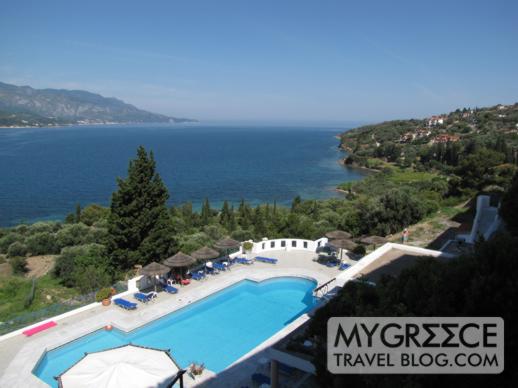 Our balcony overlooked the hotel's big swimming pool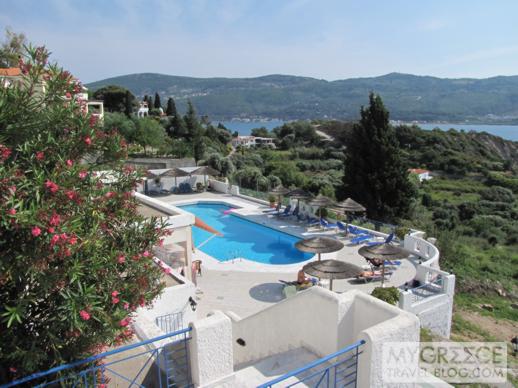 Another view of the swimming pool at the Andromeda Hotel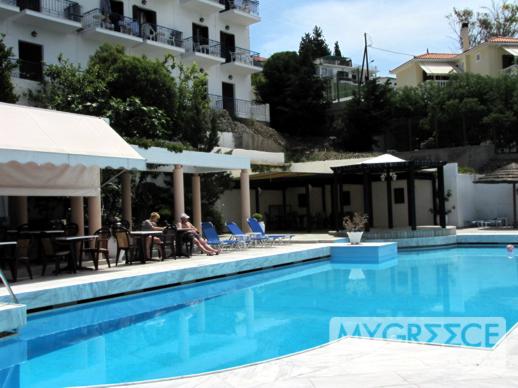 Our best dinner on Samos was the home-cooked meal that Nico & Mama prepared for us at the Andromeda's poolside bar and café (left)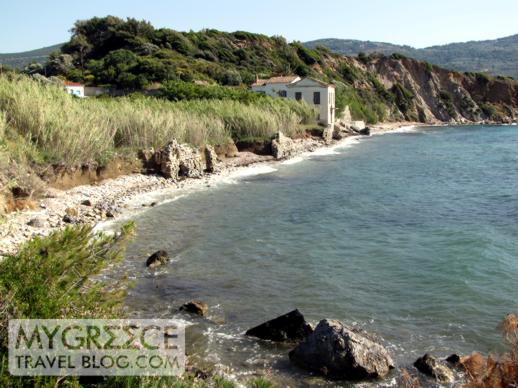 The coastline below the Andromeda Hotel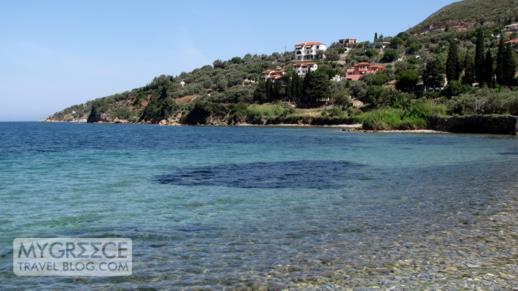 The view to the right from the seashore below the Andromeda Hotel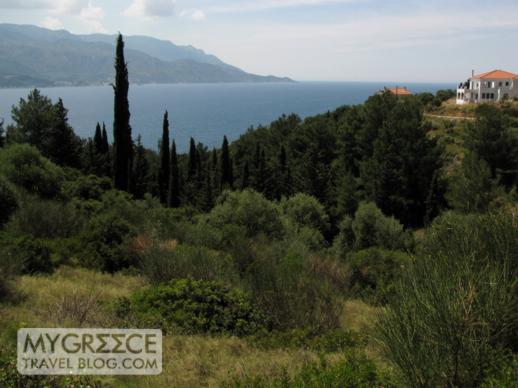 A view of Vathi Bay from the countryside in Kalami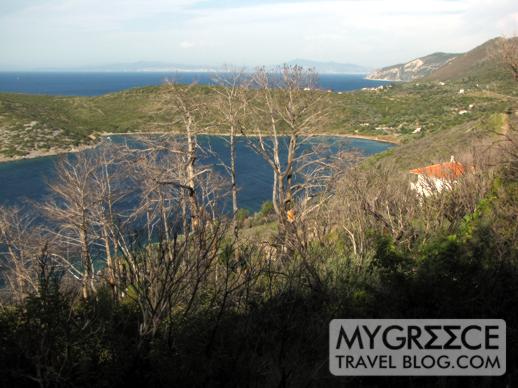 A quiet bay near Agia Paraskevi, past Kalami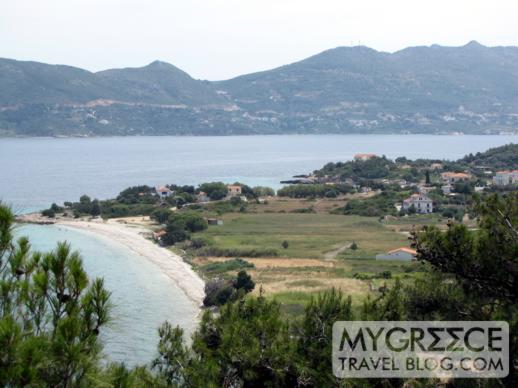 Looking across Vathi Bay toward Kalami during our bikeride to Kokkari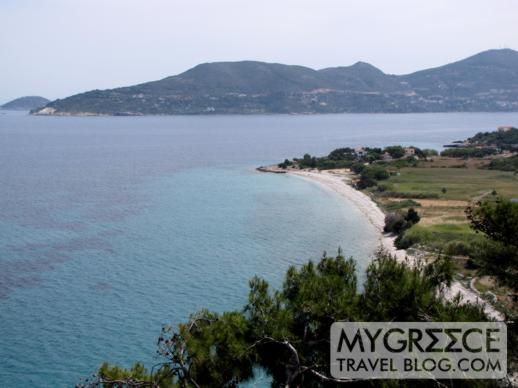 A beach near the mouth of Kalami bay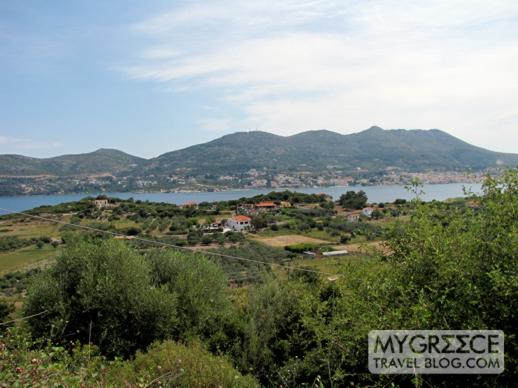 The view toward Kalami and Vathi from a hillside across the bay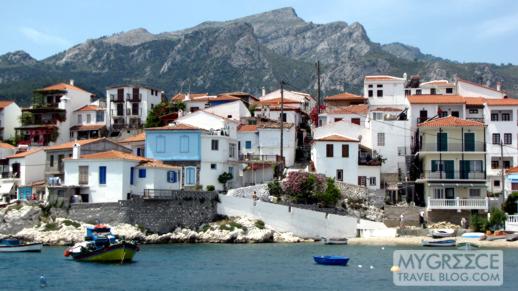 Houses on a hill above the harbour in Kokkari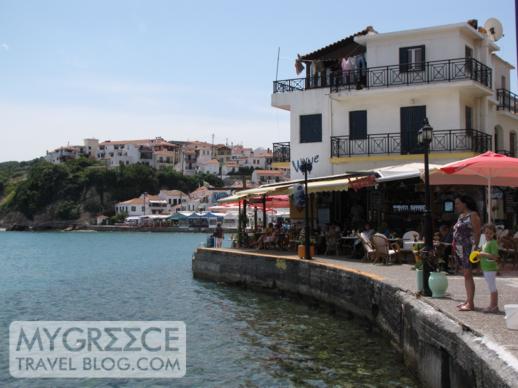 Harbourside tavernas and bars in Kokkari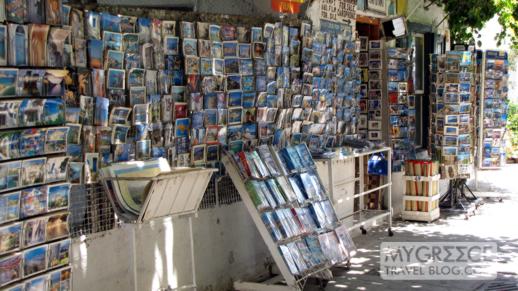 A postcard shop in Kokkari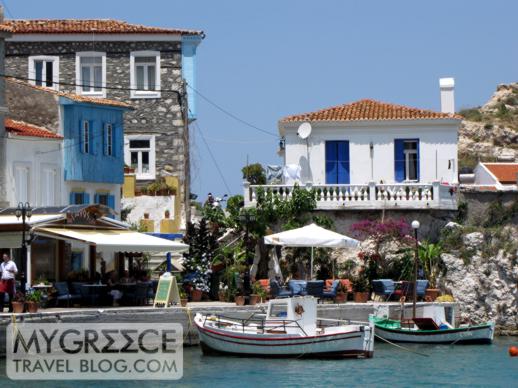 Harbourside houses and tavernas in Kokkari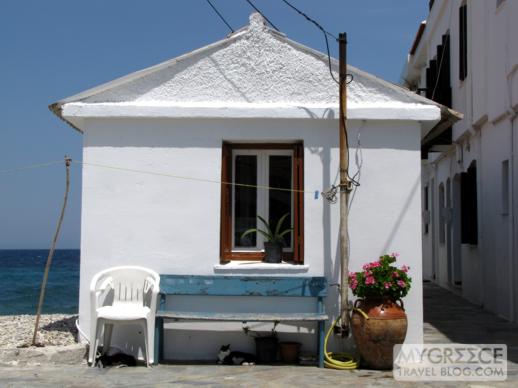 Cats find a shady spot to sleep next to a small seaside house in Kokkari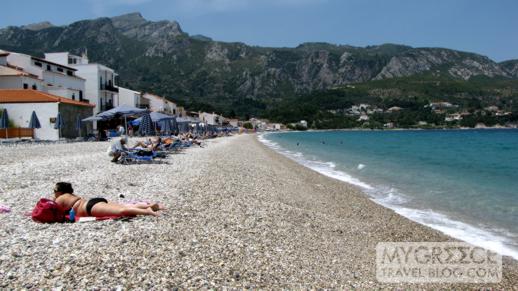 The main beach — one of three — at Kokkari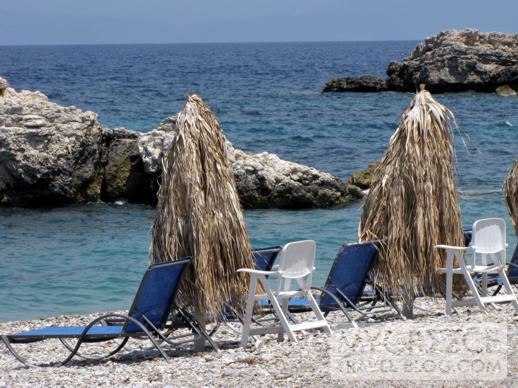 Lounge chairs and umbrellas on the main beach at Kokkari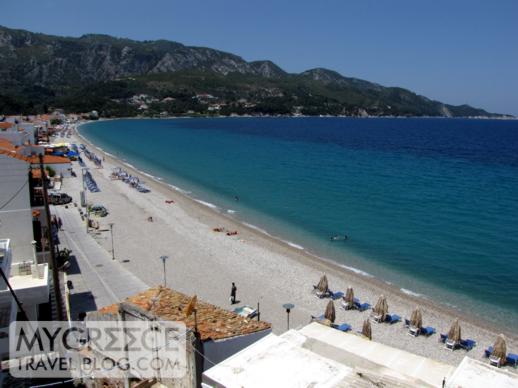 A hillside view of the main beach in Kokkari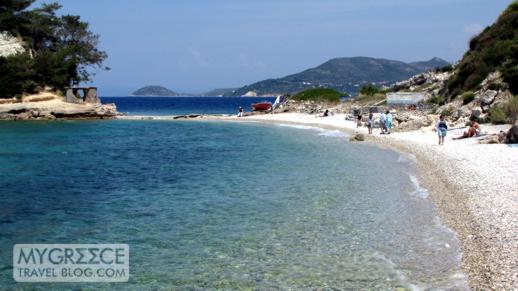 One of the three beaches at Kokkari, this stony beach is separated from another by just a thin strip of land (visible at upper left)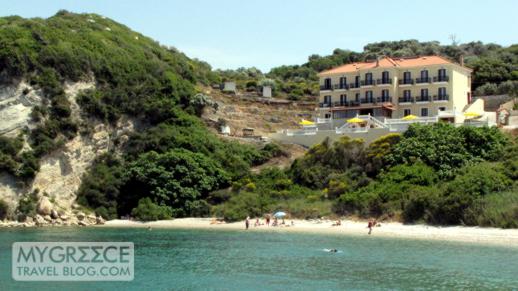 This is the other Kokkari beach just around the bend from the one pictured above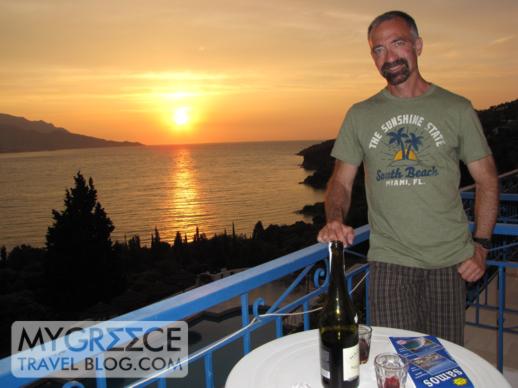 Enjoying a beautiful sunset from our balcony at the Andromeda Hotel