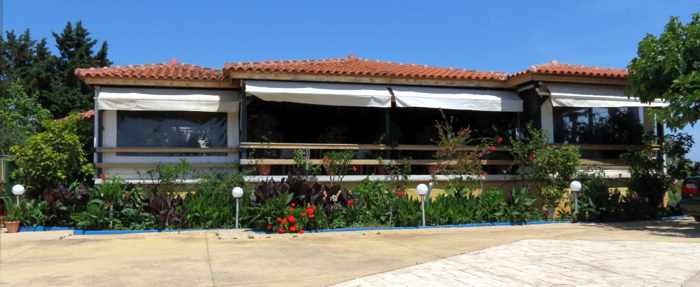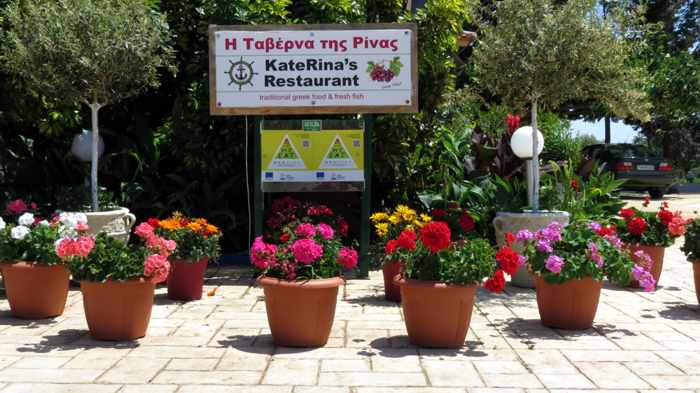 Exterior views of KateRina's Restaurant in the Romanos area of Messenia, a short drive from Voidokilia beach and the town of Pylos
Late lunch: We felt famished after our hike to the Old Castle of Navarino and a long walk during our visit to Voidokilia beach, and all of us agreed that a hearty lunch of traditional Greek cuisine would really hit the spot. KateRina's Restaurant near Romanos had been recommended by several reliable sources, and was only a 10-minute drive away, so we piled into the car and headed right over.
We arrived shortly before 3 in the afternoon, so the lunch crowd had moved on and the few customers still in the taverna were all close to finishing their meals. Restaurant proprietor Katerina greeted us with a warm welcome and showed us to a table at the edge of the veranda where a light breeze — plus beer, wine and water — helped us cool off after our half day in the hot sun.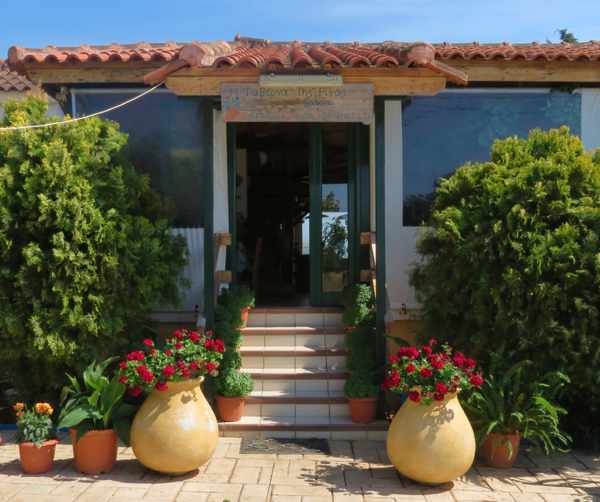 The main entrance to Katerina's Restaurant
Tables in a cozy corner of the open-air dining veranda
Given our ravenous appetites, we weren't sure how much food to order, but KateRina assured us that our selection of Greek salad, tzatziki, zucchini balls, meat balls and a local pork dish would be probably be just the right amount for four hungry people.  So we sat back to relax and enjoy our beverages while KateRina and her kitchen staff prepared our lunch.
The taverna was celebrating its milestone 50th anniversary in 2017, and once we tasted Katerina's traditional cuisine we immediately understood why her restaurant has been highly recommended for so long: the food was superb.
The zucchini balls — a house specialty which has long been a customer favourite  — were delicious, as were the pork (served in a yummy tomato sauce) and the tender, juicy meat balls (accompanied by a heaping side of scrumptious fried potatoes). We also loved the large horiatiki , which included two ingredients we'd never seen before in a Greek salad: cooked beets and potatoes. (They added nice flavours and textures to the dish.) Then there was the restaurant's signature tzatziki, served with a platter of grilled bread. It was simply outstanding. Tzatziki has never been one of my favourite starters, but KateRina's version was almost to die for.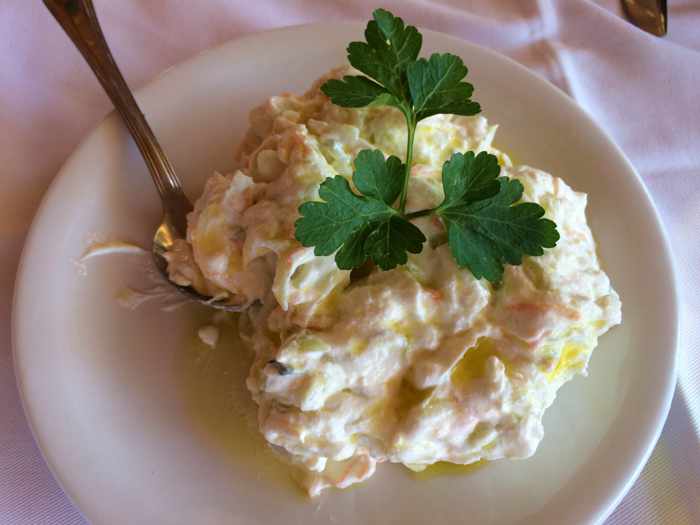 Katerina's tzatziki was divine (and the portion was huge, though it's not obvious in my photo)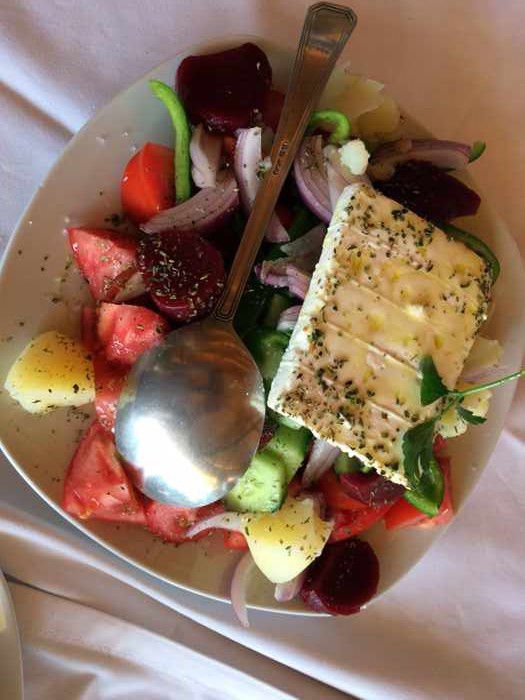 KateRina's Greek salad includes chunks of tasty beets and potatoes
The service was excellent and Katerina was a delightful hostess. At the end of our meal, she took time to join us for some conversation about her taverna and the local area before returning to the kitchen to prepare for a very busy night — a group from a nearby resort had booked the entire restaurant for dinner.
If you're travelling in the southwestern Peloponnese, plan to stop by KateRina's for a lunch or dinner of fabulous Greek cuisine or delicious fresh fish. It might be wise to make a reservation, though, since the restaurant is quite popular with tourists visiting the nearby town of Pylos or Voidokilia and other close-by beaches. Large groups from the five-star Westin Costa Navarino and Romanos Luxury Collection Resort often bus over to the taverna, as well, so the place can get very busy or even completely booked out.
Contact information and hours of operation are indicated on the KateRina's Tavern website.  If you want to read what other people have said about the restaurant, check the Katerina'sTavern listing on TripAdvisor, where more than 250 customers have posted reviews.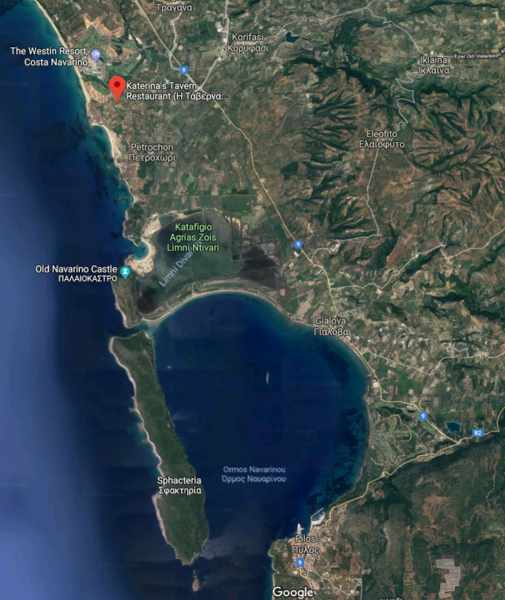 A red marker pinpoints the location of KateRina's Restaurant on this Google image of the Navarino Bay area of the Peloponnese. The taverna is very close to the Westin Costa Navarino Resort (top left) and is a short drive from the town of Pylos (bottom center).