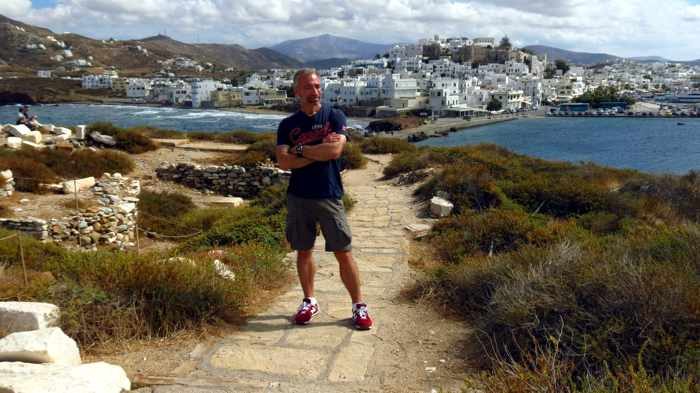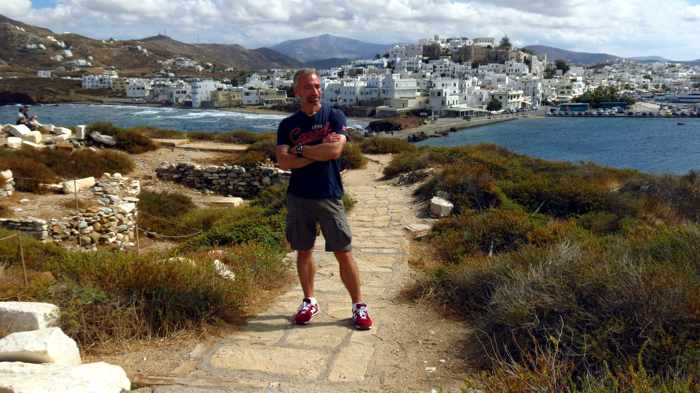 Enjoying the scenery on Naxos, one of my favourite Greek Islands
I love talking about Greece — that's one of the main reasons why I write this blog, after all! — so I was delighted when Hype Magazine, the blog published by the U.K.-based Holiday Hypermarket, invited me to participate in a Q & A interview about one of my favourite islands.
I suggested talking about Naxos, since it's not as well known as blockbuster destinations like Mykonos and Santorini, which receive the lion's share of attention in the travel media.
Below is interview excerpt in which I describe  what I believe are three of the top places to see on Naxos. 
You can read the complete interview on the Hype Magazine site, where I answer questions and provide some personal "insider tips" about restaurants, cultural events, historic sites, beaches, island scenery, getting around Naxos, and more.
Hype Magazine: If a holidaymaker only has a few days on the island, what would you say is one thing he or she absolutely shouldn't miss the chance to see and do in Naxos?
Me: Since it's so big, Naxos can easily keep visitors entertained for a week or fortnight or even longer. But if you don't have that much time available, aim to spend at least three full days and nights on Naxos. This is sufficient to comfortably explore what I think are the island's top three 'must see/must do' features.
First is the port town, Chora, better known as Naxos Town. It has a bustling harbour-front promenade lined with dozens of stores, cafes and restaurants. Not to mention an Old Market district with cozy bars, coffee shops, stores and galleries nestled in a warren of narrow lanes. You can also expect an imposing castle which towers above the town. And St George's beach, a long strand boasting soft brown sand and shallow clean waters – ideal for families with small children.
A short stroll from Chora's harbour front is the Temple of Apollo monument. Also known as the Portara, this giant marble door frame is all that remains of a temple which was only partially constructed centuries ago. Since it's on a hilltop overlooking the sea, it's one of the best places on Naxos to watch a sunset, and to enjoy terrific views of Naxos Town.
The second must-see is one or more of the beautiful sandy beaches that extend, like a long chain, down the island's western coast. Some, like Agios Prokopios and Agia Anna, have organized sections with rental sunbeds and umbrellas, as well as tavernas and bars close by.  At others, like Plaka, you'll find some spots with sunbeds and restaurants nearby, but also incredibly long stretches of wide-open space and big dunes topped with tall grasses. All that space, and sand stretching for miles, are what draw many beachgoers to Naxos. St George's and Mikri Vigla beaches also offer sailing, kayaking, windsurfing, kitesurfing and other watersports.
The third 'must do' is to visit one of the charming inland villages, including Chalki, and the picturesque mountain villages of Filoti, Apeiranthos and Koronos – no visit to the island would be complete without spending some time in at least one of them.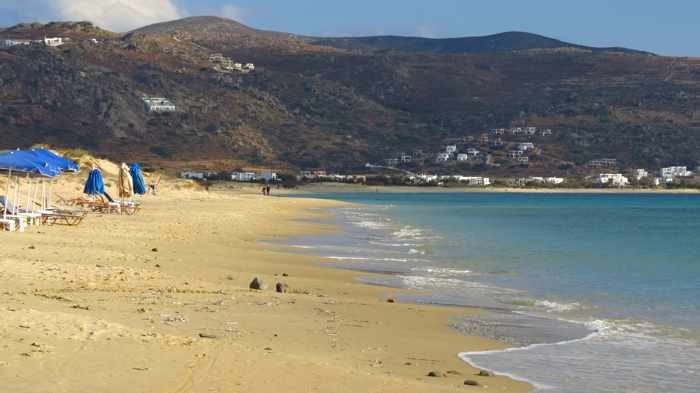 One of the things I love most about Naxos is being able to walk for miles along spacious, uncrowded beaches like Plaka (above), which extend one after the other down the isle's western coast.
Want to read more about Naxos? Take a look at my popular article, Our Top 15 reasons to visit Naxos, as well as other top Naxos posts from my blog. 
To see more of the island, check out my Naxos photo collection on Flickr.