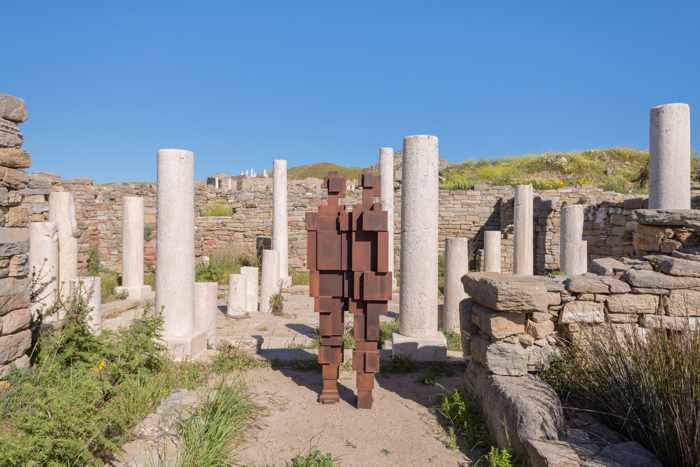 Sculptures by Sir Antony Gormley, including this 2015 work entitled Connect,  have been installed on Delos island as part of a landmark  art exhibition on display this summer only 
Modern art on ancient site: After exploring the historic ruins on Delos three separate times between 2004 and 2010, I haven't felt an urge to make a return trip to the island in recent years.  After all, the monuments and the island itself wouldn't look noticeably different from my previous visits, so there wouldn't be anything particularly "new" for me to discover. And besides, there are dozens of other major archaeological sites in Greece that I haven't seen at all — so going to some of those has been a higher priority than  a fourth trip to Delos.
But this summer  I have really been regretting that I can't get to Delos to see something that is in fact completely new and different, and available for viewing only during this year's tourist season.
It's a groundbreaking modern art installation called SIGHT, which features 29 iron "bodyform" sculptures that acclaimed British artist Antony Gormley has positioned among the historic Delos monuments and antiquities — on the island's coast and harbourfront, atop Plakes Peak and Mount Kynthos, and in one of the galleries in the Delos archaeological museum.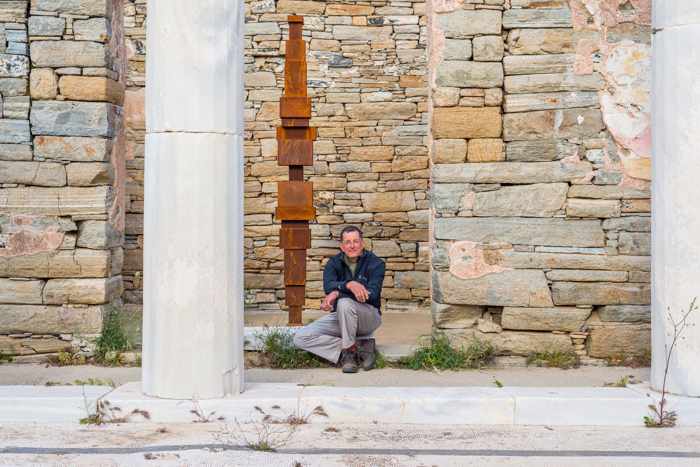 Antony Gormley poses with his 2017 work, Reflect, on Delos island. The photo was shared on the Facebook page for NEON, the non-profit cultural organization that commissioned and organized the SIGHT exhibition.
The SIGHT exhibit is noteworthy for two key reasons: It's the first time an artist has taken over the archaeological site since Delos was last inhabited 5,000 years  ago, and it's the first time the Greek Archaeological Council has approved a contemporary art installation on the island.
It's an historic art event I would certainly appreciate: I enjoy sculpture (from any era) and I would love to see some of Gormley's work up close. Viewing his pieces on Delos — five of which were created specifically for this event — would give me fresh new perspectives of the island and its significant historical and mythical past. I have been intrigued and moved by photos of the sculptures I have seen on websites and social media, so I know that seeing the pieces in person would be a fascinating experience.
Unfortunately,  a trip to Greece isn't possible for me before the exhibit ends. But if you are a fine arts and sculpture enthusiast yourself, and you will be visiting Mykonos (or Naxos or Paros, from which daytrips to Delos are also available) before October 31, don't miss the unique opportunity to experience the island while the Gormley "bodyforms" are on display. 
SIGHT is a project that the Greek non-profit cultural organization NEON organized in collaboration with the Ephorate of Antiquities of Cyclades. The exhibition continues until October 31 2019.
Extensive details and information about Delos and the sculpture exhibit are available on the SIGHT page of the NEON website. 
Below is an 8-minute video in which Antony Gormley discusses Delos and the inspiration for his work, followed by photos of several of the sculptures displayed on the island.