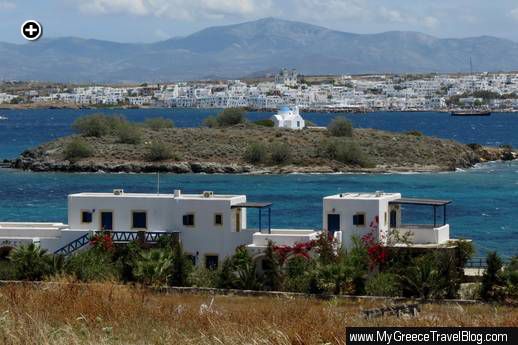 Looking toward the town of Naoussa from a hillside near Kolimbithres beach on Paros. Agia Kali island, with its blue-domed church of the same name, takes center stage, while mountains on Naxos island provide a backdrop to the scene.
Spring scenes: Now that we've been on Daylight Savings Time for a few days, I'm anxious for spring flowers to start blooming. It has been a long winter of cold and snow, so I'm eager to see leaves, green grass and flower-filled gardens bring life and colour back to my neighbourhood.
Since I will probably have to wait a few more weeks before that starts happening, I have been making do in the meantime by looking at our photos of flowers and other spring scenes from our two separate visits to Paros. Here's a selection for you to enjoy, too. There's a link at the end of the series to my Springtime in Paros album on Flickr, where you can view full-size versions of all these photos and many more.
CONTINUED ON PAGE 2