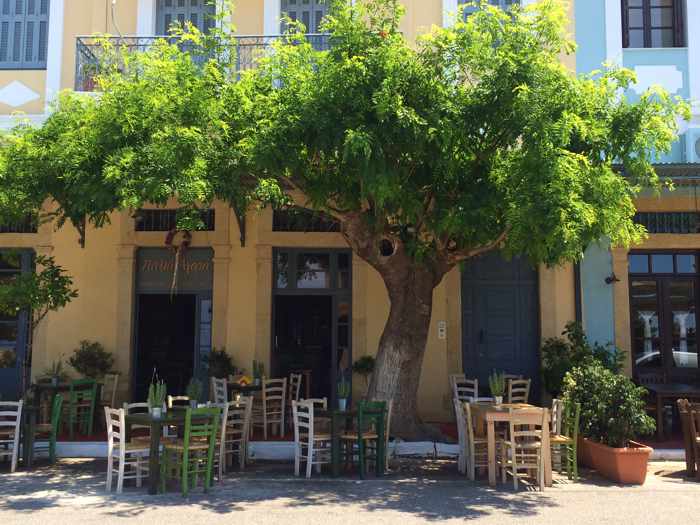 Street view of Palia Agora, where a selection of scrumptious mezes topped off our enjoyable visit to Kyparissia 
Fab food & drink: Take us to a town or village with sensational views and scenery, and we will probably like it. If there are archaeological sites, or historic buildings or places close by, we will certainly like it even more. Picturesque streets and interesting architecture?  Beautiful beaches, majestic mountains or scenic seasides in the vicinity? A relaxed setting and laid-back atmosphere? Those are guaranteed to tick off even more boxes on our "like" list.
But a destination won't completely win our hearts if we don't go home with fond memories of restaurants and cafes. (We're not foodies or wine snobs by any stretch of the imagination, but we do like to eat, we love good coffee, and we enjoy sipping some nice wine as well.) Since Kyparissia has many of the characteristics that make us happy on holiday — plus really good food and drink in particular — we couldn't help but love our short visit there in May 2017.
What impressed us on the food & drink front were three places we discovered in the charming Ano Poli (Old Town) district of  Kyparissia:  a shop selling a wide range of local food items and other Made in Messenia products, a comfortable cafe-bar; and a delightful estiatorio – mezedopoleio. Conveniently and coincidentally enough, all three establishments were located  just a stone's throw apart on Eleni Chameri Street, the main road of Ano Poli.
Here's a closer look at each:
♦ Palia Agora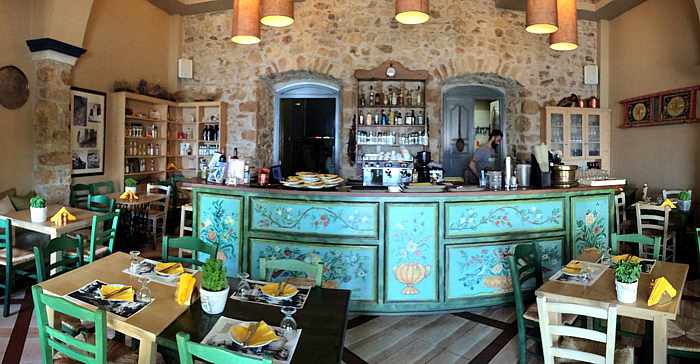 Palia Agora's beautifully decorated bar and dining room 
A late lunch at Palia Agora was the highlight of our afternoon in Kyparissia. We took one of the tree-shaded tables in front of the restaurant and ordered wine and a selection of cold and hot mezes (small plates perfect for sharing),  then sat back and relaxed while our meal was prepared. The local wine was delicious, and the food was amazing. In fact, it was one of the best meals of our spring 2017 vacation. Some of the standout dishes included the grilled pleurotus mushrooms, local sausage, pork slices accompanied by potatoes and pieces of oranges, the fava with olives and onions, and cheese balls rolled in chopped pistachios. Equally impressive was the friendly and efficient service. We would go back to Kyparissia just to have another meal here, the food was that good.
Not surprisingly, Palia Agora is ranked as the #1 restaurant in Kyparissia by TripAdvisor, and it recently received the 2018 Gold Award for Quality and Taste from the leading Greek gastronomy website estiatoria.gr
You can read over 200 customer reviews, and see more than 100 photos of the restaurant and its tasty dishes, in the Palia Agora listing on TripAdvisor.   There are dozens of additional photos on the Palia Agora Facebook page.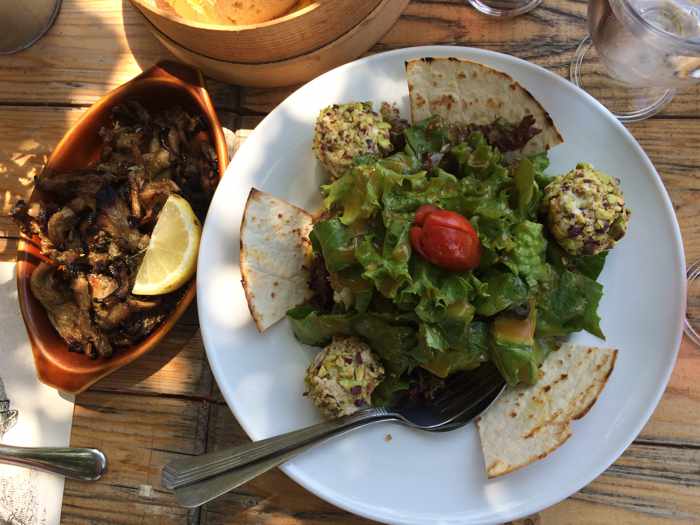 The grilled pleurotus mushrooms (left) were divine.  Also tasty were the cheese balls rolled in chopped pistachios, and served with a salad and  pita.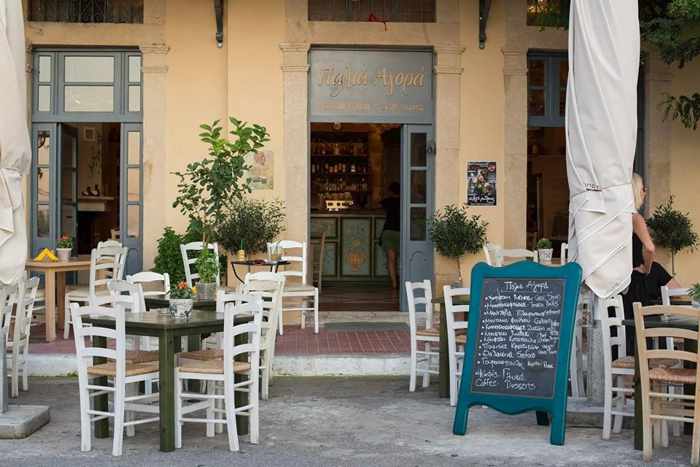 From the restaurant's Facebook page, a photo showing the Palia Agora sign, entrance and part of its streetside dining area
If you visit Palia Agora for a meal but sit outdoors as we did, make sure to take a peek inside the restaurant to check out the lovely decor and the interesting interior design details, like the light fixture above. 
♦ Algo-rithmos Cafe Bar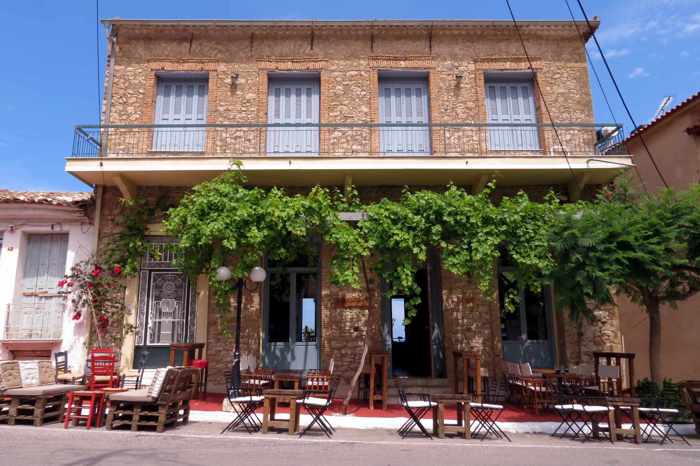 Street view of Algo-rithmos Cafe Bar, which occupies the ground floor of this beautiful building on Eleni Chameri Street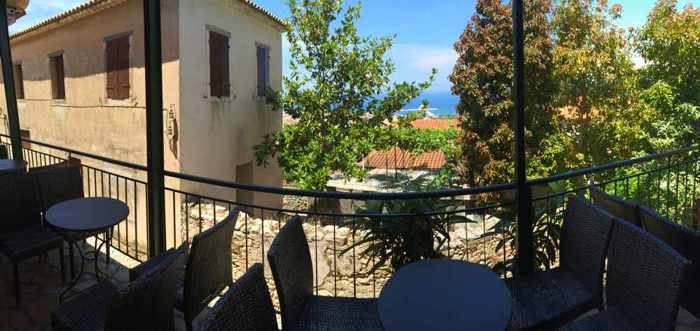 In addition to its streetside tables and indoor seating area, Algo-rithmos has an open-air balcony out back, where customers can enjoy views of Kyparissia and the sea
We stopped at Algo-rithmos for two coffee breaks during our walkabouts through the Old Town and to the Castle of Kyparissia. We sat at one of the tables out front, next to the street, both times, but we could have chosen to sit inside or on the town- and seaview veranda at the rear of the building had we preferred.
Though we only ordered coffees and tea, the cafe has a full bar serving beer, cocktails and other alcoholic beverages. Snacks and light food dishes are available, too. The shop interior is cozy and comfortable, with an eclectic interior design (there's a bicycle, musical instruments and several bookshelves mounted on the walls, and a stack of hardcover books suspended from the ceiling in the middle of the room.)
The service was friendly and prompt, and we liked the music that was playing.
You can read more about the cafe-bar in the customer reviews posted on the Algo-rithmos listing on TripAdvisor.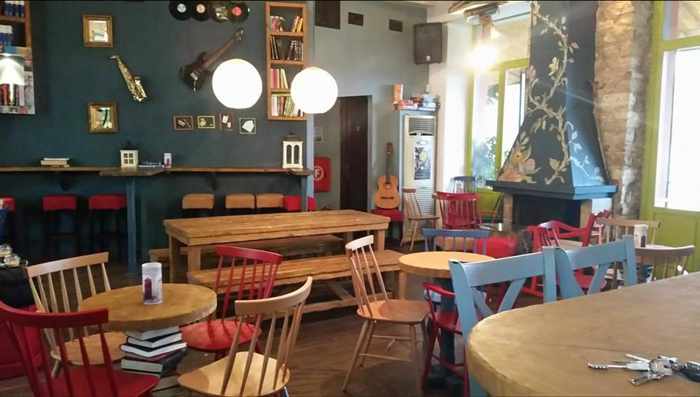 This image, which Algo-rithmos provided for its listing on TripAdvisor, shows part of the cafe-bar interior
♦ Messinia Gi
Travelling shopaholics won't find many stores to browse in Ano Poli, but they will find it worthwhile visiting  Messinia Gi, especially if they like to support regional artisans by "shopping local" for food, fashion accessories and other items to give as gifts or to take home for personal use or souvenirs.
Messinia Gi boasts an extensive selection of food, beverage, fashion and souvenir products made either locally or in the  Messenia region.  Food items on offer include sweets, healthy snacks, honey, packages of handmade pasta, olive oil, olives, herbs and spices, nuts and many more. General merchandise includes jewellery and other women's fashion accessories, personal care products, and ceramics. (You can view dozens of photos of the shop's seasonal and regular merchandise in the albums and posts on the Messinia Gi Facebook page, and see additional pictures on the Messinia Gi listing on TripAdvisor.
We picked up postcards and several local food items to bring home for friends and ourselves, including jars of delicious figs stuffed with nuts, while our friends walked out with several bags containing what looked to us like enough food to prepare a week's worth of meals once they returned to Athens.
The pleasant young lady who was minding the store was very helpful in explaining the contents and sources of the various food items we were considering, and in making suggestions for products to try.  
If you'd like to take home some tastes of Messenia, be sure to visit the shop while you're in or near Kyparissia.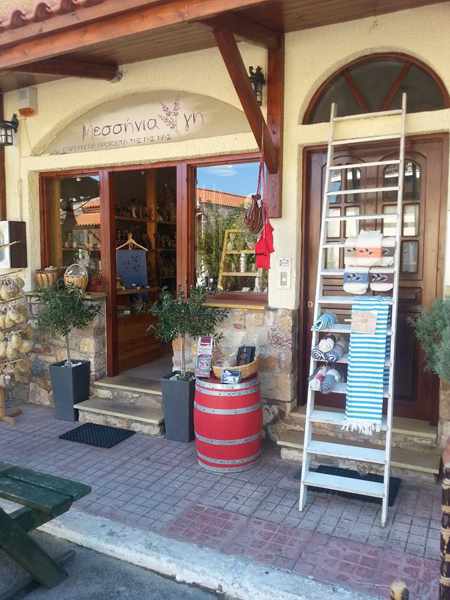 If you visit the Old Town, you'll find a vast variety of local products at Messinia Gi. The made-in-Messenia items make great gifts or personal souvenirs.  This photo of the storefront is from the Messinia Gi page on Facebook.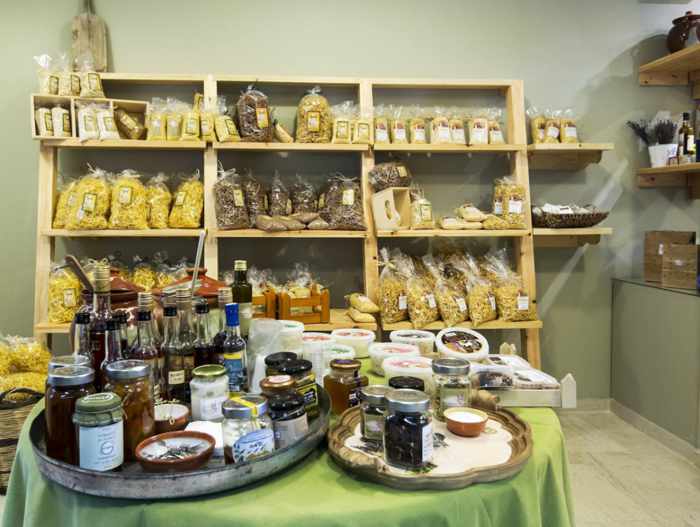 Local product displays are shown in this photo that Messinia Gi management provided for the shop's listing on TripAdvisor. Below is another photo of the store interior, also from its TripAdvisor listing.