This photo of Egremni beach, from Lefkas.net, shows why it has often been cited as one of the world's most beautiful beaches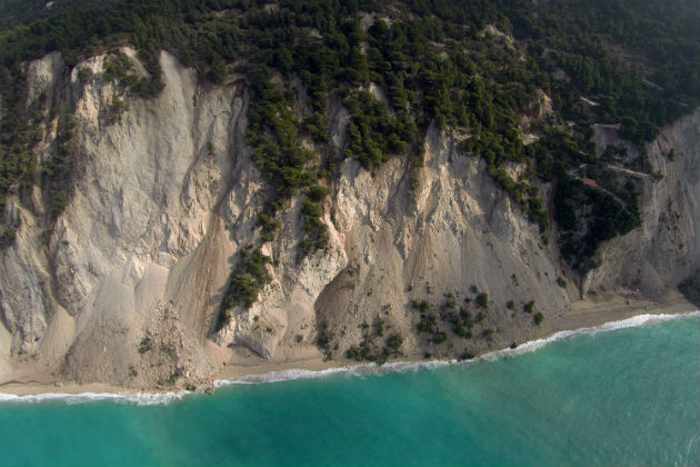 Most of Egremni is now buried from landslides triggered by the earthquake that struck Lefkada on November 17, as shown in this aerial photo by Antonis Nikolopoulos for the Eurokinissi press agency
Clifftops collapsed:  An earthquake that struck Lefkada island on November 17 made headlines around the world, with international media reporting what little information was available at the time about collapsed buildings, widespread property damage and two deaths directly attributed to the Richter 6.1-magnitude tremblor. Greek media have since revealed that two of the island's top beaches also sustained extensive damage from landslides that occurred during the quake.
Egremni beach, which has often scored high rankings on lists of the world's best and most beautiful beaches, suffered the most severe damage, with landslides burying much of the long, narrow strand. Landslides also damaged the scenic beach strip at popular Porto Katsiki, but the rockfalls there apparently were much less extensive and destructive. Tons of soil, sand and rocks swept onto the beaches after being shaken loose from the dramatic 150-meter-tall cliffs that tower over the two spectacular seasides.
I have never been to either beach,  but have been enthralled by both from awe-inspiring photos I have viewed online and in travel publications, and from all the good things I've heard about them — and about Lefkada in general — from a Greek-Canadian acquaintance who has long been urging me to visit the island, his personal favourite holiday destination in Greece.
Although I didn't have plans to visit Lefkada in the next two years, I did hope to get there sometime in the future. It's sad to think the two beaches might never look as gorgeous as they did before the quake, though there is a strong chance that Porto Katsiki, at least, may eventually regain much of its former glory with the help of Mother Nature. Greek news reports have quoted geological engineering experts as saying that winter weather will probably wash away much of the soil debris that currently covers parts of Porto Katsiki beach. In fact, the normal course of nature could restore much of that beach to its former look by the time next summer's tourist season rolls around, one expert surmised.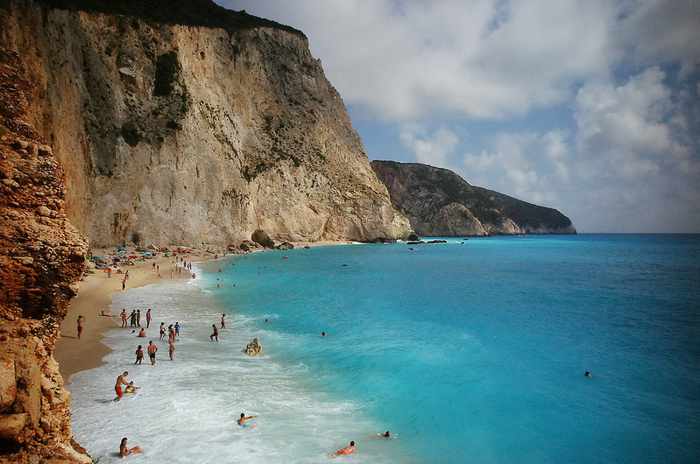 Dreamy Porto Katsiki beach is seen in this inviting image that Flickr member Out to Lunch captured during a visit in the summer of 2014. It's one of my favourite photographs of the beach, and illustrates one of the reasons why I hope to visit Lefkada sometime — I want to see the amazing scenery in person.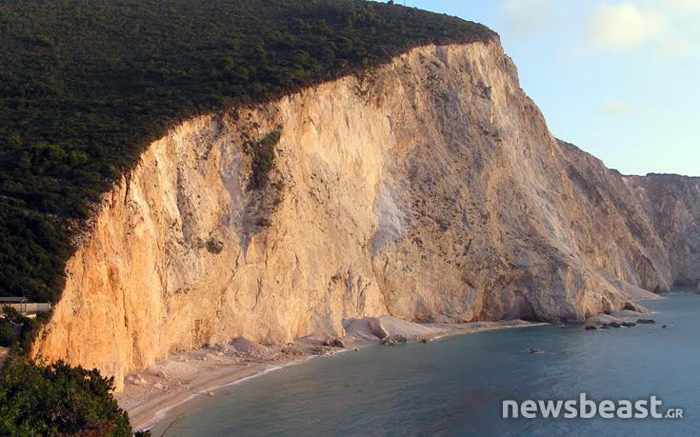 Large mounds of sand and stone cover much of Porto Katsiki beach in this image provided to Greek website newsbeast.gr by Efthimios Lekkas, a professor at the University of Athens and President of the Earthquake Planning and Protection Organisation (EPPO)
Please click here or on the link below to continue reading on page 2 of this post, where you can view more photos along with videos showing Egremni and Porto Katsiki before, during and after the earthquake.
CONTINUED ON PAGE 2