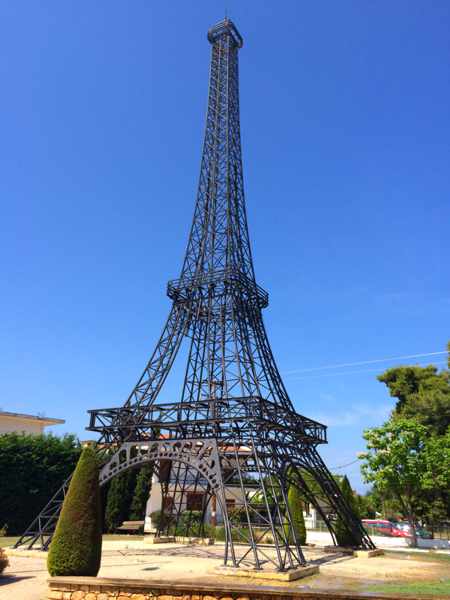 The 26-meter Eiffel Tower replica at Filiatra  was a surprising sight we encountered during our road trip in the Peloponnese
~ updated on August 4 2018 ~
Oh Mon Dieu!:The most memorable "Stop the Car!" moment of our road trip through Messenia happened while we were driving through the small town of Filiatra, en route from Marathopoli to Kyparissia.
As the car moved along the clean, tidy streets, passing attractive stone houses and some cute small homes, we were chatting about where we might want to stay if we ever had an opportunity to spend all or part of a year in Greece. I remember commenting that Filiatra looked like a nice, comfortable and quiet place that might be suitable — based on what we were seeing through the car windows, at least.
Then we turned a corner and saw an Eiffel Tower looming up ahead.
 "What the … Is that what I think it is?" I blurted. "Pull over! We've got to check this out!"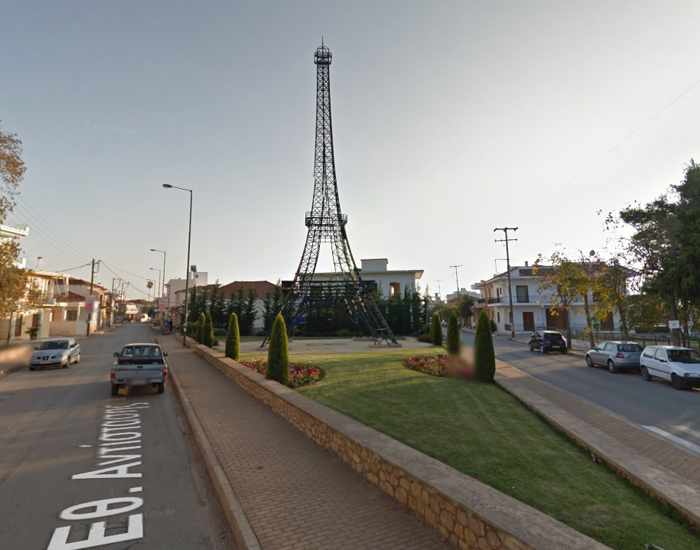 This Google Streetview image shows the Eiffel Tower replica in a wedge-shaped parkette at the northern entrance to Filiatra.
Whenever we're on the road in Greece, we see a lot of surprising, interesting and exciting sights. However, most of the time it's jaw-dropping scenery that suddenly pops into view, a picturesque church in the middle of nowhere, a crumbling castle or a beautiful old building, or a herd of sheep or goats gathered on the highway. We've seen plenty of unusual sights, too, but never anything like an Eiffel Tower — and we certainly weren't expecting to see one on this particular morning. (It had not been mentioned in any of the travel materials I had read before our holiday.)
But there it was, rising from a landscaped parkette near the northern entrance to Filiatra on Highway 9.
We parked the car and got out for a few minutes to take photos, but it wasn't until we were back home that I was able to do some online searching to find out why the town has a replica of the iconic Eiffel Tower.
Information was rather sparse or roughly translated in the sources I discovered, but most said the replica was the creation of Harry Fournier, (originally named Haris Fournarakis), who had grown up in the area but later moved to the USA to practise medicine as a surgeon. After a successful career in the States, Fournier returned to Filiatra and put his artistic talents to work, sculpting his mini Eiffel Tower in the 1960s. (He also built a fairytale castle in the nearby village of Agrili.)
Fournier's creation isn't a true replica, however, since its design differs in a few major details. As an article on the Wonders of the World points out, Fournier used light grey metal to construct the tower, which he shaped "a little too long." Fournier also placed the second floor of his tower too low, compared to the original, and changed the shape of the third floor. But to a tourist driving by, Fournier's version looks like a convincing, shorter copy of the real thing (his stands 26 meters, while the Paris landmark soars over 300 meters high).
This slideshow was posted to the Greek Reporter news and events page on Facebook on August 4 
 Here are some of the photos we took of the Filiatra Eiffel Tower: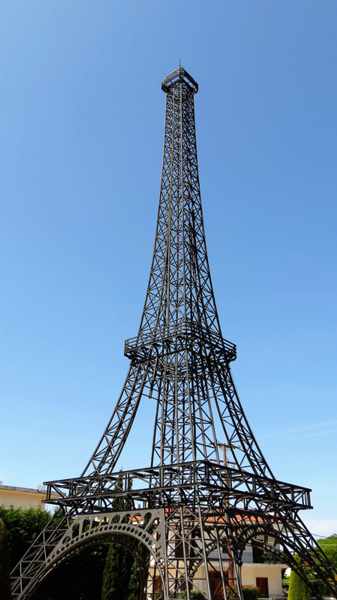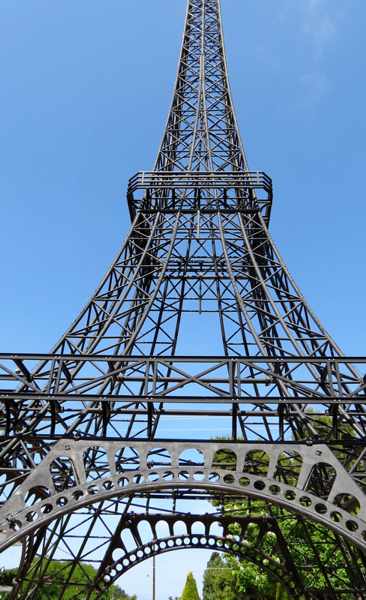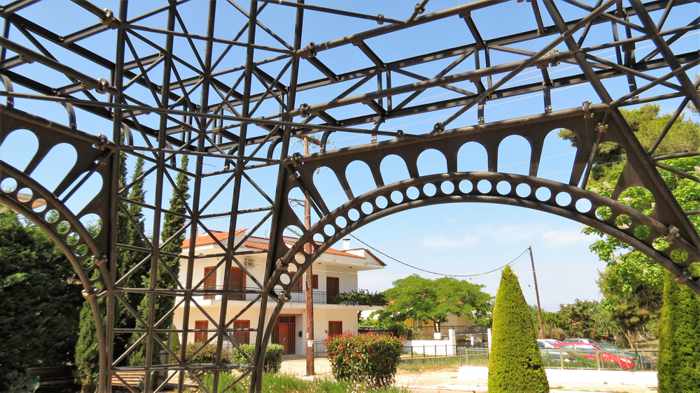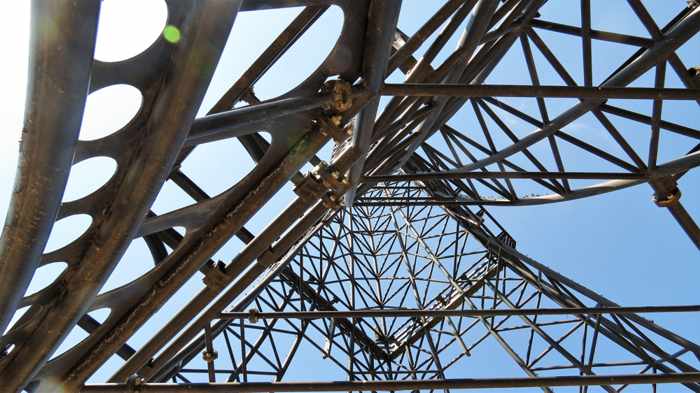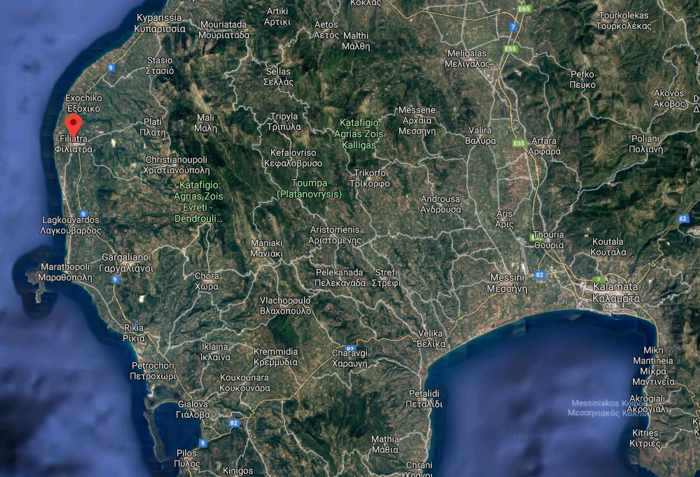 The small town of Filiatra is located roughly midway between Marathopoli (middle left) and Kyparissia (top left). If you're driving through the area and want to take a look at the Eiffel Tower replica, you'll find it at the northwest edge of the town along Highway 9.  You can't miss it if you're driving toward Filiatra from Kyparissia — the tower is visible from a distance outside the town.