This film by Achillefs Jorjini spotlights more than 30 stunning destinations in the western Peloponnese area of Trifilia
Treasure trove: Plans for our next Greek holiday are gradually coming together, and a visit to part of the Peloponnese is on the itinerary for the second year in a row.
Last year's vacation took us through the regions of Laconia and Arcadia in the eastern Peloponnese, where we spent time in Nafplio, Monemvasia, Sparta, and Tolo, and saw numerous other places along the way.
This time, a road trip will take us through Messenia in the western Peloponnese, where we will get to see parts of the municipal region of Trifilia. I am familiar with Messenia, since I know people who live in the area and many others who have travelled there. But I had never heard of Trifiliam by that name at least, until I discovered the video I posted above. And what good timing it was to find the film, since it spotlights a virtual treasure trove of enticing destinations, many of which I knew nothing about. 
Entitled Explore Trifilia 2017, the 10.5-minute video  by Achillefs Jorjini takes you on an alluring aerial tour above nearly three dozen different places in the area, including scenic towns and villages, breathtaking coastlines and beaches, impressive natural scenery and important historic sites and monuments.
Among the gorgeous beaches and coastal areas shown in the video are:
♦ Voidokilia
♦ Golden Beach Mati
♦ Vromoneri
♦ Barlas
♦ Lagouvardos
♦ Agia Kiriaki
♦ Stomio
♦ Agrilis
♦ Kyparissia
♦ Kalo Nero
♦ Elea, and
♦ the Vourlia peninsula on Proti island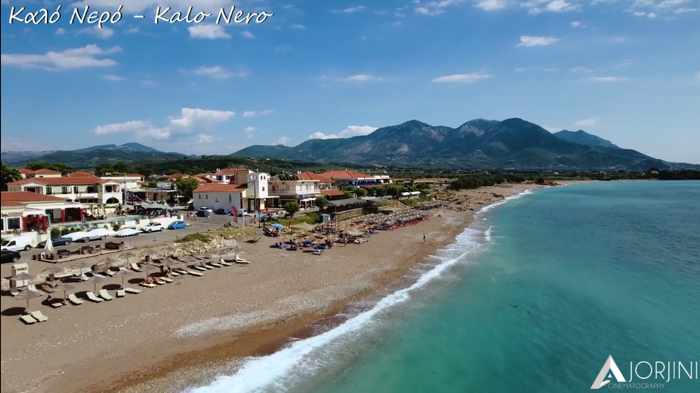 Screen capture of the video's pass above Kalo Nero beach
Villages and towns seen in the film include:
♦ Koroni
♦ Pylos
♦ Kyparissia and the Kyparissia Old Town
♦ Agia Sotira
♦ Tragana
♦ Gargaliani
♦ Marathopoli
♦ Filiatra
♦ Kalo Nero
♦ Kopanaki
♦ Sidirokastro, and
♦ Aetos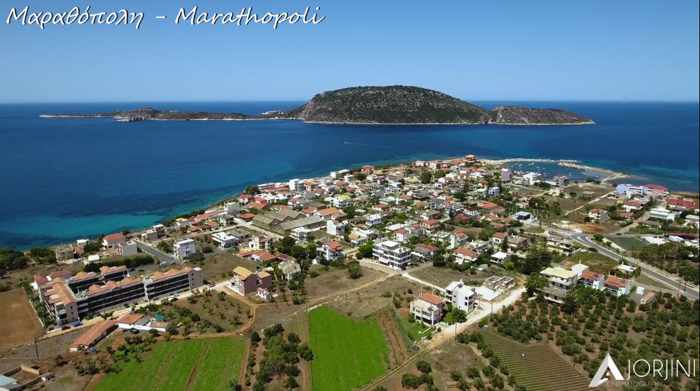 Screen capture from the video's view of the coastal village of Marathopoli
Views of significant landmarks and attractions include:
♦ Ancient Messene
♦ the monastery on Proti island
♦ the fortress at Methoni
♦ the Neokastro and Palaiokastro fortresses at Pylos
♦ the Palace of Nestor
♦ the waterfalls at Polilimnio and Valtas
♦ Analipsi church at Filiastra
♦ Byzantine monuments at Agia Sotira
♦ the Mycenean tomb at Peristeria
♦ the Temple of Apollo Epicurius, and
♦ the  Neda River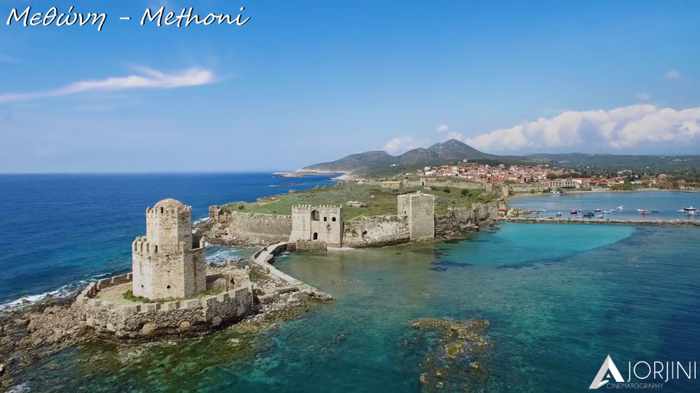 Screen capture of the video's flight around the Methoni fortress
The only drawback to watching the video was that it revealed far more sites and attractions than we will have time to visit, which I found a little disappointing. I wanted to see everything, since it all looked so picturesque and appealing! The upside, of course, is that there will be plenty of places to see on another trip to Messenia. And I have a strong hunch there will indeed be a return visit.