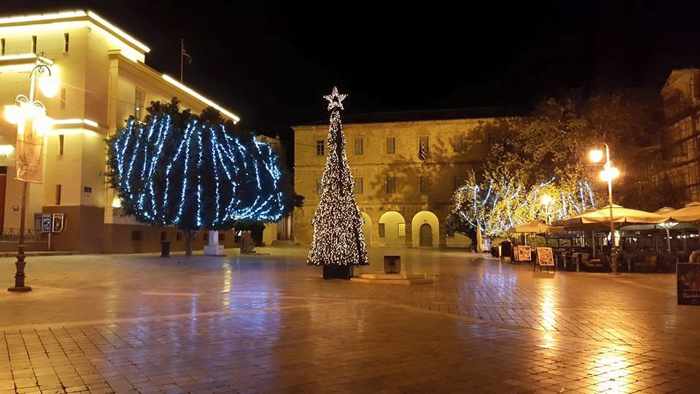 A Christmas tree and holiday lighting add sparkle to Nafplio's Syntagma square (Photo from the Ναύπλιο – Nafplio Facebook page.)
Holiday getaway: A friend who lives in the U.K. was just asking if I could suggest someplace in Greece, within a reasonable driving distance of Athens, for him to visit on a last-minute Christmas getaway. Ideally, it would be a charming seaside village or town with cobblestone streets, attractive old buildings, good places to eat, and historic sites nearby. 
By coincidence, I had been reading about Christmas festivities in Nafplio and Monemvasia, two historic and scenic towns in the Peloponnese, only a couple of hours earlier. So I suggested both, sending my friend links to websites providing holiday event schedules and general travel information, as well as directions on how to get to each town from Athens. I'm sharing  that information here in case any of my readers might be seeking ideas for their own spur of the moment Christmas trips to Greece, too.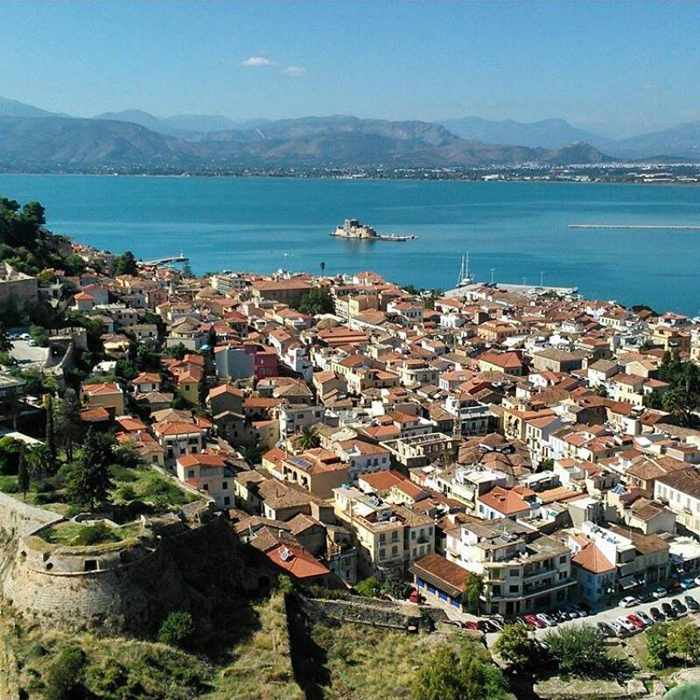 A hillside view of Nafplio and the offshore Bourtzi Castle (Photo from the Ναύπλιο – Nafplio Facebook page.)
Nafplio:
Often called one of the most beautiful towns in Greece, Nafplio was the country's capital city from 1829 until 1834, when the national parliament was established in Athens.  Located approximately 150 km from Athens, Nafplio is just a 2-hour drive from there by car, and a 2-hour and 20-minute trip by bus. There are about a dozen buses to Nafplio each day, departing hourly on the half hour from the Kifissos terminal. Detailed travel directions can be found on Visit Nafplio, a non-commercial website packed with helpful information for visitors.
Interestingly, Nafplio is where the Christmas fir tree was introduced to Greece for the first time– by Bavarian King Otto, in 1833.
A few of the many important historic attractions in the vicinity include the amphitheater at Epidavros and the archaeological sites at Mycenae and Tiryns, all of which are included on the UN's World Heritage List.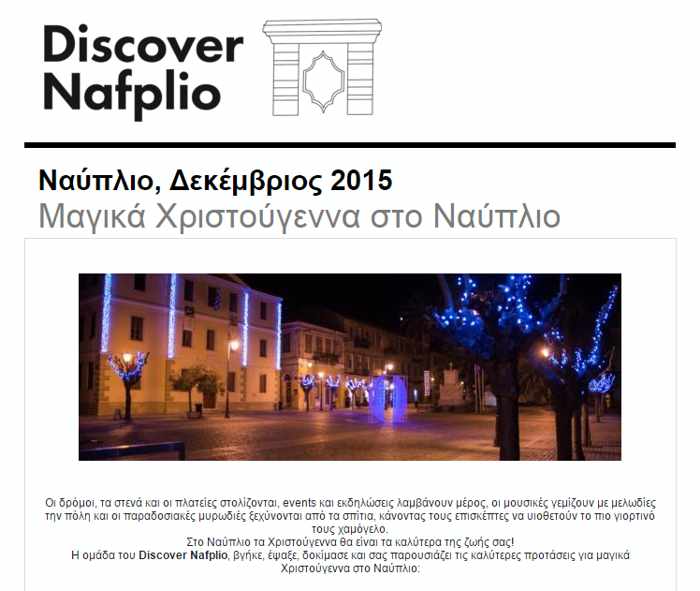 Screenshot of a "Magic Christmas in Nafplio" press release I received from the Discover Nafplio information website, advising of special Christmas and New Year's events taking place in the former capital city of Greece
The Discover Nafplio travel and information website has a Christmas in Nafplio page that offers suggestions for accommodations, dining, drinking and gift shopping, and includes a link to an extensive list of special Christmas events taking place from mid-December until January 6. There's even a separate restaurant page that displays menus for Christmas Eve and New Year's Eve dinners at two popular Nafplio restaurants —  3Sixty Cafe & Wine Bar on Papanikolaou Street, and Propolis restaurant at Staikopoulou Square, both in the Old Town.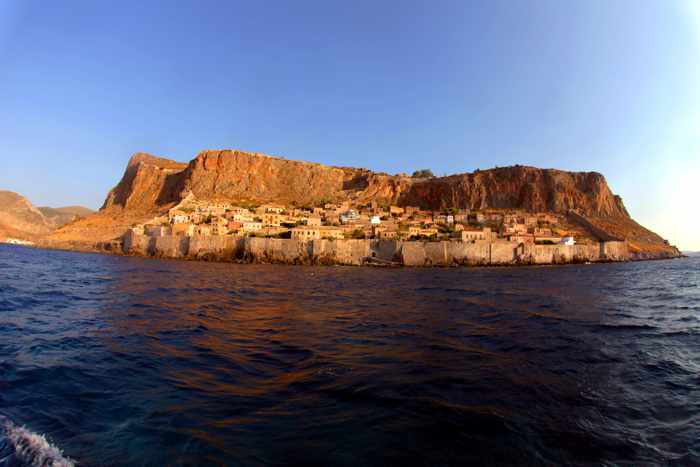 Given its position on a massive rock island, it's easy to see why Monemvasia is often called "the Gibraltar of Greece." (Media image provided courtesy of the Municipality of Monemvasia.)
Monemvasia:
Located in the Laconia region of the Peloponnese, Monemvasia comprises an Old Town — a medieval fortress built on the side of a giant rock island connected to the mainland by a short causeway — and a New Town (Gefyra) just across the channel. The Old Town is a warren of narrow cobblestone lanes and vaulted passageways that lead visitors past  churches, mansions, castles, and Byzantine icons. Monemvasia is approximately 335 km from Athens International Airport, and the drive by car can take from 3.5 to 4.5 hours. The Laconia branch of the KTEL transportation company provides daily bus service between Athens and Monemvasia several times per day.
An article on the Municipality of Monemvasia website briefly describes volunteer efforts that have been undertaken "to bring life to the magic of Christmas" in special Christmas villages set up for children and the young at heart in the Old Town and in several other areas. It also provides a schedule of music, entertainment and cultural events being presented until December 31. Unfortunately, the calendar of events is in Greek only, but you can use Google Translate or other programs to read the descriptions.
Extensive information about Monemvasia is available on the municipality's website as well as the Monemvasia Facebook page, while the Mythical Peloponnese website is an excellent resource, describing the Castle of Monemvasia and many other attractions in the Laconia region. You can also view a dozen superb photos in the article The Hidden Town of Monemvasia, which was published earlier this year on the Amusing Planet website, while the video below might help you decide if Monemvasia is the right kind of place for you.
Μονεμβασιά, Monemvasia is a 2.5 film by TeaTimeCreations