Click on the arrow to view Santorini The One, the lead video in a series of clips produced earlier this year to promote Santorini tourism. The island now hopes to become a popular travel destination all year long. 
Four seasons of splendour: If all goes according to plans currently under development, winter won't be "off season" on Santorini anymore. That's because the island has set its sights on becoming a year-round travel destination, beginning in 2016. 
And it's already off to a good start — around 100 hotels will be open on the island this winter, as will a number of restaurants and shops.
Santorini's plans fit nicely with the Greek government's own announced goal of extending the country's tourism season to 12 months a year and upgrade the quality of Greece's tourism product. (On many islands, the season presently lasts only from late April until the end of October, with most tourist-related businesses closed the other months.)
More than sun and sea
Although many travellers associate Santorini and other Greek islands with summer sunshine, beaches, warm weather and water sports, the mayor of Thira Municipality, Anastasios Nikolaos Zorzos, says Santorini has many more features and attractions to offer tourists regardless of time of year.
"Santorini's tourism model is not based on 'sun and sea' but on ancient treasures, geology, traditional architecture and gastronomy — features that are guaranteed to attract visitors throughout the year," Mayor Zorzos said, according to a December 1 news report on the Greek Travel Pages (GTP) website. 
The GTP report said the tourism development plan, branded as "Santorini: Year-Round Destination," is a collaborative effort between the municipal government and island businesses. The program will promote alternative forms of tourism and will seek to establish "new products and activities" to draw visitors during what are now off-season periods.
Online ad campaign underway
To promote the initiative, GTP says, Santorini has kicked off a 3-week online advertising campaign on European versions of some of the world's top travel websites, including TripAdvisor, Airbnb, Expedia and Lonely Planet. Special banner and videos ads also will appear on various sections of the National Geographic website accessible to web users in the program's target markets — the U.K., the Netherlands, Germany, France, Austria, Belgium, Italy and Scandinavia. 
Seeing Santorini's stunning scenery, architecture and archaeological sites without the crowds and heat of summer appeals to me, and people I've spoken to who have been to Santorini in late fall and late winter have told me they found the island just as spectacular if not more enjoyable at those times. 
The large number of hotels remaining open this winter will be comforting news to people worried they will have trouble finding accommodations if they decide to pay Santorini a visit sometime between now and the spring. Last year, I saw online travel forum posts in which people who could only take winter holidays said they were considering last-minute trips to Santorini, but feared they would have few if any choices of hotels. They certainly won't have such cause for concern this winter. 
Winter restaurant and wine bar listing
For visitors wondering where they will be able to dine if they do take a winter trip to the island, Santorini photographer Anna Sulte has posted on her website a list of more than a dozen restaurants and wine bars that will be open. The list includes establishments in Fira, Firostefani, Imerovigli, Oia, Exo Gonia, Megalochori, Akrotiri beach and Ag. Georgios Perivolos.
Another good reason to go to Santorini in the winter — bargains on air transportation, which can be hugely expensive during the regular travel season. A few days ago, a friend in Athens told me she saw flights from Athens to Santorini available this month for as low as €9.99. If I had been able to travel now, I would have purchased plane tickets to Santorini in a snap!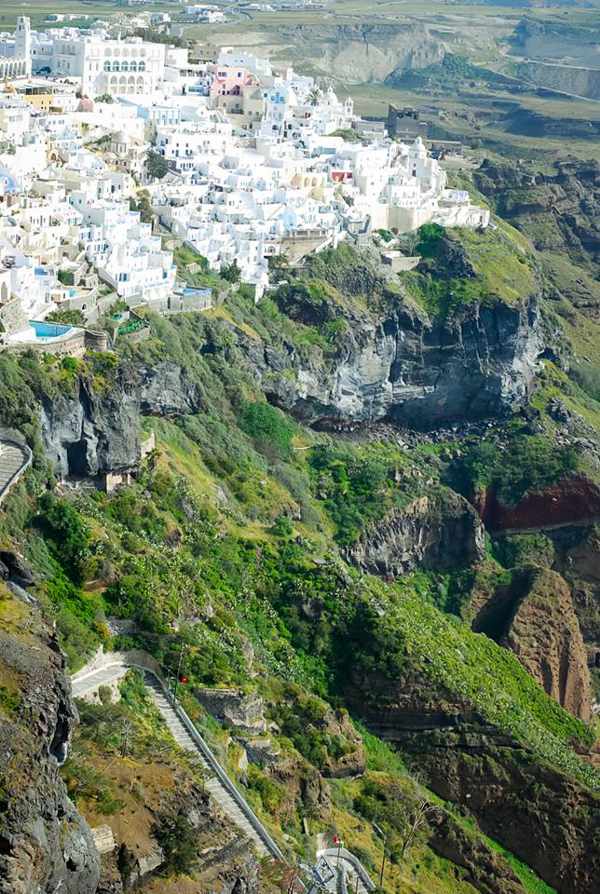 Santorini photographer Anna Sulte posted this photo of Fira on her Anna's Photo Facebook page on January 20 2015, with the caption: "This is how green it is right now." It drew a response from one viewer who wrote: "Looks like there is just no time of year when it isn't breathtakingly beautiful!" Indeed!