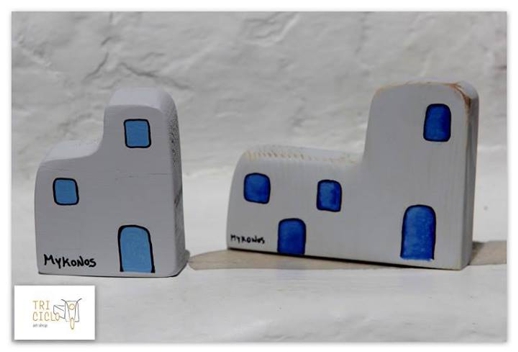 Wooden Mykonos houses handcrafted by artist Eugenia Triantopoulou are available at Triciclo Art Shop in Mykonos Town
Super souvenirs: Brilliant white "sugar cube" houses with blue doors and window shutters are often the first images that come to mind for many people when someone mentions travelling to Greece.
It's no surprise, of course, since a substantial proportion of travel guides, posters and tour brochures for Greece feature photos of the cute whitewashed houses as well as white churches with gleaming blue domed roofs — even though that particular style of architecture is found primarily in the Cyclades islands (but also in some villages in the Dodecanese and in a few other parts of the country).
The sight of white cube-shaped buildings clinging to barren brown rock hillsides is one of the features that tourists enjoy most about Mykonos in particular, since it boasts an extensive array of traditional Cycladic architecture both in Mykonos Town (one of the prettiest villages in all of the Greek Islands) and elsewhere on the island.
Mykonos visitors can now take one of the cute "sugar cube" houses home with them as a souvenir.  Local artist Eugenia Triantopoulou has created a collection of charming hand-made wooden houses which are available from Triciclo Art Shop in Mykonos Town.
Triciclo offers a variety of other hand-made gift items from a number of local artists. The shop is located a short walk behind the Mykonos Town Hall at 3 Voinovits Street, which is the lane that leads from one of the most popular restaurants on the island, Niko's Taverna, to Skandinavian Bar, one of the most famous party clubs in all of Greece.
There's more information and photos — as well as a map showing how to find the gallery — on the Triciclo Art Shop Facebook page.