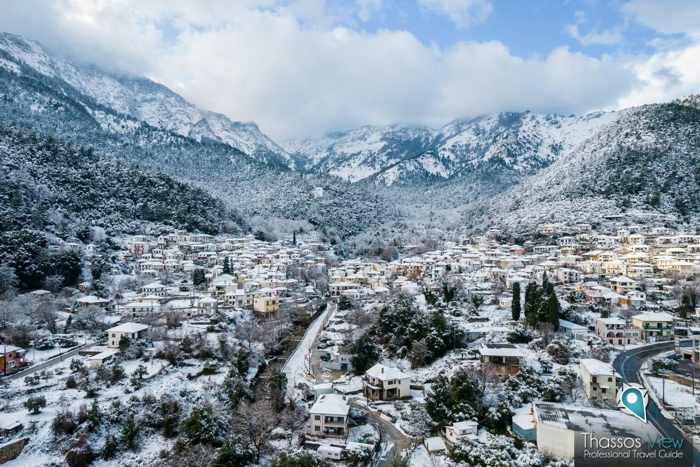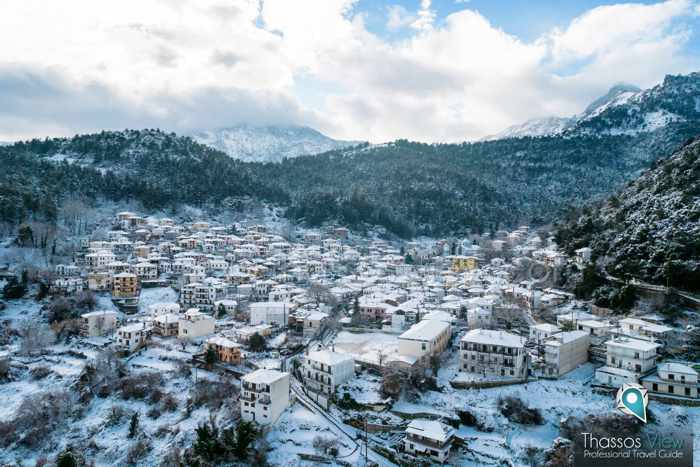 Panagia and Potamia villages on Thassos island look lovely sporting their new winter coats of freshly fallen snow on January 12 2022.  Both pictures were posted on the Facebook page for the travel website Thassos View under a caption reading: "For those who don't believe Thassos can be too cold in winter. Today we woke up and the island was covered by snow…" Keep scrolling to see an aerial video of the two villages after the snowfall.
Winter scenery: Our blog posts about Greek islands usually feature photos from the spring, summer and fall tourist seasons, but sometimes we can't resist sharing images of snowy isles  to show that Greece gets winter, too — a fact that surprises many people who aren't familiar with the country's climate.
 This is one of those times, courtesy of a harsh weather system named Diomedes that swept across Greece today (January 12 2022), dumping snow in some places (like Thassos) while dousing many regions of the country with heavy downpours that flooded streets and roads and caused spillways and culverts to overflow. As if snow and rain weren't enough, Diomedes also battered much of Greece with severe winds and bitterly cold temperatures. 
Our social media news feeds were filled with photos and videos of rainstorms and their aftermath in Naxos, Mykonos and other Cyclades islands, so the pictures we shared above, showing two Thassos villages under a light layer of snow, really stood out from the rest. We subsequently found a few more Thassos snow photos on Instagram, and have shared them below.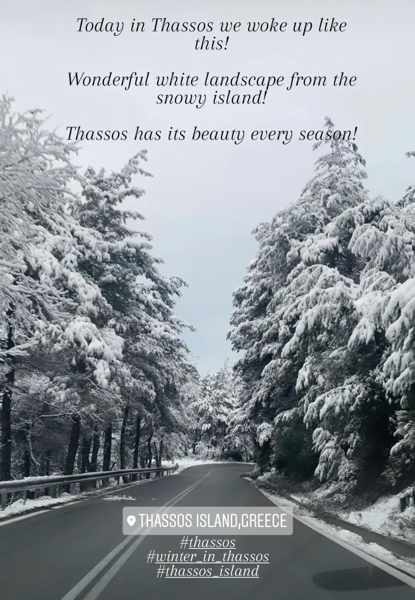 Snow-laden trees line a stretch of highway on Thassos island on January 12 2022.  The image was shared on Instagram by @san_giorgio_thassos, the social media page for the San Giorgio Apartments at Skala Potamia.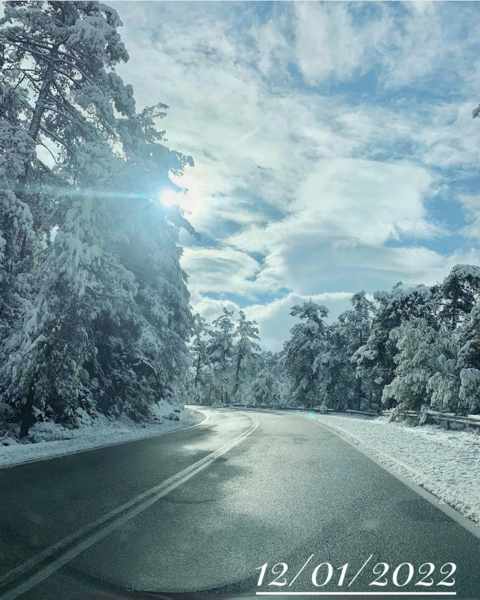 Another winter highway scene from Thassos that San Giorgio Apartments at Skala Potamia shared on social media
Snowy Potamia village is pictured in an image shared on Instagram by @vasilistoptsis
Aerial views of Panagia and Potamia villages under snow, in a 2:20-minute film by Thassos View
If you'd like to see more of Diomedes' impact, including snowfall and rainstorm photos and videos from various places in Greece, here are links to two online news reports:
♦ From the Keep Talking Greece website: 'Diomedes' strikes Greece with dense snowfalls, disrupts sea traffic; and  
♦ From Greek Reporter: 'Diomedes' weather system brings snow, heavy rain to Greece