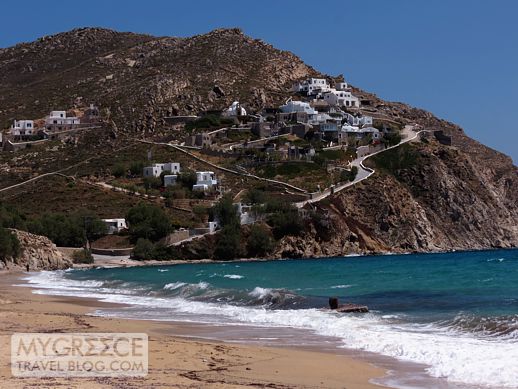 Villas cling to a steep mountainside above Elia beach on Mykonos
Stark contrasts: On Mykonos, I have always loved the stark contrast between the arid, rocky island and the blue sea and sky that surround it. The rugged brown landscape seems to make the Aegean Sea's shimmering turquoise water look more vivid and vibrant, especially at beaches, than it does at other Cycladic islands, where it has a pronounced cobalt hue.
This trip I did a lot of walking on Mykonos, as usual, but also saw many parts of the island through the windows of buses and cars.  I never got bored of the scenery, and always found it exhilarating whenever the vehicle rounded a corner and gave us a glimpse of a horseshoe-shaped bay with alluring blue and green water sparkling under the blazing sun.
CONTINUED ON PAGE 2