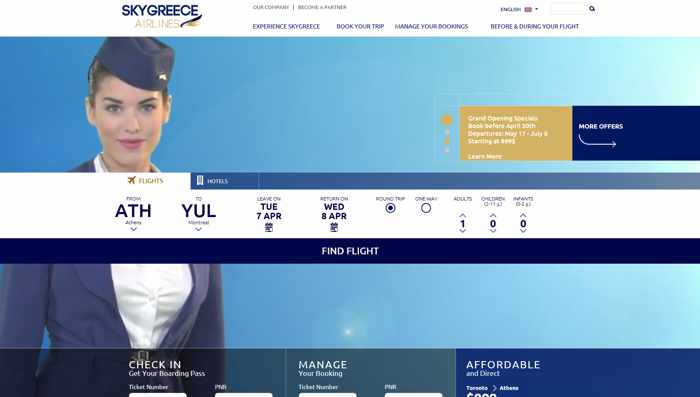 A screen capture of the home page for the new SkyGreece Airlines website, which went live today (April 7 2015)
Travellers curious to check SkyGreece Airlines fares and schedules, or book seats, can do so online now that SkyGreece has launched a new website.
The airline announced on Facebook today that its new site — featuring fast and easy online booking — has gone live.
The new site makes it a breeze to check prices and routes for the airline's service between Athens, Toronto and Montreal, and between Thessaloniki and Toronto. Since March 21, when SkyGreece first announced that flights were available for booking, customers had to phone an airline reservation representative or contact a travel agent to obtain further information.
Out of curiosity, I checked fares and availability for the dates I am already booked to travel to and from Greece next month, and discovered I would have saved about $100 flying economy class on SkyGreece.
The airline offers three fare categories: economy, "economy flex" and premium.
I have reported extensively on SkyGreece Airlines … click here to see my previous posts.