Club openings and parties on Mykonos, continued from page 1:
Kaz James & Sneaky Sounds at Paradise Club
Tonight is the first of four "Show Me Mykonos" parties that DJ Kaz James is presenting at Paradise Club during July and August. The July 1 event features a guest performance by Sneaky Sound System, while the July 23 party will star Nervo, Ivan Gough and Kaz James. The roster for July 31 includes Steve Aoki, Autoerotique and Kaz James.
Paradise Club has 16 special events scheduled for July alone; click here to see the entertainment lineup that has been announced so far.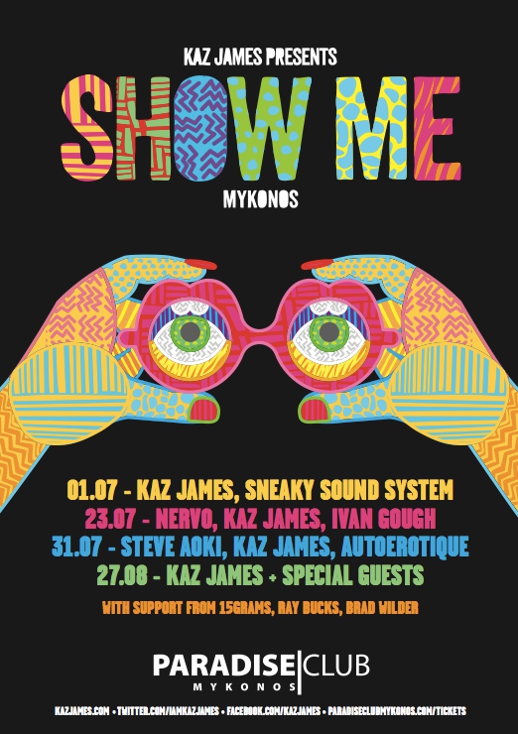 A promotional flyer for four separate Kaz James events at Paradise Club, the first of which takes place tonight (July 1)
Ballshevik dance club grand opening
July 2 marks the big debut of Ballshevik, a new dance club venue located in the Klouvas area of Mykonos (roughly midway along the road between Mykonos Town and Ano Mera). With weekly "Mongays" and "Frigays" plus Thursday "Fruit Dance" events, the club clearly appears to be targeting the island's sizable gay travel market, but hasn't branded itself as an entertainment venue for any specific lifestyle and should have wide appeal.
Ballshevik's opening night party is being presented by Red Bull Music Academy and will feature a special DJ set by legendary synth-disco artist and producer Giorgio Moroder (see this entry on the RBMA events page for further info about Moroder's appearance).
Ballshevik has events scheduled for every night in July. Below are promotional flyers that were posted on the Ballshevik Facebook page for some of this week's upcoming parties.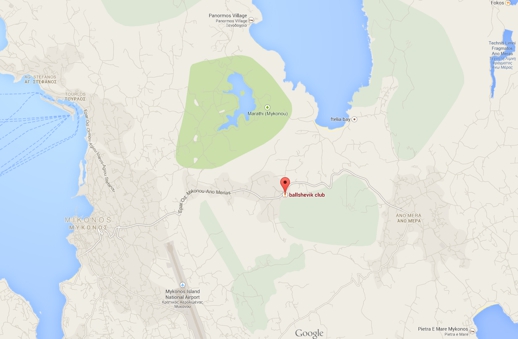 The red symbol in the center of this Google map image shows the location of the new Ballshevik club on the highway between Mykonos Town and Ano Mera
A promotional image for the grand opening party at Ballshevik, where the "godfather of electronic dance music," Giorgio Moroder, will headline a DJ set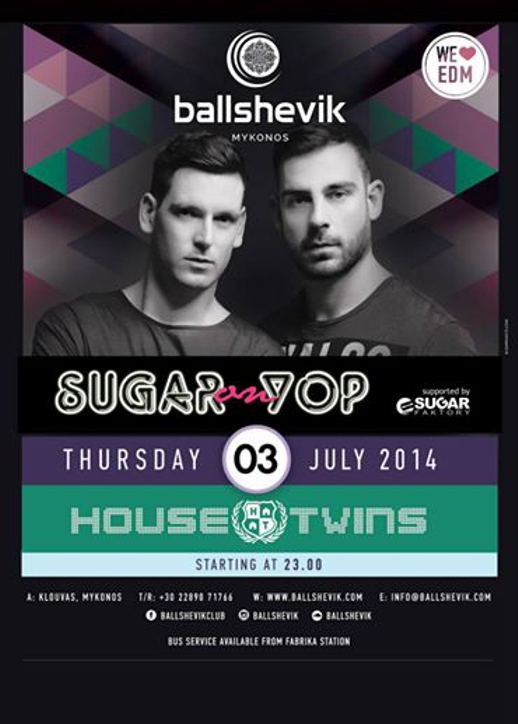 House Twins will be headlining the July 3 Sugar on Top party at Ballshevik
Anstascia and Vivie-Ann of Blond:ish will entertain at Balshevik's first Frigays event on July 4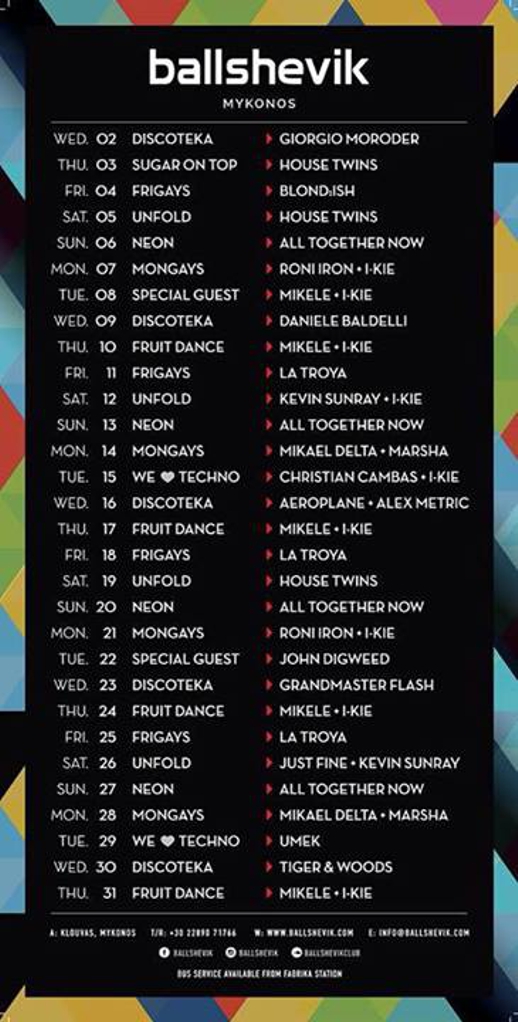 The full July 2014 special event lineup at Ballshevik club
FIX Live Mykonos club on the highway to Ano Mera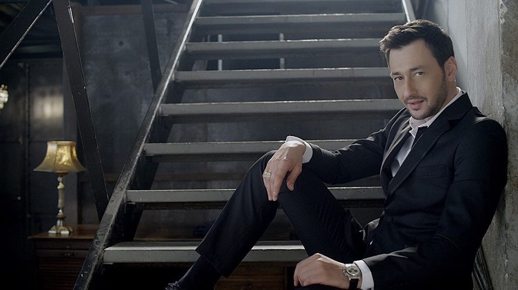 Greek singer Panos Kalidis and his band will appear at FIX Live Mykonos on August 9 2014.  The new adult entertainment club, which is located on the highway between Mykonos Town and Ano Mera, features live Greek music.

A promotional image with details of the Panos Kaliadis show at FIX Live
Live Funky Jazz at Notorious Bar
Jazz music afficionados are in for a treat on Wednesday the 2nd when Notorious Bar-Café presents its first Funky-Jazzy Night of July. (The bar previously held a Funky-Jazzy Night on June 25).
The event stars saxophonist Giuseppe Fabris and gets underway at 22:30 (10:30 pm). Notorious Bar is located at 3 Kampani Street near Ag. Kiriaki Square.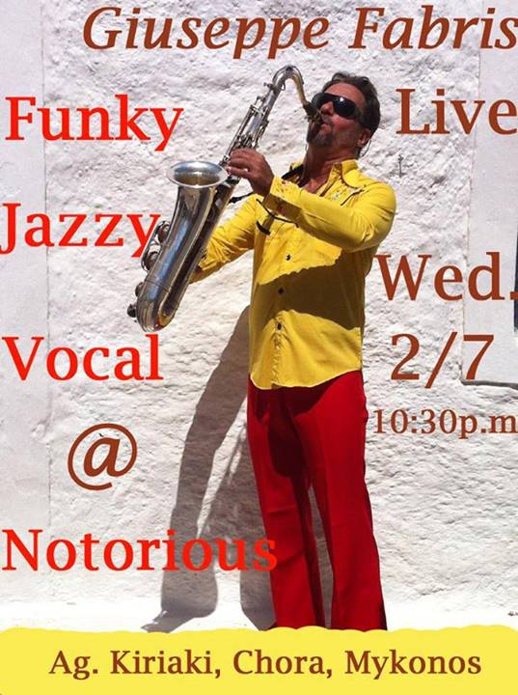 A promotional flyer for the July 2 2014 jazz party featuring Giuseppe Fabris at Notorious Bar in Mykonos Town
 July 4 parties at Little Venice
The popular Little Venice seafront of Mykonos Town will be buzzing on Friday July 4 with special events at two of the area's most popular bars.
Omega Club will be hosting what it calls "the ultimate Mykonos party," featuring DJ/music producer Sotiris Soulfellaz.  Further details are available on the Omega Club Facebook page.
Only a few steps away at Veranda Bar, George Siras will be headlining the club's first Friday House party of July. Veranda will hold three more Friday's House events during the month; see the image below and check the Veranda Club-Cafe Facebook page for further details.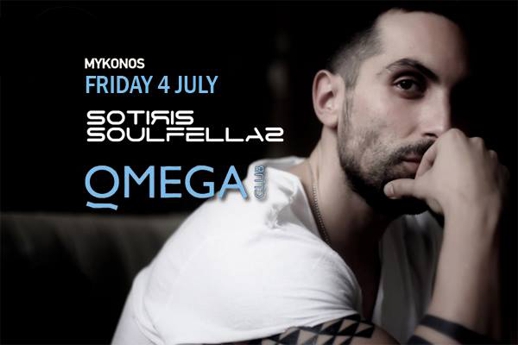 A promotional image for the July 4 party featuring DJ Sotiris Soufellaz at Omega Club in the Little Venice area of Mykonos Town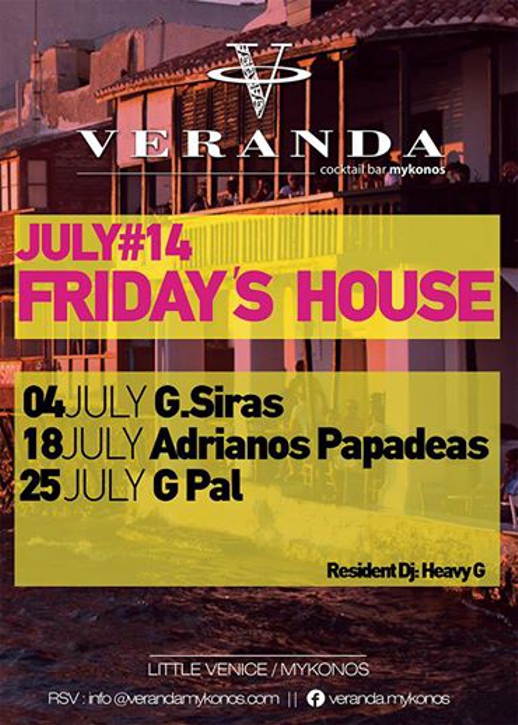 A promotional flyer showing July 2014 events at Veranda Club
COOH Sunset Bar & Club on the Kastro seafront
During the two weeks starting Friday, there are four special events on the calendar for the new COOH Sunset Bar & Club on the seafront in the Kastro area of Mykonos Town (near the Mykonos Town Hall and the Delos ferry boat pier).
Below are promotional flyers with details for each of the events: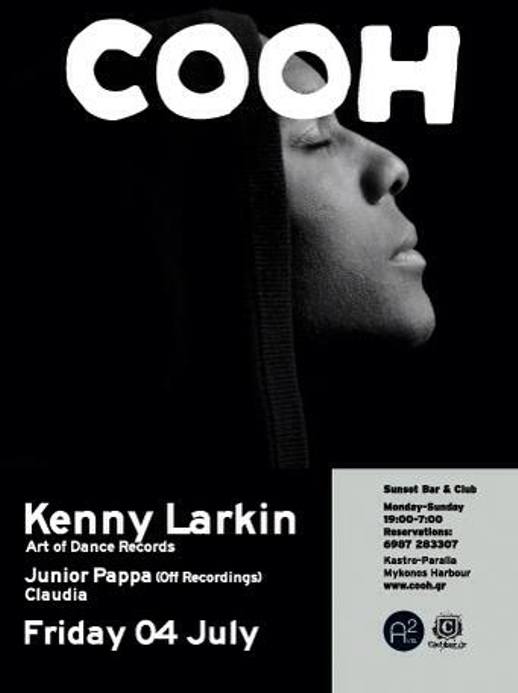 COOH's July 4 party features Kenny Larkin, Junior Pappa and Claudia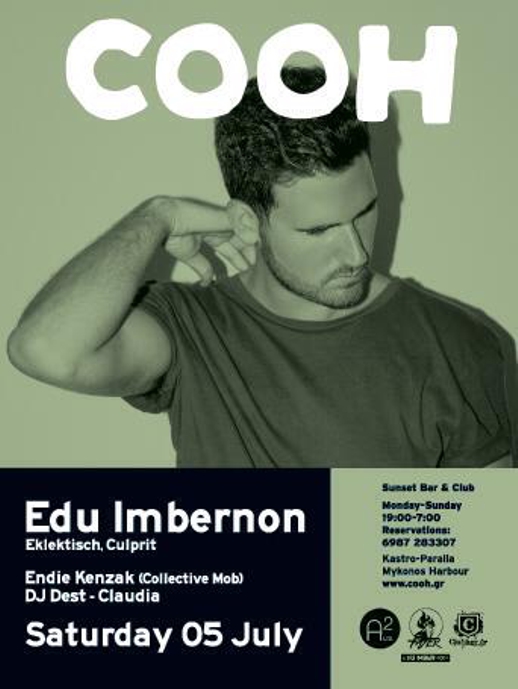 COOH's July 5 bash features sets by Edu Imbernon, Endie Kenzak and Claudia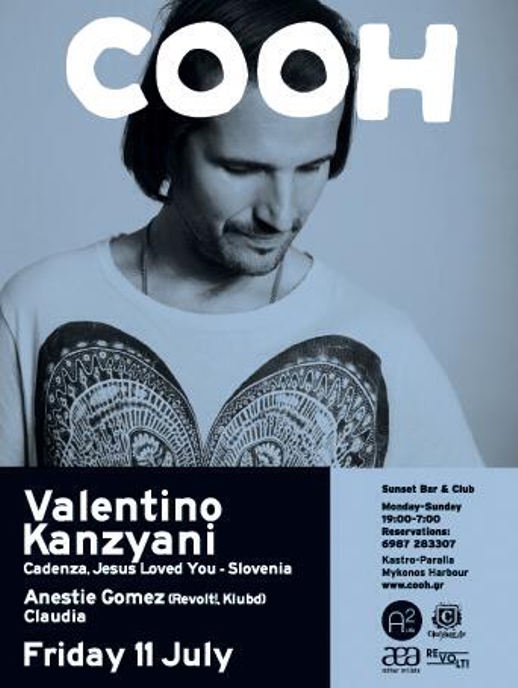 Valentino Kanzyani, Anestie Gomez and Claudia headline at COOH on July 11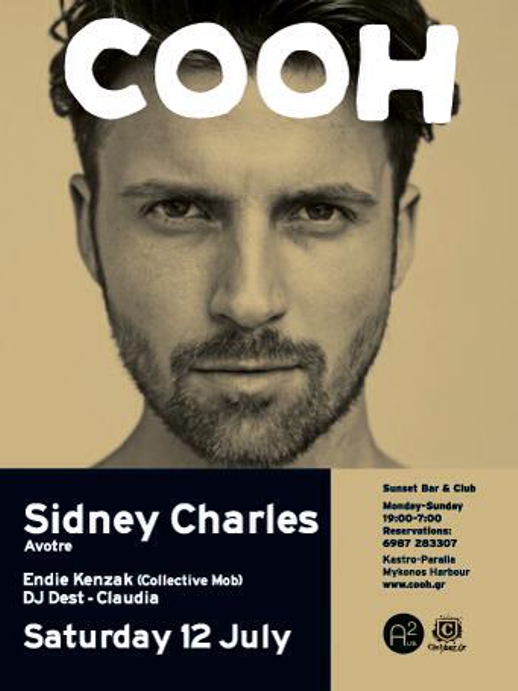 COOH's July 12 lineup includes Sidney Charles, Endie Kenzak and Claudia
Nammos brings Angelique to Psarou beach
It's one of the top beach restaurants and nightclubs on Mykonos, but on July 4 Nammos by the Sea will look and feel more like one of the hottest nightspots in Turkey instead. The trendy Psarou beach resto and bar will host its much-anticipated Nammos Presents Angelique Gourmet & Party extravaganza, with participation of the entire staff team from Istanbul's popular Anjelique restaurant and nightclub.
The event starts at 22:30 (10:30 p.m.) on Friday, and tickets cost €80 per person.  Check the Nammos by the Sea Facebook page for information about how to RSVP for the event.
On the afternoon of July 26, Nammos will hold another special event — this time an "ultra beach party" featuring a main set by DJ & music producer Vassili Tsilichristos, whose latest CD, Made in Mykonos, is being released July 2.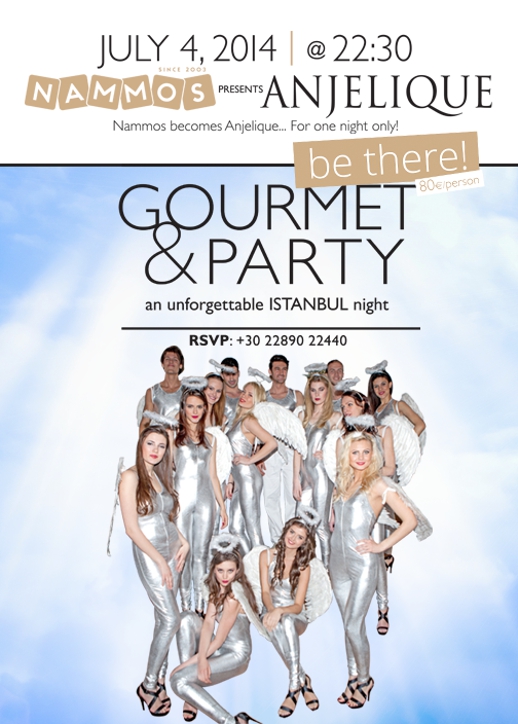 From the Nammos Facebook page, a promotional flyer for the July 4 Nammos Presents Angelique Gourmet & Party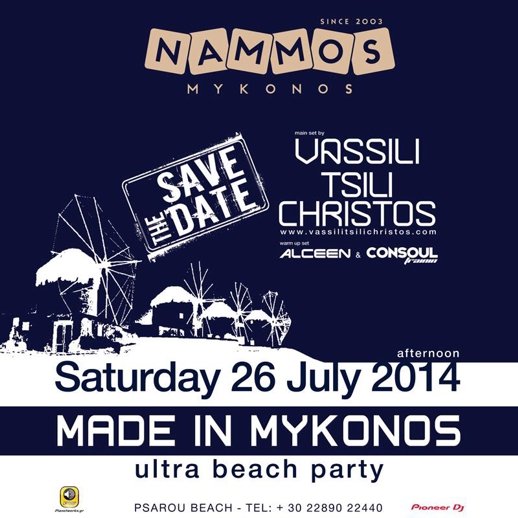 A flyer for the Made in Mykonos beach party that will take place July 26 at Nammos by the Sea on Psarou beach. DJ Vassili Tsilichristos will headline for this event, which is named after his latest CD.
 Kalua parties at Paraga beach
Visitors to Paraga beach can get a taste of the Istanbul club scene, too,  when Kalua Bar & Restaurant throws its Kalua Meets Lucca Style party starting at 17:00 (5 p.m.) this coming Saturday (July 5). DJ Murat Tokuz will spin for the event, which will feature cocktail and drink tasting sessions presented by the bartending team from Lucca Bistronomique Bar & Lounge in Istanbul.  Lucca is the chic bar and lounge that Conde Nast Traveler magazine has described as "the super-hip Istanbul restaurant." Admission to the event is free.
Kalua has eight more parties planned for July, plus more in August, and admission is free for all of the events. The lineup includes Agent Greg on July 9, Valeron on the 11th, DJ Angelo and DA Mike on the 16th, Ms Leyki on the 18th, Best Seller on the 23rd, Johnny Gerontakis on the 25th, and Agent Greg closes out the month on the 30th.  See the lineup calendar below for acts scheduled to appear at Kalua's August events.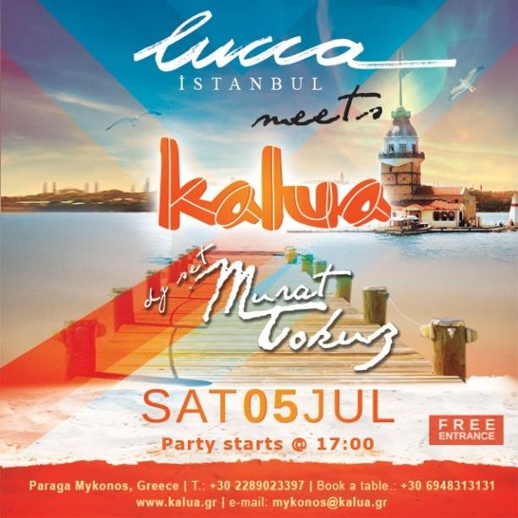 Promotional flyer for the Lucca Meets Kalua party on July 5
The special events lineup for July & August at Kalua bar & restaurant at Paraga beach. Follow the Kalua Facebook page for updates and photos.
esthète party at Kivotos Hotel at Ornos beach
The 5-star Kivotos Hotel at Ornos beach will be the place to go on July 25 — that's where Alexandros Christopoulos will host his latest esthète Mykonos Edition.
The event begins at 22:00 (10 p.m.) with an introductory set by DJ Richard Horn. Advance table reservations are "highly recommended." Full details are available on the esthète Mykonos Edition Facebook page.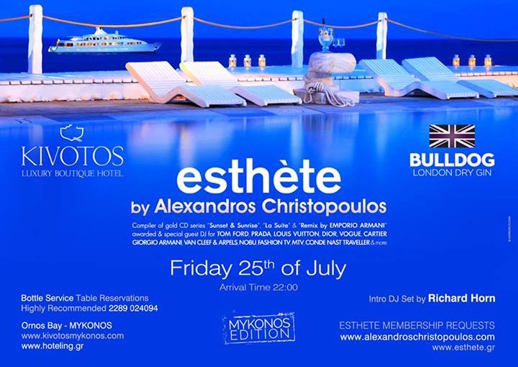 Promotional flyer for the esthète Mykonos Edition event at Kivotos Hotel
Scream and shout @54
The new @54 lounge and discotheque at Taxi Square in Mykonos Town will be celebrating July 4 with a Scream and Shout party featuring DJ Matt.
On August 2, @54 will hold a Get Sexy Swimwear & Underwear Show with fashions provided by Fifty Five Men's Wear in Mykonos Town. The party gets underway at 1.30 a.m.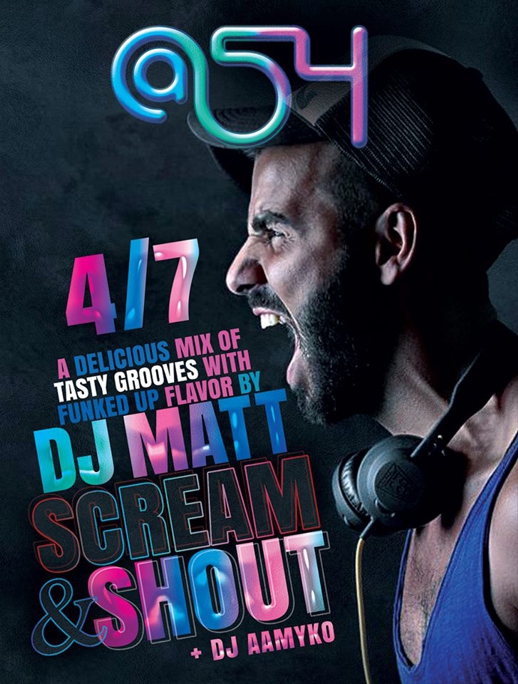 A promotional poster for the July 4 Scream and Shout party @54
A promotional image for the Get Sexy Swimwear & Underwear Show taking place August 2 at the @54 Bar Lounge Disco at Taxi Square in Mykonos Town
Another Solymar party at Kalo Livadi
Solymar restaurant and beach bar at Kalo Livadi has added another party to its summer lineup of six major events. (Two took place in June and there will be two more this month and another two in August.)
The extra event is set for Saturday July 12 and will feature DJ Stelios Ioannou on the decks. The fun gets going at 19:00 (7 p.m.).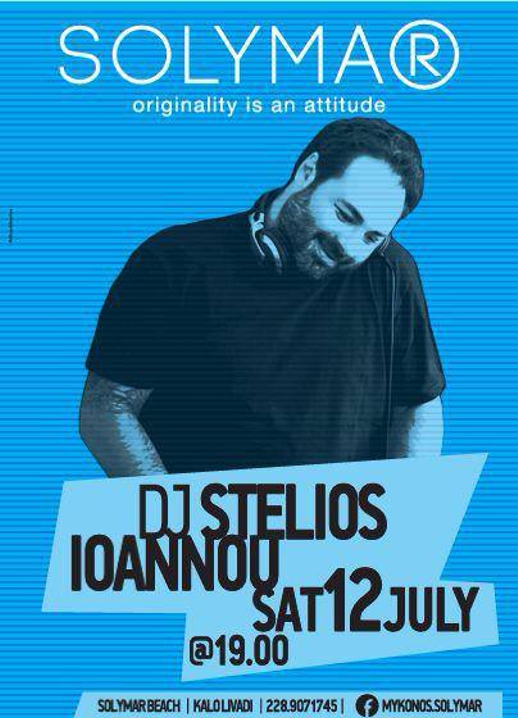 A promotional poster for Solymar's July 12 2014 party with DJ Stelios Ioannou
Updated summer DJ lineup for Cavo Paradiso
On July 27, Cavo Paradiso released an updated list of events scheduled for August. The new lineup fills in the names of several headline acts that had been marked "to be announced" in earlier schedules.
The list does not include acts scheduled for early September.  As of August 7, the Upcoming Events page on the Cavo Paradiso website was showing events confirmed for September 1, 3, 4 and 5. These are:
September 1: GK Apsis & Mark Code
September 3: Dino MFU & Valeron
September 4: Argie & AnXid
September 5: Heavy G & Gogos
Still no word on the exact date in September that Cavo will hold its season closing party.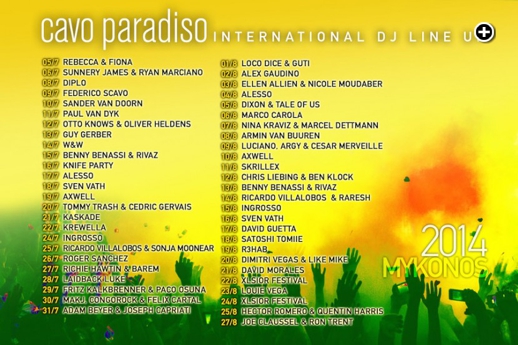 Cavo Paradiso released this updated schedule on July 27 2014. Click on the image to view a full-size version.
Phos restaurant & bar in Mykonos Town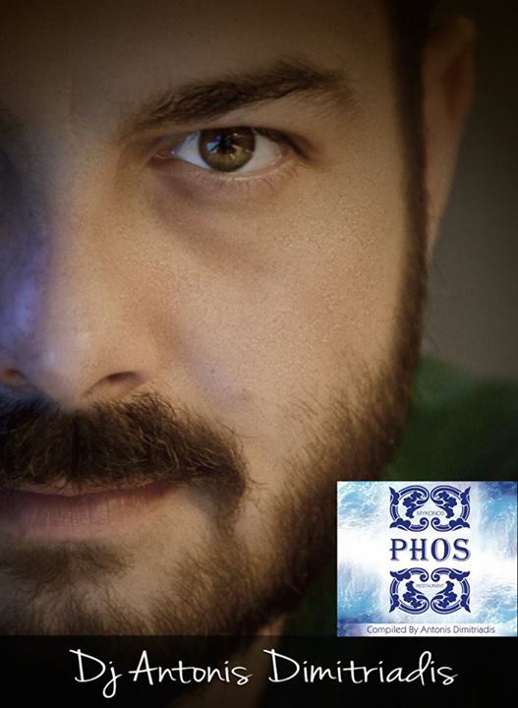 DJ Antonis Dimitriadis will be spinning for a Thursday Party being held August 7 at Phos Restaurant & Bar which is located on Tourlianis Street in the Matogianni area of Mykonos Town.
Belvedere Hotel in Mykonos Town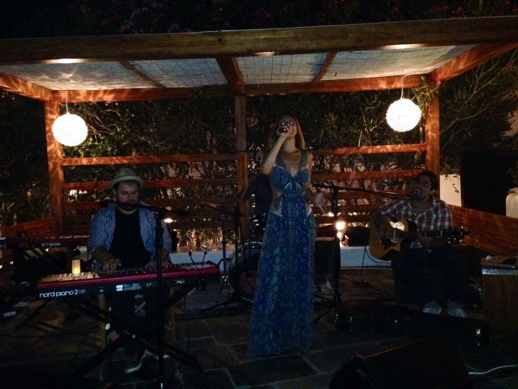 Singer Angelika Dusk and her band will be performing at the Belvedere Hotel's pool bar each evening from August 8 to 10. This photo of Angelika was posted to the Belvedere's Facebook page.
De.light Mykonos Boutique Hotel & Spa at Agios Ioannis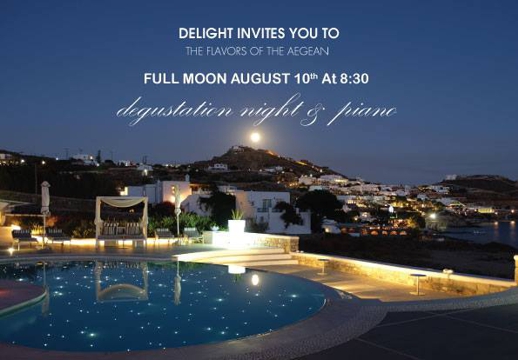 The De.light Mykonos Boutique Hotel & Spa will be celebrating the August full moon with its "Flavors of the Aegean … degustation night & piano" — an evening of excellent gourmet cuisine and keyboard music entertainment. Situated at Agios Ioannis (the "Shirley Valentine beach"), the hotel offers one of the island's most romantic dining environments.
Bill & Coo Suites and Lounge in Mykonos Town

Valeron will be on the decks for an August 14 sunset party at the Bill & Coo Suites and Lounge, located on the edge of Mykonos Town above Megali Ammos
Passo Doble bar on Matogianni Street in Mykonos Town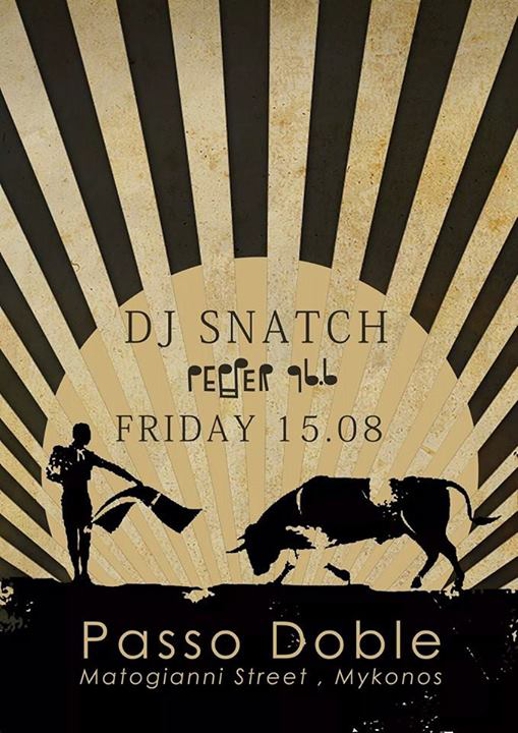 DJ Snatch will be spinning for an August 15 party at the Passo Doble Cocktail Bar on Matogianni Street in the heart of Mykonos Town
XLSIOR Mykonos Festival 2014 events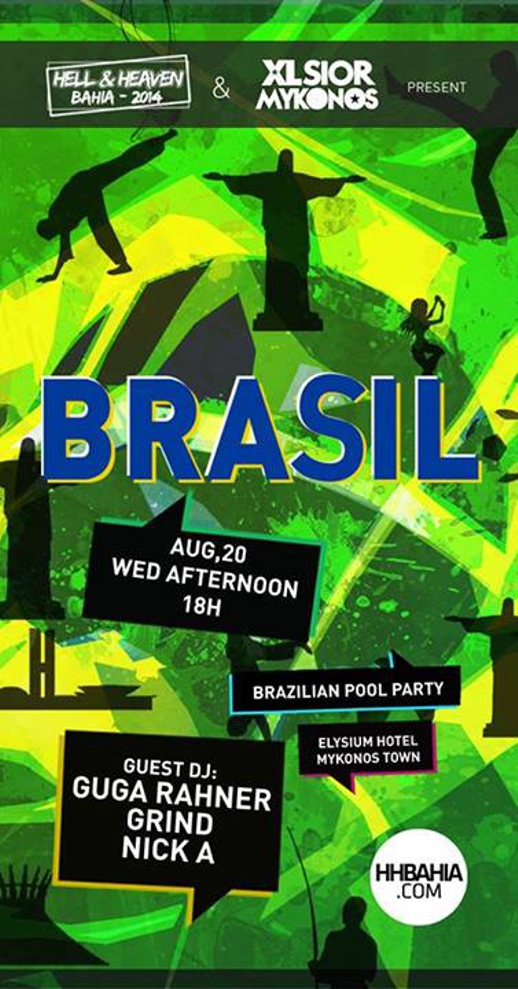 A flyer for the Brazilian-themed Pool Party being held at Elysium Hotel in Mykonos Town on August 20. The event, with DJs Guga Rahner, Grind and Nick A, is one of the main functions taking place during XLSIOR Mykonos 2014, the annual music and party festival attended by tens of thousands of gay and gay-friendly participants every August.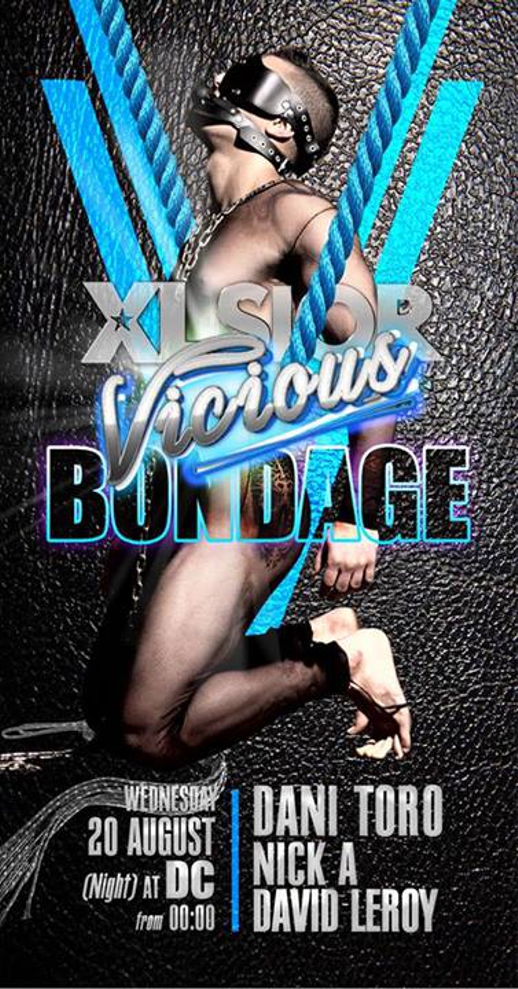 "Vicious Bondage" is the title of the August 20 XLSIOR Mykonos festival theme party being held at DC Club (Dream City, in the former Space Club premises)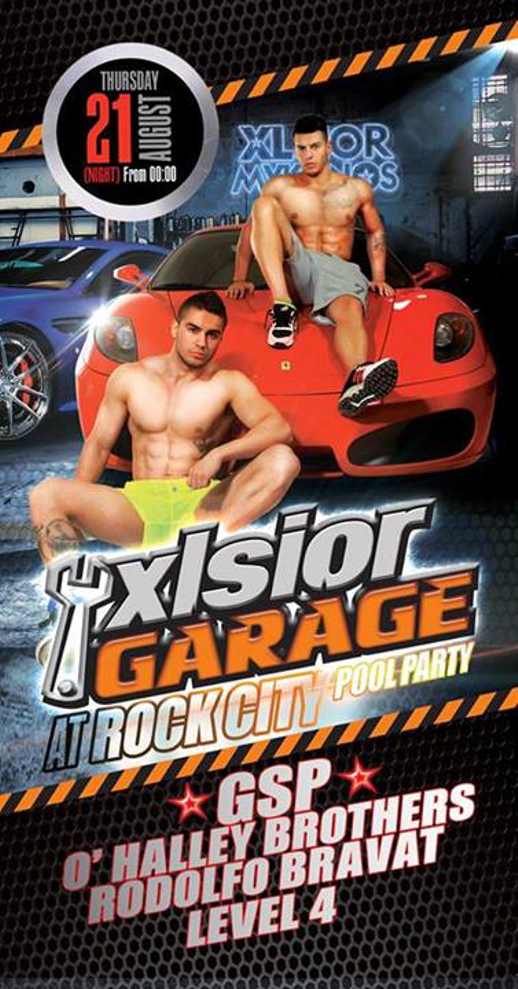 "Garage" is the theme for the XLSIOR Mykonos festival pool party being held at Rocky City starting at midnight. Rock City is a pool complex situated along the main highway between Elia beach and Mykonos Town.
~
Editor's note: This was the latest in a series of reports about the 2014 summer dining, entertainment and party scene on Mykonos. Previous posts have described upcoming special events as well as new places to eat and play on Mykonos this year. You can view those posts by clicking on the links below:
 ♦ June 6: Mykonos town & beach party clubs ready to rock with Holy Spirit long weekend special events
 ♦  June 6: Cavo & Tropicana release summer DJ lineups
 ♦  May 14: Beach parties on Mykonos this summer
 ♦ May 5: Mykonos 2014 restaurant & club update (Part 2)
 ♦ April 16: Cavo Paradiso opening on May 17
 ♦ April 13: Remezzo club gets restyled into restaurant & bar as new places to eat, stay & play open on Mykonos
 ♦ March 31: Paradise Club to kick off Mykonos party season with all-night opening bash on May 21