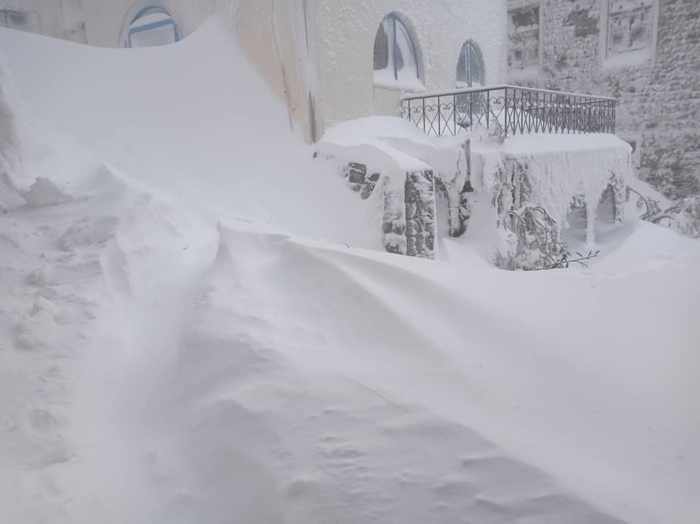 This photo, shared on Facebook by Nenia Vav, shows tall snowdrifts in a street near the old town hall in Chora on Samothraki island. A weather system named Diomedes dumped heavy snow on the island on January 12 2022.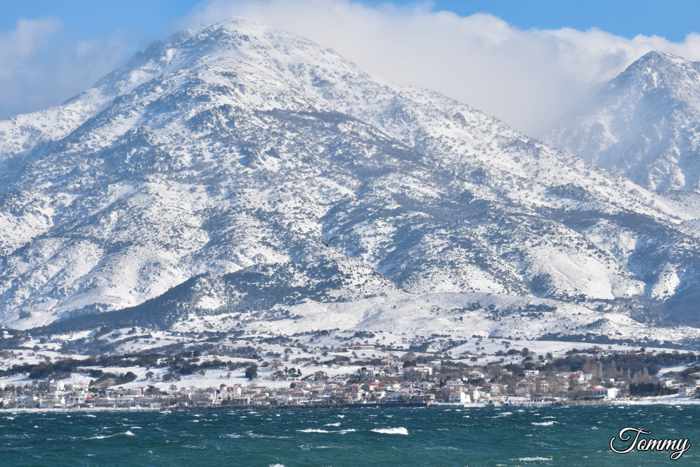 Local landscape photographer Ξανθή Πεπέ  (aka Tommy) captured this splendid view of snow-dusted Samothraki mountains when the sun came out after the Diomedes storm
Winter whiteout: Our previous post, Snow scenes from Thassos island, featured photos that had been shared on social media after a major weather system called Diomedes struck Greece with strong winds, rain, snow and cold temperatures on January 12. However, Thassos wasn't the only Greek island whose residents awoke to find themselves in a crisp white winter wonderland — the storm dumped even deeper snow on Samothraki. 
In fact, Samothraki got  blasted with blizzard-like conditions for nearly 12 hours as gale-force winds swept across the northeast Aegean island. When the storm finally let up, islanders discovered that streets were blocked with snowdrifts that had buried their cars and trucks up to their windows.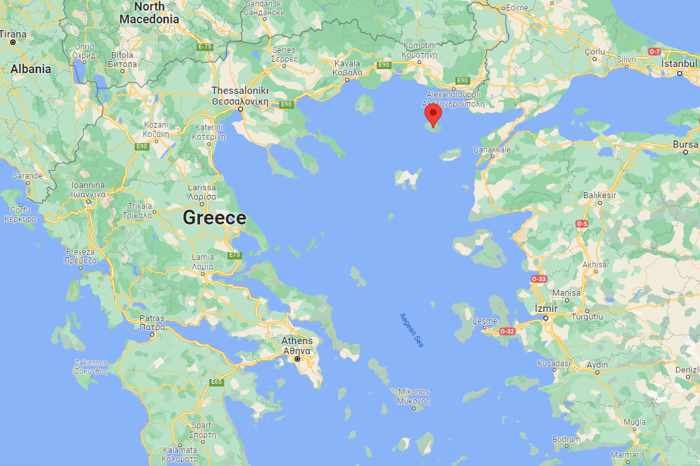 This Google map shows the location of Samothraki island in the Northeast Aegean Sea
We're willing to bet the locals didn't relish the task of digging out their vehicles and clearing away the deep snow that had fallen in front of their doors, but the photos several residents posted on social media certainly do look amazing, and show an off-season side of Greece that few tourists get to experience. We've shared some of the Facebook posts below, so you can see how Samothraki looked after Diomedes unleashed its fury.
We're feeling a little red-faced in the realization that this, our first-ever post about Samothraki, is a collection of social media photos showing the island covered in snow during a season most tourists wouldn't even dream of travelling there. (Samothraki has been mentioned in a few of our previous posts about travel publications that recommended the island, but this is our first time directly posting about it.) 
To see more of Samothraki in its full summer and travel season glory, and to learn more about the island, we recommend taking a look at the excellent local travel website mySamothraki and its official social media pages —  @mysamothrakicom on Facebook,  and @my_samothraki on Instagram. The website offers a wealth of helpful holiday planning information, while the social media pages contain hundreds of beautiful pictures showing the island at all times of the year.
Here is a collection of storm photos that have been shared on Facebook: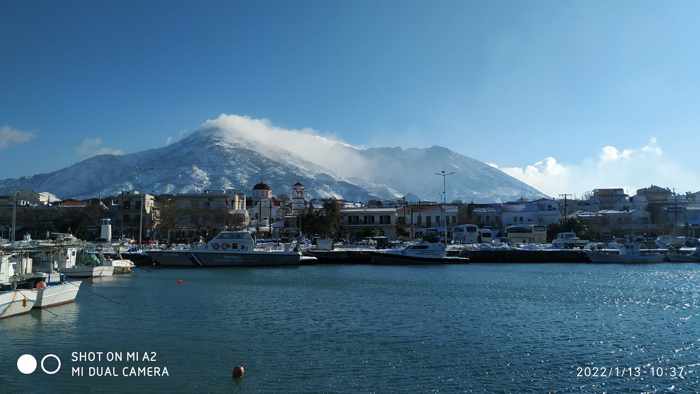 An after-the-snowfall harbour scene photo posted by ΠΑΝΑΓΙΩΤΗΣ ΜΑΚΡΗΣ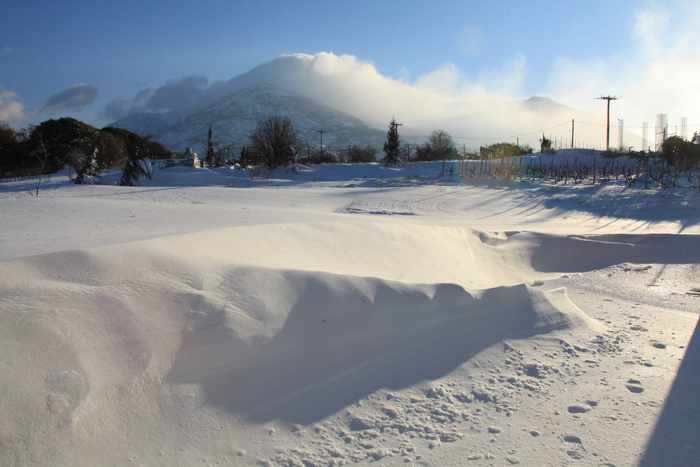 A snow-covered landscape image shared by Ergostasio Samothrakis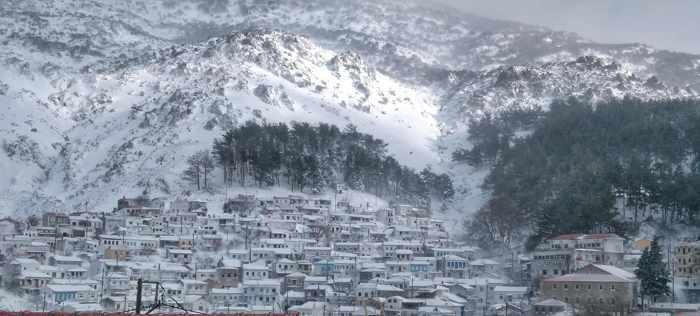 A photo of Chora shared by Thanasis Tsoukalelis.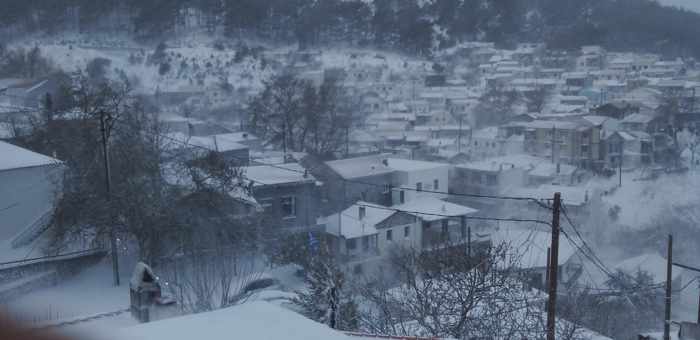 More snow-covered houses seen in a photo by Παναγιωτης Χαρανας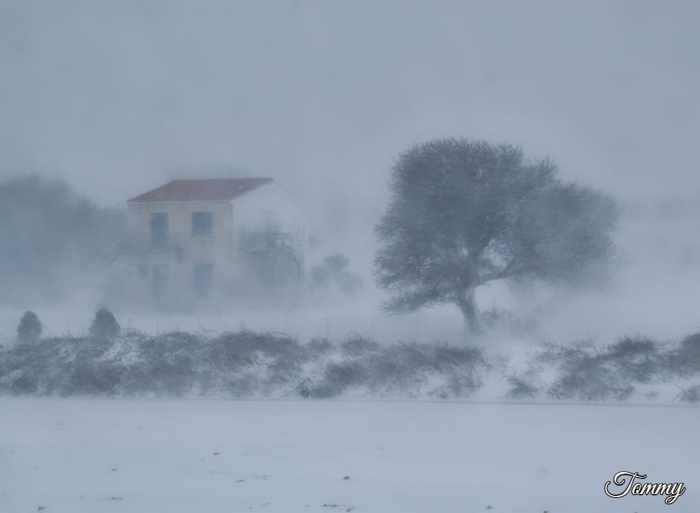 Landscape photographer Ξανθή Πεπέ  (aka Tommy) captured this scene from the port town of Kamariotissa during blizzard conditions on January 12. She shared this photo on the My Samothraki page on Facebook.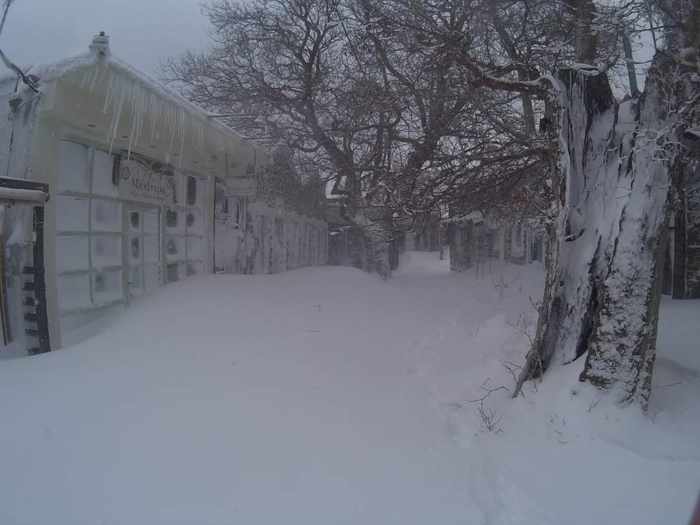 A snow-filled street seen in an image shared by Δημήτρης Ευγενίδης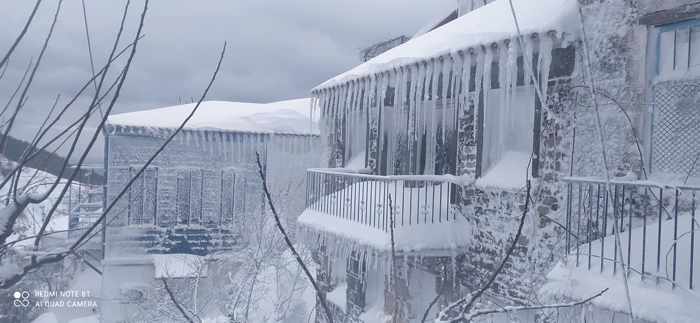 Γιάννης Αντωνίου posted this photo of houses covered with icicles and snow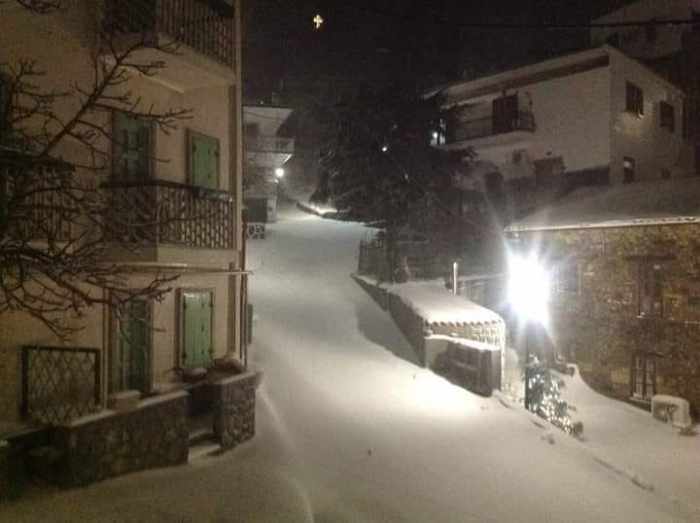 A snowy street in Chora, seen in a photo shared by Olga Pavlidou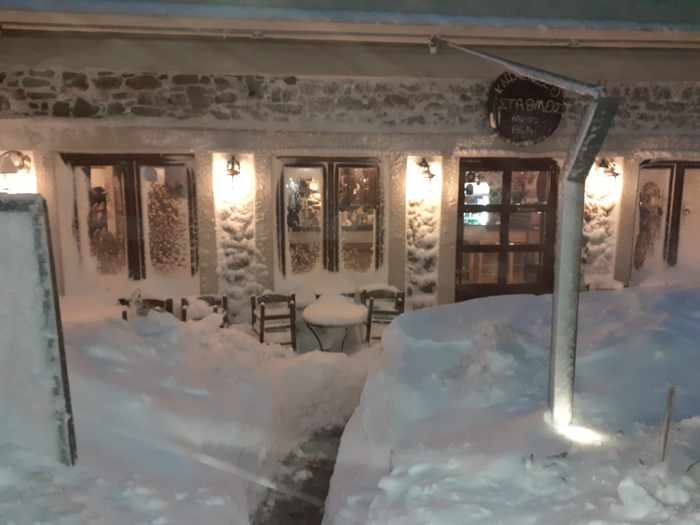 A Stefanos Maniotis photo of deep snow outside a taverna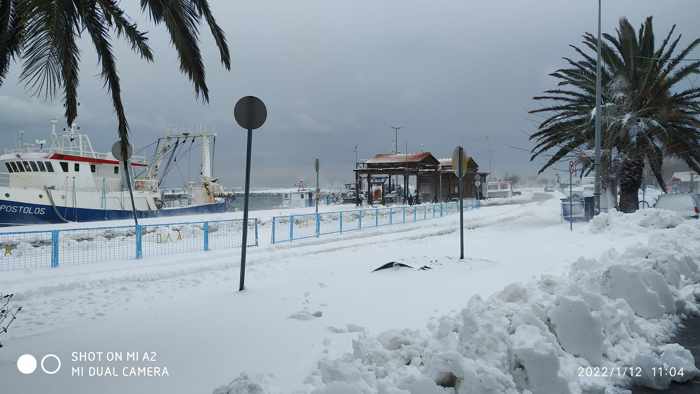 Snow surrounds a palm tree near the port, in this photo by ΠΑΝΑΓΙΩΤΗΣ ΜΑΚΡΗΣ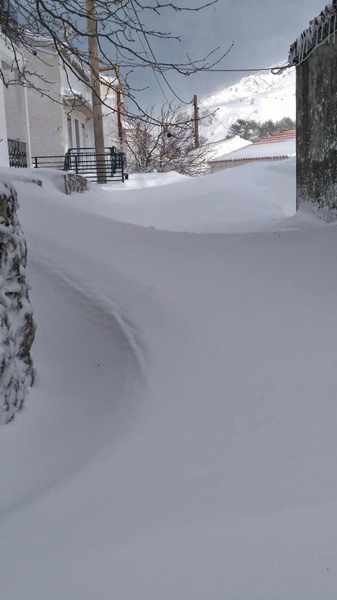 This photo, shared by Thanasis Tsoukalelis, shows snowdrifts on a lane in Chora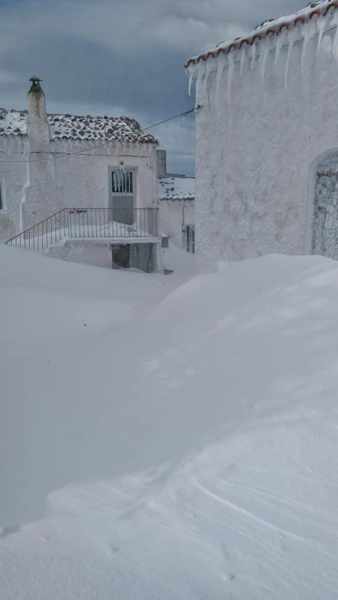 Another snowy street photo shared by Thanasis Tsoukalelis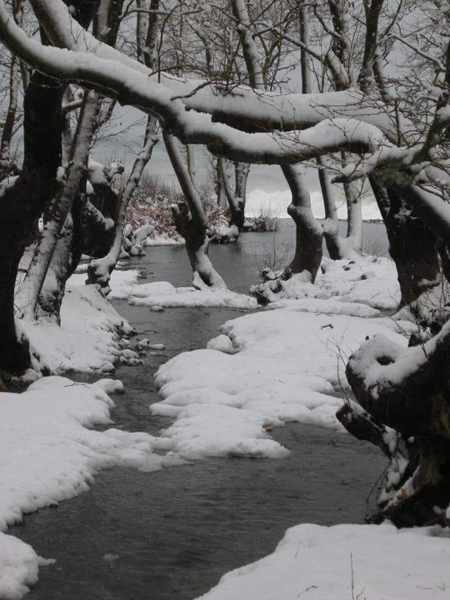 A lovely winter landscape scene captured by Levent Osman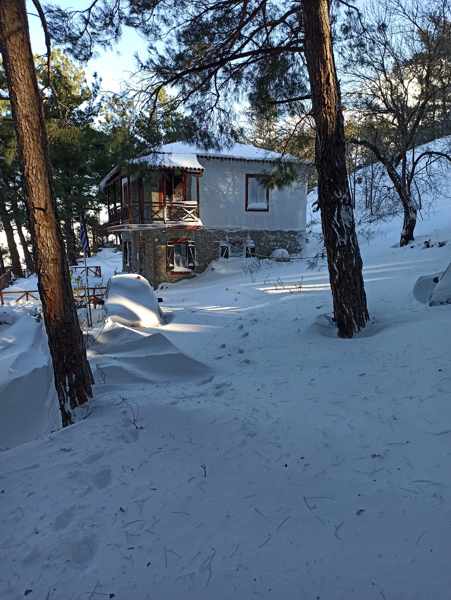 Stelios Siropoulos shared this image of a house surrounded by snow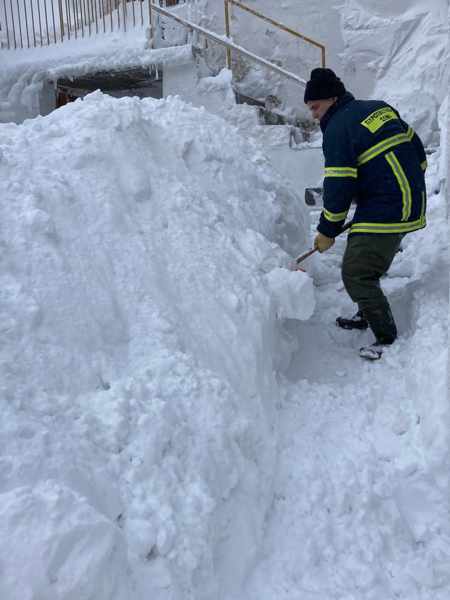 Sakis Vasiloudias posted this image of a man shovelling a path through deep snow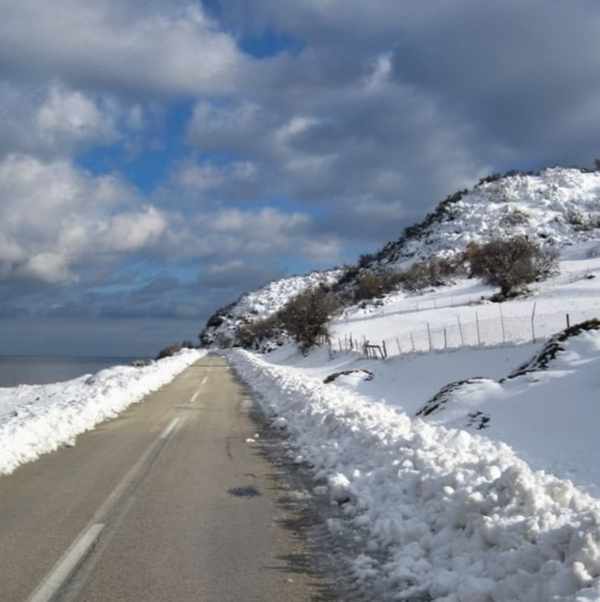 An after-the-storm-stopped image of a plowed road and snowy hillside. The image was shared on the @my_samothraki page on Instagram.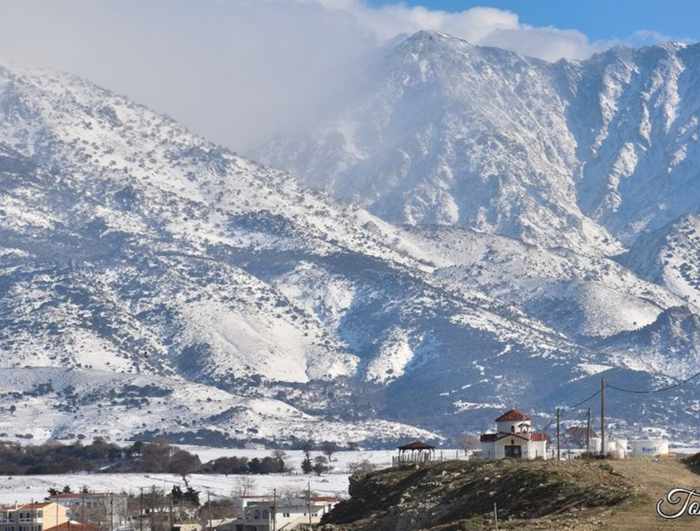 A photo of snowy mountains shot by Tommy and shared on the @my_samothraki page on Instagram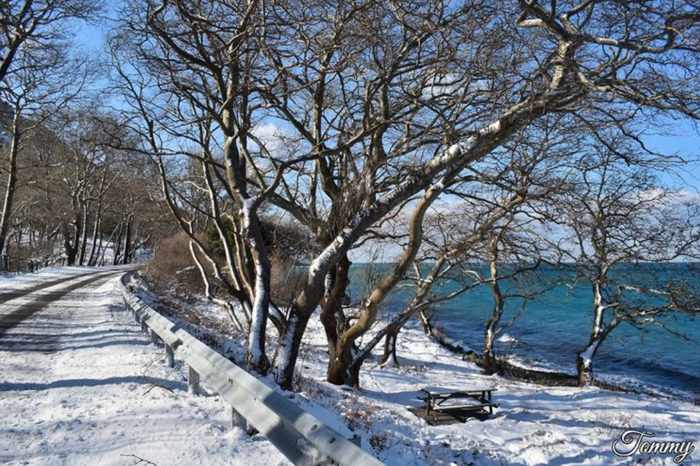 A snowy seaside scene captured by photographer Tommy for the @my_samothraki page on Instagram