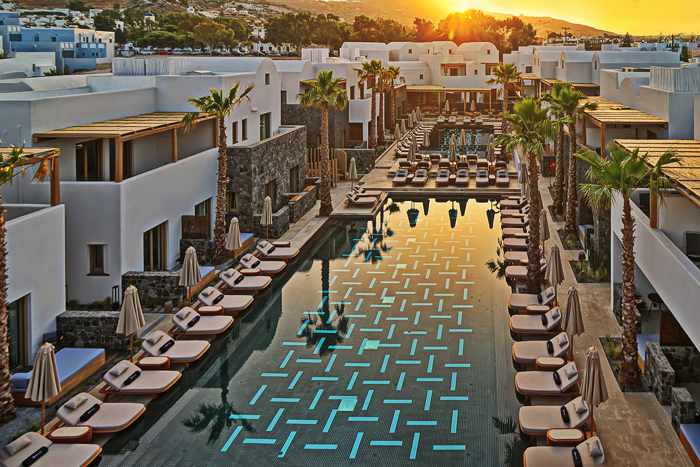 The Radisson Blu Zaffron Resort is a luxury retreat that opened in August 2021 at Kamari beach on Santorini
Newly opened: We regularly receive emails from readers asking us to recommend accommodations at Santorini beach resort areas — requests we're not well-positioned to respond to since we haven't been to the island since 2006, and have only stayed at caldera-side hotels when there.
But when someone recently asked if we knew of any stylish luxury hotels near one of the island's beaches, we actually could suggest a place for them to consider — we had just received a media release announcing that a brand-new 5-star hotel had opened its doors.
The Radisson Blu Zaffron Resort opened in August at Kamari, a seaside village popular for its lively bar- and cafe-lined beach promenade, and an open-air summer cinema. Designed and built in traditional Cycladic style, the Radisson Blu Zaffron is an exclusive luxury retreat situated a short stroll from the resort area's bars and restaurants, and just 150 meters from the black volcanic sands of Kamari beach.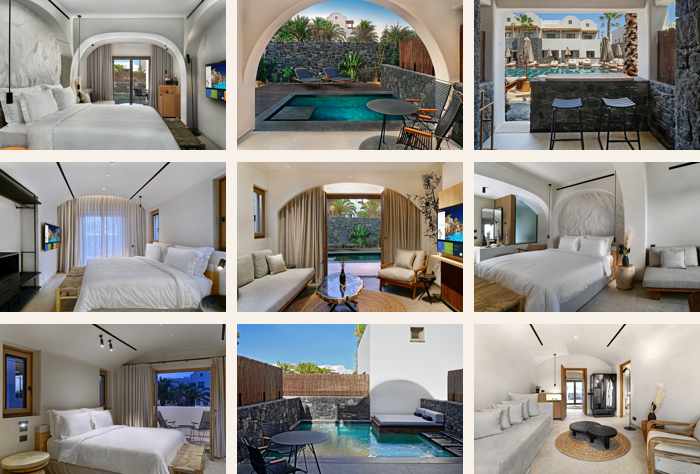 The resort complex is comprised of 103 guest rooms and suites, as well as stand-alone villas, appointed with what the hotel website describes as "minimally sumptuous interiors."
The luxe accommodations are "are all about supreme comfort in a sophisticated ambiance, topped off with indulging amenities to make you feel pampered. Designed for discerning travelers who appreciate refined luxury, the rooms and suites follow a traditional Cycladic outline with arches, smooth lines and cotton-white walls embellished with an exotic boho-chic décor and high-end furnishings," the website says.
Room, suite and villa categories available for booking through the website include:
♦ Superior room with either ground-floor terrace or upper-level balcony;
♦ Premium room with terrace and outdoor whirlpool;
♦ Premium room with terrace and private plunge pool;
♦ Junior suite with balcony;
♦ Junior suite with terrace and private plunge pool;
♦ 46-sq-meter Suite with separate living area, work desk and private balcony;
♦ a Presidential suite which can sleep 4 adults in 2 separate bedrooms, has a private balcony, and is equipped with either a whirlpool or a plunge pool on a private terrace;
♦ Villa with terrace; and
♦ Villa with terrace and private plunge pool: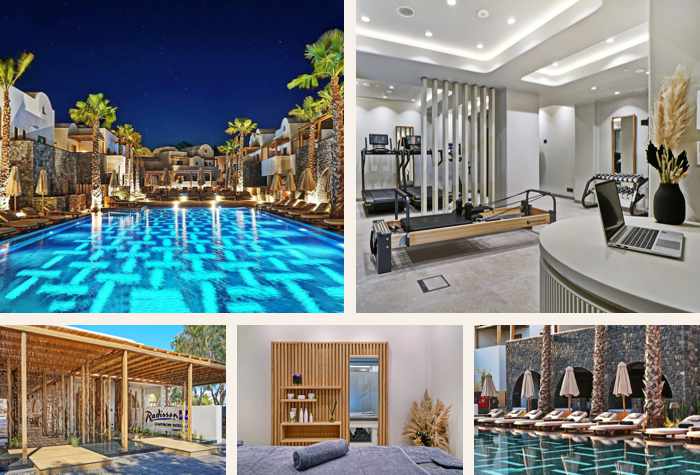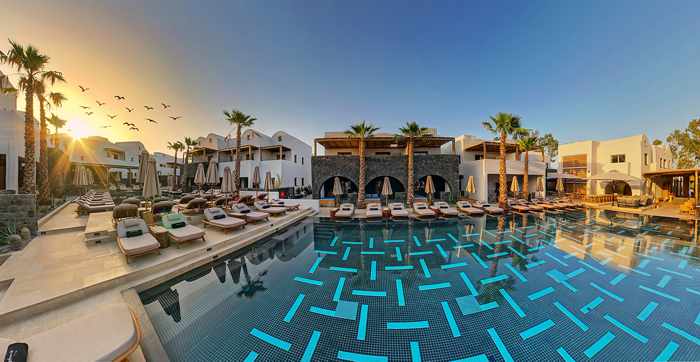 The Radisson Blu Zaffron's recreation facilities and common amenities include two centrally-situated swimming pools furnished with 80 comfy sun loungers.  Guests can enjoy coffees, cocktails and other beverages at the pool bar, as well as ice cream, snacks, sandwiches, panini, burgers and more.
The Calliste Wellness centre offers a variety of relaxation and stress-reduction treatments including facial and body massages, along with nail salon treatments.
The resort also has a meeting room that can accommodate up to 80 people for corporate events and business meetings, as well as social gatherings and receptions.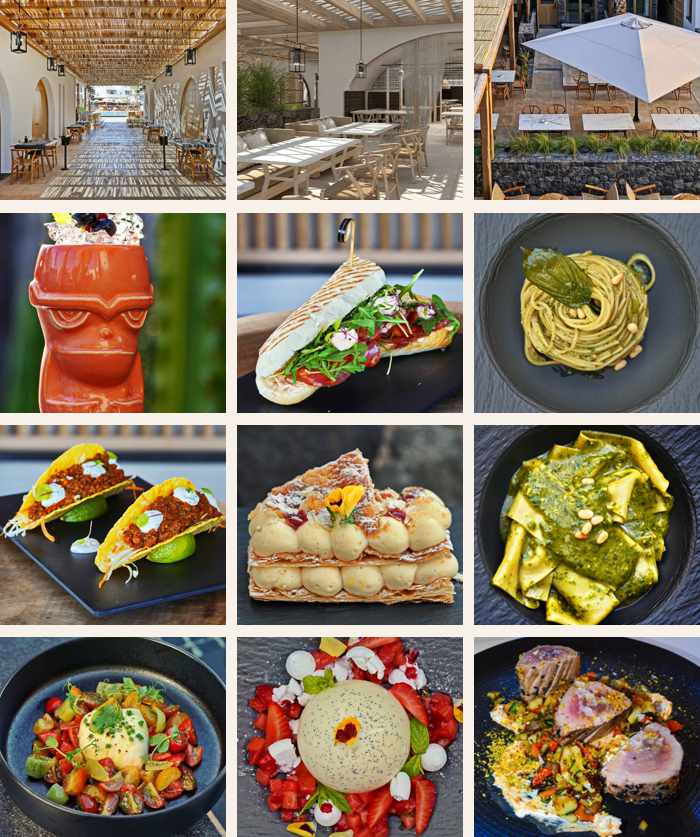 Resort guests can savour tastes of Italy in the Radisson Blu Zaffron's two in-house restaurants, Zefferino Ristorante and Belloni Trattoria.
The menu at the fine dining Zefferino Ristorante spotlights "meticulously selected dishes with raw ingredients brought by local Italian producers, honoring the rich gastronomic heritage of the Emilia-Romagna and Liguria regions as well as the Zeffirino family, who have been awarded the title of 'Ambassador of Italian Cuisine' thanks to their Genoese Pesto brand."
Belloni Trattoria boasts an open kitchen and relaxed, laid-back atmosphere where guests can enjoy a mix of Greek and Italian dishes for lunch, and classic, traditional Italian cuisine for dinner.
The Radisson Blu Zaffron is operated by the tourism and hospitality firm Fais Group, in partnership with the Radisson Hotel Group.
Full details of the hotel's accommodations and facilities can be found on the resort website, while its social media pages include numerous photos of the property.
Facebook:  @RadissonBluZaffrontResortSantorini
Instagram: @radissonbluzaffronsantorini
Web: Radisson Blu Zaffron Santorini
We haven't heard back from the reader to whom we suggested looking into the Radisson Blu Zaffron, and don't know if they wound up booking there for their Santorini holiday. But so far, the resort has been racking up excellent customer reviews on TripAdvisor, booking.com and Google, among others.