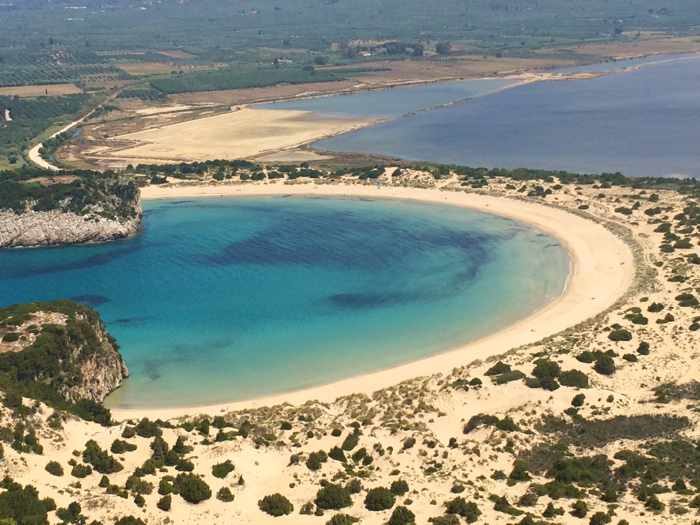 Omega-shaped Voidokilia, in the western Peloponnese, was one of many beautiful beaches that took our breath away in 2017
All-new experiences: Two trips to Greece in 2017 gave us opportunities to expand our horizons and see diverse regions we had never visited before, including parts of the Peloponnese, one of the Ionian islands, Central Greece and southwestern Crete.
Our first vacation, from May 22 to June 7,  gave us impressive introductions to the western Peloponnese, Kefalonia, and Central Greece. The second holiday, from October 19 to November 6, took us along the spectacular southwestern coast of Crete.
With the exception of our arrival and departure days in Athens, plus a 4-night stay in Chania (which we had seen briefly during our first trip to Crete in 2004), every place and region on our itinerary was completely new to us, offering a tremendous variety of first-time experiences for accommodations, activities, dining and sightseeing.
Our travels took us to several spots we would absolutely love to revisit, along with many more we would be happy to see a second time if we find ourselves in the area once again. As for the few places that didn't quite catch our fancy, our mixed feelings were simply due to the time of season we happened to be there — now we know when to return to enjoy them better. Happily, there wasn't a single destination we disliked.  
Our spring vacation began with a  4.5-day road trip, with friends, through the Messenia and Elis regions of the southwest and northwest Peloponnese. We covered considerable ground in that time, moving at a much faster pace than we usually travel, but the goal was to give us a peek at a number of different places so we could find favourites to revisit for longer periods in future. After the Peloponnese segment of our holiday, a week-long visit to Kefalonia island and six days in Central Greece gave us time to relax and to comfortably explore towns and sites on foot rather than by car. 
On page 2 of this article, I have posted photos and brief descriptions of the main locations and key attractions we got to see during our car tour in the Peloponnese.  Pictures of the places we explored on Kefalonia and in Central Greece, and those we visited during our fall holiday on Crete, will appear in separate posts. Future articles will spotlight specific destinations in greater detail, and will profile hotels we stayed at and restaurants where we dined.
Please click on the link under the next photo to continue reading on page 2.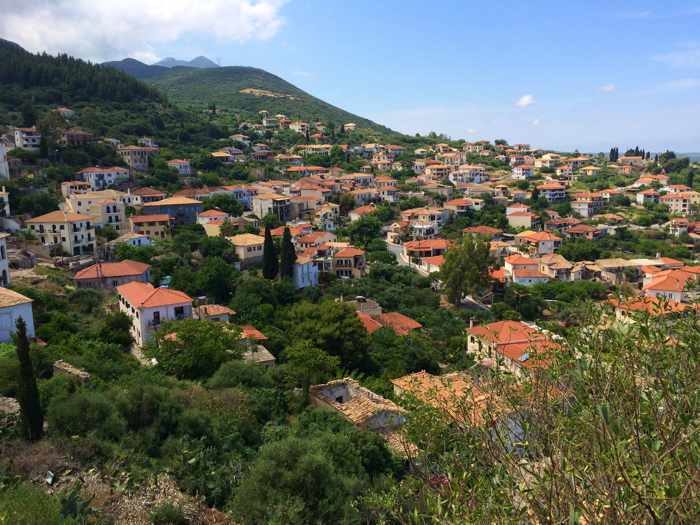 Red-roofed houses in the attractive mountainside town of Kyparissia
CONTINUED ON PAGE 2