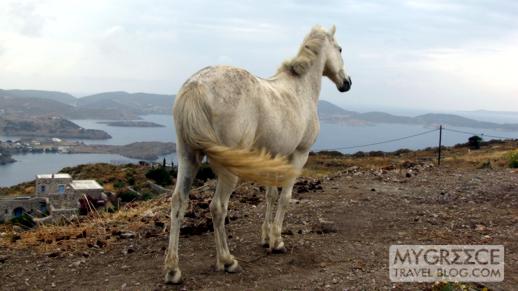 A horse on a hillside near Chora on Patmos
Island gem: Patmos was the second destination on our 2010 island-hopping holiday in Greece, and one of our favourite Greek islands so far. What a gem! It offered the things we enjoy best about Greek islands: spectacular scenery, great hiking and walking routes, beautiful beaches, friendly locals and wonderful food. Our only regret was that we didn't schedule more time to spend on this island, since there were a lot of places and things we didn't have a chance to see. But that give us a great reason to go back!
What we liked most about Patmos:
The food. We dined at tavernas in the Grikos Bay area, where we stayed, and enjoyed every meal. The food was excellent, especially the home-cooked meals at Flisvos Taverna. Their roasted chick peas were incredible.
The scenery. Patmos is a very pretty island, with gorgeous views of the sea, the coastlines, beaches, bays, and hillsides.
The hiking. We never took a bus on Patmos because we walked everywhere we went. Literally. We hiked up the mountain to Chora several times, and hiked into the port village of Skala several times, too. And we hiked up to the village of Kampos. Next time we visit Patmos, we'll rent mountain bikes so we can see even more.
The views from our hotel. We stayed at Hotel Golden Sun, which sits on a hillside overlooking scenic Grikos Bay. We had incredible views from our room's seaview balcony, and each morning got to enjoy fantastic views from the hotel's outdoor breakfast terrace.
The people. Personable and friendly, but very laid back.
The animals. We met a friendly horse and donkey, and saw more cats, goats and sheep than we did people.
At some future date I hope to post a more detailed report on our visit to Patmos. For more information about the island in the meantime, check out the PatmosWeb online guide.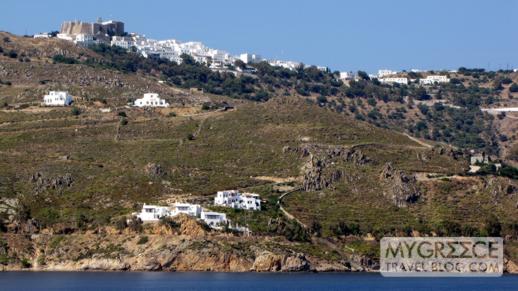 A view of Chora and the Holy Monastery from a ferry approaching Patmos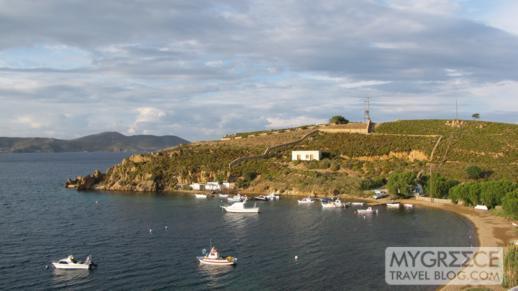 Sapsila Bay on Patmos, between Skala and Grikos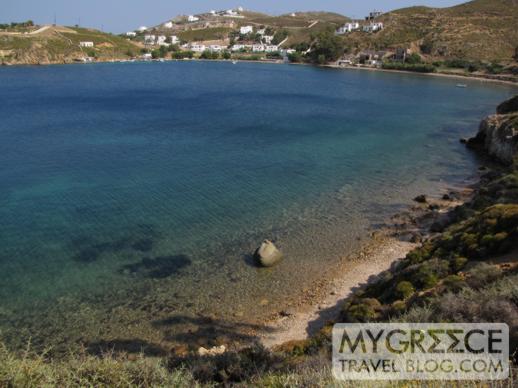 The crystal-clear waters of Sapsila Bay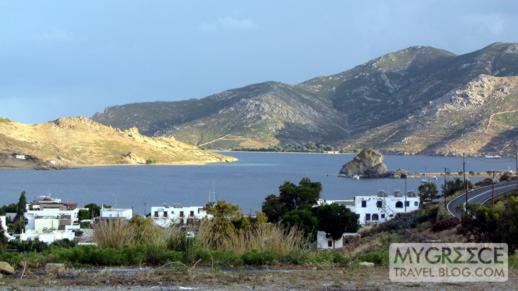 Approaching Grikos Bay on the road from the port in Skala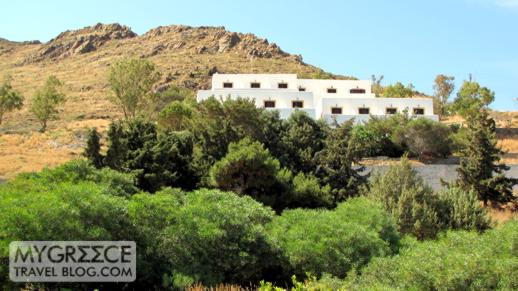 The Hotel Golden Sun on the mountainside high above Grikos Bay on Patmos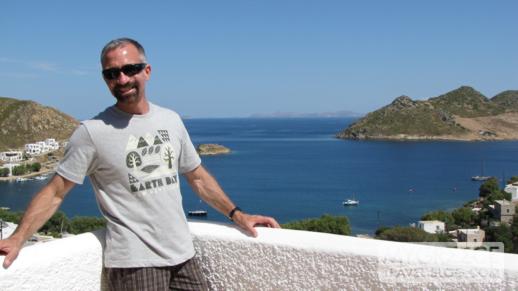 On the balcony at our room at the Hotel Golden Sun…

…where we had an amazing panoramic view of Grikos Bay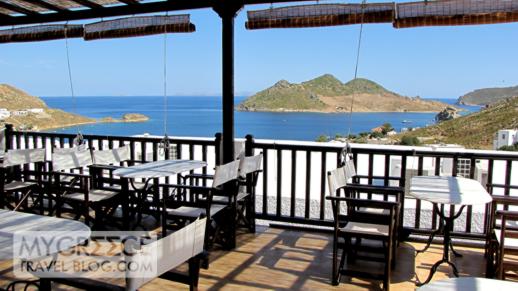 The Hotel Golden Sun's breakfast terrace view of gorgeous Grikos Bay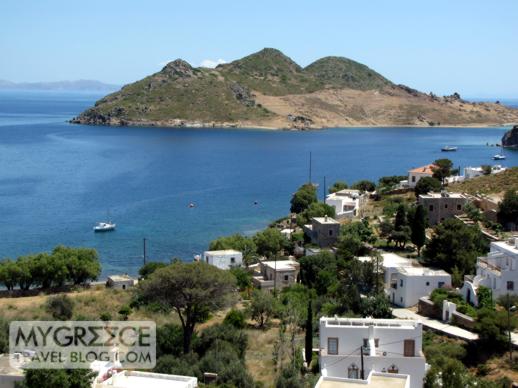 I never got bored of looking at peaceful Grikos Bay and Traonisi Island. Occasionally, we could hear some of the goats that live on the island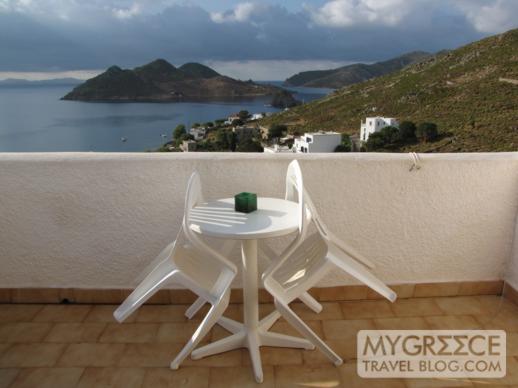 Stormclouds move past Patmos the morning after a violent overnight thunderstorm thrashed the island with heavy rain and non-stop lightning strikes.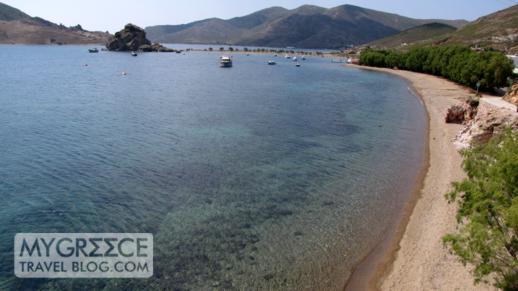 The curved sandy beach along Grikos Bay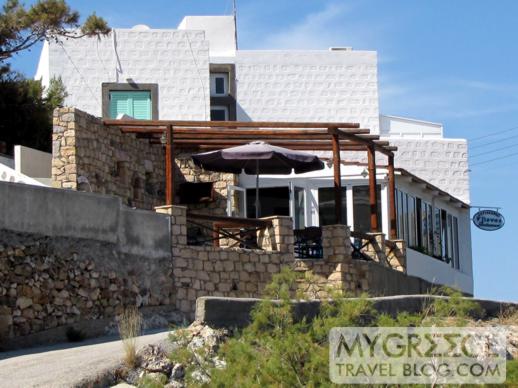 We had the best meals of our holiday at Flisvos taverna at Grikos Bay…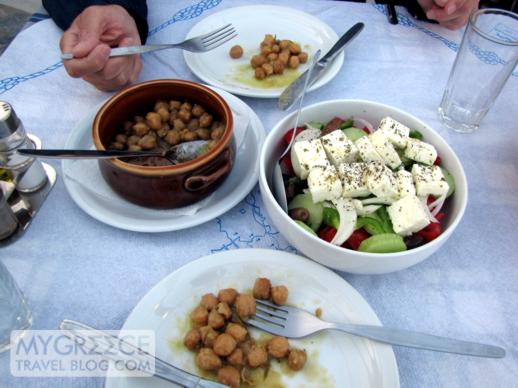 …where the home-cooked specialty, oven-roasted chickpeas, was delicious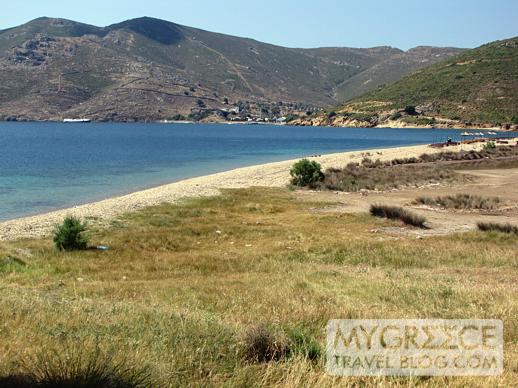 Petra beach and bay are just a short walk past Grikos Bay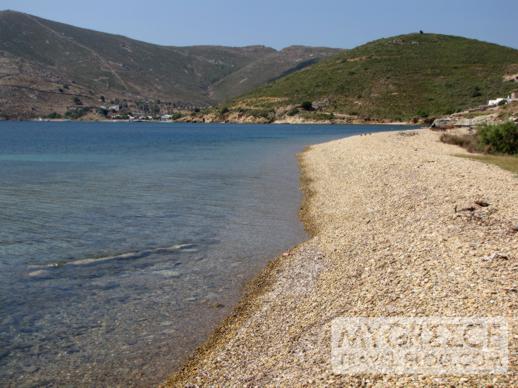 The water is gorgeous but there's no sand at Petra beach — just stones. Ouch!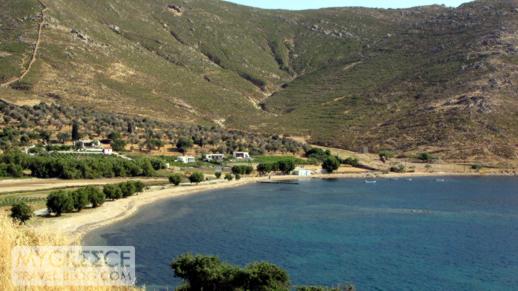 Stayrou bay and its beach are just a short walk from Petra beach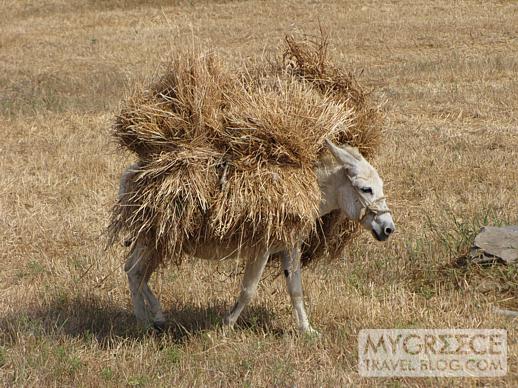 A donkey carries bales of hay on a farm near Stayrou Bay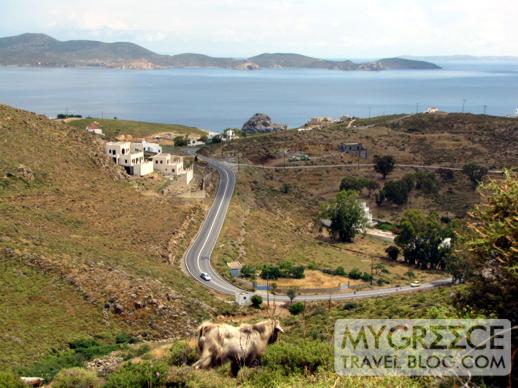 We saw this goat while climbing up the mountain from Grikos to Chora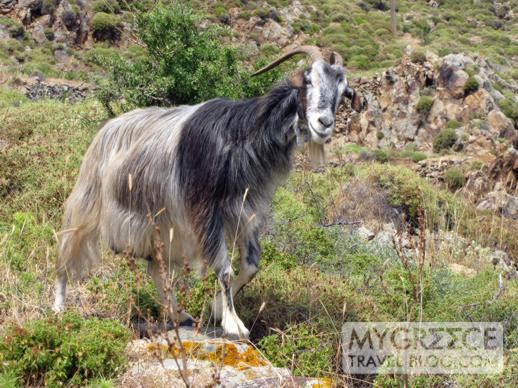 Another local resident we encountered while hiking up the mountainside from Grikos to Chora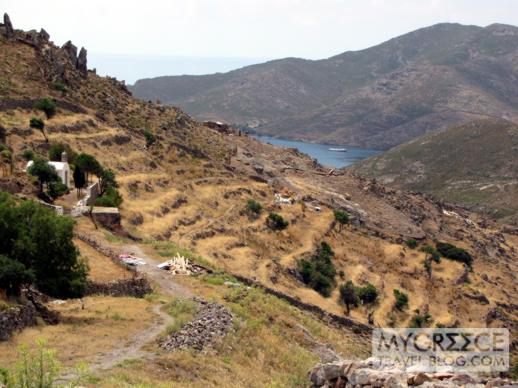 A peek at Petra Bay beyond a terraced mountain slope below Chora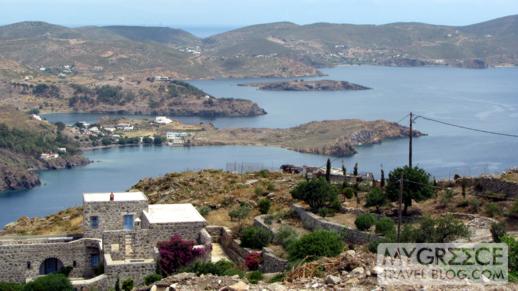 The view toward Aspri bay and Meloi bay from the hillside below Chora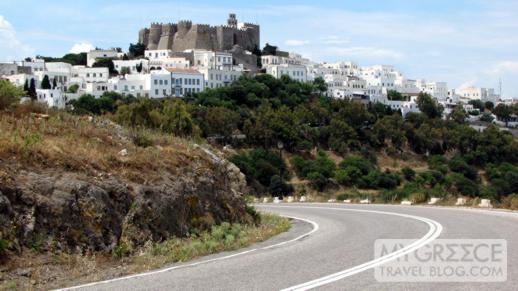 Approaching Chora and the Holy Monastery of Patmos (the Monastery of Saint John the Theologian), which was constructed starting in 1088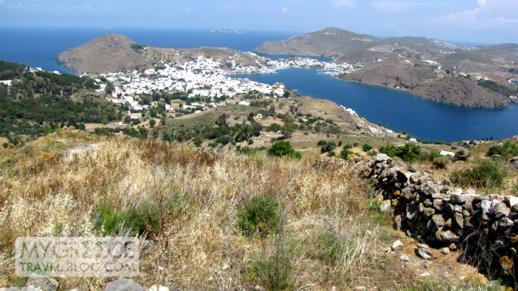 A mountaintop view toward Skala, the port and main town on Patmos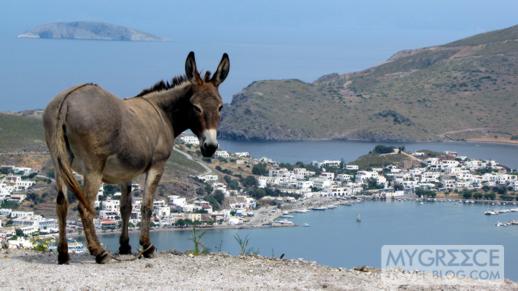 A mule on a hillside overlooking the town of Skala on Patmos
Churches along a street in Chora on Patmos
A view of Skala, the port and main town on Patmos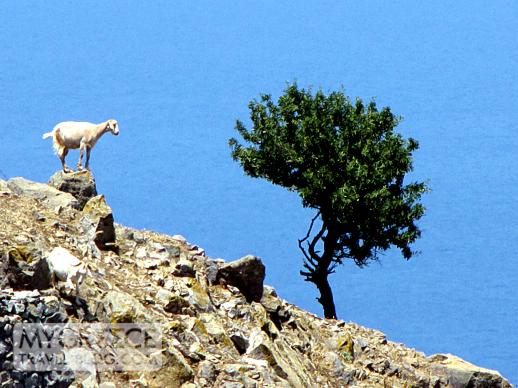 A goat and a tree high above the sea on Patmos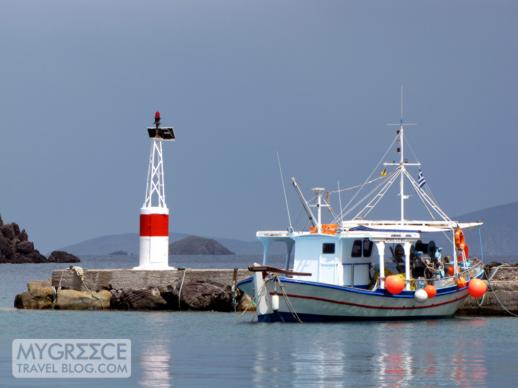 Skala harbour on a cloudy afternoon following a rainshower
A cruise ship dominates views of the port in Skala
Overlooking Agriolivadi Bay from the highway between Skala and Kampos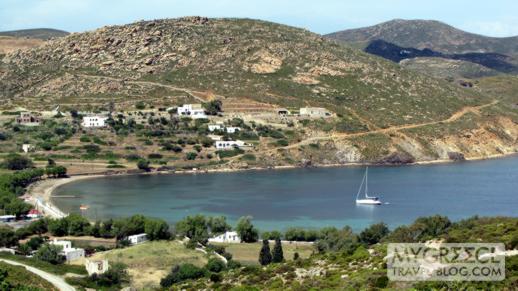 There were only two people on Agriolivadi beach when we passed by … perhaps from the sailboat anchored in the bay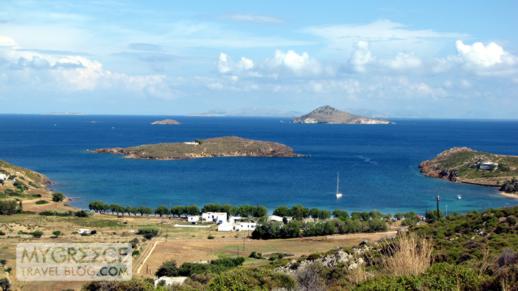 Looking out to sea from a hillside above Agriolivadi Bay and beach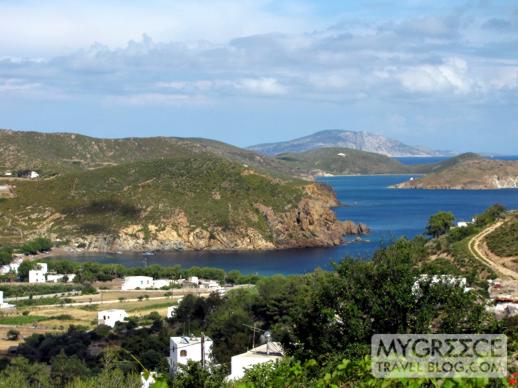 Yet another scenic bay and beach area on Patmos, Kampos Bay
A late afternoon traffic jam on the road near Grikos