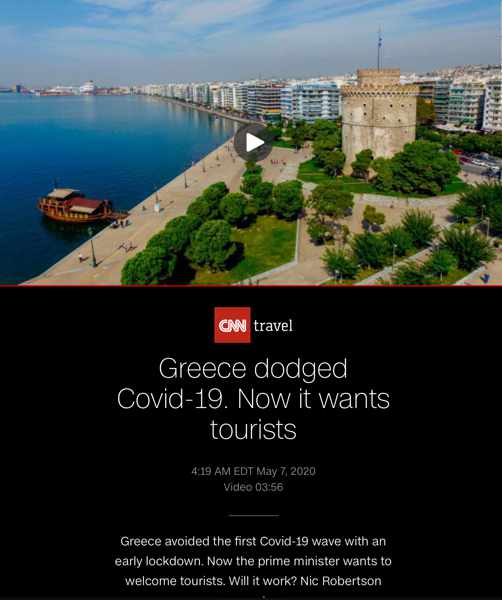 CNN Travel has taken a look at what the summer tourism season might be like in Greece as the country re-opens after its Covid-19 lockdowns
Travel comeback?: Millions of people are on tenterhooks this month, wondering what will happen to their plans — and bookings — for summer and autumn vacations in Greece.
Many — including yours truly at mygreecetravelblog.com — have already had our spring holiday hopes dashed by the Covid-19 pandemic. We were supposed to fly to Greece a few days from now but, like hundreds of thousands of people who had booked trips to Greece for April, May and June,  Covid quarantines and travel bans put the kibosh on those plans.  
Millions more people who had scheduled trips for July, August and September are holding out hope that their holidays will still happen, now that Greece has announced a timetable to gradually re-open its economy, and to begin welcoming tourists back starting in July. But it's still too soon for anyone outside Greece to know for certain if their vacations will in fact materialize, since Greece hasn't yet determined who will be allowed into the country, or what sorts of tourism activities will be available.
Indeed, it appears extremely likely that some kind of medical testing will be required to gain entry into Greece (to show that travellers either have developed antibodies to Covid-19, or are not testing positive for the virus), and it also is likely that citizens from only a few select countries might be permitted to visit Greece initially. So while there is some promise that travel will resume in Greece this summer, it's still a matter of wait-and-see for the all-important details.
What does seem clear, however, is that the Greek holiday experience could be drastically different from what regular visitors have experienced in the past — and what many first-time travellers might have been anticipating this summer, especially with regard to beaches and the legendary Greek nightlife. Because of social distancing requirements, for instance, crowded bars and party clubs could be out of the question for the foreseeable future, while organized beaches will have considerably fewer lounge chairs and umbrellas, with those available being spread 2 meters apart. (One beach bar on Santorini has already installed plexiglass screens between its sunbeds.) For their part, hotels and restaurants will have to adapt to stringent health and safety protocols as well as social distancing requirements.
To find out more, CNN Travel recently sent a team of reporters to Greece. They examined how Greece has handled the Covid-19 pandemic, and interviewed industry and government officials — including Greek Prime Minister Kyriakos Mitsotakis — to see what the country's post-pandemic travel season might look like.  Check out their May 7 2020 report, which consists of an article and a 4-minute video.
Hopefully more concrete information will come available within the next several weeks.