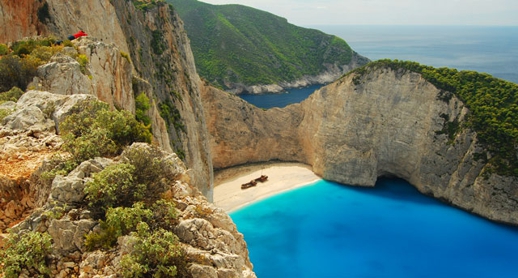 Zakynthos island's breathtaking Navagio beach — more famously known throughout the world as Shipwreck Beach — is seen in a photo provided courtesy of Flickr member Neitsch (Andreas Neuburger). Click here to view the stunning full-size version of the photo on Flickr, and click here to view other outstanding travel and landscape images from Andreas's photostream on Flickr.
Ionian intrigue: I will have to live a very long and healthy life if I'm ever going to check off all the destinations on my long bucket list of places to see in Greece.
I still haven't been anywhere in the Ionian group of islands, for example, where I would love to visit Corfu, Kefalonia, Ithaka, Lefkada, Zakynthos and several of the chain's smaller islands (though not in that particular order).
A Greek-Canadian acquaintance is disappointed that I haven't yet made it to Zakynthos (also known as Zante), which is one of his personal favourite places in all of Greece. "You've really gotta go there man," he has repeatedly told me, insisting I'll be "blown away" when I see the incredible beaches, coastlines and landscapes.
I'm already well aware of the island's spectacular coastal cliffs and the gorgeous white pebble beaches nestled below them — including Navagio, more popularly known around the world as Shipwreck Beach.
Although I've seen hundreds of photos and dozens of videos, I never get tired looking at images of Navagio — they just make me want to see it (and the rest of Zakynthos) in person even more.
So do online travel articles that I stumble upon from time to time.
 Online photo features and travel pieces
Like the photo feature entitled This is the the prettiest beach in Greece, which basically makes it the prettiest in the world, which Huffington Post Travel published earlier this year and updated just last month.
Or the article headlined Scenic caves, shipwrecks and turquoise sea: Discover Zante, published today in the online edition of the U.K.'s Express newspaper. It was penned by travel writer Rob Crossan, who described Zakynthos as "an island where stress rarely gets beyond deciding whether to have one more portion of fresh fish, one more dip in the inviting Ionian Sea, or one more evening stroll beneath the twinkling stars."
[Coincidentally, it was almost exactly a year ago that the Express published another piece about Zakynthos — Fantasy island! Head to Zante for beautiful beaches and delicious food — in which Laura Millar wrote about Shipwreck beach, the famous Blue Caves, and the wonderful local cuisine.]
Besides the travel writing, there's the countless Zakynthos photos on Fickr, and scores of videos on YouTube, that keep me mesmerized and dreaming about going to the island sometime soon.
Here are a few that show Zakynthos from a variety of interesting and alluring perspectives: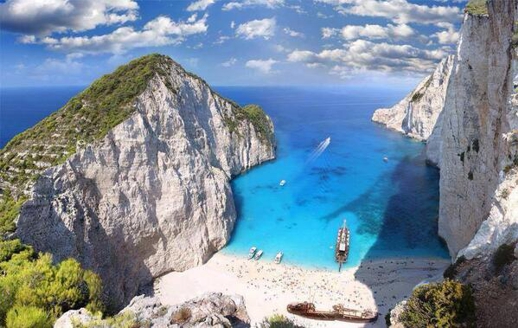 This view of Navagio was posted on Twitter by Amazing Pictures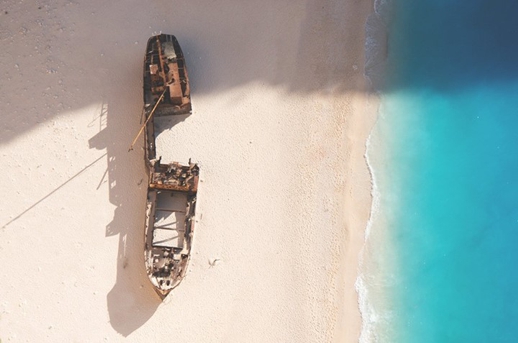 Panagiotis Zoulakis captured this amazing aerial perspective of the infamous Navagio beach shipwreck.  You can view the full-size photo, along with dozens of other outstanding images, on his photography website: www.pzoulakis.gr
Zakynthos 2013 is an 8-minute video by alessevera
This Zakynthos 2013 video was posted by Petkovic Dusan
Raul Ceclan posted this personal travel clip of his August 2013 trip