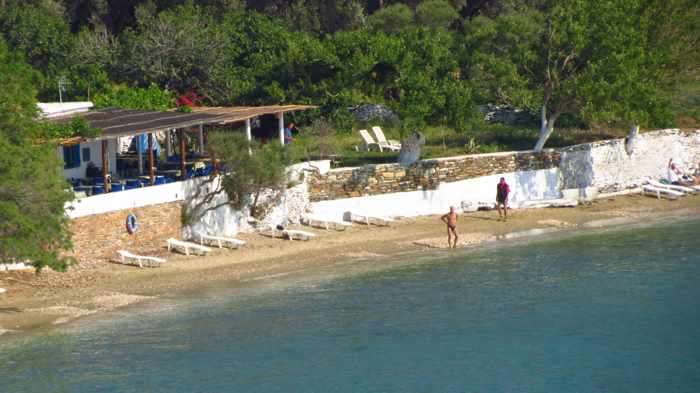 Mastrozannes Restaurant at Agia Marina beach — where we enjoyed fabulous views with the two best dinners of our Andros visit
Memorable meals: We ate exceptionally well during our first-ever trip to Andros last spring, feasting on delicious Greek cuisine at every restaurant where we dined. At almost all of the establishments, either the settings and ambience, or the views, were as impressive and memorable as the meals. As a lucky bonus, we were treated to excellent food as well as particularly remarkable locations, views and atmosphere at two of the restaurants.
This was the case with our favourite place to eat on Andros —  Mastrozannes Restaurant near Batsi — where we ate dinner two nights in a row on the taverna's spacious open-air terrace beside Agia Marina beach. On both evenings (one of which was my birthday dinner celebration), our wonderful meals of tantalizing home-cooked Greek cuisine were topped off with complimentary side servings of superb sea and sunset views, shown in the photos below.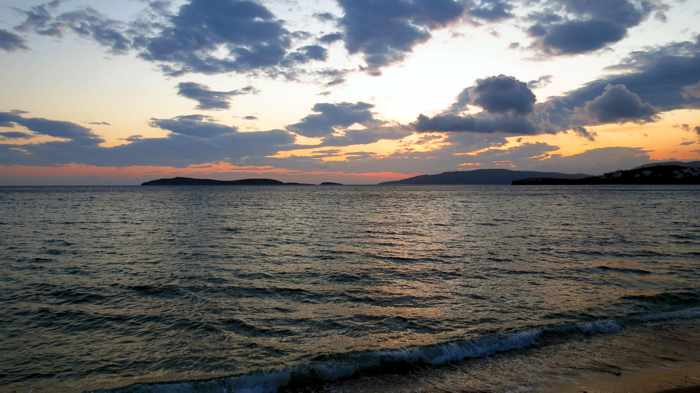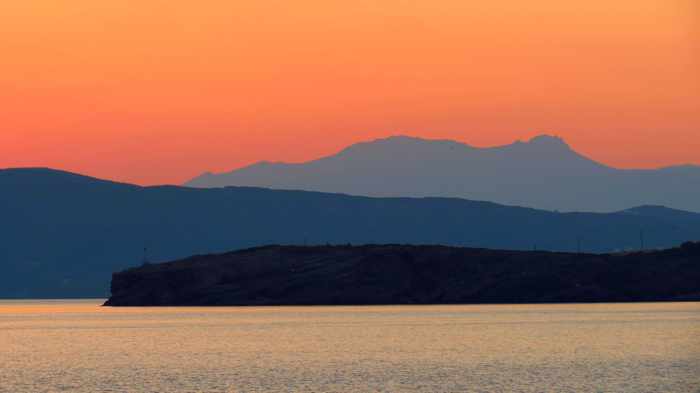 Above are just two of the splendid scenery and sunset views we enjoyed from our table at Mastrozannes Restaurant
Another standout eating spot was Drosia mezedopoleio in the leafy mountain village of Menites near Andros Town. There, we lunched on a variety of savory selections, including a local Andros specialty, frutalia, in a truly sublime and unforgettable setting — a sun-dappled terrace encircled by tall trees, lush vegetation and the sound of streams coursing through the gully below.
I Parea in the heart of Andros Town proved to be a good choice for lunch and dinner, while  Archipelagos and O Nonas (both in Chora) and Stamatis taverna in Batsi also served up tasty dinners.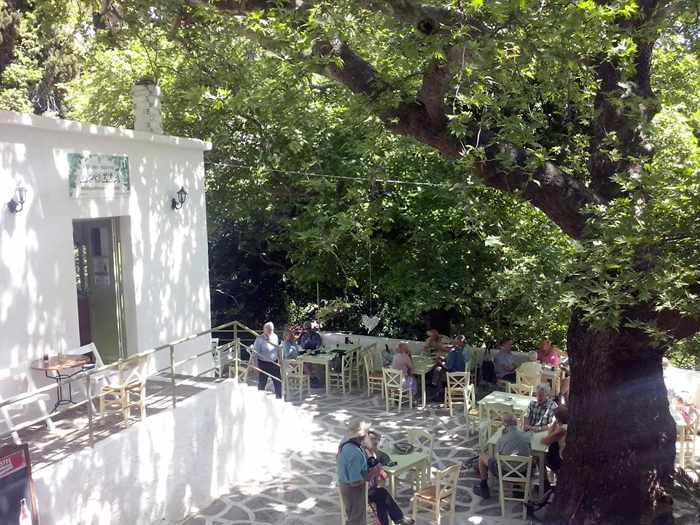 Shade trees and thick vegetation surround the outdoor dining terrace at Drosia mezedopoleio in Menites village, seen  here in a photo that appears on the restaurant's Facebook page
Please click on the link below to continue reading and see more restaurant photos on page 2 of this post .
CONTINUED ON PAGE 2