~ continued from page 1 ~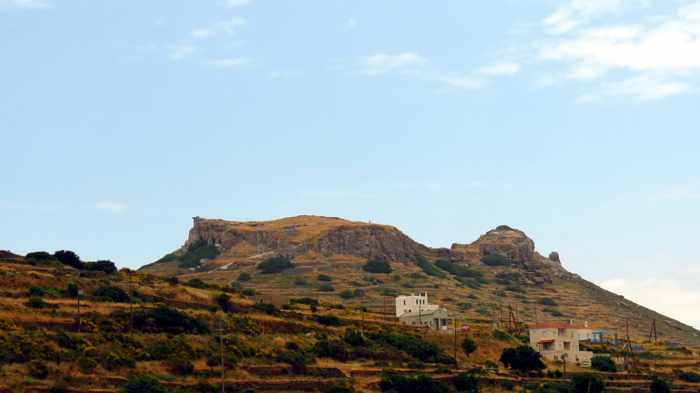 We didn't have time to explore this mountain peak in Korthi, atop which the ruins of the historic Faneromenis Castle are situated
The drive through Korthi was interesting and fun, giving us beautiful views of its diverse mountain, valley and coastal scenery.  Unfortunately for us, hazy clouds frequently filled the sky and dulled the late morning light as we approached Ormos Korthiou. Only moments after we parked and started to walk around, it began to sprinkle light rain (for just for a couple of minutes, so we didn't need to retrieve umbrellas from the car).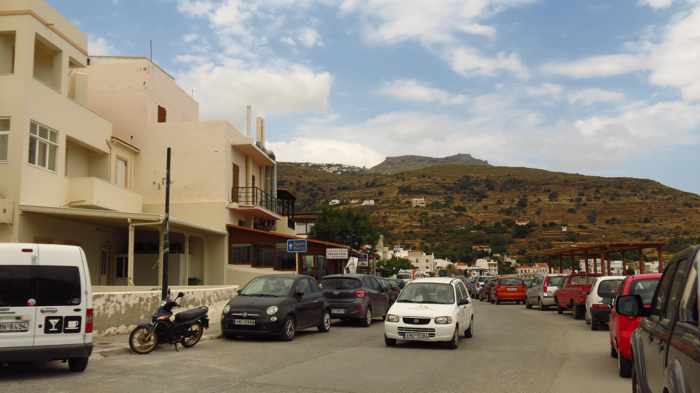 The main street along the waterfront in Ormos Korthiou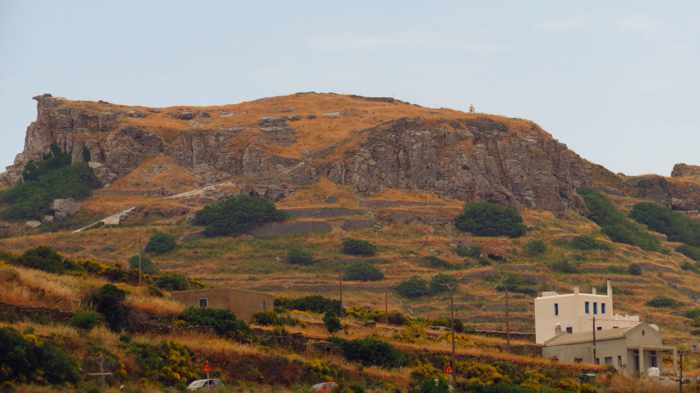 The Faneromenis castle ruins aren't visible in this view of the mountain peak behind Ormos, but it's easy to see why the fortress site is one of the best places to enjoy amazing panoramic views of Andros, the sea and nearby islands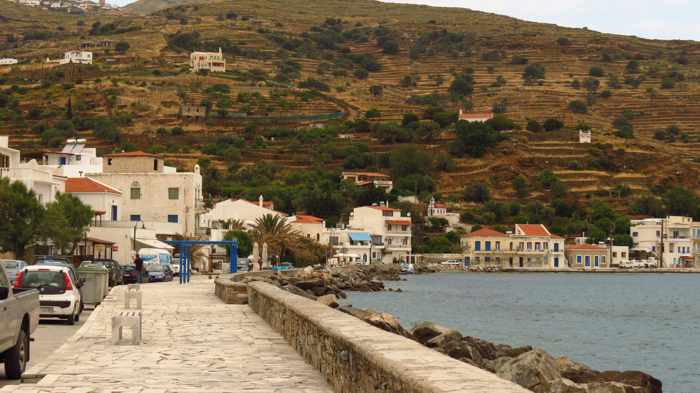 A wide, stone-paved walkway winds along the village's seafront 
If you read about Ormos in some travel publications, it doesn't sound particularly appealing. The Korthi page on the holiday guide website greekisland.co,uk, for instance, says Ormos has "a rather dull and lifeless air. A few desultory cafes and tavernas help relieve a monotonous row of rundown roadside houses that have seen better days."
I can't completely disagree with that description — some of the buildings along the main waterfront street do look scruffy and worn, and the town did have a subdued atmosphere under the dull grey sky. But Ormos is just an ordinary and workaday island town, and doesn't purport to be a slickly polished and posh playground resort for the rich, like Mykonos. Ormos may not be gobsmacking beautiful, but it's not ugly, and in photos it looks quite nice on clear days when the bright sunshine brings out the tantalizing turquoise colours of the water in Korthi Bay.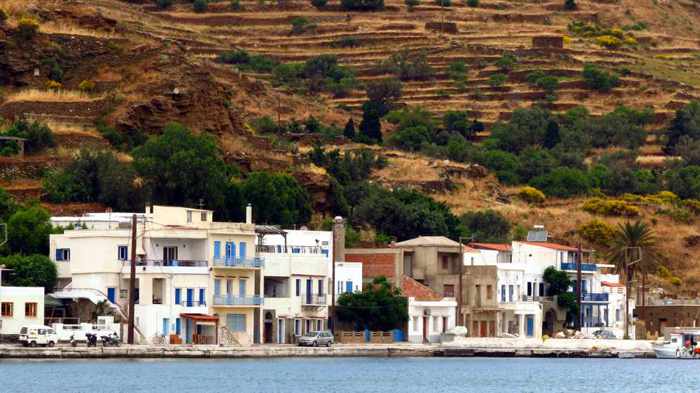 Buildings along part of the waterfront main street of Ormos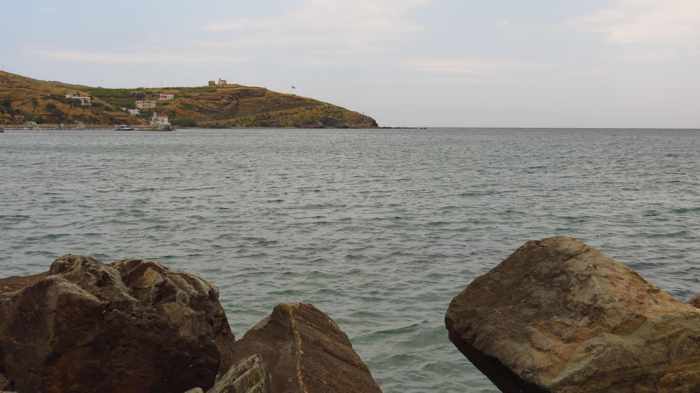 Part of the wide bay at Ormos. The sea looks unremarkable here in the flat light of a hazy sky, but when it's sunny the sea shows gorgeous hues of turquoise.  The windy bay is a popular windsurfing and sailing destination, and has hosted a world championship sailing competition. 
Hotel Korthion sits next to the main street of Ormos, at the end of the pedestrian walkway, and is mere steps from Mylos beach
We took a short walk along the stone-paved waterfront esplanade to get a quick peek at the village's main strip before stopping for a coffee at Centro Cafe Bar (it's a good spot to pop in for a coffee or a drink, by the way.) Afterwards we resumed the drive, our curiosity piqued about what we might have been able to see in the Korthi area if only we'd had the time.  Reading travel guides later, we learned about numerous sights and attractions — picturesque churches; historic monasteries, ruins and stone towers; mountain villages; windmills and water mills; a river gorge; extensive hiking paths and trails; lovely beaches and secluded quiet coves — that we would love to have seen. From the car windows we got merely a teasing, fleeting glimpse of what Korthi has to offer, basically seeing only the tip of the iceberg, so to speak. This area is clearly worth exploring for a day or two if you have the time.
Online information about Korthi
Here are several websites with descriptive overviews and general information about the Korthi region:
♦ The touring page of the Municipality of Andros website describes how to include Korthi in a holiday driving tour of Andros;
♦ The Korthi page on Island Andros gives an overview of the area's leading attractions;
♦ The Trekking Andros website has photos of some of the top sights in Korthi, and outlines walking tours are available in the region; and 
♦ The Korthi municipal website lists the area's key attractions, many of which are shown in photos accompanying the sight descriptions.
Photos of Korthi sights and attractions
The photos of Ormos Korthiou that I posted above are the only pictures we shot during our brief coffee break stop in the village. Below are images I have found on the web to show you some of Korthi's top attractions.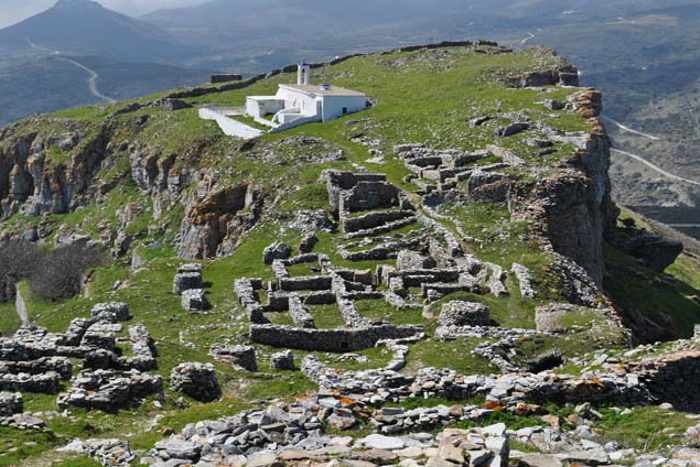 The ruins at Faneromenis, the Venetian-era fortress built on the mountain peak above Ormos. Photo from Andros Apartments and Rooms.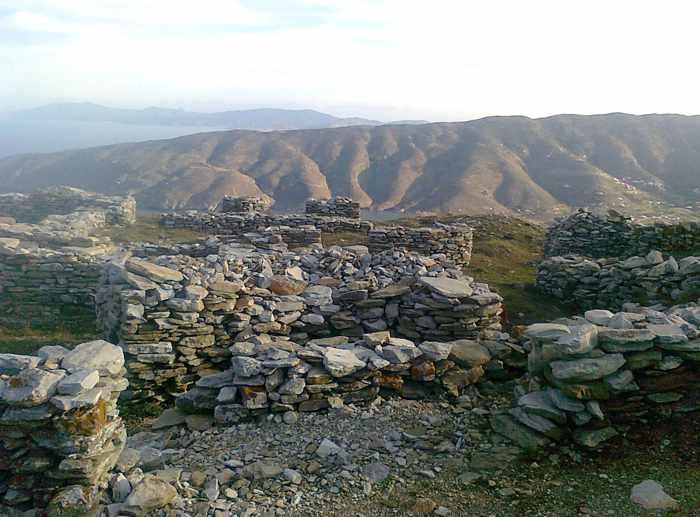 Some of the Faneromenis castle ruins. Photo from Trekking Andros.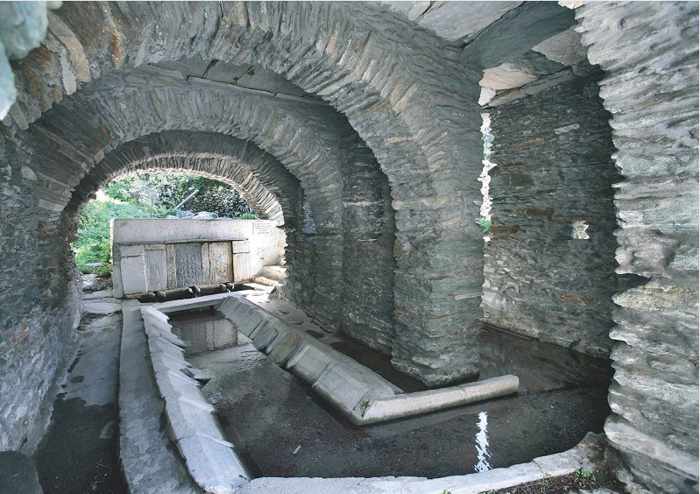 An old stone water fountain facility at the village of Aidonia. Photo from  the online travel guide androsapartments.eu.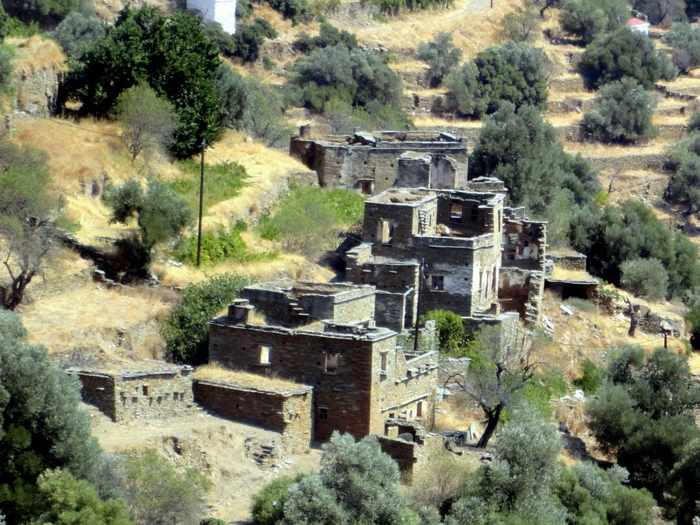 Old stone houses on a hillside in Kapparia village. Photo from Greece.com.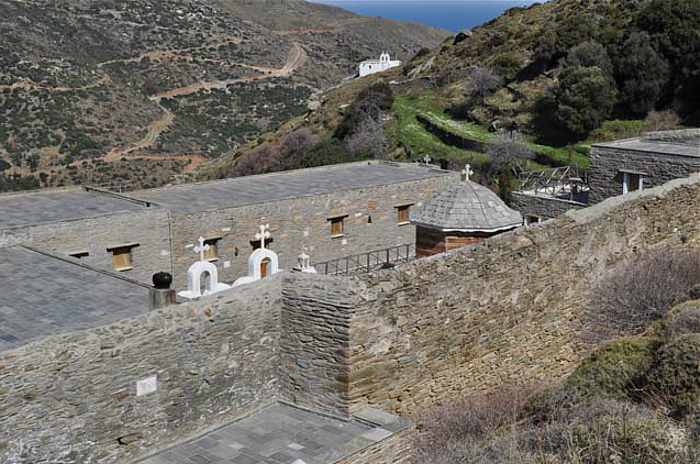 Agios Nikolaos monastery. Photo from Andros Apartments and Rooms.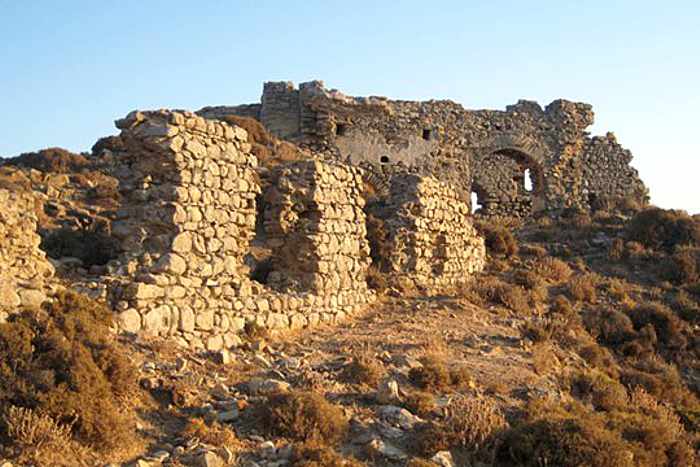 Ruins at Apano Kastro. Photo from the Greek castle website Kastrologos.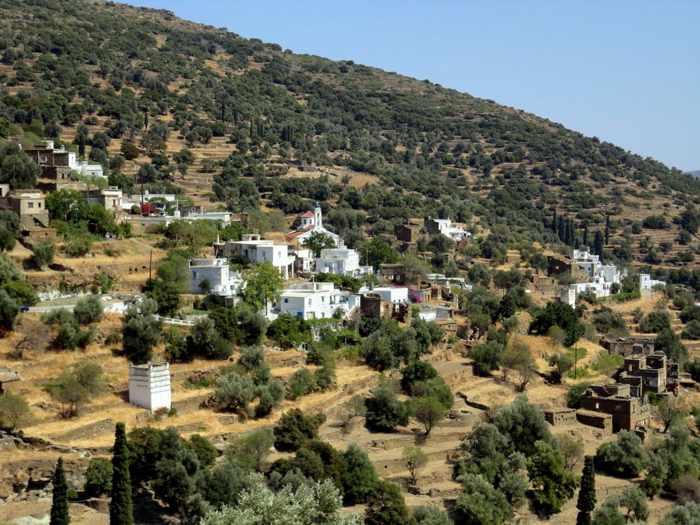 The mountainside village of Kapparia. Photo from Greece.com.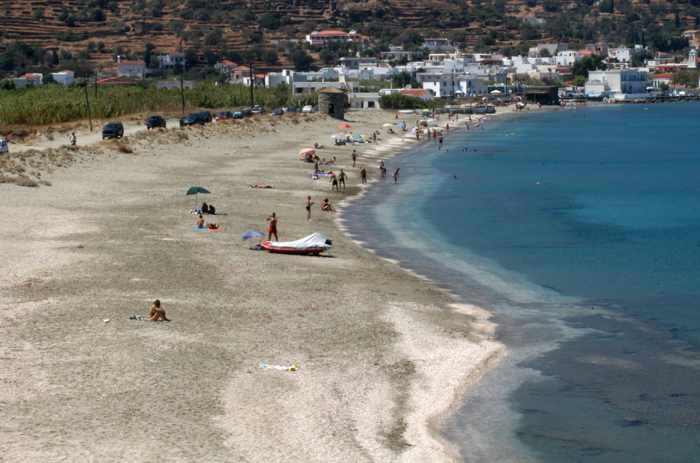 Mylos beach at Ormos Korthiou. Photo from the Hotel Korthion website.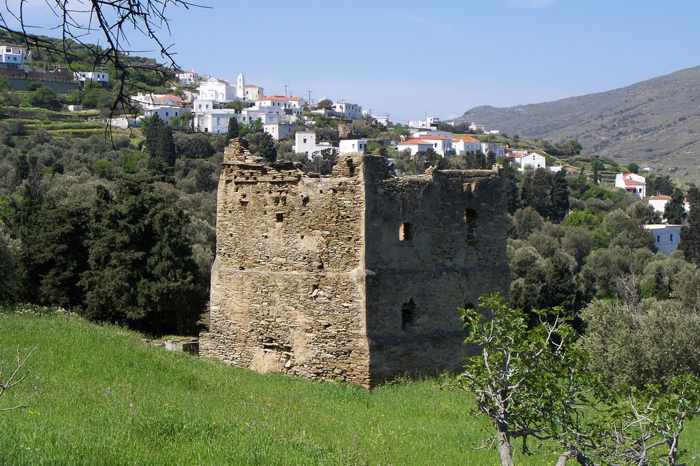 An old stone tower in Korthi. This image is one of 147 excellent photos from Korthi and elsewhere on Andros that have been posted online by Panoramio member G Glynos. To view the other photos, click here.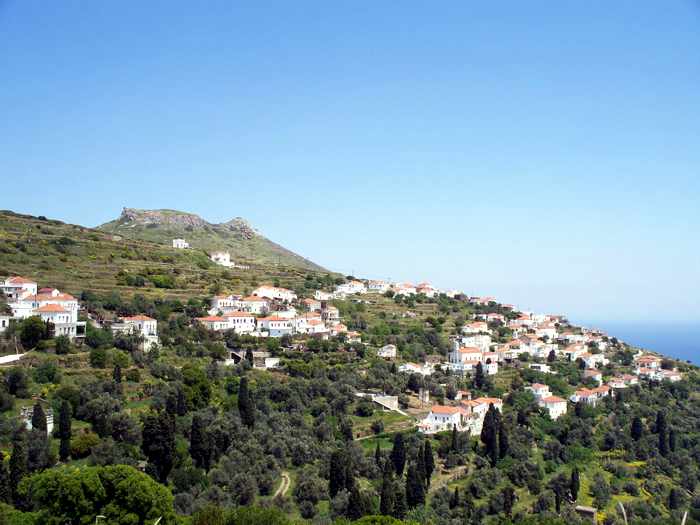 Kochylou village above Korthi Bay. Photo from Greece.com.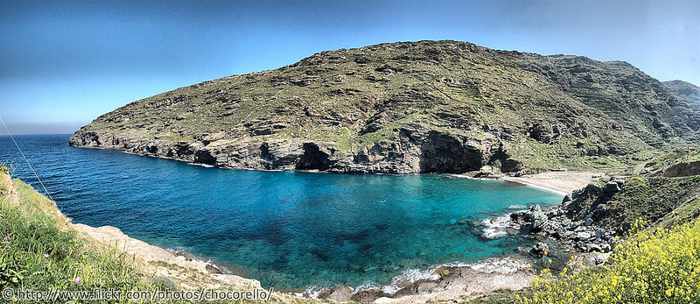 Syneti beach. Photo by Flickr.com member Chocorello, who has an online album with 54 photos from Andros. To view those pictures, click here.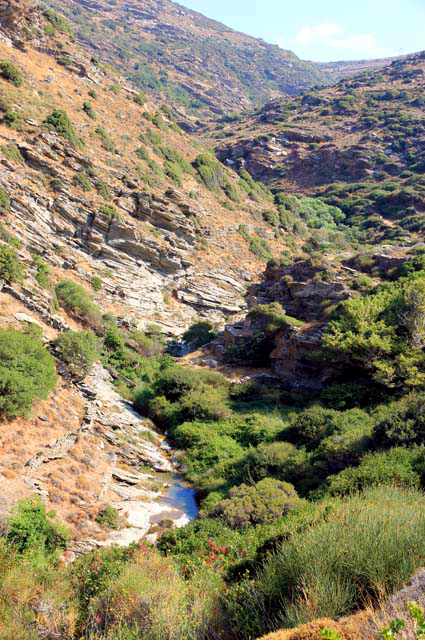 Dipotomata is a 7-km gorge along which hikers can explore water mills, chapels, stone paths and more. Photo from Andros Apartments and Rooms.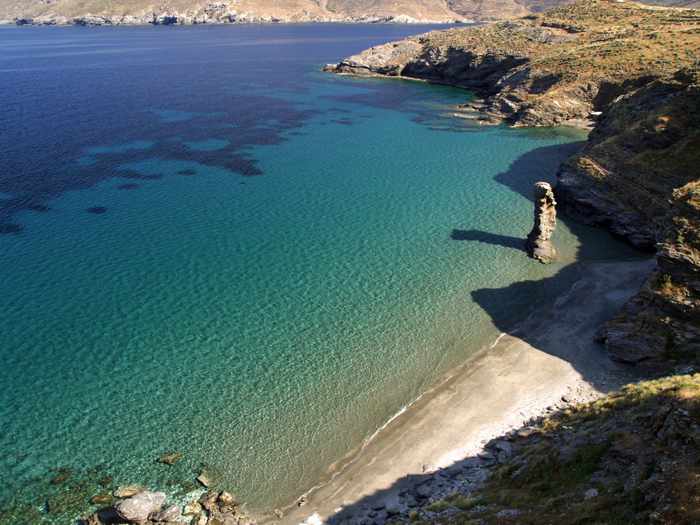 A mountainside view of Tis Grias to Pidima beach. Photo from the outdoor adventure and ecotourism website A Greek Adventure.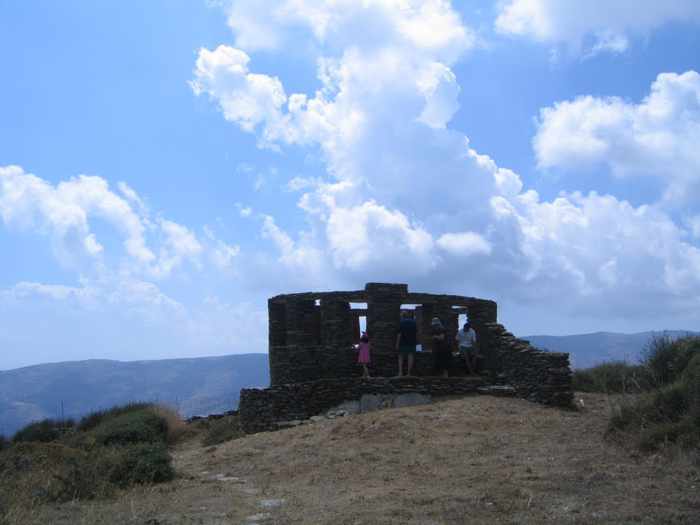 An old windmill in Kochylou village. Photo from Greece.com.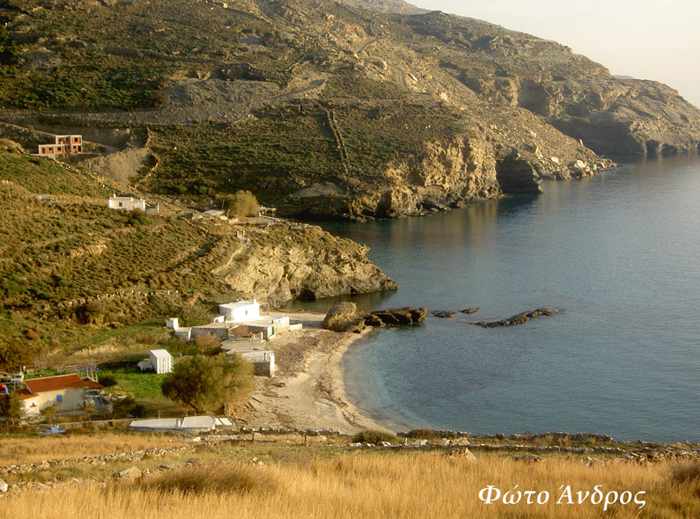 Plaka beach and the surrounding coast. Photo from Island Andros.