Korthi Bay and the village of Ormos Korthiou are seen in a photo from the Andros travel and information website Island Andros.
Quick peek: Have you ever experienced that nagging feeling, while travelling from one scheduled holiday destination to the next, that you're missing out on some really worthwhile sights and attractions you simply don't have time to stop and visit along the way? We certainly did during our trip to Andros last spring.
After spending 3 nights in Andros Town at the beginning of our vacation, it was time to move on. Our friends had to return to Athens, and they agreed to drop us off at our next stop — a hotel near the resort area of Batsi, on the northwest coast of Andros — while they drove to Gavrio port to catch their ferry back to the mainland. 
So that we could all see a little more of Andros during the drive, we avoided the most direct highway route from Andros Town to Batsi and detoured to the south, following a highway that winds through the island's Korthi region. The plan was to stop at the fishing harbour and seaside village of Ormos Korthiou to have a coffee before resuming the drive to Batsi.
Click here or on the link under the next photo to turn to page 2 of this post, where you can continue reading about Korthi and view more pictures of some of its top  attractions.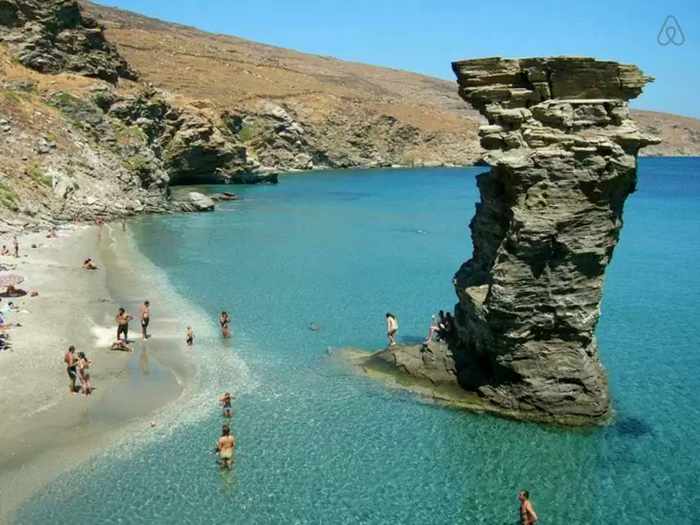 One of the iconic sights we didn't get to see in Korthi was Tis Grias to Pidima beach (also called Old Lady's Leap), shown in this photo from airbnb.gr.  Pictures of the sandy beach and its towering stone pillar can be found on scores of postcards, websites and travel publications for Andros.
CONTINUED ON PAGE 2