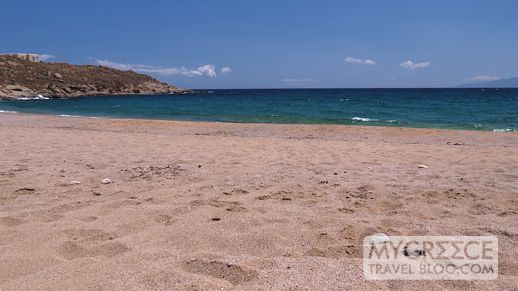 Lia beach
I had been hearing good things about Lia beach for several years, and was surprised to find only one person there when we arrived  — a woman sitting in the sun at the far left side of the sandy beach. There wasn't a single rental umbrella or lounge chair in sight, but a fellow organizing equipment near the right-hand side of the beach appeared to be getting ready to install some. The beachside taverna wasn't yet open, but I've heard from people who have been there in the past two years that its food is wonderful.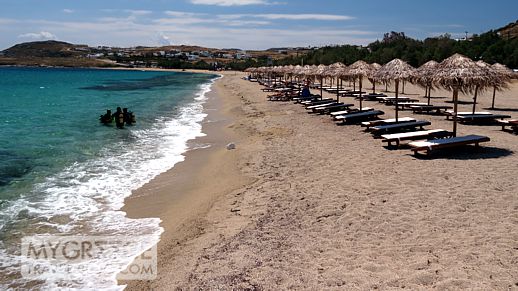 Kalafatis beach
Lounge chairs and umbrellas were set up on Kalafatis, but neither the beach nor the Thalassa restaurant and bar at the left-hand side of the strand were very busy — there were perhaps two dozen people at most in both places combined. It was a very windy day and I was surprised that nobody was windsurfing; Kalafatis is the most popular Mykonos beach for that sport.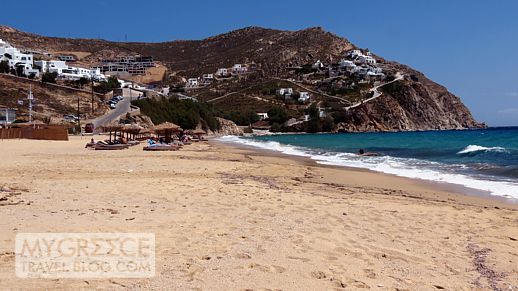 Elia beach
I had not been to Elia beach since 2005 and almost didn't recognize it when we walked onto the sand from the parking lot. Last time I was there, dozens upon dozens of umbrellas and lounge chairs stretched from one end to the other. This time, there were sunbeds on only the left half of the beach, and the popular watersports facility wasn't even open yet. Only a couple of dozen people were on the beach, which looked much smaller than I remembered (possibly because it wasn't as full of sunbeds and sun worshippers).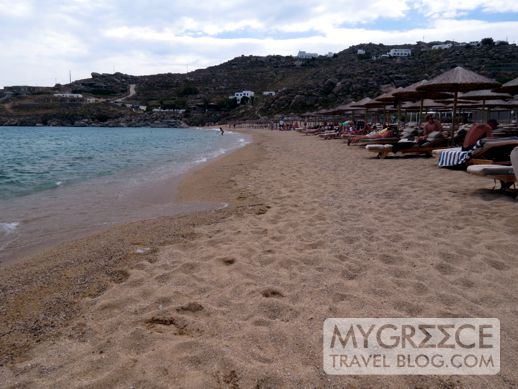 Super Paradise beach
Super Paradise beach, on the other hand, was significantly busier than I remembered from my last visit. That time, there were hardly any people at the beach despite wonderful weather. This time around, dozens of lounge chairs were occupied, and there were quite a few people having drinks and lunch at the beach bar.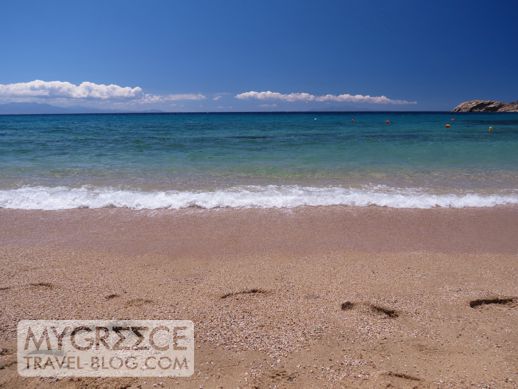 Paradise beach
Paradise beach also was fairly busy, with a lot more people than I recall seeing there last year — probably more than 100 in all. It was early afternoon, so there was no sign of the famous beach parties that usually start revving up at the Tropicana Club beach bar later in the day. Dozens of people were enjoying the sun from the comfort of their lounge chairs, dozens more were laying or sitting on towels on the sand, and a few dozen more were chilling out with drinks at some of the beach bars. There were a few nudists at the right end of the beach, near the path that leads over the hill to Paraga, and perhaps up to a dozen people taking a dip or walking in the sea.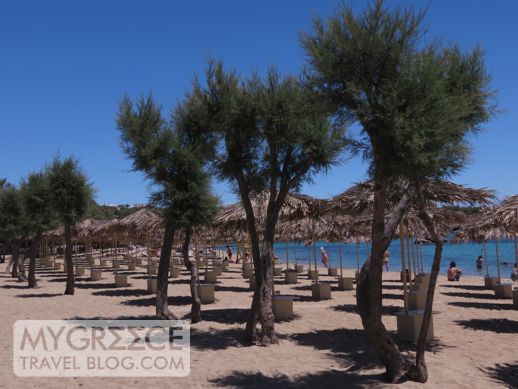 Paraga beach
Speaking of Paraga, there were maybe two or three dozen people on the entire beach, with about half as many sitting at Kalua bar and Tasos Taverna. Like Paradise, it had some nude sunbathers, too, also at the far right side of the beach.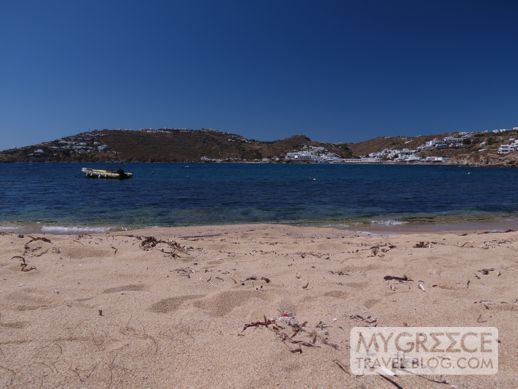 Agia Anna (also known as Agia Annes) beach
Over at little Agia Anna (marked as Agia Annes beach on some island maps), just a short walk from Paraga, all of the lounge chairs and umbrellas in front of Nicolas Taverna were occupied. But since there are only six umbrellas and about a dozen or so chairs, the beach wasn't crowded by any means. Only a couple of people had spread towels or mats on the sand elsewhere on the quiet arc of sand that looks directly across the bay toward Platis Gialos beach.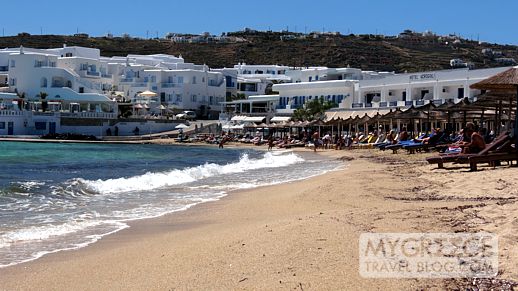 Platis Gialos beach
Just a 15-minute walk away from the incredible serenity of Agia Anna, however, Platis Gialos was bustling, with dozens of people relaxing on the sunbeds or enjoying drinks and meals at the row of popular beachside bars and tavernas.
Psarou beach
Psarou was another quiet beach, with just a few people occupying the private sunbeds below the Mykonos Blu hotel, and maybe around 20 enjoying the plush and expensive (€20 per person) loungers in front of Nammos restaurant and bar. Only a few more people were on the beach, their towels on the stretch of open sand between Nammos and Mykonos Blu.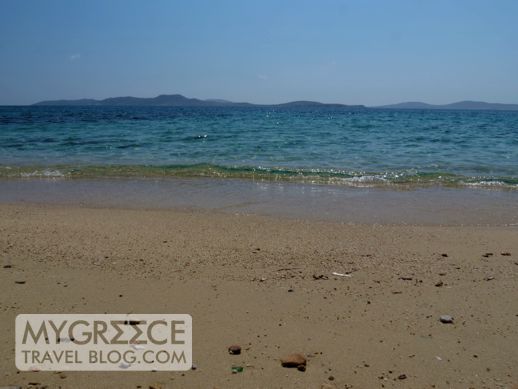 Agios Ioannis beach
<>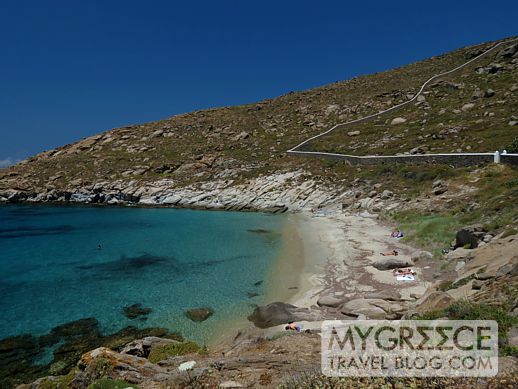 Kapari beach
<>
Two more quiet beaches were  Agios Ioannis, made famous by the movie "Shirley Valentine," and Kapari. There were 30 people, at most, on Agios Ioannis, and only half that number on Kapari (and of those people, half were nude).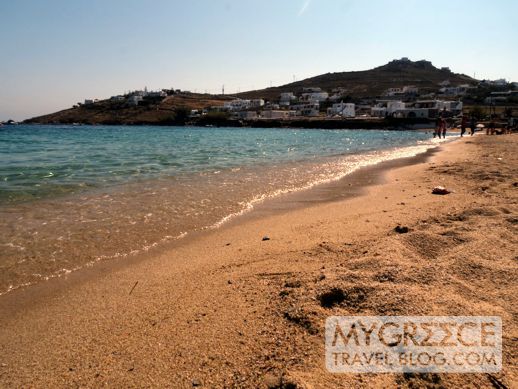 Ornos beach
But in sharp contrast to Agios Ioannis, Ornos beach was extremely busy. At the same time last year, we saw barely anybody there, but this time it was at least as popular as Paradise, and may have had even more people enjoying its surf, sand and beachside bars.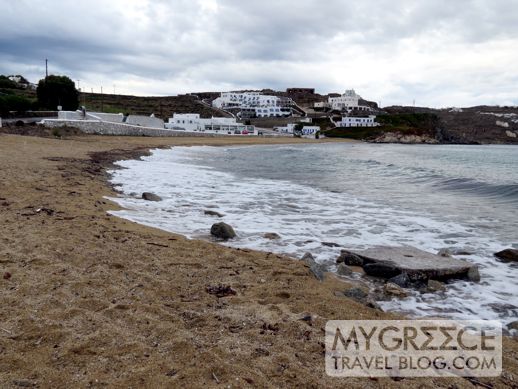 Megali Ammos beach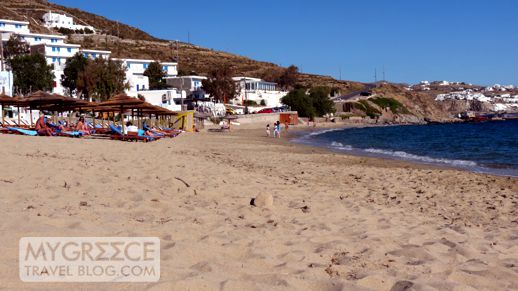 Agios Stefanos beach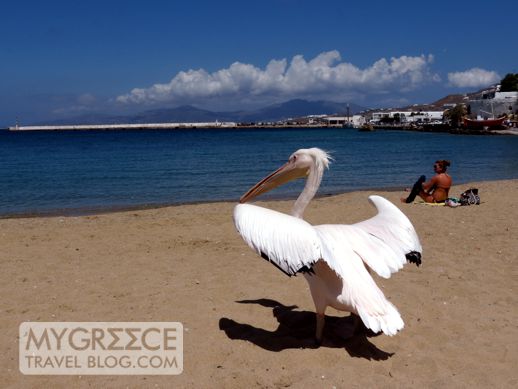 Agia Anna beach at the Mykonos Town harbour
Close to Mykonos Town, Megali Ammos beach was quiet, as was Agios Stefanos near the New Port at Tourlos. But there were always at least a couple of dozen people enjoying little Agia Anna beach right next to the Mykonos Town fishing harbour. Finally, I saw a few people enjoying a sandy beach near Tourlos, close to the New Port and marina.
Tourlos beach
So which beach did I enjoy the most? I can narrow my list to five. I really liked Lia and Kalafatis, as well as Agios Ioannis and Kapari. But little Agia Anna was my favourite — mainly because it's so quiet and relaxing, and also since Nicolas Taverna serves amazing home-cooked food at tree-shaded tables right on the sand.  I can't think of a better place on Mykonos to chill out and enjoy being on a Greek island beach.