If your two priorities for a Greek Island vacation are dining and beachtime, Kokkari could very well be paradise!
As for the question I ask in my headline — What's cooking in Kokkari? — the answer is: Just about anything you would want to eat!
Below are photos of some of the restaurants and signs, as well as pictures of the three Greek dishes we ordered for lunch. Those are followed by links to a Flickr album with additional restaurant and sign photos, as well as one album containing Kokkari village photos and another containing pictures of the three beaches.
Don't be surprised if you feel hungry after viewing the pics!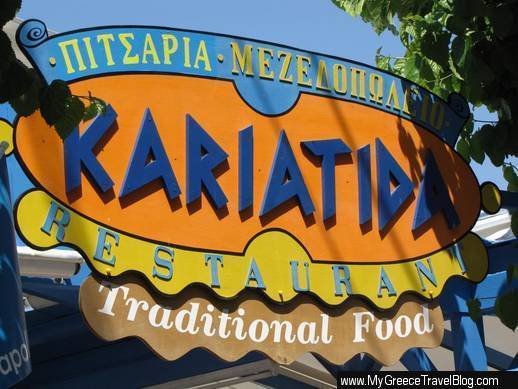 The colourful sign above the waterside dining terrace at Kariatida taverna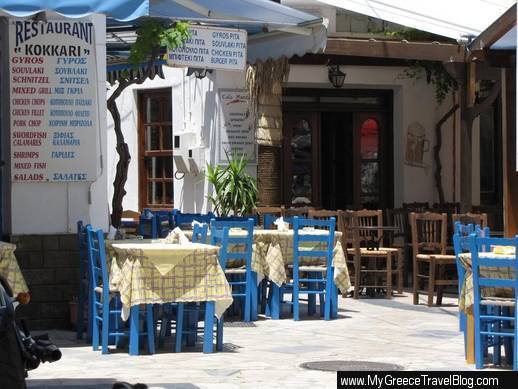 Taverna Kokkari (left) and Café Manos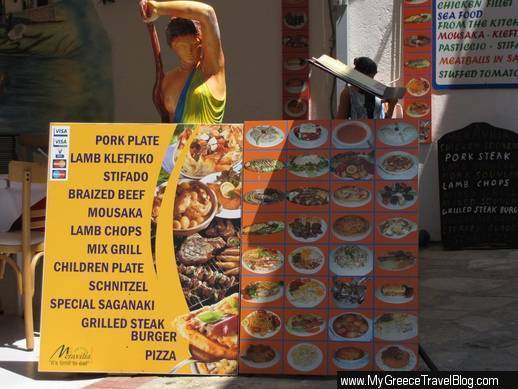 Customers can look, point and order from this big menu board outside one of the Kokkari waterfront restaurants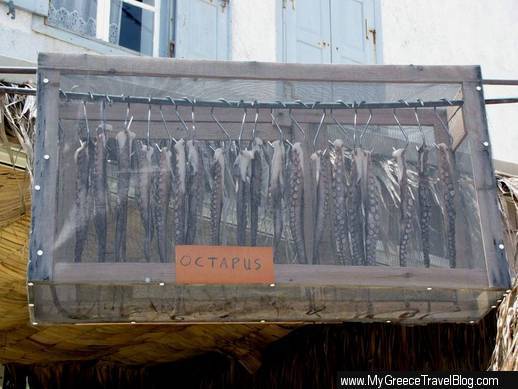 Catch of the day on display outside one of the tavernas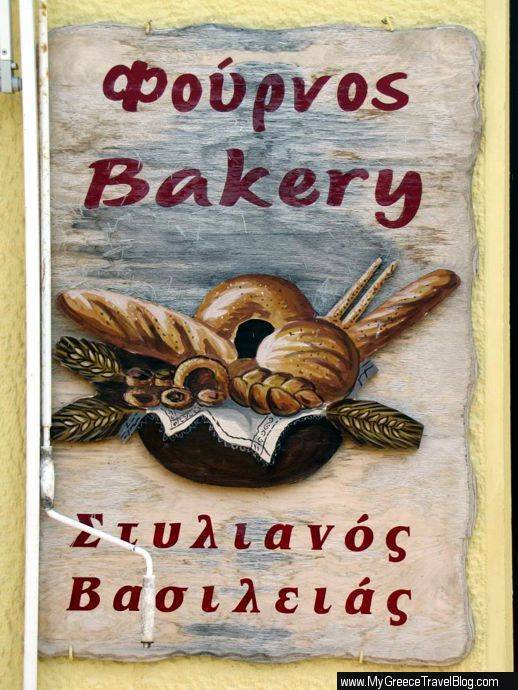 Bakery shop sign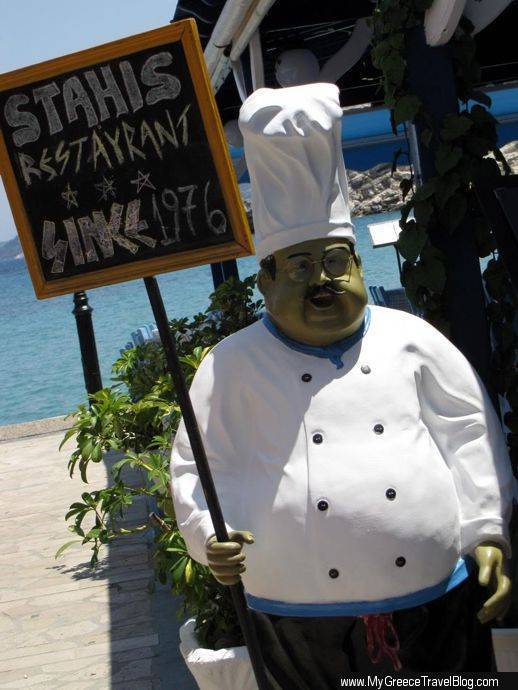 A well-fed chef greets customers at the terrace entrance to Stahis taverna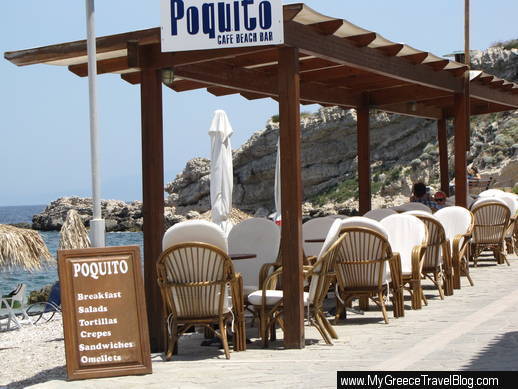 An awning provides shade for a row of tables and chairs at Poquito Café ….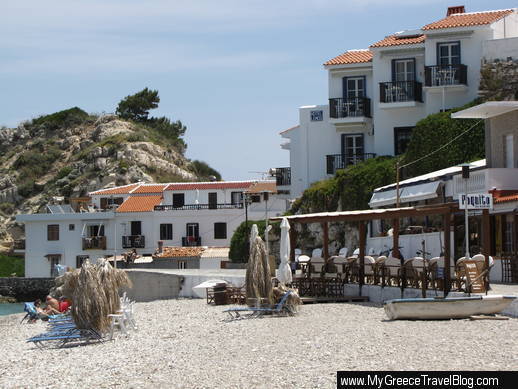 … which is situated right beside the east end of Long Beach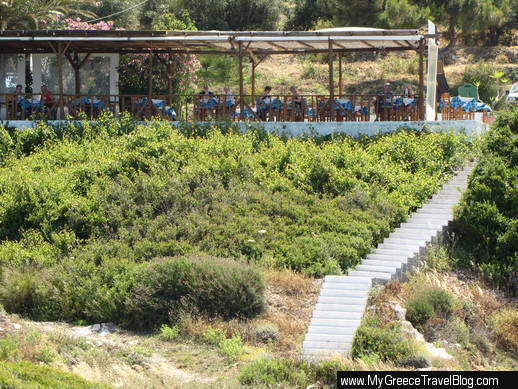 Taverna Nireas is on top of a hill overlooking the two Lemonakia beaches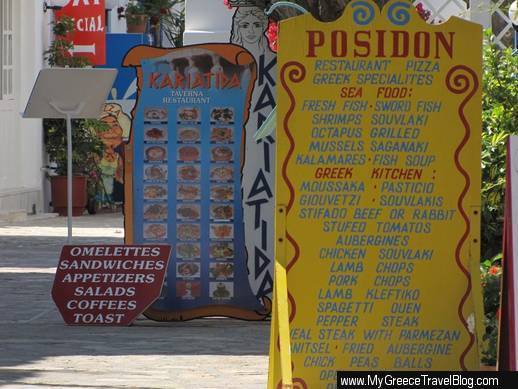 Sidewalk signs for Poseidon and Kariatida tavernas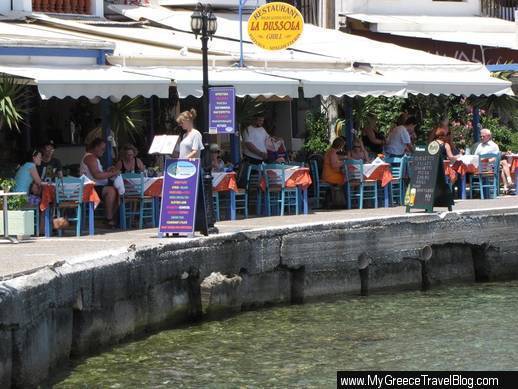 The La Bussola Café terrace at the harbourside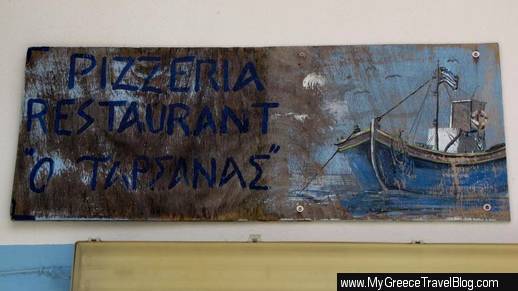 Sign above the entrance to O Tarsanas taverna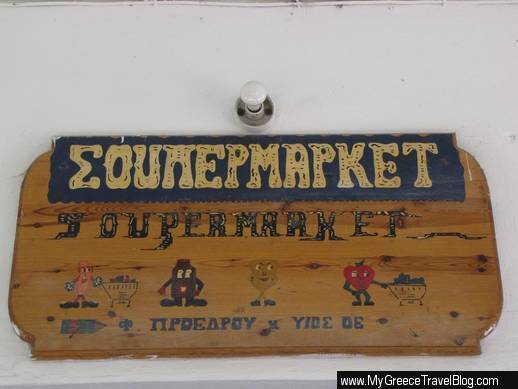 Kokkari supermarket sign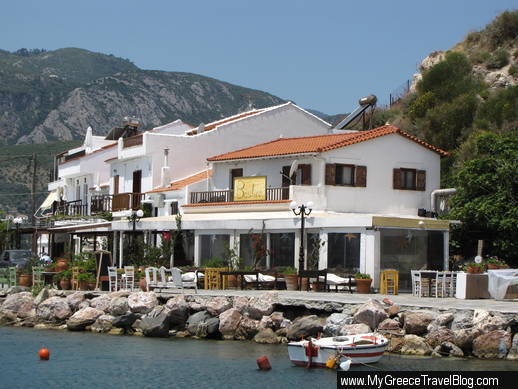 Il Basilico restaurant near the harbour quay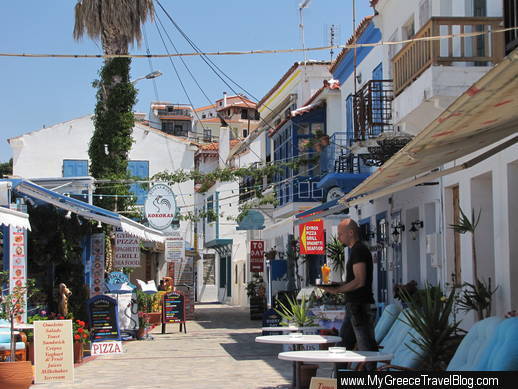 A waiter delivers a cocktail to a customer on a harbourside terrace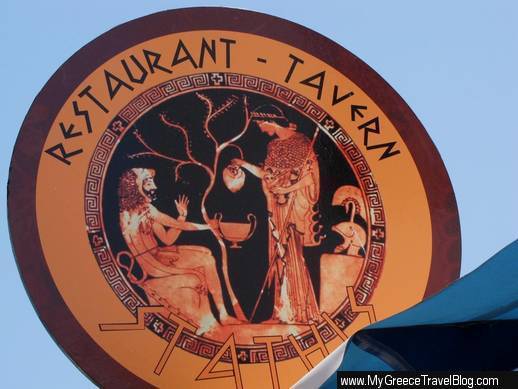 Classically-themed sign above the waterside terrace at Stathis Taverna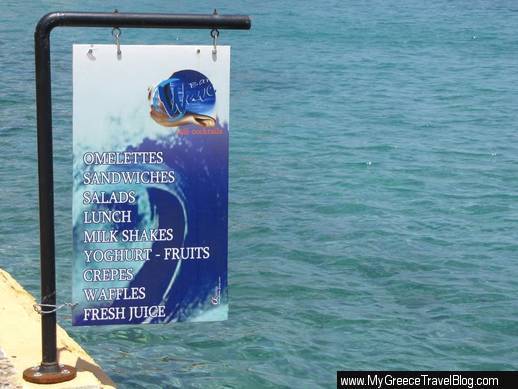 A sign for Wave Bar stands at the edge of the waterside walkway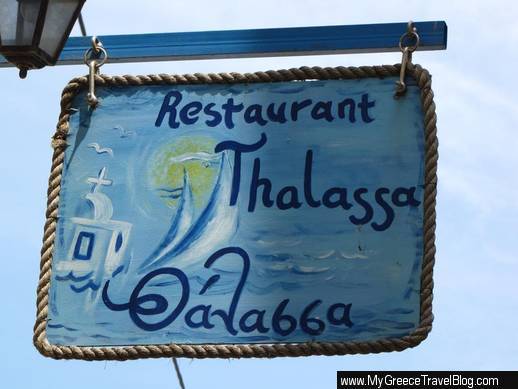 Thalassa Taverna sign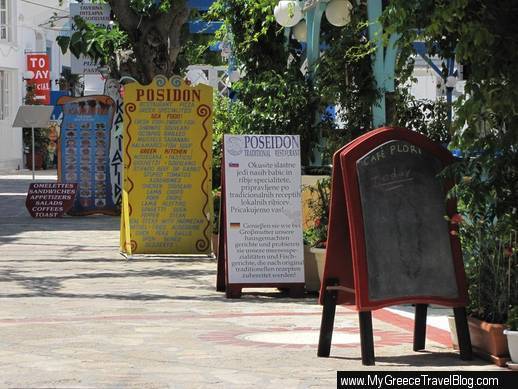 Five signs stand outside Cafe Plori, Poseidon and Kariatida taverna …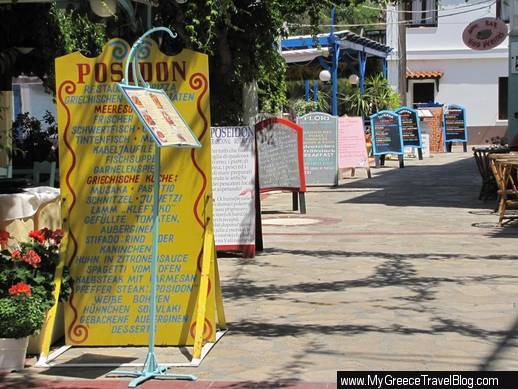 … but even more are visible in this view from the other direction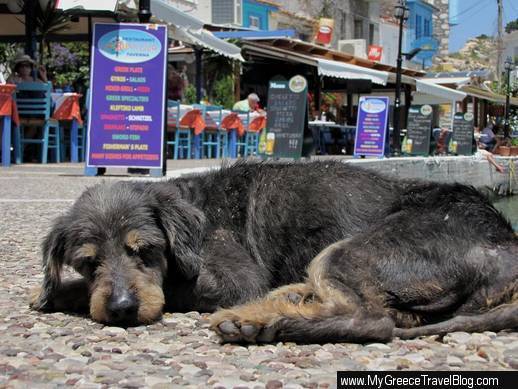 This sleepy dog seems oblivious to all the restaurant signs and diners behind him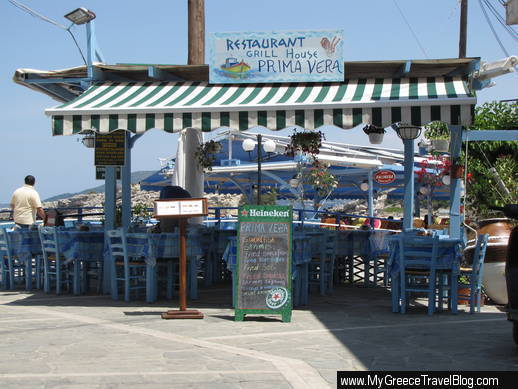 Part of the outdoor dining terrace at Prima Vera Grill House, where we had lunch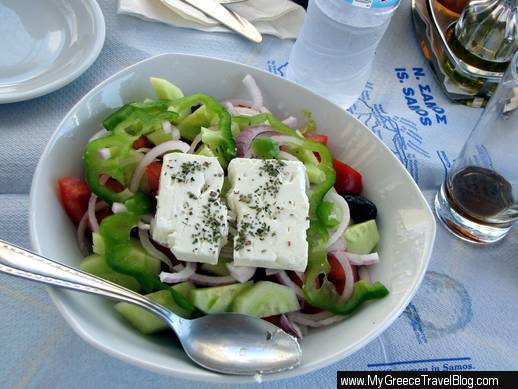 The crunchy Greek salad we ordered as a starter for our lunch at Prima Vera Grill House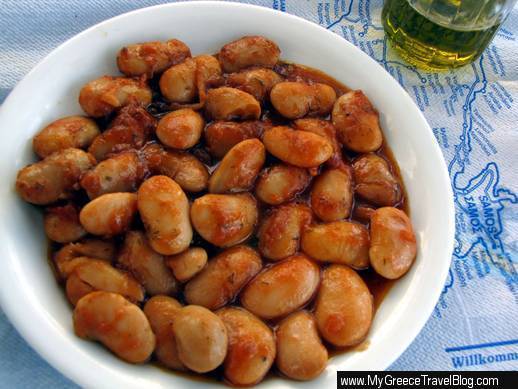 Baked gigantes — another delicious dish from our lunch at Prima Vera Grill House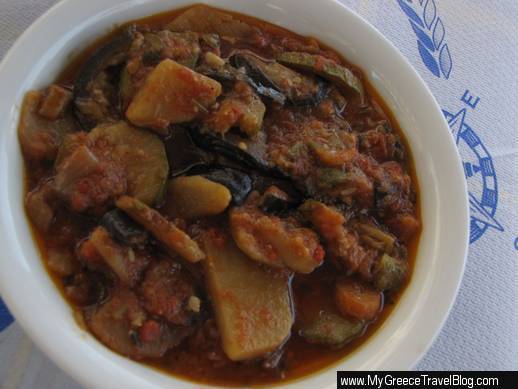 Our third lunch item at Prima Vera, a yummy Bekri-style baked vegetable dish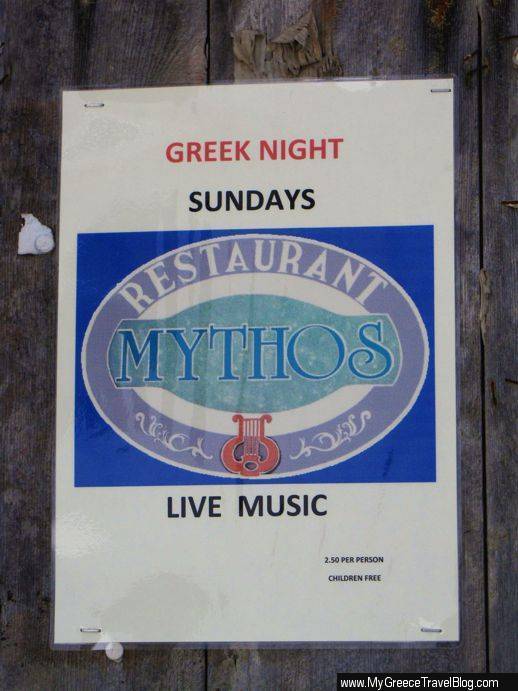 Greek Night sign outside Mythos Restaurant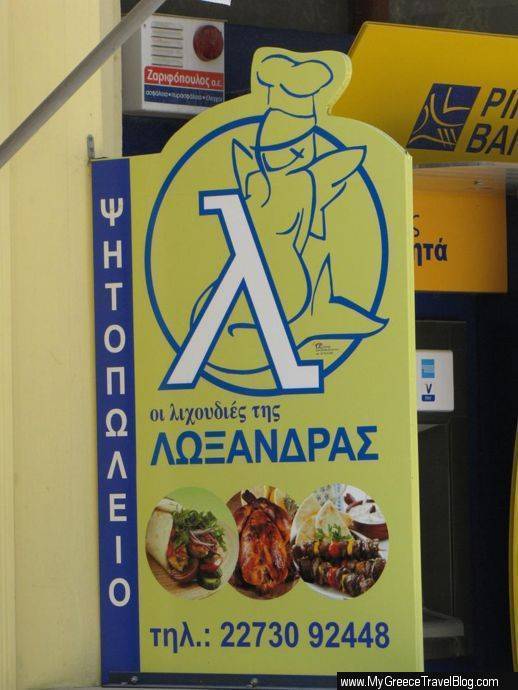 Hungry for gyros, roast chicken or souvlaki? You can get them at Lichoudes tis Loxandras!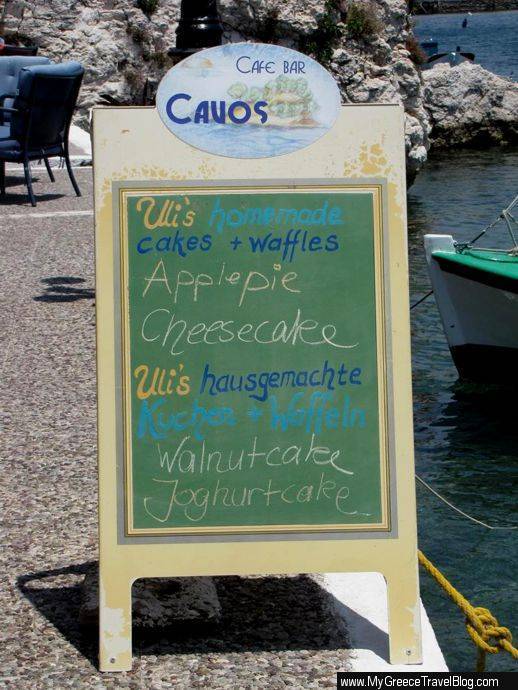 Looking for a dessert treat? Try some cake or pie at Cavos Cafe Bar!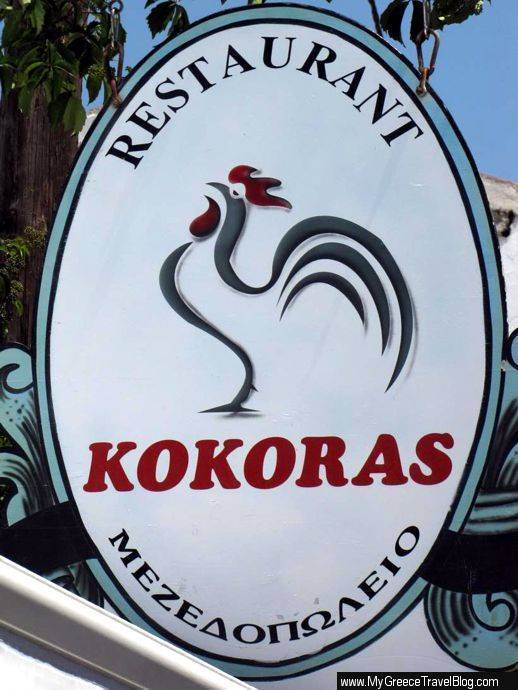 Rooster sign outside its namesake Kokoras taverna
All signs point to all kinds of food in my What's cooking in Kokkari? photo album on the mygreecetravelblog.com Flickr page. Click on the image above to view a slideshow, or click twice to open the album and see the full-size photos.
Above is a link to my Kokkari Samos album, with more than 150 village pics
Above is a link to my Kokkari beaches album, with 82 photos of the 3 beaches at the village
See my May 14 2011 post for links to two videoclips of the Small Lemonakia beaches.