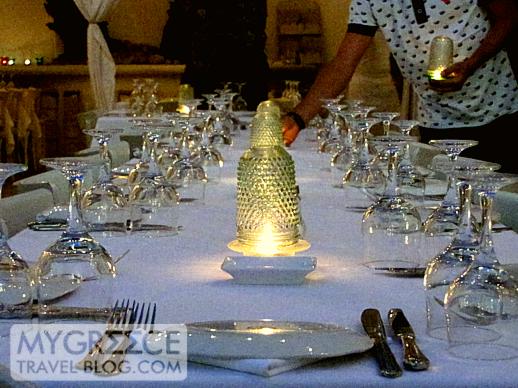 Setting a group table on the harbour-view terrace at Camares restaurant next to Taxi Square (Manto Square) in Mykonos Town
«»
Your table is ready: Where shall we eat today? Where should we go for a drink? Those are daily vacation dilemmas no matter where you travel. But those questions are even more vexing on Mykonos, which boasts a mind-boggling and appetite-whetting vast selection of restaurants and bars just in its main port town alone. There are dozens more dining and drinking establishments elsewhere on the island, including the inland village of Ano Mera and most of the island's 20+ beaches. Even if you spent an entire month on Mykonos and dined and drank at a different place every day, you still wouldn't make it to every place on the island. Which of course means that you'll have plenty of restaurants and bars to sample on your next visit. So how the heck are you supposed to decide where to eat and drink if you've got only a few days or maybe just a week to stay on Mykonos?
Since it became popular with the jet set during the play days of Jackie O, Mykonos has catered to the world's rich and famous with an impressive array of exclusive high-end restaurants. But even if you've got money to burn, you'll still be spoiled with choices.
Serving French and international cuisine since 1971, Katrin has been a favourite with the "mature" in-crowd who don't care how much anything costs. Three travellers from New York City who dined there in July 2009 told me the average price for a meat or fish entree was €100, while even small starter plates were priced from €20 to €30 and up. Was it worth it? One thought the prices seemed a bit steep; however, "they are what they are and they cater to their own clientele," he acknowledged. Nevertheless, "the service was incredible and the food was really wonderful. Great quality and wonderful flavors." Their bill for food and wine came to €340 plus tip, and they left Katrin's feeling "very happy and extremely content." (For that price, I should hope so!) The atmosphere was just as enjoyable as the meal, they added. "It is a very social scene with lots of mingling between tables.. relaxed and elegant."
For the stylish younger crowd flush with cash, the Belvedere Hotel is the place to see and be seen, particularly over cocktails at either the über-hip Belvedere Bar or the Sunset Saki Bar & Lounge, or during dinner at world-renowned Matsuhisa Mykonos (often called "Nobu" after its namesake founder, celebrity chef Nobu Matsuhisa.) Also popular is Nammos Restaurant by the Sea at swanky Psarou beach, where music and movie stars, royalty and the merely fabulously wealthy sometimes sail into the scenic bay on private multimillion-dollar yachts.
There are dozens more fine dining establishments that are easier on the pocketbook (though still a tad on the expensive side) than the posh places mentioned above that are magnets for celebrities and socialites.  They include Avra and its "sister" restaurant NiSa, along with Lotus and Interni for international cuisine, Sea Satin Market for seafood, Uno Con Carne for steak, Pasta Fresca Pizza Barkia for Italian (including hand-made fresh pasta), and Gola and Aqua Taverna for Italian/Mediterranean — all in Mykonos Town. Spilia in the Hotel Anastasia Village at Agia Anna bay (near Kalafatis)is known for superb seafood and pasta served in a romantic cave-like restaurant setting above the sea.
For moderately-priced Greek cuisine in Town, Bakalo and To Ma' ereio (also called Maerion, it's one of my favourite restaurants in the Greek Islands) get consistent good reviews; I hear very favourable feedback about Matthew Taverna and El Greco near the new port at Tourlos, too. Friends who live in Greece keep telling me how much they enjoy watching the sunset while savouring tasty Thai and Chinese dishes at Blue Ginger on the main highway above Town.
Meanwhile, Antonini, Opa, Ta Kioupia, Paraportiani, Kostas, Marco Polo and the ever-popular Niko's Taverna keep drawing customers back to Town with their reliable and reasonably-priced traditional Greek cuisine, as does Kounelas Fish Taverna for fresh seafood (of course) and Catari for pizza and pasta. Serving delicious (and reasonably-priced) Greek dishes outside of Town are Oregano along the main highway to Tourlos, Joanna's Niko's Place at Megali Ammos beach, Avli tou Thodori, Bonatsa and Atlantida (in the Acrogriali Hotel) at Platis Gialos beach, Nicolas taverna at Agia Anna (which I mentioned in my June 20 2011 post about Agia Anna beach), Tasos at Paraga beach, Ithaki at Ornos beach, Hippie Fish at Agios Ioannis (which I described in my July 7 2011 post about the "Shirley Valentine beach"), Elia taverna at Elia beach, Taverna Luna at Lia beach, Fokos Taverna at Fokos beach, and Kiki's Taverna at Agios Sostis beach.
On a tight budget? There's plenty of places to get cheap eats such as gyros, souvlaki, spinach pies and sandwiches. Jimmi's Souvlaki (open 24/7 from May to October) and Sakis serve yummy and inexpensive Greek "fast food," while Piccolo is the place to go for quality take-out sandwiches, home-made Mykonian onion and honey pies, and other light fare. There's dozens more take-out and eat-in cafés throughout the Town.
Feeling hungry yet?
I'll talk about some of our specific Mykonos dining experiences in future posts. Until then, here are some photos of tables ready and waiting for you on Mykonos.
«»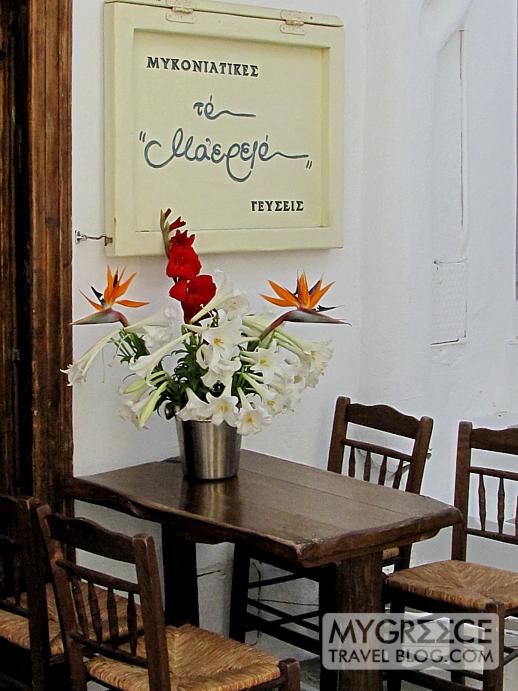 Flowers brighten a streetside table outside the entrance of Maerion (To Ma' ereio) taverna on Kalogera Street in Mykonos Town. It's our favourite spot for people watching while we're enjoying Maerion's wonderful local Greek cuisine.
«»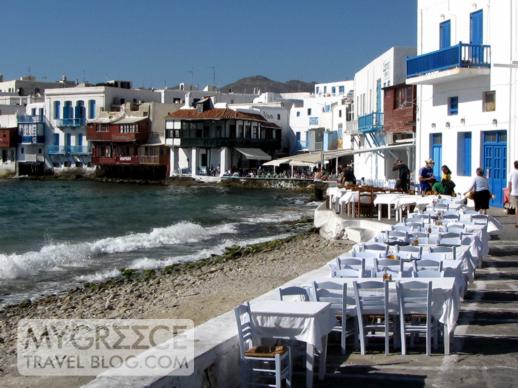 Seaside tables at the scenic Little Venice area of Mykonos Town

«»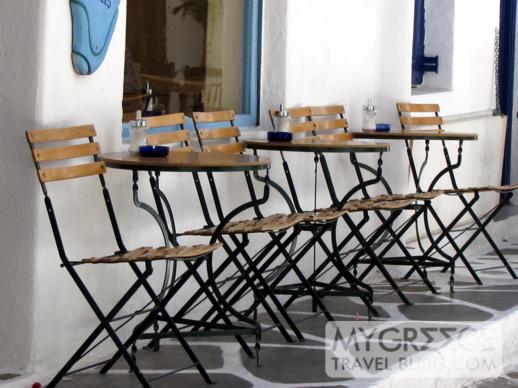 Café tables outside Philippi restaurant and bar on Kalogera Street
«»
Tables and cushioned seats in a lane outside a Little Venice cocktail bar

«»
A café on a corner in the shopping district of Mykonos Town
«»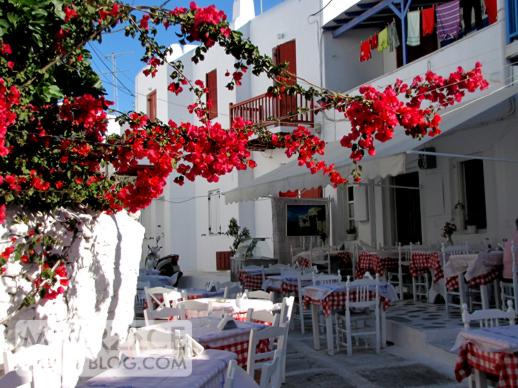 Red checkered tablecloths at Marco Polo taverna coordinate with nearby bougainvillea, balcony railings, window shutters … and even laundry

«»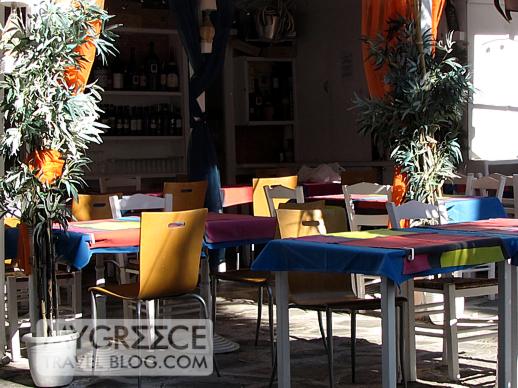 Colourful dining terrace at a cafe in Mykonos Town
«»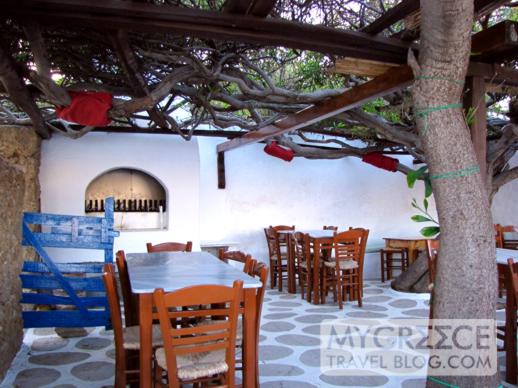 The tree-shaded terrace at Kiki's taverna at Agios Sostis beach
«»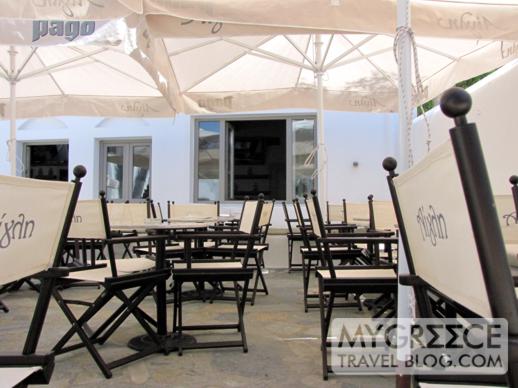 Umbrellas shade a café terrace in Mykonos Town
«»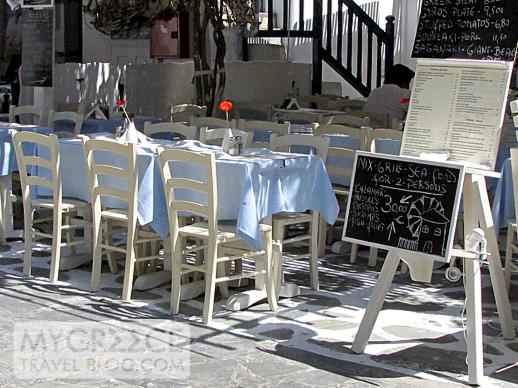 A taverna at Goumenio Square in Mykonos Town
«»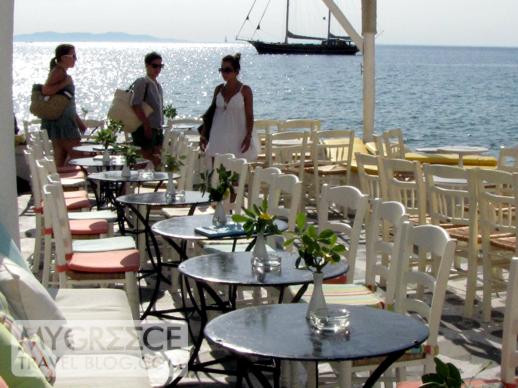 Seaview tables at a cocktail bar at Little Venice
«»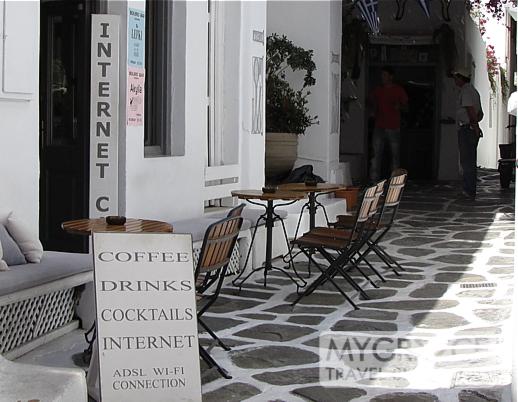 Bolero Bar and Internet café in Mykonos Town
«»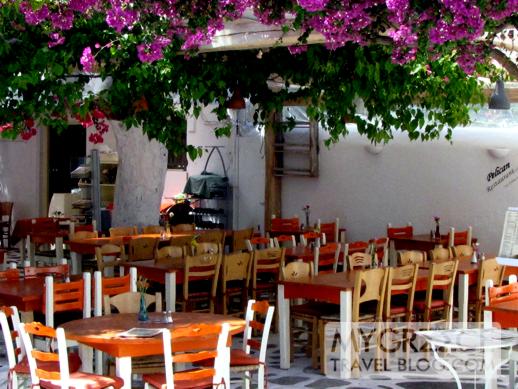 Bougainvillea blooms and vines provide a colourful canopy above the dining terrace at Pelican restaurant at Goumenio Square

«»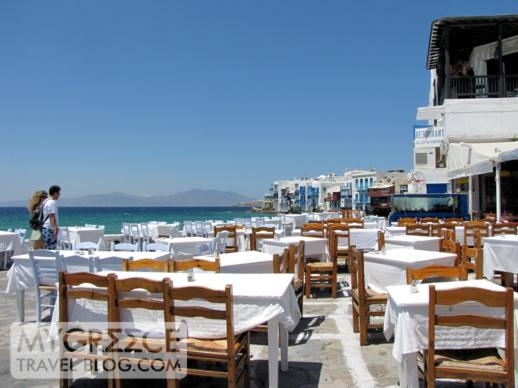 Alefkandra taverna at Little Venice
«»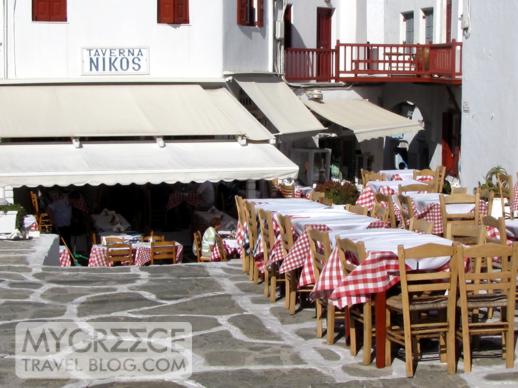 Tables in the square a few steps above perenially-popular Niko's Taverna …
«»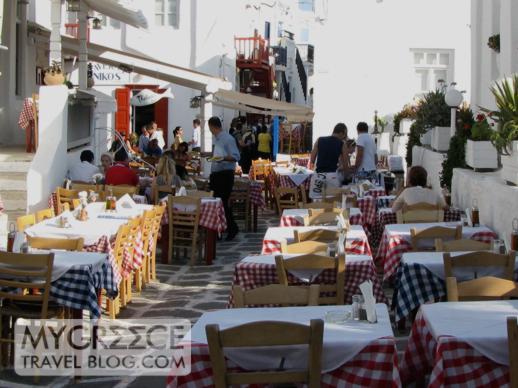 … and more tables on the lower terrace just outside the restaurant
«»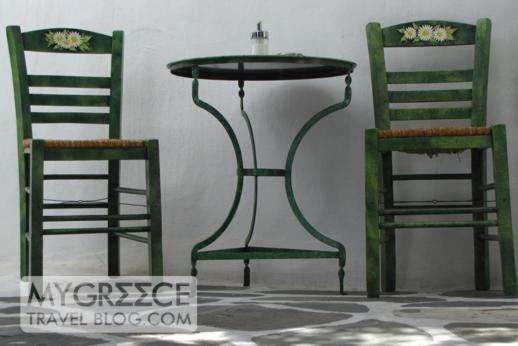 Green café table and chairs outside the Piccolo sandwich shop
«»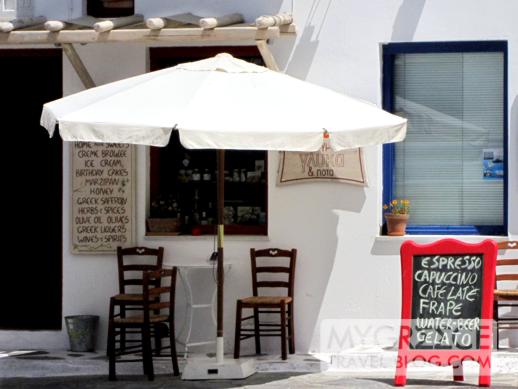 Mandarini café + dessert shop in Mykonos Town
«»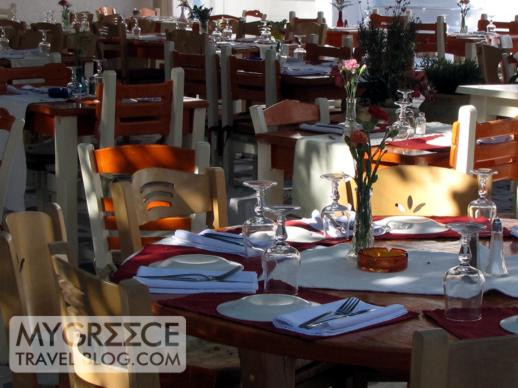 Table settings in place at a restaurant at Goumenio Square
«»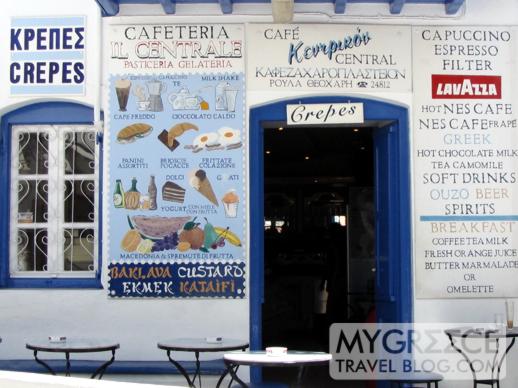 Il Centrale café and gelateria in Mykonos Town
«»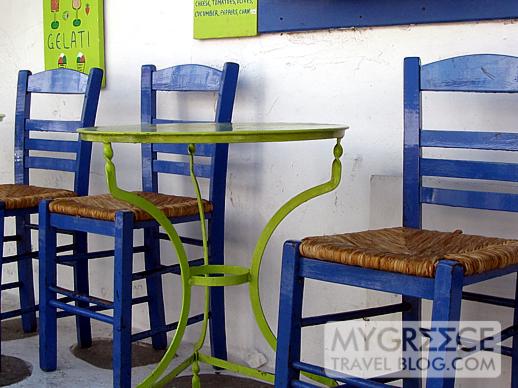 A green table and blue chairs outside a Mykonos Town café
«»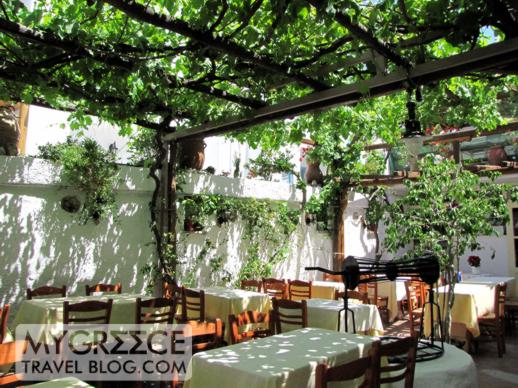 A vine sheltered restaurant terrace in Mykonos Town
«»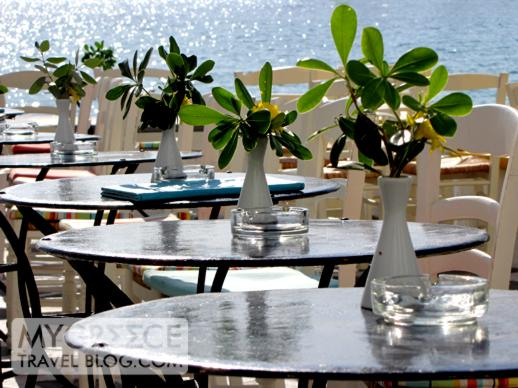 A cocktail bar next to the seaside in Little Venice 
«»
Extra tables and chairs await the peak summer crowds at Sea Satin Market taverna. Action movie fans might recognize the restaurant as the film location for the final scene in The Bourne Identity.
«»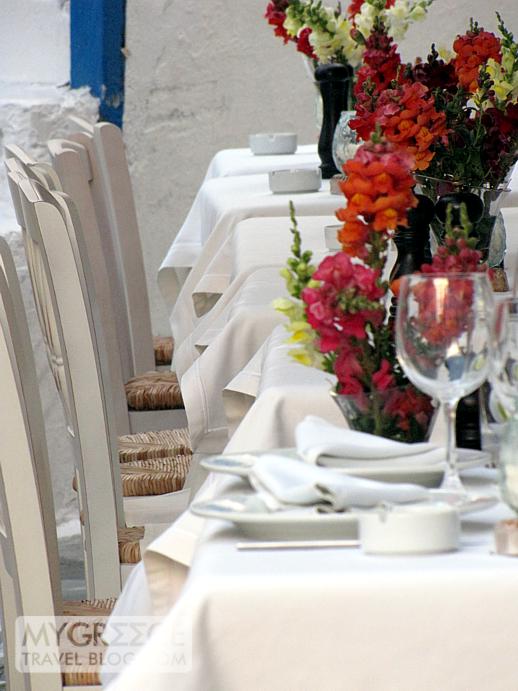 Flower arrangements on tables in the narrow street outside the upscale Katrin restaurant in Mykonos Town
«»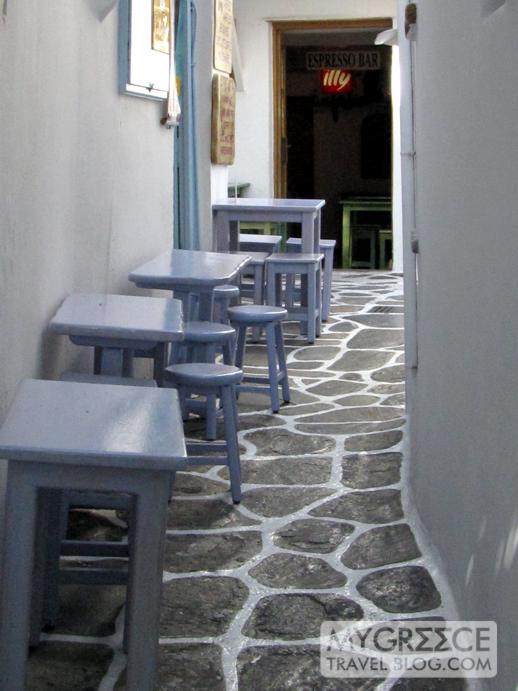 Café tables on a narrow Mykonos street
«»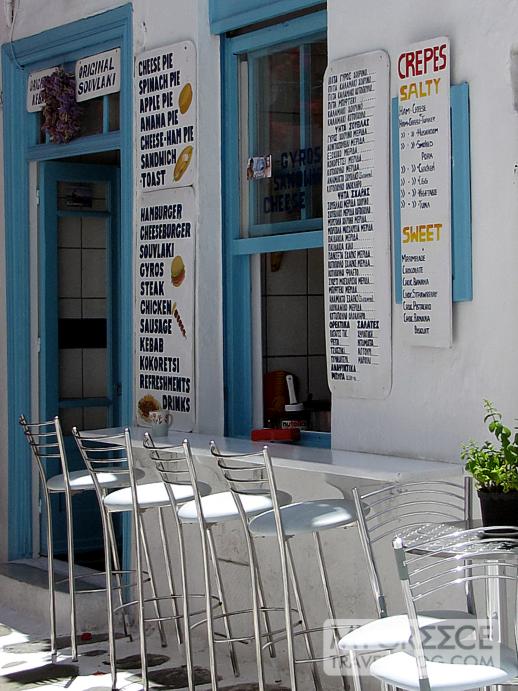 One of dozens of "fast food" cafes scattered throughout Mykonos Town
«»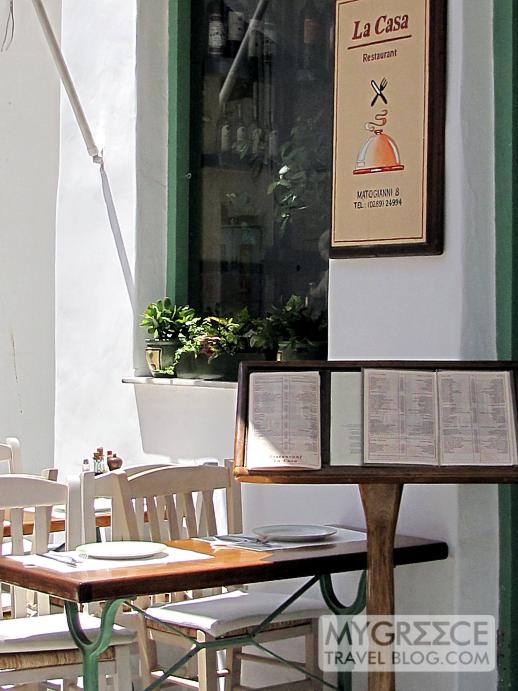 Tables in the street outside La Casa restaurant in Mykonos Town
«»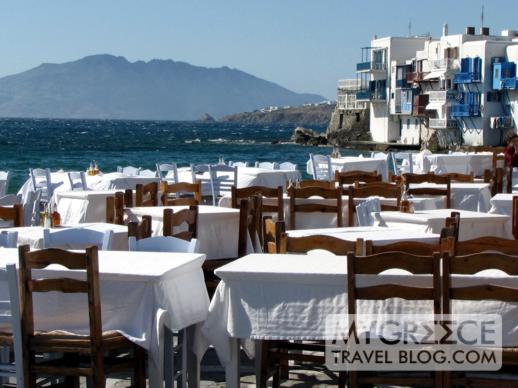 These taverna tables at Little Venice offer outstanding views of the sea, the sunset, the famous Mykonos windmills, and nearby Tinos island
«»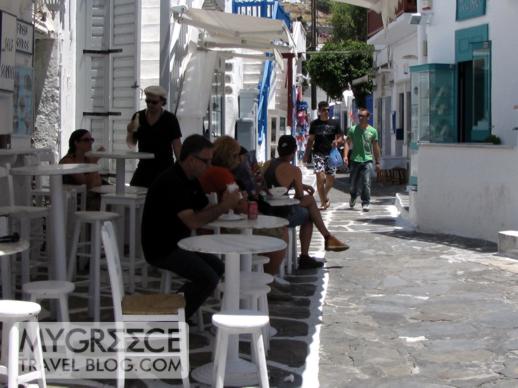 Seats outside many of the cafes and snack bars in Mykonos Town are a great spot for watching people from around the world pass by
«»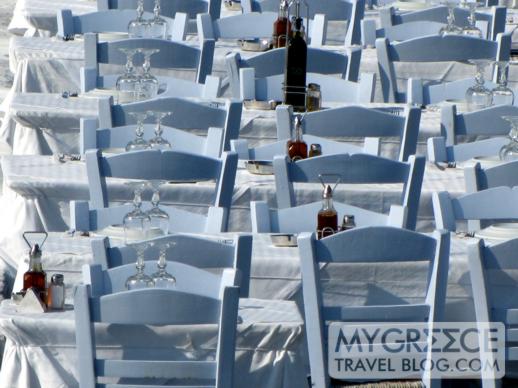 Rows of tables and chairs at a seaside taverna at Little Venice
«»