Located 4 kilometers from Mykonos Town (just 15 minutes away by bus), Platis Gialos is one of the most popular beaches on Mykonos — and one of our personal favourite areas on the island. It was where we stayed on our first trip to Mykonos, and we went back two years later. Although Hotel Tagoo on the edge of Mykonos Town has been our preferred choice of accommodations for  our recent holidays,  we've got fond memories of the Platis Gialos area and hope to stay there again in the not-too-distant future. In fact, when we spent half a day at the beach back in May, we felt like we had been away too long. We often recommend Platis Gialos to people seeking advice about where to stay on Mykonos not only since we like it so much ourselves, but because it's basically a truly convenient resort location with many appealing features:
First and foremost is the area's top attraction and drawing card, Platis Gialos beach itself — a long strand of golden brown sand that curves along the coast of a broad bay with brilliant blue and turquoise water (the sea looks absolutely striking when you catch your first glimpse of it in the daytime, approaching Platis Gialos on the road from Mykonos Town).
Second, there is a good variety of accommodation beside and near the beach — approximately two dozen different properties ranging from studios and rental apartments to four- and five-star luxury hotels.  We have had good experiences staying at the Myconian Ambassador Hotel & Thalasso Spa Center and the Petasos Beach Resort & Spa (I'll tell you more about both in future blog posts), and have received extremely positive first-hand feedback about the Argo Hotel Mykonos and the Pelican Bay Art Hotel. I've also heard good comments about the Hotel Palladium, the Nissaki Boutique Hotel, Petinos Beach Hotel,  Hotel Kamari and Hotel Lady Anna, but have heard and read mixed reviews for Hotel Kosmoplaz, Mykonos Palace and the Acrogiali Beach Hotel.
Third, there is a row bars and tavernas right along the beach, as well as two convenience stores, which means visitors don't have to travel to Mykonos Town for drinking and dining, or to pick up any sundry items they might require. There isn't much in the way of nightlife, though, and definitely no club scene, so people looking for a party have to head elsewhere for their late-night fun. For those seeking peace and quiet, on the other hand, that means Platis Gialos is a perfect choice. But there are decent places to go for lunch and dinner. We have enjoyed reasonably good meals in Atlantida restaurant at the Acrogiali Hotel and at Bonatsa restaurant beneath the Hotel Thalassa  at the far end of the beach, and have read very impressive comments this summer about the traditional Greek cuisine at Avli Tou Thodori. Although the Blue Myth Restaurant at the Petinos Hotel has been receiving predominantly favourable reviews on TripAdvisor.com recently, too, it just happens to be where we had our worst-ever meal on Mykonos (and second-worst meal in Greece) — so of course we're inclined to recommend avoiding it altogether! (Don't let the aggressive tout outside the restaurant convince you that the food is exceptional. We fell victim to his persuasive sales pitch and years later still can't forget the dreadful mixed grill special that he encouraged us to order — "best on the island" — along with painfully poor and slow service. He tried to lure us into the restaurant when we passed by in May, but there was definitely no hope in hell that we'd give Blue Myth another try.)
Fourth, Platis Gialos is the last stop on the Mykonos Ktel local bus route, with regularly-scheduled service from breakfast time until midnight, so it's easy and cheap to get to and from Mykonos Town whenever you want (and, from there, you can catch buses to other parts of the island).
Fifth, it's reasonable walking distance to three other highly popular beaches — Psarou, Paraga and Paradise — plus the considerably quieter, smaller and less-well-known Agia Anna (one of my favourite places to escape crowds on the island).
And last but not least, Platis Gialos is the hub for regular shuttle boat service to other south coast beaches: Paraga, Paradise, Super Paradise, Agrari and Elia. (There also used to be a daily excursion to Delos island from here — that's how we got to Delos for the first time — but those tours weren't operating when we visited Platis Gialos in May. It's possible the Delos trips are offered only during high season now.)
Those are the positive attributes of Platis Gialos. Are there any downsides to staying there? I can think of only a few. Accessibility to Mykonos Town could be one drawback, particularly for people who prefer to party until the wee morning hours. Bus service ends around midnight and, given the fact there aren't many taxis on the island, it can be difficult to get a ride back to the resort in the middle of the night (we never had a problem catching late night cabs during our previous stays at Platis Gialos in late May and early June, but we do know that taxis can be few and far between during peak travel season in July and August). And travellers who love watching the sun go down will be disappointed staying at Platis Gialos, since mountains around adjacent Psarou beach and bay block all sunset views from the area. (We just hopped a bus and went into town whenever we wanted to see a sunset.) In addition, the limited restaurant selection at the beach can be unsatisfying during a holiday longer than about three days, and the food and service does tend to be hit and miss at most places. (Witness our bad experience at Blue Myth.)
Overall, though, I consider Platis Gialos to be one of the best places to stay on the island, especially if you want to avoid the hustle and bustle of Mykonos Town and would prefer to spend your holiday in a relaxed beach location rather than a busy "urban" area.
Below is a series of photos we have taken at the beach and around Platis Gialos, along with four short videoclips of the area.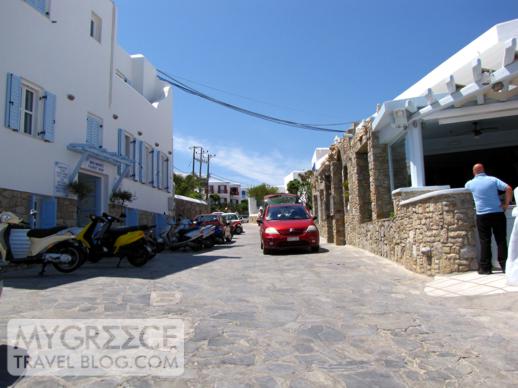 As it reaches Platis Gialos, the road from Mykonos Town squeezes past the Petinos Hotel and its popular (except with us!) Blue Myth restaurant (right) …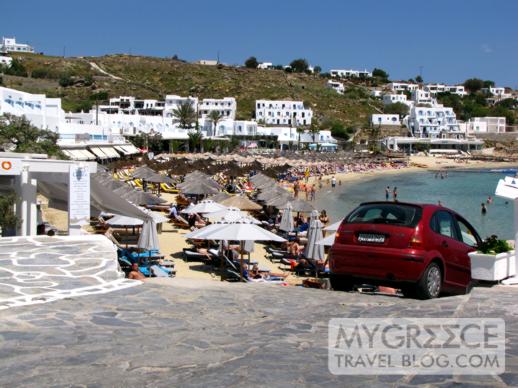 … and ends here, a few steps above the taverna- and bar-lined beach. The red car is turning toward the shuttle boat jetty, which is out of view to the right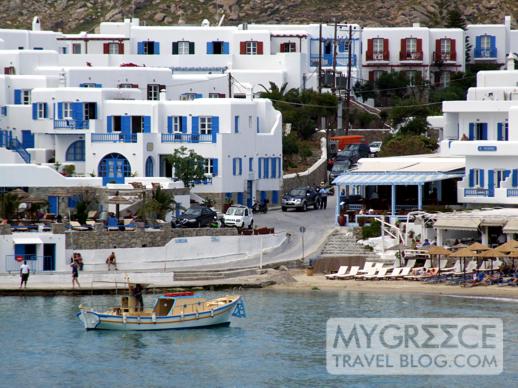 Here's a view of the road from the other direction, showing the shuttle boat pier on the left and the Petinos Hotel's Blue Myth restaurant terrace (under the blue and white striped roof) on the right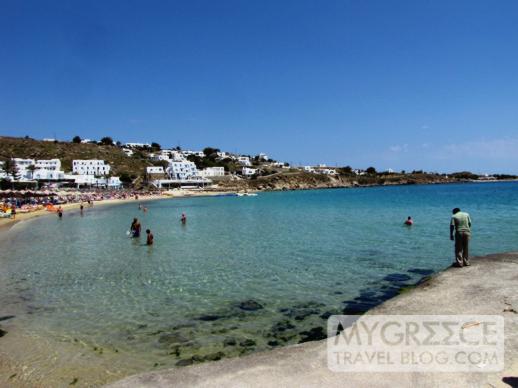 A view of Platis Gialos Bay from the end of the road …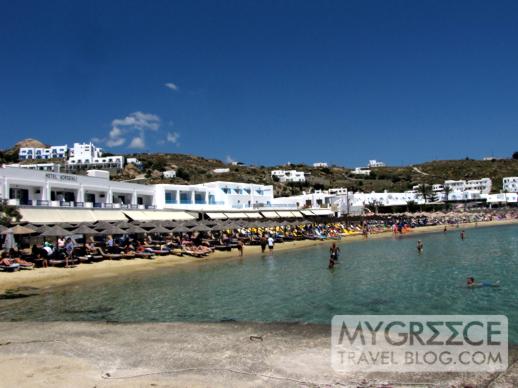 … as well as some of the hotels and tavernas along the beach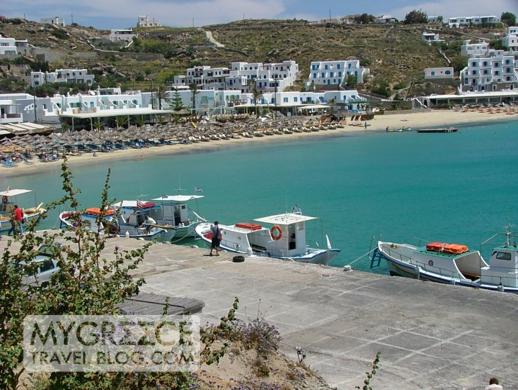 This view of the Platis Gialos beach and shuttle boat pier is from one of the swimming pools at the upscale Petasos Beach Resort & Spa …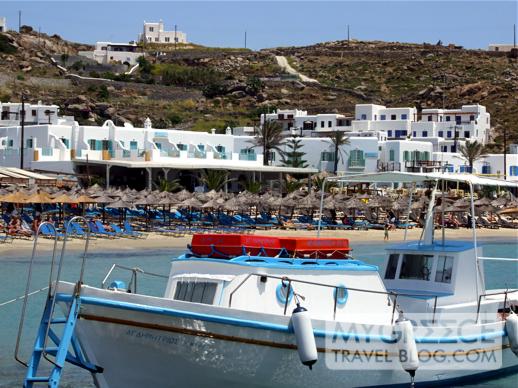 … while this is a view toward the beach from the pier itself. The caique (traditional Greek boat) in the foreground is one of the shuttle boats that take passengers to other popular beaches on the south coast of Mykonos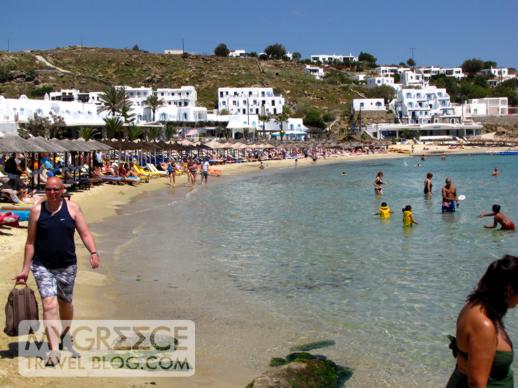 Platis Gialos is arguably the best "family" beach on Mykonos. The two dozen hotels along the beach and in the immediate area attract visitors of all ages
Platis Gialos beach is packed with rental lounge chairs and umbrellas. The sunbeds in front of restaurants are often "free" to use — provided you order food and beverages from them. Be sure to ask before sitting down!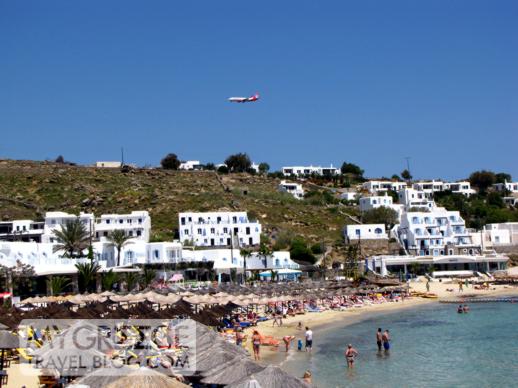 An Air Berlin jet passes over the beach as it descends toward Mykonos Airport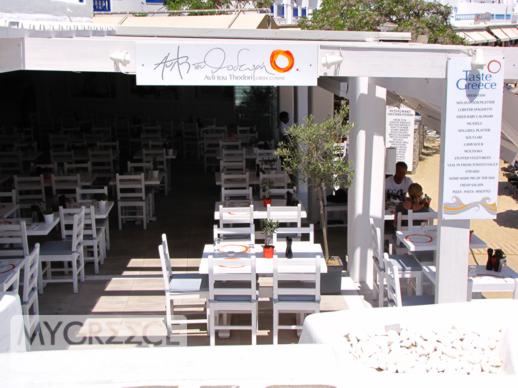 The terrace at Avli Tou Thodori taverna. This summer, I've been hearing more good feedback about this restaurant than any others at the beach.

The beachside Acrogiali Hotel, home to Atlantida restaurant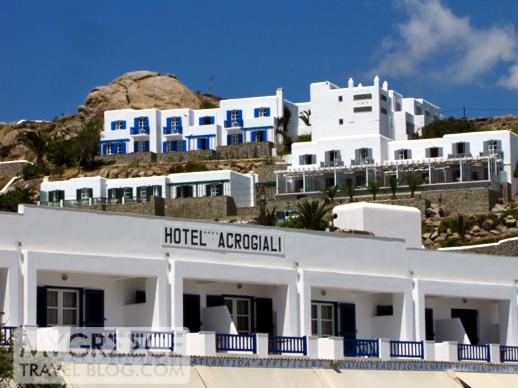 The Myconian Ambassador Hotel & Thalasso Spa (top) overlooks Platis Gialos beach and bay from the rocky hillside behind the Acrogiali Hotel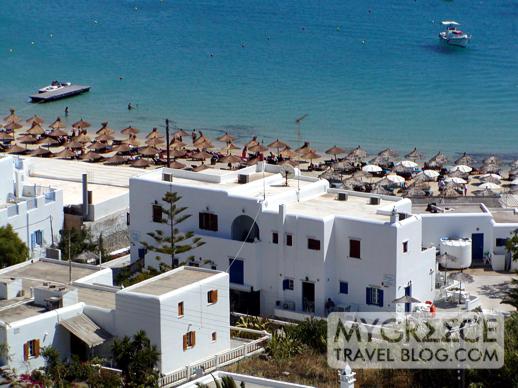 This was just a small part of the beach view we enjoyed from the Myconian Ambassador Hotel & Thalasso Spa during one of our Mykonos holidays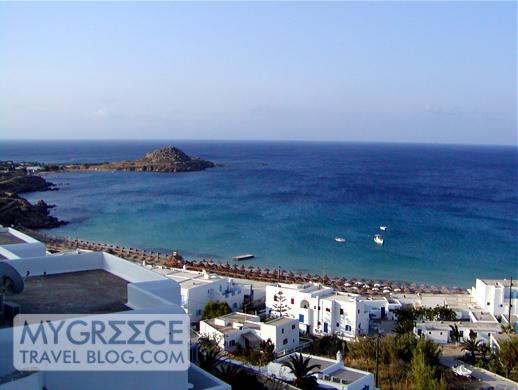 Our room and balcony at the Myconian Ambassador overlooked the entire beach and bay, and even Agia Anna beach a short walk up the coast (upper left)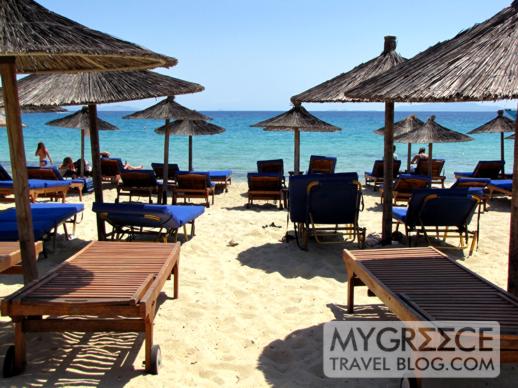 Beachgoers enjoy the soft golden sand and inviting turquoise sea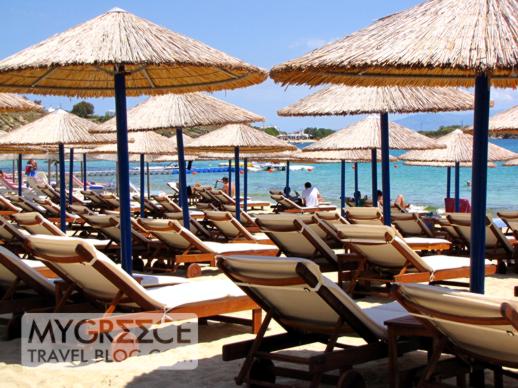 Sunbeds occupy most of the beach, but when we visit in the spring there has always been plenty of room to spread a towel or bamboo mat on the sand
Just one of more than half a dozen open-air tavernas along the beach
 A "boardwalk" passes in front of several of the beachside tavernas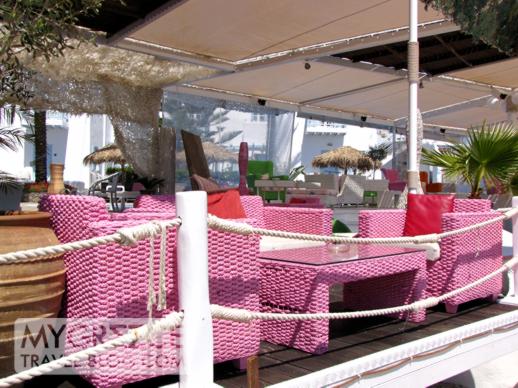 Bright pink patio chairs on a bar terrace overlooking the beach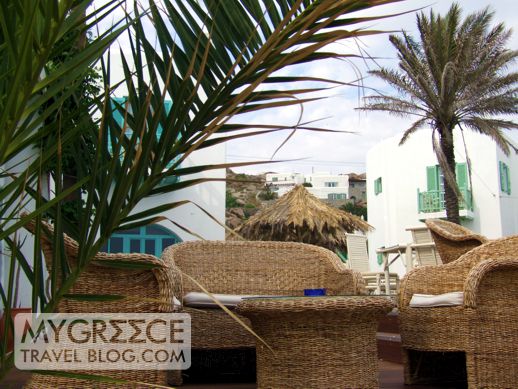 Seating at another bar overlooking Platis Gialos beach
Umbrellas and loungers awaiting installation on Platis Gialos beach
Bonatsa restaurant and Hotel Thalassa at the far end of the beach, near the coastal path that leads to Agia Anna and Paraga beaches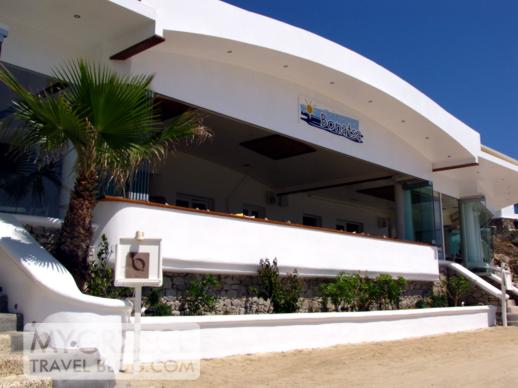 Bonatsa's broad front window has views of the beach and bay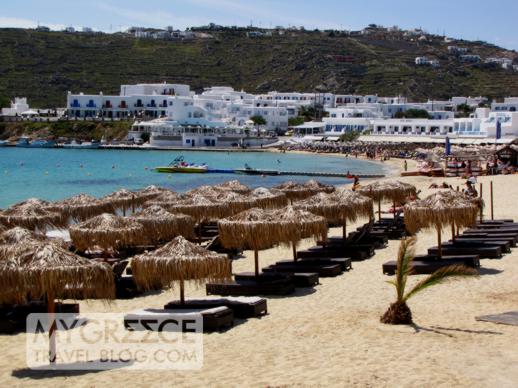 Sunbeds at the Bonatsa restaurant & Thalassa Hotel end of the beach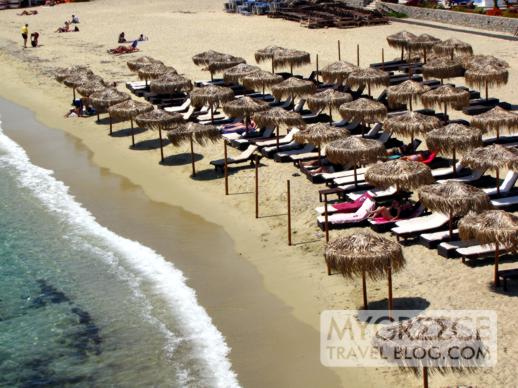 Looking down from the coastal trail  at the far end of Platis Gialos beach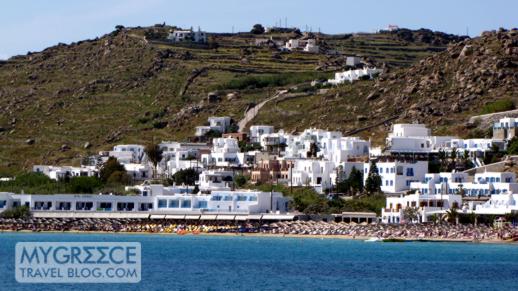 Platis Gialos beach viewed from the coastal trail close to Agia Anna beach, a scenic 20-minute walk down the coast