I dined at Fato a Mano, To Ma'ereio, Maria's Traditional Mykonian Restaurant, Avra, Matthew Taverna, Oregano Cook & Grill, Jimmy's Souvlaki, Sakis Grill House, Joanna's Niko's Place, Nikolas Taverna, Marco Polo Taverna, Bellissimo restaurant & bar, Roca Cookery, Avli Tou Thodori, and Antonini Restaurant. I'm happy to say there wasn't a bad meal in the bunch, and I was impressed that restaurant service overall was quite good. My visits to Roca Cookery, Avra, Nicolas Taverna and Avli Tou Thodori were particularly memorable for outstanding cuisine and service, while I also have happy memories of enjoyable meals at Fato a Mano, Oregano and Joanna's Niko's Place. With the exception of the souvlaki joints and two tavernas where I had lunch, the restaurants expressed genuine gratitude for their customers' business by offering either a dessert, a shot of ouzo, raki or mastiha, or an extra glass of wine on the house.
Mykonos Town — fast food & takeout places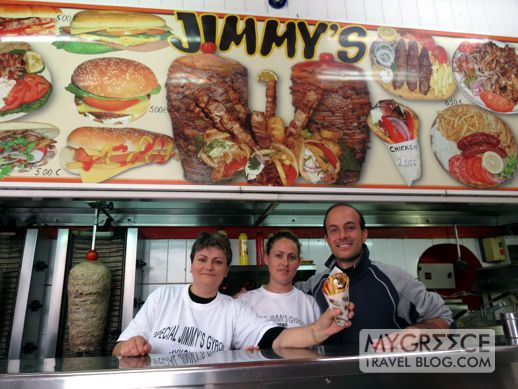 Irini, Bona and Savvas at Jimmy's Souvlaki shop in Mykonos Town
Ever-popular Jimmy's is still serving up tasty budget-friendly souvlaki and gyros, as is Sakis Grill House. I enjoyed inexpensive and satisfying lunches at both places, but particularly enjoyed Jimmy's for a great chicken gyros and some fun conversation with Savvas (Jimmy's son) and counter staff Irini and Bona. I saw that Piccolo is still popular for its sandwiches, snacks, desserts & coffees. There are literally dozens of gyro and souvlaki shops, crêperies and cafés serving cheap eats, so if you're travelling to Mykonos on a tight budget, you'll find these places go easy on your wallet.
Mykonos Town — budget & reasonably-priced restaurants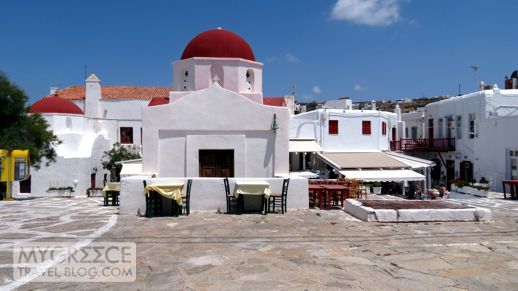 Taverna tables next to the red-domed church in Paraportiani Square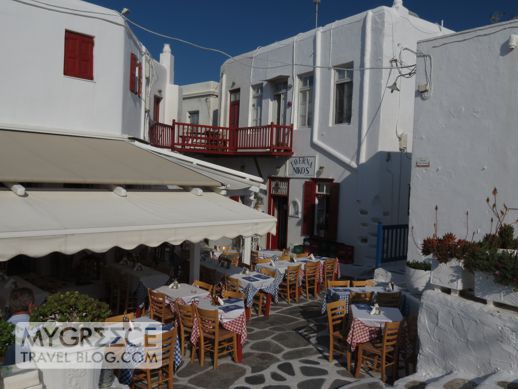 Part of Niko's Taverna at Paraportiani Square
Paraportiani Square is the place in town to go for cheap 'n' cheerful (by Mykonos standards) Greek food. Every year, one of the busiest and liveliest restaurants in Mykonos is Niko's Taverna, which boasts an extensive menu of reasonably-priced Greek dishes. But last month, Niko's wasn't as busy as usual in fact, there were plenty of empty tables and bored-looking waiters standing around every time I walked past. Nevertheless, several people I spoke to who did dine there said they thought the food was "just OK" and felt the waiters were rushing them to eat quickly and leave so they could maintain a steady turnover of tables. (That's my biggest beef with the place and the reason I haven't eaten at Niko's in years.)
Paraportiani Taverna is the only restaurant at the west end of the square now that its next-door neighbour, Ta Kioupia taverna, has shut down. In past years almost the entire square was filled with taverna tables topped with bright checkered table cloths, but with an empty space where Ta Kioupia used to be, the area looks & feels quite vacant and is obviously much less colourful and considerably less lively than it ever was. (Locals had no idea if another restaurant might open in Ta Kioupia's place this season.) The famous Mykonos pelicans can often be found resting in or strolling around the area, though, so head to Paraportiani square if you want to snap a pic of one of the big birds.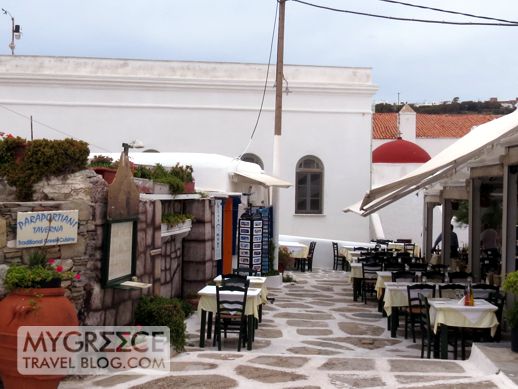 Tables in the street next to Paraportiani Taverna
We used to love the Greek food at Paraportiani Taverna and ate there at least once on three consecutive Mykonos holidays, but haven't been back since a disappointing dinner experience five years ago. But last month I got good feedback about Paraportiani's food and service from people staying at the same hotel as me; several enjoyed their meals so much (they said the stifado was excellent) they paid the restaurant a return visit and were just as happy with the food & service the second time around. Their biggest complaint about the place is its lack of ambience: the bright fluorescent lighting certainly isn't pleasant at night, and the empty Ta Kioupia property next door gives Paraportiani a somewhat lonely look and isolated feel.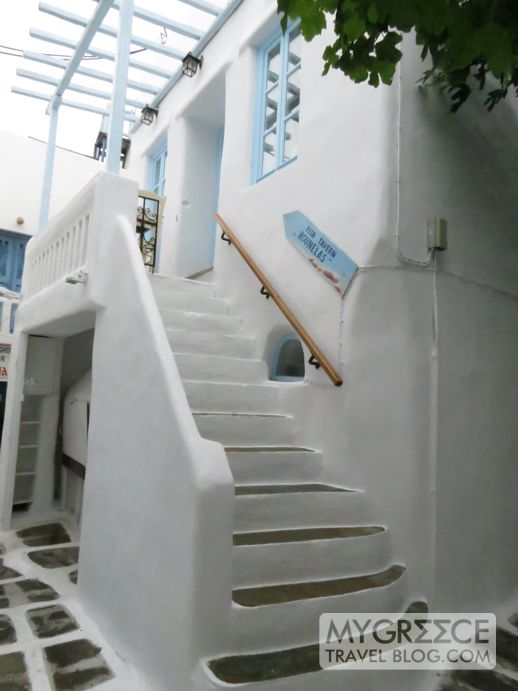 Steps to the second-floor dining room at Kounelas Fish Tavern
Just around the corner from Niko's, Kounelas Fish Taverna is still going strong. One couple at my hotel said they had good meals but poor service there, while another couple gave Kounelas two thumbs up on both counts and said they would recommend it. I had an excellent fish dinner there three years ago with one minor service complaint at the end of our meal, but didn't get the chance to dine there this trip. I still would like to go back sometime to give it another try.
Three of the four restaurants at Goumenio Square include Opa Taverna and Passagio at left. At right is the bougainvillea-shaded terrace for Familia.
Goumenio Square is another busy restaurant hub where you can enjoy traditional Greek cuisine at reasonable prices while sitting at tables on outdoor terraces shaded by colourful bougainvillea vines.
People were making favourable comments about Opa Taverna which, as in past years, offers daily lunch and dinner specials (check the chalkboard out front to see what's on offer). We enjoyed a nice lunch there three years ago, but haven't been back since. The opinionated owner "is quite a character," as one person told me in May. But while some people find him quite entertaining to chat with or listen to (as we did), others have told me they found him irritating.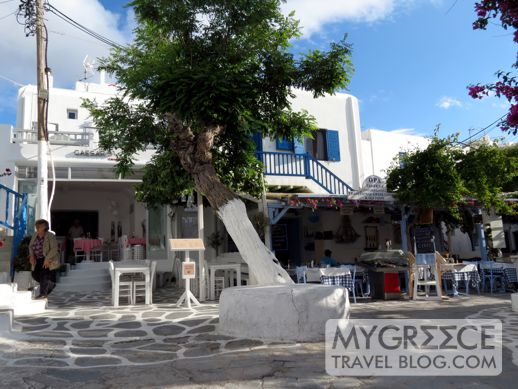 Caesar's Tavern, left, and Opa Taverna
On the left side of Opa, Caesar's Tavern has given its building a makeover and opened up the front of the restaurant, brightening the interior and connecting the inside space with the outdoor seating. Menu prices looked very reasonable, and I heard from several people that the Greek food they ordered was very good. However, one couple told me they and other diners were taken by surprise when told at the end of their meals that they couldn't use credit cards and had to pay with cash only — even though they had asked, before ordering, if they could pay with plastic. Restaurant staff told them there was a glitch with their credit card system, and explained that they were still a bit disorganized having just opened for the season. Nevertheless, diners were miffed that one person from each couple had to leave their companion in the restaurant while they raced through the maze of streets to find an ATM so they could get cash to pay their bills. (I have encountered the "sorry, our credit card system isn't working tonight" excuse on Mykonos and other islands numerous times, and always make sure I now carry enough cash to pay for a meal just in case it happens again.)
Next door to Opa is a restaurant called Passagio, while on the other side of the square, the large dining terrace formerly known as Pelican is now called Familia. It wasn't as busy as Pelican used to be, and I didn't hear any comments about either the food or service. I also didn't hear any feedback about Passagio. Both feature Greek and Mediterranean dishes on their menus.
Restaurants elsewhere in Mykonos Town:
Antonini, Kostas, and Marco Polo have been among Mykonos's most popular Greek food dining spots for years (Kostas has been there since 1963), and are still going strong. So is La Casa, which features a Greek and Mediterranean menu. Fato a Mano has been around about 8 years, and has received a lot of positive reviews on TripAdvisor.com and other travel websites recently.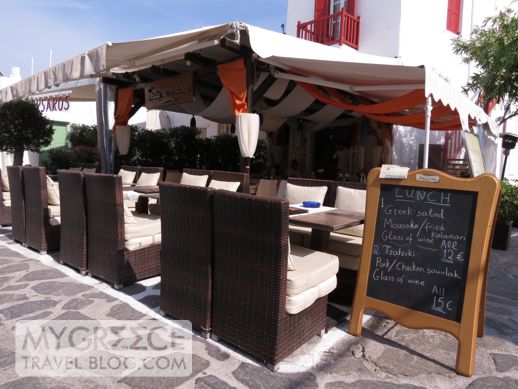 Fato a Mano
Fato a Mano is where I went for my first lunch on Mykonos, and I wish I had gone back at least one more time. I ordered one of their two specials — a Greek salad, calamari and glass of wine, for €12 — and was pleasantly surprised by the large size of the portions. There was enough food for 2 people, and luckily I was hungry enough to eat everything on my plates. The staff were particularly personable; every day when I walked past the restaurant, they waved, said hello and asked how I was enjoying my holiday. It is the only restaurant I have been to in Greece that has invited me to sign a guest book. I noticed that the book is full of praise about Fato a Mano from people around the world; I added some of my own.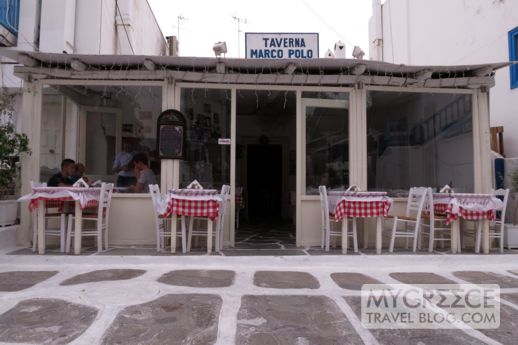 Marco Polo Taverna
I had lunch at Marco Polo after hearing rave comments about it from other guests at my hotel who had gone there for dinner the night before. I had seen the restaurant for years, but had never eaten there before. You can't miss this place when you're walking around Town: it has tables positioned on the cobblestone pavement in two narrow lanes near the Lakka district of Mykonos Town. Positioned under bright red bougainvillea vines, and topped by red and white checkered table cloths, the restaurant's picturesque setting catches the attention of passersby in general and photographers in particular.
I stopped by Marco Polo during an afternoon photo walkabout, and while I was checking out the menu had a nice conversation with a pleasant member of the staff who asked if I had been there before, and had any questions about the food. He told me that he recommended one of the daily specials; those came with a Greek salad, a choice of either calamari or moussaka, and a glass of wine, for €13.  I wasn't hungry at the time but promised I'd be back in about an hour for lunch. When I returned, the friendly fellow wasn't there, and the quiet waiter who served me insisted that the only special of the day was calamari. So that's what I ordered. Though my meal was good, I had enjoyed the same food items at Fato a Mano considerably more — and their special was €1 cheaper. The portions at Fato A Mano were also much larger, while the atmosphere there was nicer and the service was far superior. For those reasons, I would recommend going to Fato A Mano over Marco Polo.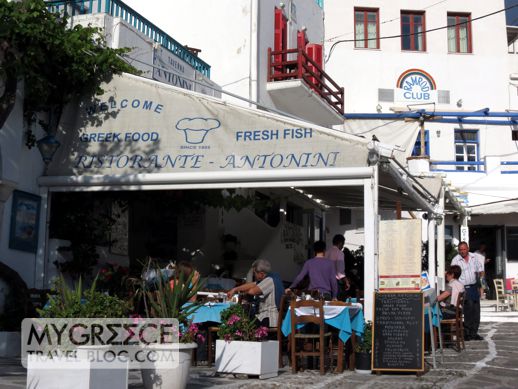 Antonini restaurant at Manto Square in Mykonos Town
I only ordered a Greek salad and drink for my lunch at Antonini, but the service was prompt and efficient and I fully enjoyed the salad. Located right next to busy Manto Square (aka Taxi Square), Antonini is a great spot for people watching, which is exactly what I did while I sat back and relaxed with my lunch. There was a group of eight tourists from France at the table next to mine; when they were leaving the restaurant, they thanked their waiter profusely and repeatedly told him they had thought the food was excellent. They'd certainly tried enough different items; it took two waiters and a busboy a few minutes to clear all the plates off the table.
To Ma'ereio at 16 Kalogera Street (left) in Mykonos Town
One of my favourite restaurants on Mykonos, the family taverna To Ma'ereio (often called Maerion) at 16 Kalogera Street, served up superb Greek cuisine again this trip. My partner and I usually order a variety of mezes plus one of the restaurant's signature dishes (like the yummy Asimina's meatballs), but since I was travelling solo I ordered just the Avra chicken, a filet served in a delicious white wine broth with mushrooms. It was flavourful and filling. I noticed that about half of the restaurant's clientele were tourists, while the rest were locals who appeared to know every member of the staff very well. More than a dozen Greeks stopped at the bar while I was there to have a quick drink and chat with the bartender and his twin brother, who was waiting on tables. Other guests from the hotel who had been there on previous trips told me they enjoyed dining at To Ma'ereio this year too and, like me, would continue to recommend it to others. Nearby, Philippi's restaurant is closed (proprietor Philippi died earlier this year) but another restaurant is expected to open in its location at some point.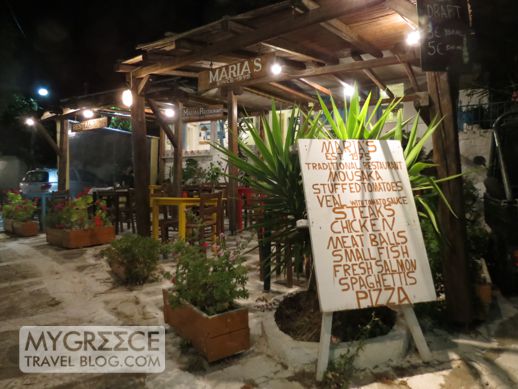 Maria's Traditional Mykonian Restaurant in Mykonos Town
Maria's traditional Mykonian restaurant has been in business since 1975, but I didn't discover it until this year. It's situated in a quiet, pleasant courtyard accessed by a lane between the Hotel Leto property and the Hondos Centre on Polikandrioti Street (the stone-paved road alongside the little sandy beach at the harbour). Maria is in her late 70s but still cooking up a storm, offering hearty fare like moussaka, stuffed tomatoes and peppers, meat balls and pizza on her menu. The reasonably priced food is really good (I loved the stuffed tomatoes and peppers and the big Greek salad) and Maria's courtyard offers a refreshing respite from the crowded streets and bustling waterfront areas elsewhere in Mykonos Town. I heard positive comments about Maria's pizza and moussaka from other people at my hotel who dined there.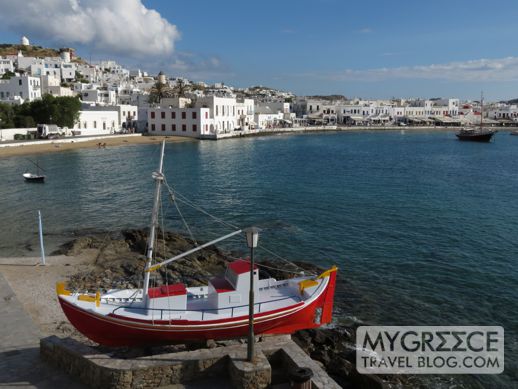 This was the first time I haven't seen rows of tables next to the rocks behind the bright red fishing boat outside Babulas Taverna
I was surprised to see that Babulas taverna wasn't open; this was the first time it hasn't been operating when I've been to Mykonos. Babulas is the photogenic harbourside taverna that you would pass while walking along the waterfront from the Old Port to Polikandrioti Street; it would have rows of blue chairs and tables topped with red tablecloths sitting on the sand and rocks near the water's edge, offering great views of the main Mykonos waterside promenade across the bay. Babulas also had a bright red fishing boat parked on the shore next to the tables; tourists loved taking photos of the octopus that kitchen staff would hang on the boat to dry in the sun. The boat was still there during my visit, but didn't have the Babulas Taverna sign on it. On the day I was leaving Mykonos, though, I saw some men painting tables and chairs on the terrace next to the boat, so it's possible Babulas may now be open once again. Kavos Cafe right next door is still open, however. It's a perenially popular spot for visitors, especially those on cruise ships, to enjoy a drink or light meal while taking in views of Mykonos Town and the harbour.
Mykonos Town — moderately priced restaurants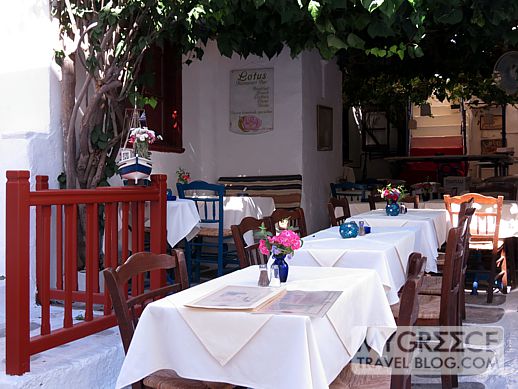 Lotus restaurant
Last year people were raving about how much they liked the Mexican dishes at Appaloosa and this month the place was jam-packed every evening. But I didn't hear rave reviews again. I heard comments that the food was "okay" and "good," but some people told me they were disappointed after hearing so much praise about the place. They said they found their meals to be a little on the expensive side and not as good quality as the Mexican food served in North American restaurants. Nonetheless, I'm sure Appaloosa will continue to be a popular destination for people seeking an alternative to Greek food.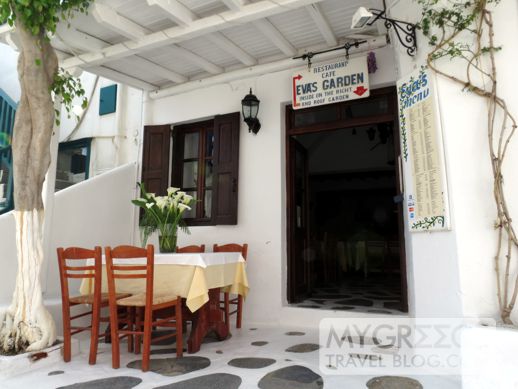 Eva's Garden restaurant
No changes to report for Lotus (home-made contemporary and Greek food, famous for tasty sauces), Eva's Garden (Greek & international dishes), Casa DiGiorgio (Italian) and Pasta Fresca Barkia (home-made pasta and pizza). Nautilus (Greek, Mediterranean & seafood) is in the same spot on Kalogera Street, but has a new chef. NiSa, which was very popular last year, closed when its lease expired. NiSa's Kalogera Street space is now occupied by a restaurant called Meating, which features Greek and Mediterranean cuisine. Meating's vine-sheltered outdoor terraces were packed every night, and people were making good comments about the food.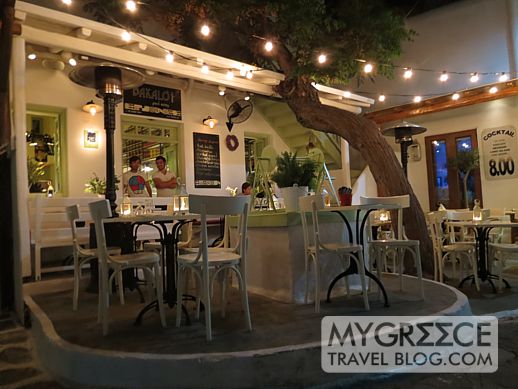 Bakalo restaurant
Two restaurants that got a lot of highly positive reviews in the TripAdvisor forums last year — Catari (pizza, pasta and other Italian fare) and Bakalo (contemporary Greek) – are getting great word of mouth again this season. People who dined at both places told me they would highly recommend them; some of these people dined at Bakalo more than once because they thought the food — traditional Greek dishes presented with a modern twist — was outstanding. I stopped by Bakalo one evening to check out the menu; I was hoping to get a glimpse of some of their famous dishes, but the only customers on the outdoor terrace at the time just had drinks on their table so I was out of luck. I didn't manage to get back for dinner on another evening, so Bakalo remains on my "must try" list for next year. I also stepped onto the Catari terrace in the hopes of seeing what some of their dishes looked like, but there was just one table of customers and they were only drinking, too. (It was an unusually quiet night in Mykonos Town, and most restaurants had only a handful of diners.)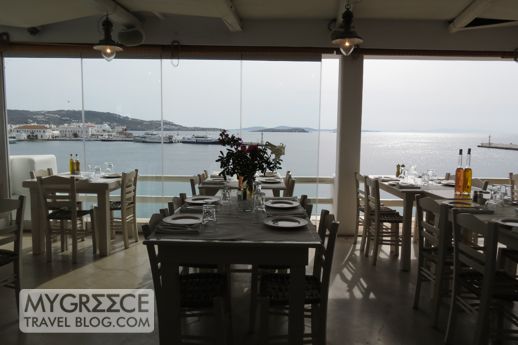 Superb harbour views at Roca Cookery above the Old Port
Roca Cookery (Greek mezes, fish and seafood) has opened in the former Squalo location next door to the Blu-blu Lounge Café, near the archaeological museum above the Old Port. Roca has big windows offering tremendous views of Mykonos Town, the harbour, the Old Port and the sunset. Service is excellent and so is the food. (I've been told that Roca was hugely popular with Mykonos locals during the winter.) I went to Roca with people from my hotel; everyone enjoyed the mezes (wonderful Greek salad, zesty tzatziki, delicious zucchini sticks and super-tasty tomato fritters) as well as our red snapper, which was grilled to moist perfection.
First-time travellers to Greece beware: fish and seafood are very expensive in the Greek islands, and are priced according to weight. If ordering fish, always ask beforehand what it will cost to avoid "sticker shock" when you get your bill. At Roca, our server quoted prices for two different red snappers and pointed out that the smaller (and of course less expensive) of the two would be sufficient to satisfy our group of five. It was, and we all agreed that the price had been reasonable (frankly, I had been expecting the fish to cost twice as much as it did, so I was more than happy that my share of the bill for all the food and wine was only €30.) Other people from our hotel also had good experiences at Roca when they went there several days later. It was one of my best dining experiences on Mykonos last month, and will be one of my top recommendations. I definitely will go back.
Mykonos Town — higher-end restaurants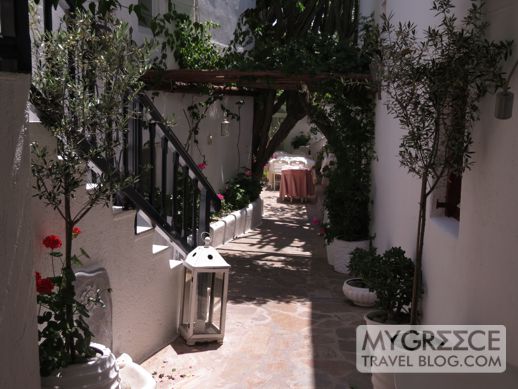 This is the Kalogera Street entranceway to Avra restaurant …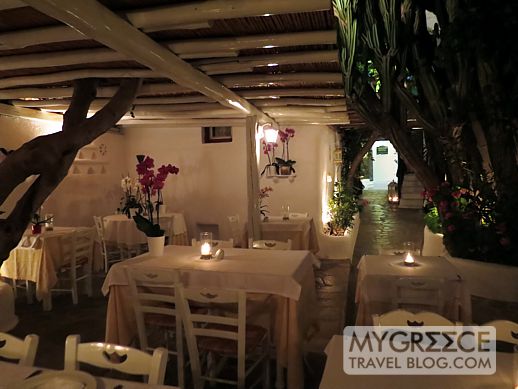 … which has a delightful courtyard terrace as well as a new rooftop dining area
Avra restaurant, another one of my Mykonos favourites, continues serving superb Greek and international cuisine in the former Chez Maria building to which the restaurant relocated last year (just steps past To Ma'ereio on Kalogera Street). A fabulous spot to enjoy a romantic dinner or celebrate a special occasion, Avra has a beautiful garden courtyard dining terrace under a canopy of trees, vines and colourful bougainvillea. It also has an interior dining space, and this summer will be opening a 50-seat open-air rooftop terrace that will offer outdoor dining under the stars. Work on the terrace wasn't yet finished the night I had dinner at Avra, but restaurant owner Niko kindly took me upstairs so I could take a peek at how it's shaping up. I'm certain it will become a very popular spot on sultry summer evenings.
As always, the food and service at Avra are exceptional; co-owner Sarah is a wonderful hostess and her attentive staff are terrific. I highly recommend starting with the delicious Salad Avra. Enormous and meant to be shared, the salad includes rocket, lettuce and cabbage along with carrots, tomatoes, figs, walnuts, cucumbers, avocado, and shavings of parmesan cheese. Awesome flavours! I loved the melt-in-your-mouth sesame feta we ordered as an appetizer; deep-fried and served with sliced grapes and rose petal jelly, it was hands-down the best saganaki I've ever had the pleasure of eating. Our seafood spaghetti with shrimp, clams and mussels was excellent, too. I will continue to recommend Avra and can't wait to go back next time I'm on Mykonos.
Sale Pepe restaurant terrace
Sale & Pepe (across the road from Bakalo) remains popular for fine Italian cuisine and fine wines; it has an extensive wine list that has been hailed in international wine publications. In May, Sale Pepe was offering a "Smart Menu" special with a choice of 3 items (vegetarian, meat or fish) starting at €24.50. For seafood, two places that I was told are highly popular with Greek visitors are Koursaros (right next door to Fato a Mano) and Sea Satin Market, which has been a landmark at Little Venice for years. Unfortunately, I haven't heard any first-hand feedback about the food quality at either restaurant, only comments that both can be "very expensive."
A seaside table at Aqua restaurant in Little Venice
For fine food lovers whose wallets are bigger than their appetites, Interni (Mediterranean), Chez Katrin (Greek, French and International), Uno Con Carne (Argentine steakhouse and oyster bar), and Matsuhisa Mykonos at the Belvedere Hotel are among the island's must-visit restaurants. Aqua Taverna, next door to Caprice bar on the seaside at Little Venice, continues to offer culinary creations from the critically-acclaimed Cucina di Daniele menu (the actual Cucina di Daniele restaurant is located on the main highway at Ano Mera). Like Avra, Aqua offers a charming candle-lit setting that's perfect for a romantic or special occasion dinner.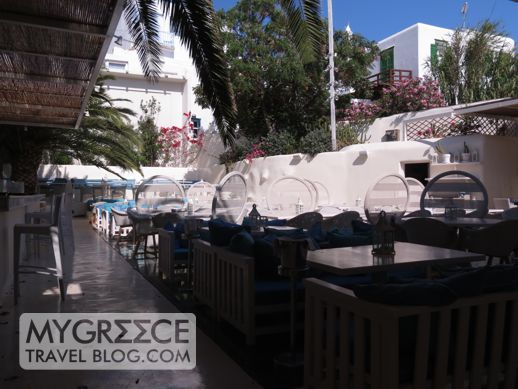 The outdoor courtyard terrace at Uno Con Carne
<>
 [Restaurants outside Mykonos Town are described in Part 2, below]
<>