— continued from page 1 —
This 40-second video, The Greek Summer State of Mind, is the centerpiece of Greece's official tourist marketing campaign for summer 2020 
When the Covid-19 pandemic  turned global travel upside-down earlier this year, millions of would-be travellers were left wondering if Greece would re-open its borders and airports in time for their  summer vacations.  Many people — including yours truly at mygreecetravelblog.com — had already seen their spring holiday plans evaporate when Greece went into lockdown to control the spread of coronavirus. But as Greece gradually began to ease its strict quarantine measures, and as airlines announced they would start to resume service, people with trips booked for July or later nervously waited to learn if they still might be able to go to Greece after all.
One can only imagine how many travellers breathed huge sighs of relief when Prime Minister Mitsotakis proudly announced: "we are ready to extend Greece's legendary hospitality and welcome to the world once again."
The Prime Minister had travelled to Santorini to announce, during a livestreamed press conference with world media representatives, that "Greece is very much open for business" and ready to once again host international visitors — with carefully-planned health protocols and virus control measures put in place to ensure the safety of citizens and tourists alike.
"Today, my message to you is very simple. Come to Greece. Tell your friends, your readers, your listeners and your viewers that we are open and that they're welcome," Prime Minister Mitsotakis told reporters from major news organizations around the world.
Greece officially opened for tourism on Monday June 15, and since that date visitors have been arriving in small but steadily increasing numbers, with arrivals expected to increase significantly after July 1 when more international flights to Greece resume.
Like many people whose holidays were cancelled or who can't travel for weeks to come, mygreecetravelblog.com has been curious to hear what the Greek holiday experience will be like during the Covid-19 era. So we will be watching for news reports and travel articles to give us impressions of what's new and different, what's good, and what — if any — downsides there might be to visiting Greece this summer.
In the meantime, we have compiled a selection of interesting articles that have been published recently by travel writers and news reporters knowledgeable about Greece and its tourism industry.
We have posted screenshots of the reports below, along with links so you can read the full articles directly from the source if you wish.
They're followed by a video of Prime Minister Mitsotakis's press conference on Santorini.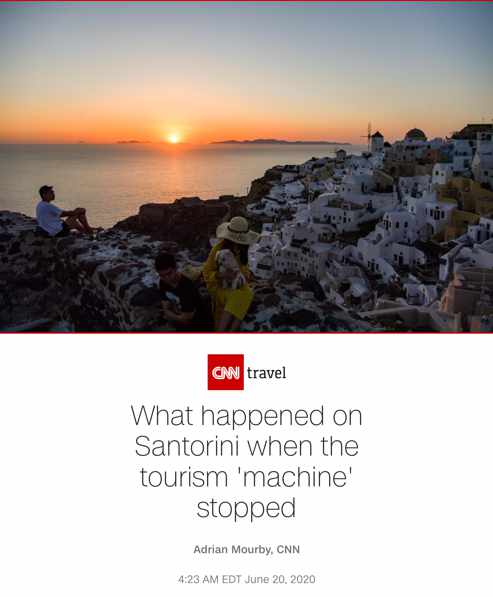 Santorini is the most-visited island in Greece, and for good reason — its landscapes, scenery and views are nothing short of spectacular. But for the last several years it has been getting bad press because of the severe toll overtourism and associated overdevelopment has taken on the island. Then the Covid-19 pandemic struck, keeping the usual spring crowds and cruise ships hordes away and leaving the island with a pronounced winter look and feel.
In his CNN Travel article What happened on Santorini when the tourism 'machine' stopped, Adrian Mourby speaks to residents about the pandemic's impact on the island's main source of revenue, and discusses how there may be a silver lining to the travel interruption caused by the Covid stormclouds.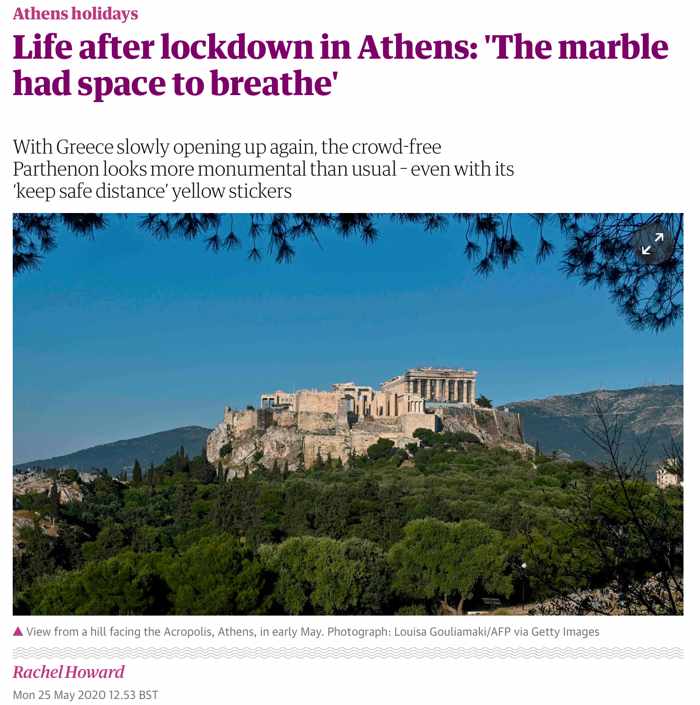 It's one of the most popular tourist attractions in Greece, and even when we have been there in low season, the Athens Acropolis has been swarming with large  tour groups and hundreds of individual visitors. It's difficult to imagine ever having the Acropolis almost to yourself to explore, but writer Rachel Howard enjoyed that rare privilege just a few days after Greece ended its lockdown for citizens and reopened the world-famous monument.  She describes the unique experience in Life after lockdown in Athens: 'The marble had space to breathe,' a short piece published by The Guardian newspaper.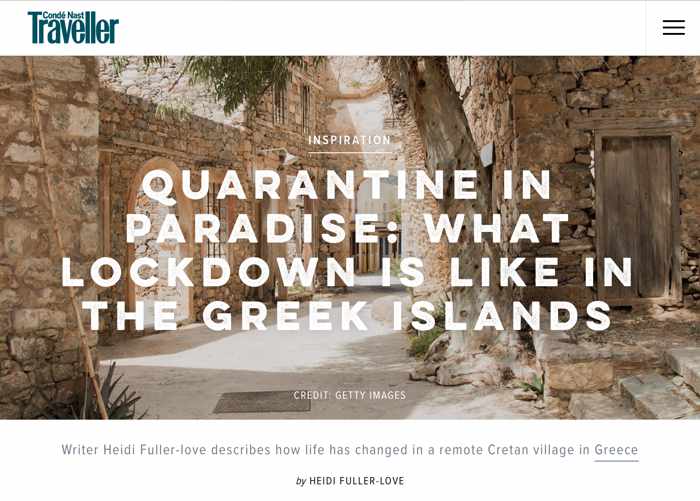 In a short first-person account called Quarantine in paradise: what lockdown is like in the Greek Islands, published by Conde Nast Traveller magazine, Heidi Fuller-Love recounts her self-isolation in a remote village in the Lasithi Plateau region of Crete,  and what it was like to miss Greek Easter celebrations — the biggest holiday on the Greek calendar — because of the coronavirus lockdown.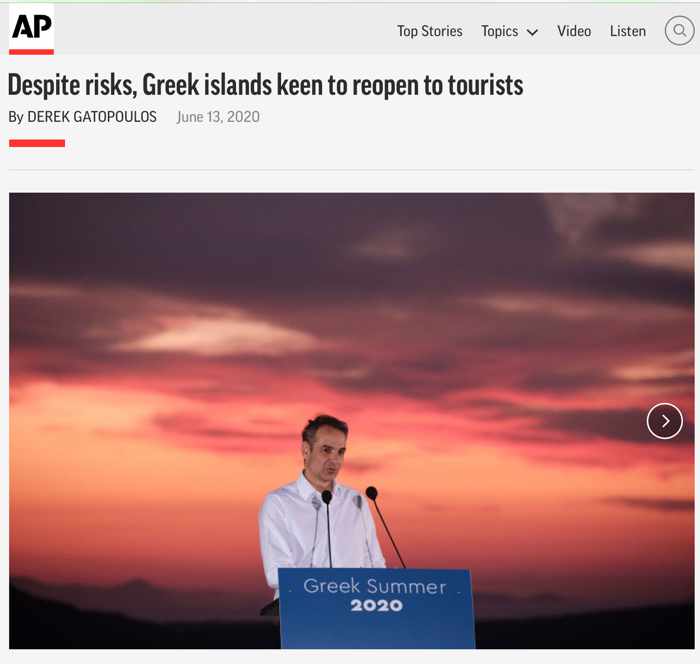 In his Associated Press article Despite risks, Greek Islands keen to reopen, Derek Gatopoulos reports on the summer tourism outlook for Mykonos, the second-most popular tourist island in Greece after Santorini.  Local business operators and the island's mayor comment on the prospects for the delayed summer travel season, and the report also describes health and safety measures that the Greek government has implemented in its bid to control the risk of reopening the country to tourism while the Covid-19 pandemic continues to rage in many parts of the world.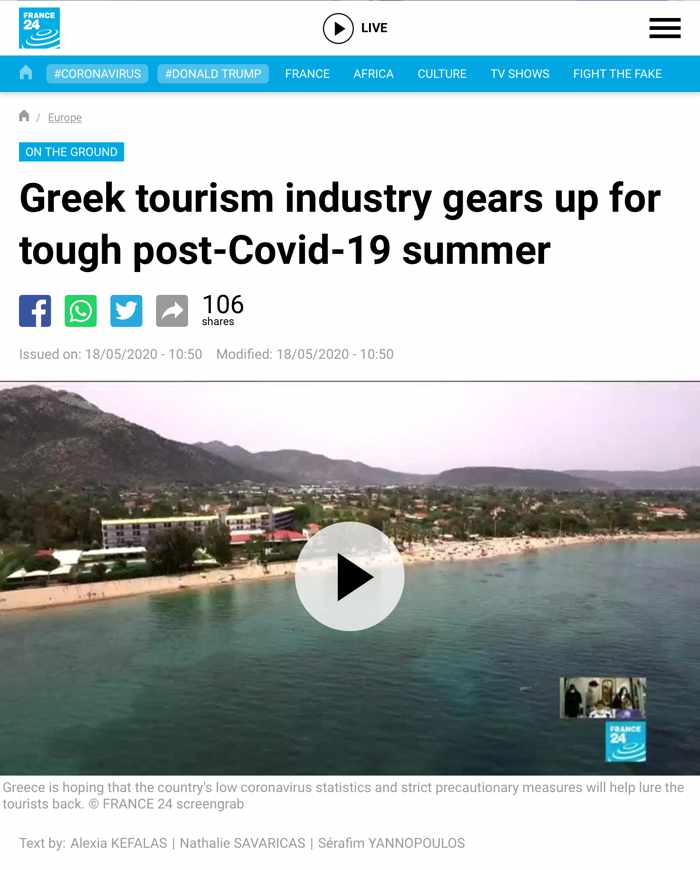 International news site France24 published the the short video report Greece tourism industry gears up for tough post-Covid-19 summer, which describes safety measures and precautions that hotels and transportation providers will be following during the summer travel season to help protect Greek citizens and foreign visitors.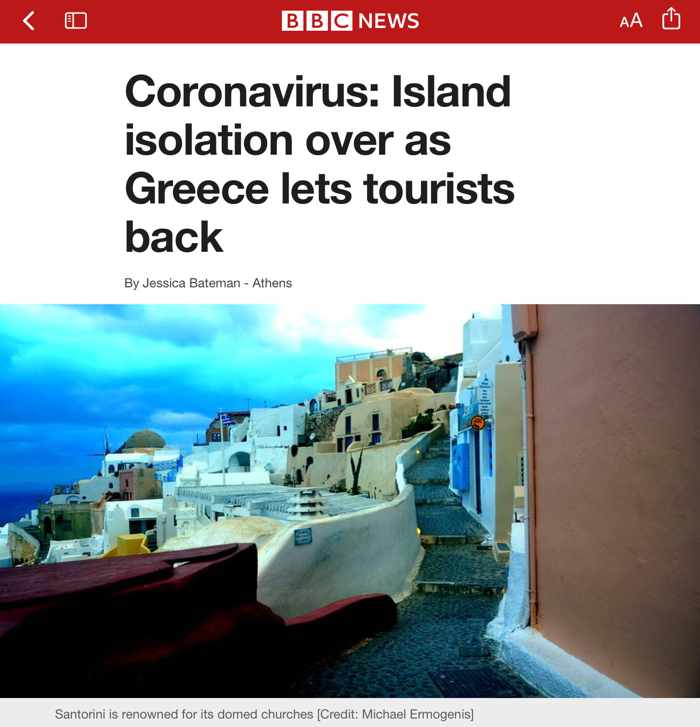 In her BBC News report Coronavirus: Island isolation over as Greece lets tourists back, Jessica Bateman describes how the pandemic has impacted tourism on Santorini and Mykonos, and considers if the pandemic may force Greece to take steps to reduce its heavy reliance on tourism — the country's second most important source of income and employment after shipping.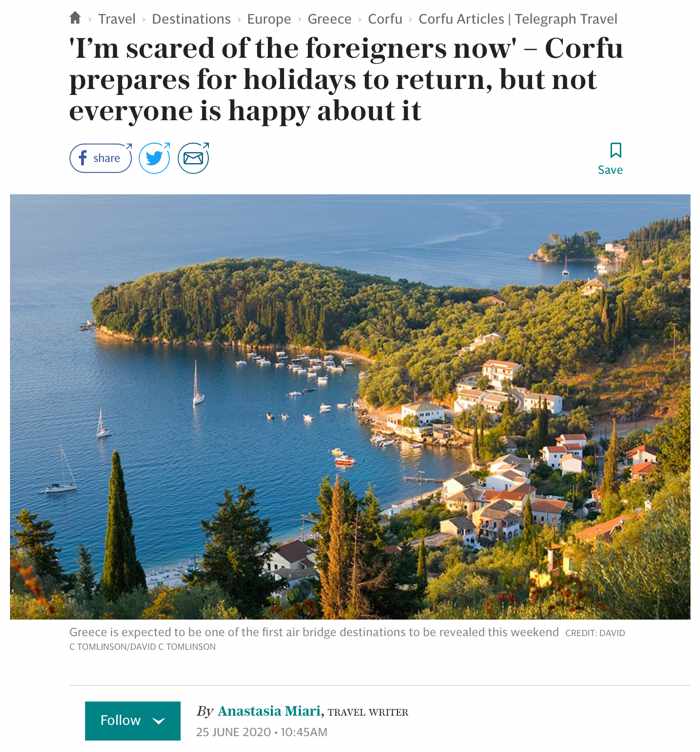 Anastasia Miari travelled to Corfu, where local residents and travel business operators discussed their fears and concerns about the upcoming tourist season.  The island is "struggling to return to a sense of normality," she writes, and will look "very different" to returning visitors, she notes in the article Corfu prepares for holidays to return, published June 25 in The Telegraph. (If you don't already have an online subscription to the newspaper, you'll need to register to read the full piece.)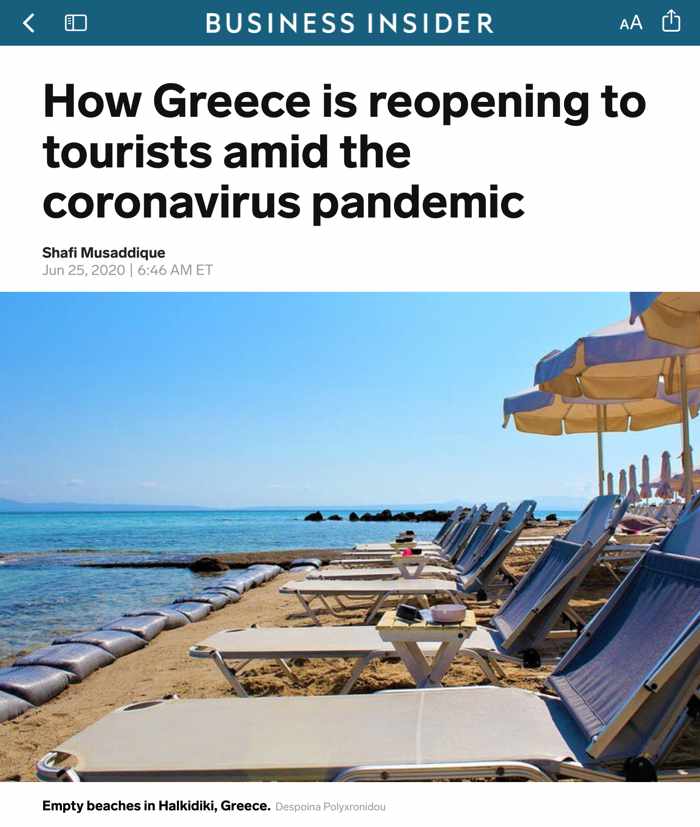 Journalist Shafi Musaddique spoke to hoteliers and restaurant operators in three destinations — Santorini, a village in northern Greece, and the City of Thessaloniki — to gather insights into the economic damage caused by the Covid-19 lockdown and the delayed start to  summer travel, and get their thoughts on how the season might shape up.  His Business Insider article How Greece is reopening to tourists amid the coronavirus pandemic also looks at steps the Greek government has taken to help boost the country's tourism sector.
This is a 40-minute video of the June 13 international press conference in Santorini during which Greek Prime Minister Kyriakos Mitsotakis officially declared Greece open for summer tourism.