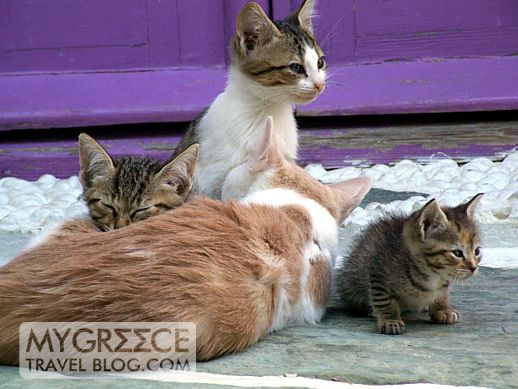 A cat and three kittens in the Kastro on Folegandros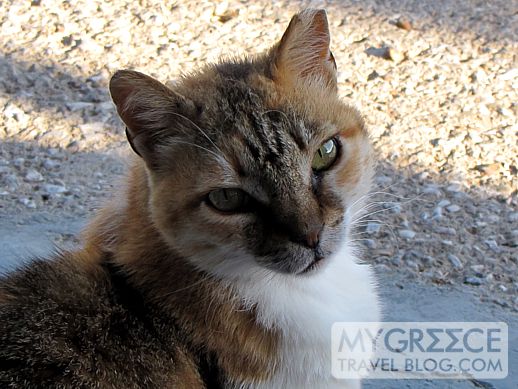 One of our dinner companions at Grikos Bay on Patmos
Scratch & sniff: On some of the Greek Islands we have visited, we have seen almost as many cats as churches. That's a lot of felines, considering there are literally hundreds of churches on some islands (Ios alone boasts more than 365, ranging in size from tiny family chapels to the huge blue-domed cathedral in Chora).
For cat lovers, the islands' abundant pussycat population can be a mixed blessing. The upside is all the great picture opportunities provided by the countless photogenic felines that tourists are bound to encounter from time to time while strolling the narrow cobblestone streets of old villages and even the main port towns on some islands. The heartbreaking downside is the large number of wild cats who look like they're starving or have been mistreated, or who are battle-scarred and bloodied from ferocious fights over food and territory. And for people who don't like cats, are allergic, or just happen to be afraid of them, the surprisingly aggressive nature of some long-tailed island residents can be completely off-putting or even frightening, to say the least.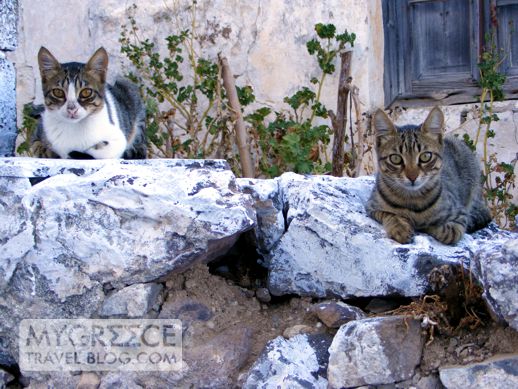 We saw these two cats sitting on a stone wall in Plaka village on Milos …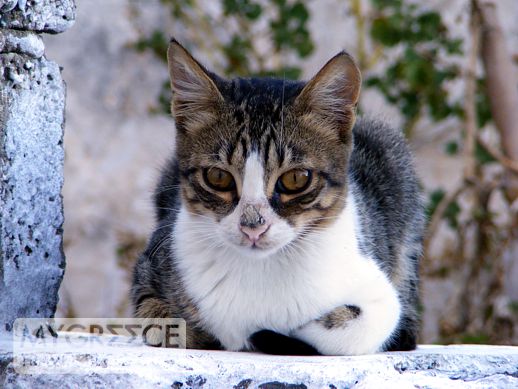 This one didn't budge an inch while we took its photo …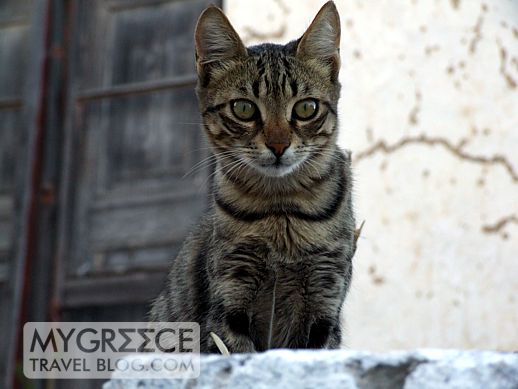 … while the other was a little suspicious, but still posed for the camera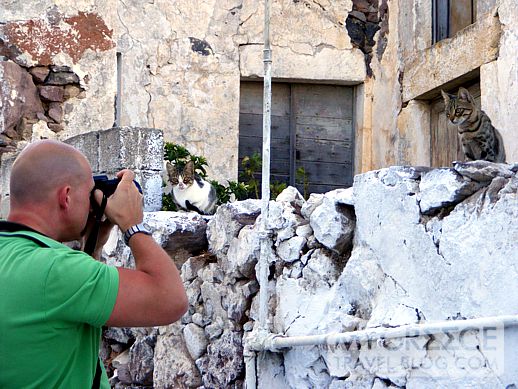 The two cats pose patiently as Dan snaps their pic

Mild-mannered on Milos
I couldn't begin to count the number of cats we've seen in Greece, but it's easy to recall some of the close encounters we've had with a few dozen in particular. Cats on Kos, Samos and Milos have generally been mild-mannered; most have been snoozing in the sun, relaxing in the shade, or just sitting contentedly while watching people like us pass by. No matter where we went on Milos, the vast majority of cats didn't seem to mind when we stopped to take their photos.
Most cats on Samos were nonchalant, too, apart from several rambunctious kittens playing on the edge of a parking lot next to the main road in the Kalami resort area. They rushed over when we paused to take their photos, then alarmed us by trailing close behind while we continued on our way down the road. Luckily, they scurried back to safety after a few vehicles sped past, missing them by mere inches.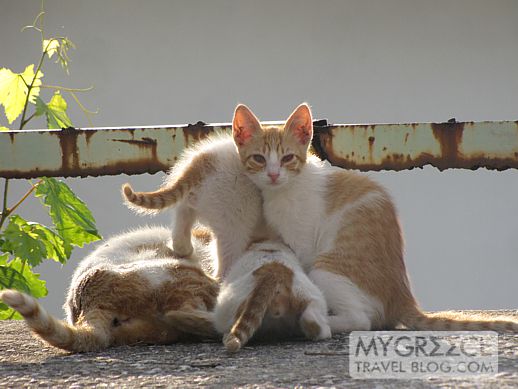 We saw these kittens playing in the Kalami resort area of Samos …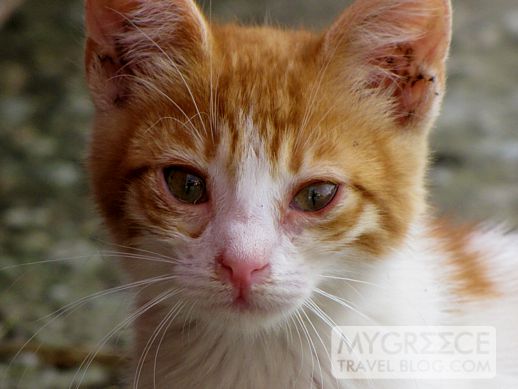 … one wasn't the least bit shy, and let us get close to take its photo …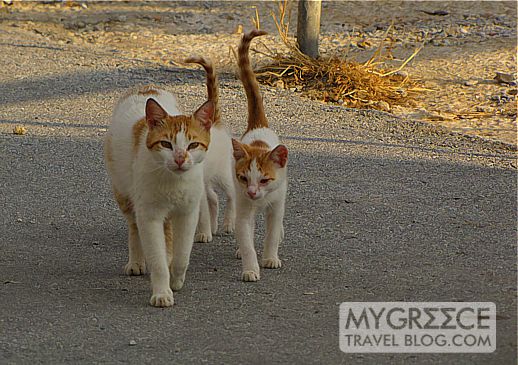 … but then three of the cats followed us part way down the road, getting dangerously close to vehicles that were speeding past

Curious cats in the club district on Kos
In Kos Town on Kos, a few curious cats came up to inspect our cameras when we knelt down to take their pictures.  On one street renowned for its vibrant bar scene, we saw numerous cats curled up on chairs outside the nightclubs, taking full advantage of the comfy seating before the establishments opened for business. They peeked up to see what we were doing when we approached to take their photos, then tucked their heads down and resumed napping when we headed off. Kos Town is the only place I recall seeing cats sauntering down streets and milling about in public squares after dark, rather than skulking in shadows and bushes — or keeping out of sight altogether.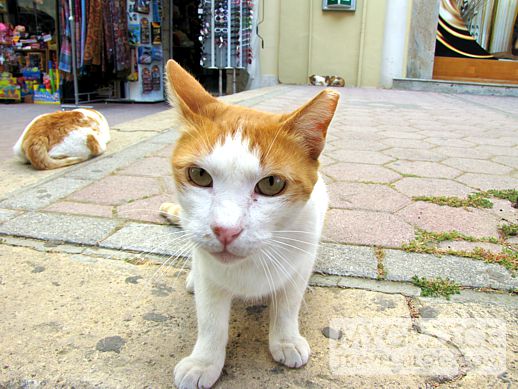 This curious cat came right up to Dan's camera while its companions just kept snoozing away outside shops in the main tourist area of Kos Town …
<>
 … and stuck around to enjoy a few friendly pats on the back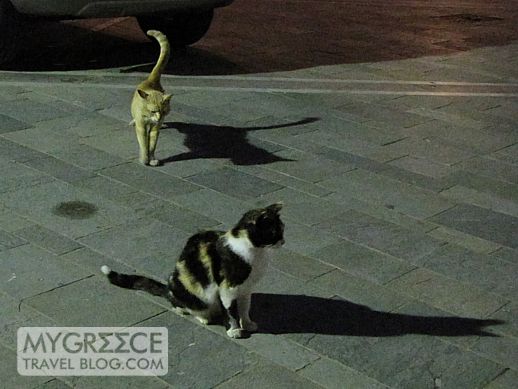 This pair was hanging around outside a church in Kos Town one night
Fangs and hisses on Patmos

On Amorgos, we encountered fewer than a dozen cats in total while wandering through the villages of Egali, Langada, Tholaria, Chora and Katapola. But when we climbed to the top of the long path of stairs leading to the fortress-like Chozoviotissa monastery near Chora, we saw nearly twice that number having a feeding frenzy on scraps of food that someone (the monks, most likely) had generously spread on the ground. Unfortunately, we couldn't get good photos because it was difficult shooting through the pack of tourists that had crowded around the cats.
On Patmos, we met several friendly, pleasant cats on the beach and near the tavernas at Grikos Bay, plus one horribly miserable cat that bared its fangs and hissed loudly as we walked past the stone wall on which it was sitting just outside the port town of Skala. It needn't have worried … we didn't dare get close to its sharp jaws and claws, and used our telephoto lenses to capture its menacing facial expression.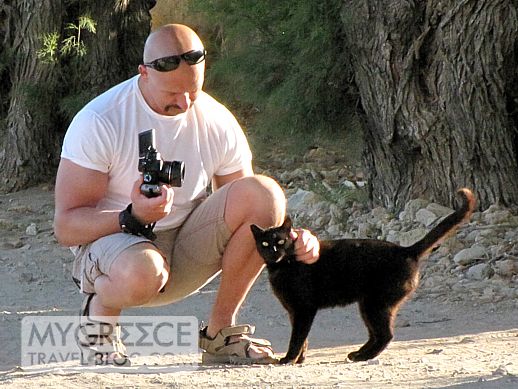 This friendly cat followed me and Dan along Grikos beach on Patmos…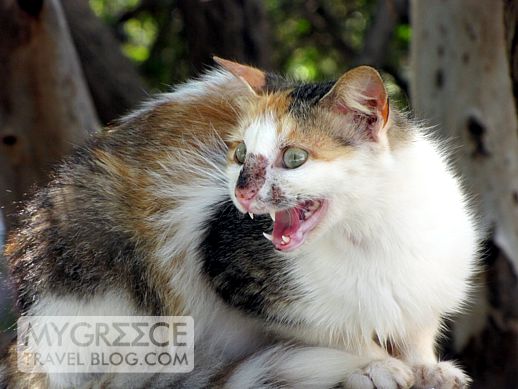 … but this bitter beast near Kastelli Bay outside Skala …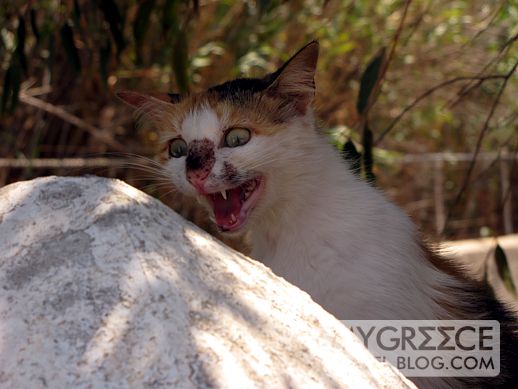 … bared its fangs and started hissing loudly as soon as it saw us ….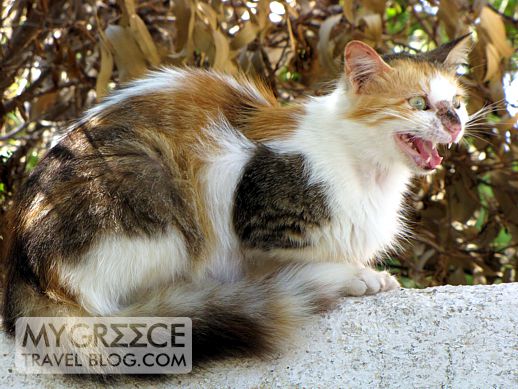 … and didn't stop until we turned a corner down the road
Unwelcome dinner companions
Thanks to some rather aggressive and persistent cats, we'll never forget certain meals on Astipalea, Folegandros, Mykonos and Naxos.
When we stopped for lunch on the terrace at Barbarossa taverna in Chora village on Astipalea, several cats napping nearby woke up the second the server brought out the fish stew I had ordered. Mewling incessantly, the cats pawed at my legs as they begged me to share my meal. The most brazen of the bunch continually tried to climb onto my lap. I kept shoving it off but it wouldn't give up, eventually leaping onto the table and lunging for my food. I grabbed the cat before it could touch my fish, and plunked it back on the ground, but it kept springing back onto the table or onto the empty chair next to me. Fortunately, the cats fled when the server noticed what was happening and rushed from the restaurant, waving a broom. Although they approached us each time the server went back inside, the cats didn't try getting back on the table after that. One did climb onto a chair beside me, but sat quietly while watching us eat. At the end of our meal, just before the server collected our plates, I rewarded him with a morsel of fish — much to the chagrin of the annoying cat who had been so desperately attempting to sample the stew earlier.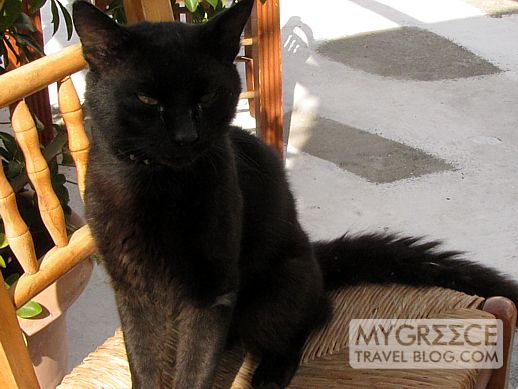 This was one of several cats that wanted me to share a fish stew I ordered for lunch at Barbarossa taverna in the village of Chora on Astipalea …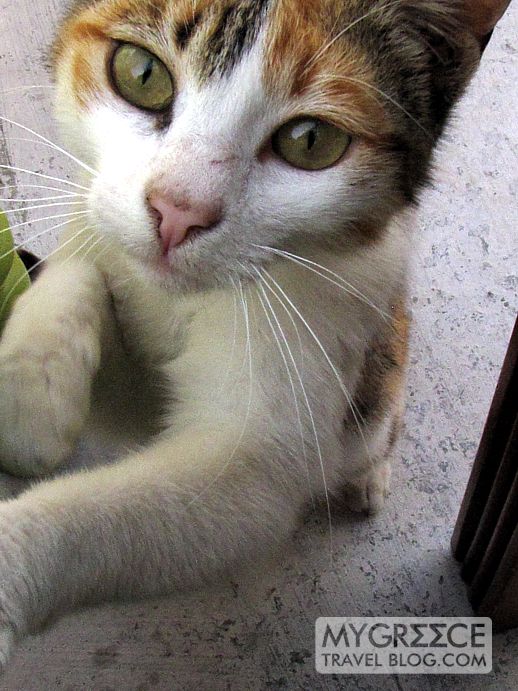 … while this was the cat that kept trying to climb onto my lap before suddenly jumping onto the table and lunging desperately at my plate
Meowing for moussaka
I had a similar experience at El Greco taverna near the new port at Tourlos on Mykonos. We were the only dinner customers on the restaurant's outdoor port-view terrace and a big reddish-brown cat tried, unsuccessfully, to convince me that it had the right to sit on my lap and share my food. I kept pushing it away, but when it thought I wasn't watching, it leapt onto the table and tried to steal a taste of my delicious moussaka. The waiter raced over to shoo it away, but it returned once he had gone back into the restaurant. Fortunately, the cat didn't try to jump back onto the table after that; it stayed on the ground, meowing while we enjoyed our main course (one of the best moussakas we have ever eaten, by the way). The cat eventually left us in peace and wandered off.
On Folegandros, a persistent cat pestered me for food while we were having dinner in the table-filled square outside O Kritikos taverna in Hora. It would stand on its hind legs and repeatedly paw at my thighs, drawing chuckles from amused diners at nearby tables who thought it looked so cute. I wasn't so keen on being the evening entertainment for the tourists, but at least the cat didn't jump on the table and attack my plate! At Pounta café, where we had breakfast in the quiet courtyard each morning, cats would sit or sleep on the low stone wall next to our table, or on the ground near our feet, waiting patiently for any scraps we might be willing to share. They were quiet and well-behaved, and were annoying only when they started grooming their private parts while we were still eating!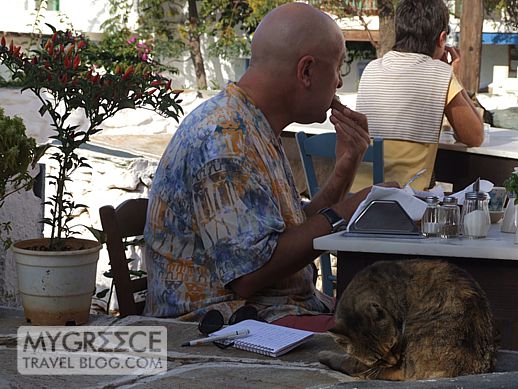 A cat sits near a man eating breakfast at Pounta cafe on Folegandros …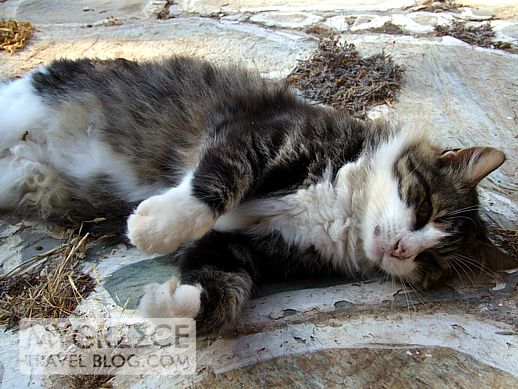 … while this puss played on the ground near our table, waiting patiently for any breakfast leftovers we might be willing to share
Nasty nails on Naxos
Speaking of breakfast, we won't forget mornings at Lianos Village hotel in the Agios Prokopios area of Naxos, where we have stayed on two separate trips. The hotel has a pleasant outdoor terrace next to the breakfast room, facing the swimming pool. It is a nice, bright spot for breakfast, and some of the two dozen or more cats that hang out near the hotel really enjoy it, too. Three or four cats typically lurk near the terrace and scurry under the tables, meowing and brushing against diners' legs, whenever the hotel staff who clear the tables disappear inside the building. (Staff chase the cats away if they see them on the patio, but of course the cunning critters always come crawling back.) They usually are well-behaved, but on each visit there has always one particularly aggressive cat or kitten that paws at peoples' legs for attention. That may have been cute on Folegandros, but not here — these cats always seem to have dagger-sharp claws so, if you're wearing shorts, it isn't amusing to start the day off by getting your calves and ankles scratched.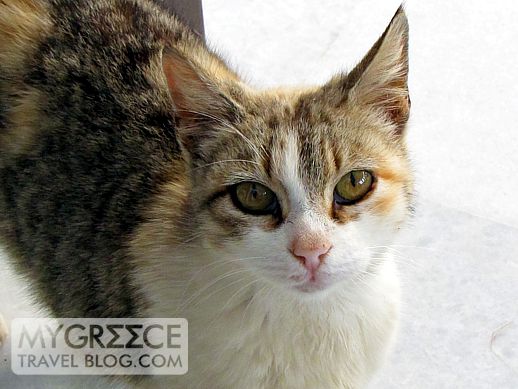 This was one of the cats that would brush against the legs of people having breakfast on the outdoor terrace at Lianos Village hotel in Naxos …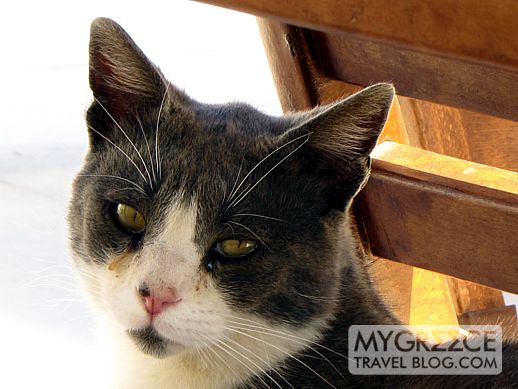 … and this was another cat that would wander under tables, hoping people would share scraps of food. Both were well-behaved …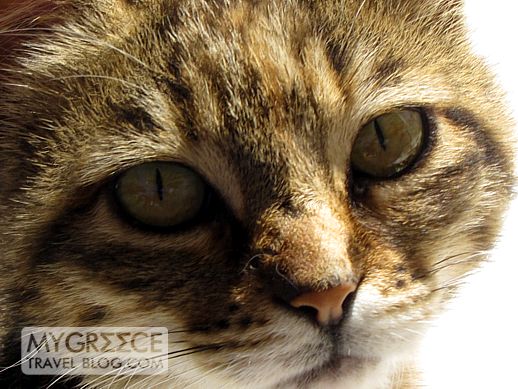 … unlike this one, that pawed at people's legs with its dagger-sharped claws
Coffee mates
On at least two islands, cuddly cats have joined us when we stopped somewhere for a coffee. At Kamares beach on Sifnos, one exceptionally friendly cat wandered over to say hello … and made himself comfortable for awhile on each of our laps. He was clearly unhappy when we had the nerve to get up to leave! The same thing happened at the Starbucks on Mykonos last year, where a cat got cozy with us on the comfy seats on the cafe's outdoor terrace.
I hope you don't get the impression that if you travel to the Greek Islands, you'll have cats crawling over you constantly. That won't be the case — most tend to ignore tourists, or even run away from them. But for reasons I don't understand, there always seems to be a few cats on each island that actively seek our companionship.
Below are a few more pics of cats we've met on our travels.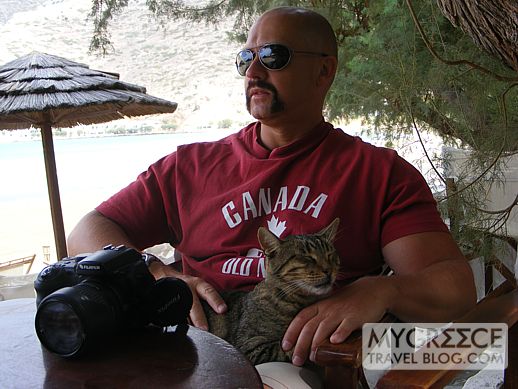 A cat joins us during a coffee break at a beachside café in Kamares on Sifnos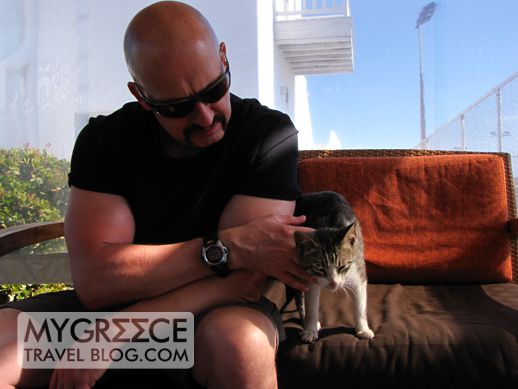 A cat joins us on the terrace at the Starbucks café on Mykonos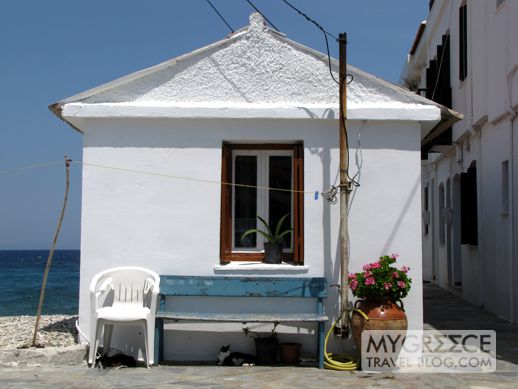 Two cats relax in shade cast by seats near the harbour in Kokkari on Samos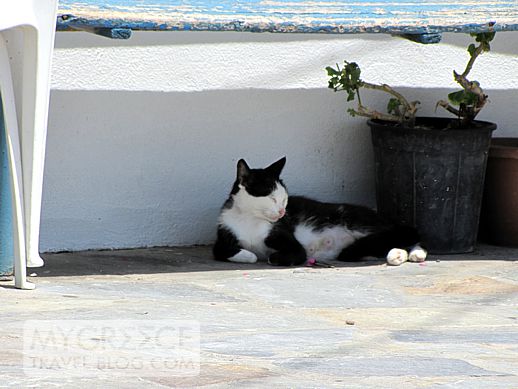 One of the cats enjoying the shade at the Kokkari harbour on Samos
A cat lounges in the shade under a pool terrace lounge chair at the Santa Maria Village hotel in Adamas on Milos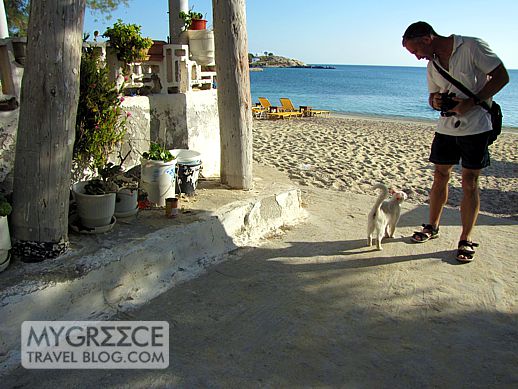 A friendly white cat welcomes me to Agia Anna beach on Naxos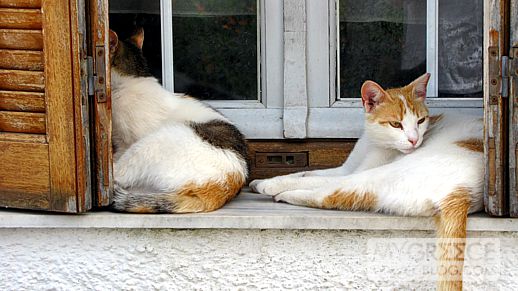 Two cats relax on a windowsill in Adamas, on Milos …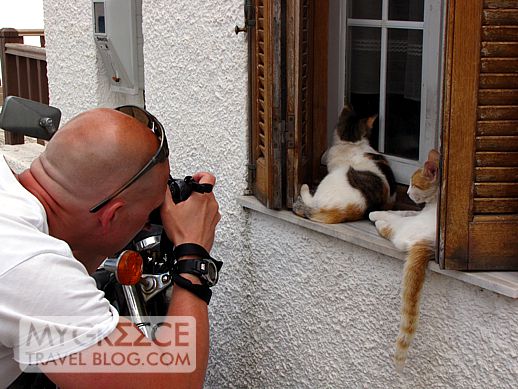 … the cat on the left appears to be camera-shy, but eventually it turned its head …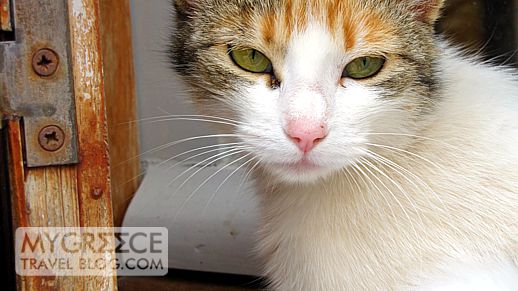 … and let Dan take its picture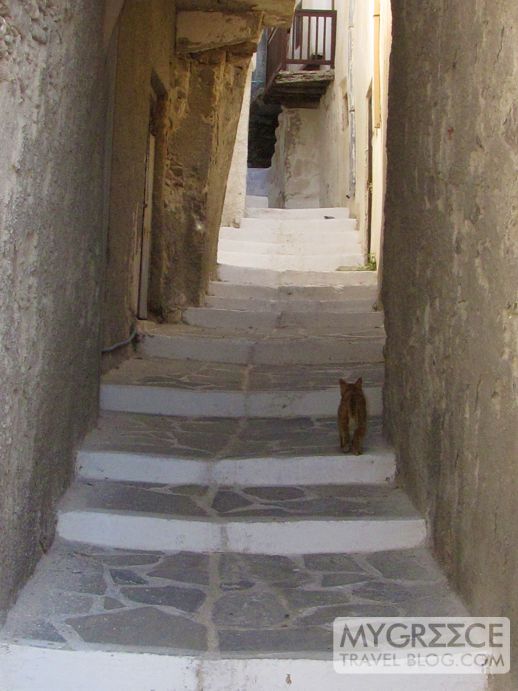 A cat wanders a narrow, stepped laneway in the Kastro district of Naxos Town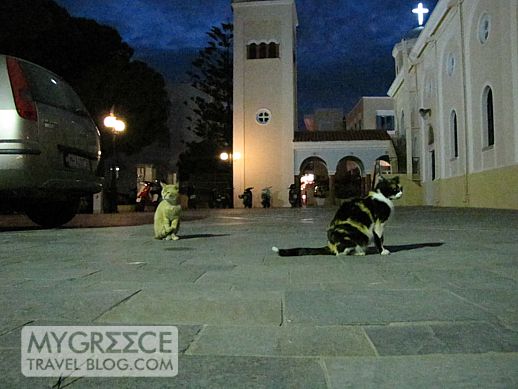 Two cats hanging out in a church square in Kos Town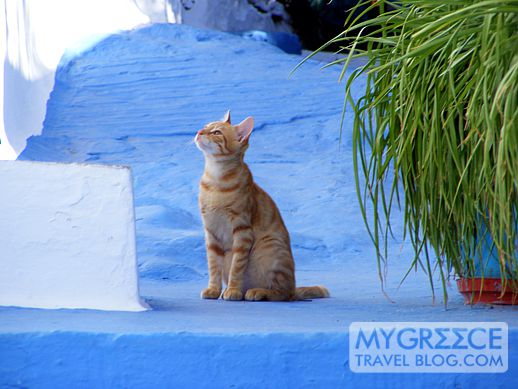 A cat sits in a bold blue laneway in Plaka on Milos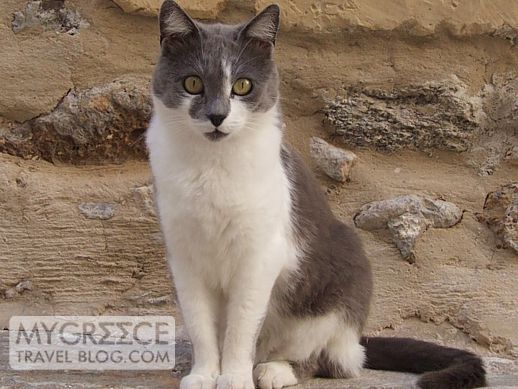 A cat sits in a laneway in the Kastro district of Naxos Town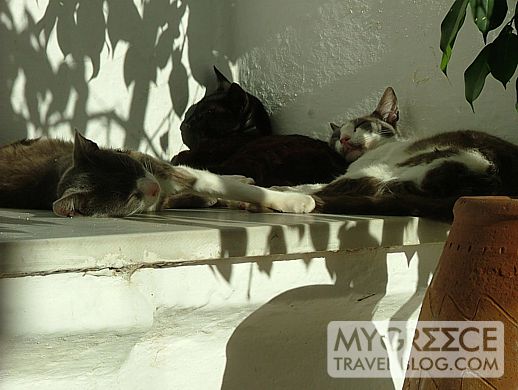 Three cats lounge in a corner near a doorway in Naxos Town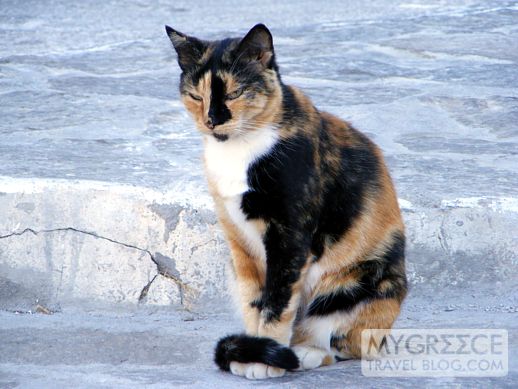 A cat sits patiently in a street in Plaka on Milos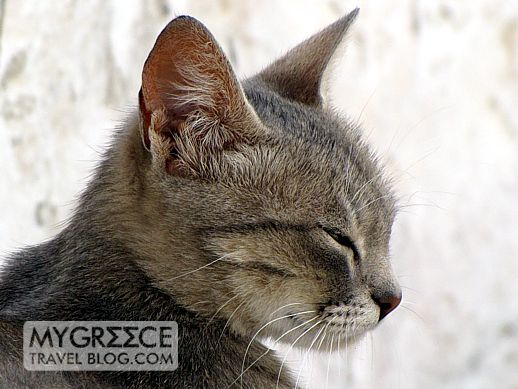 A cat relaxes in a square in Chora on Patmos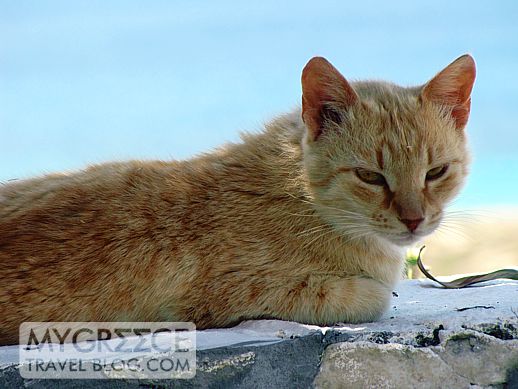 A cat relaxes on a stone wall near Lianos Village hotel on Naxos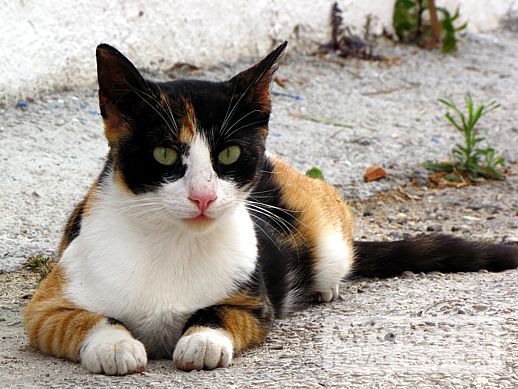 A cat lays on a the side of a street in Adamas on Milos