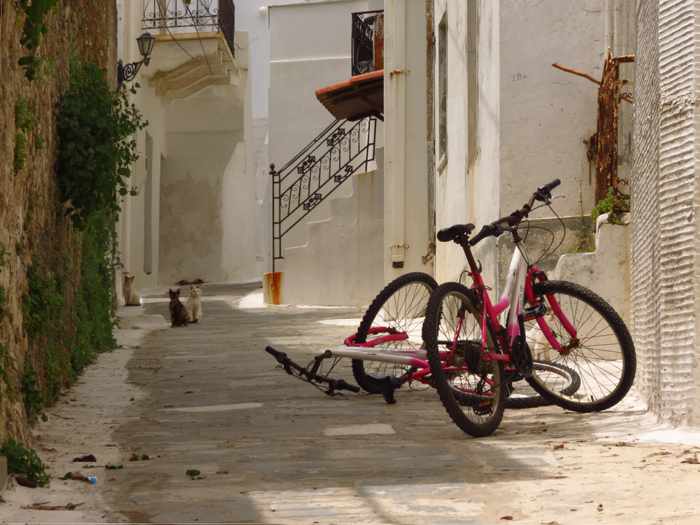 Three curious cats watch as we approach them in a lane in Andros Town
During our visit to Andros at the end of May, we usually had most of Andros Town all to ourselves while walking around — we saw only a small number of residents and even fewer tourists whenever we were out and about. Although the town's main commercial street was  bustling with people each morning and again in the evening at dinner time, it was a different story off the main strip, where we typically would encounter some cats but barely any people on side streets and lanes like the one in the photo above. For us, the quiet alleys and walkways were pure bliss — a refreshing escape from the crowds, traffic, sirens and incessant city noise that stress us out back home in downtown Toronto. In main travel season, I'm sure Andros Town is teeming with tourists and residents, but we didn't mind finding it so empty in May.
Here are more street scenes that will give you an idea of what it's like to stroll around Andros Town: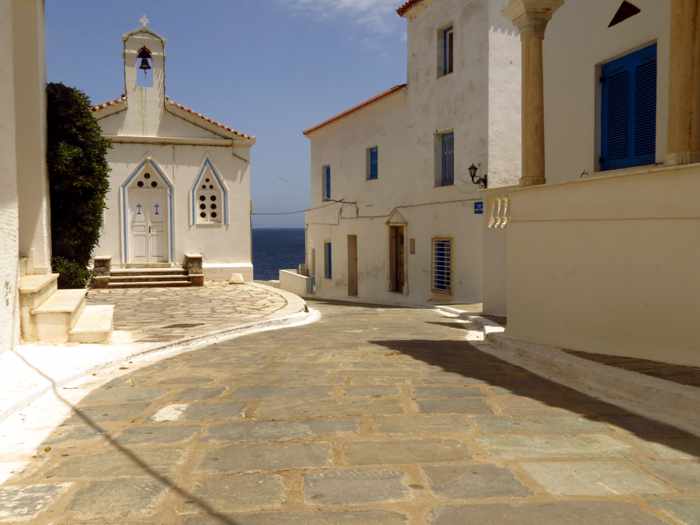 Approaching a church near the eastern tip of Andros Town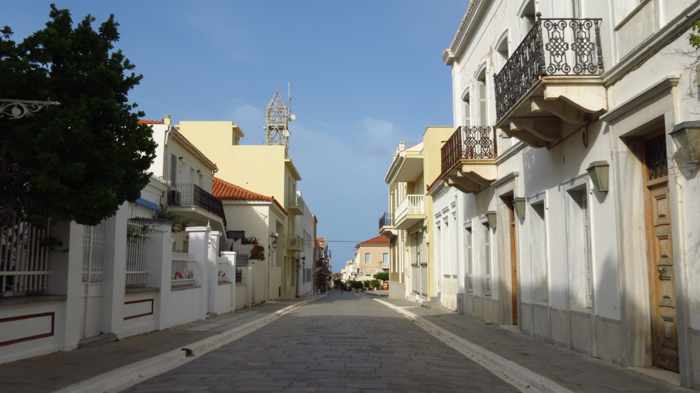 Looking along the main street in Andros Town. Vehicles can drive on this particular block, but beyond the intersection a few doors down, the street becomes a pedestrian-only thoroughfare.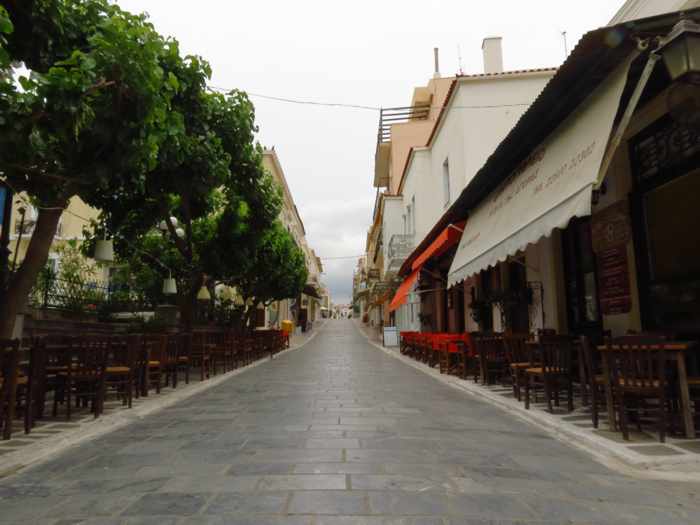 With most shops and businesses closed in late afternoon, the pedestrian section of Andros Town's main street is empty. Stormclouds gathering overhead seemed to scare most of the tourists back to their hotels until dinner time.
A view of the main street during a busier time of day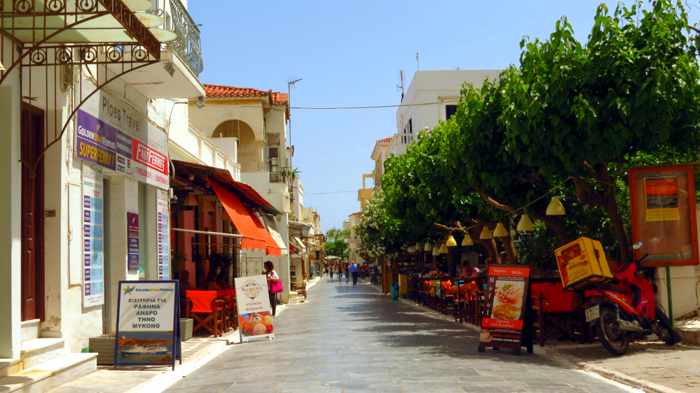 Shops and cafes line the marble-paved street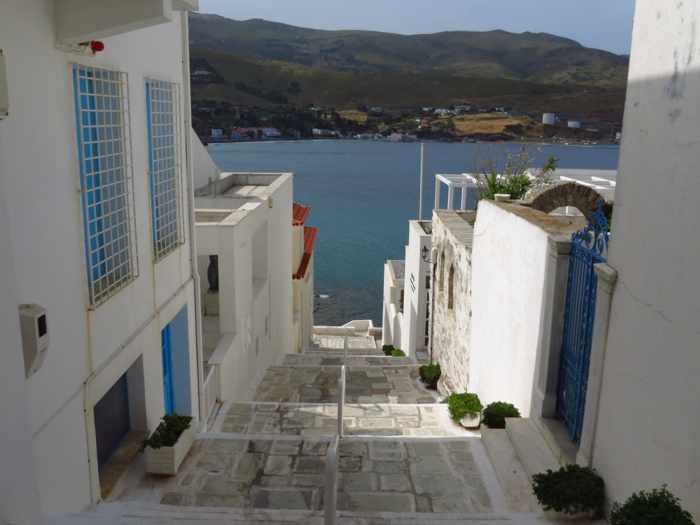 A view down the steps leading to the island's Museum of Contemporary Art. It was open only between 10 a.m. and 2 p.m., and since we were always off exploring other parts of the island during those hours, we were unable to visit the galleries. Other tourists told us that the museum's collections and special exhibits are impressive.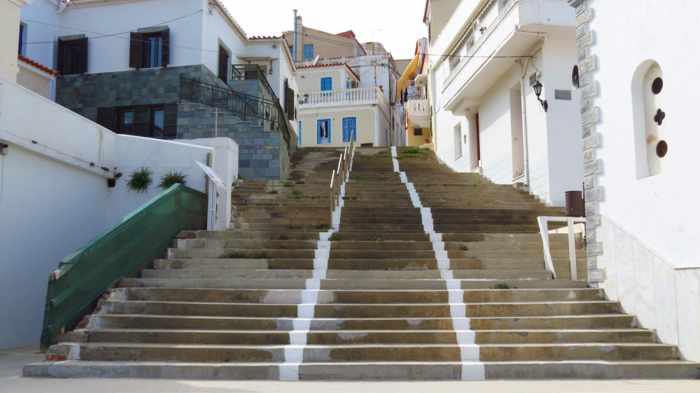 A steep flight of steps on the south side of Andros Town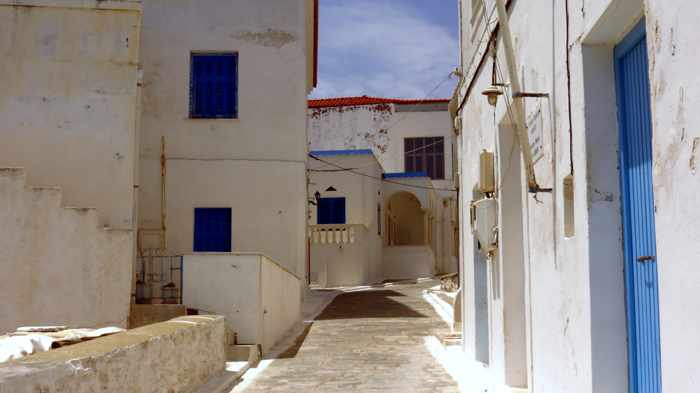 Not a soul in sight on this street, either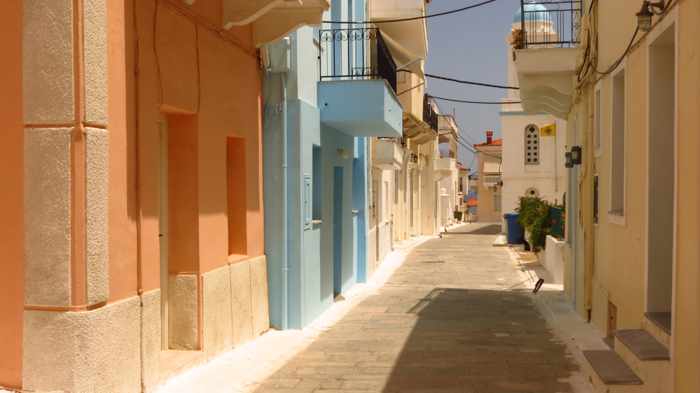 A colourful section of street near Agios Georgios Church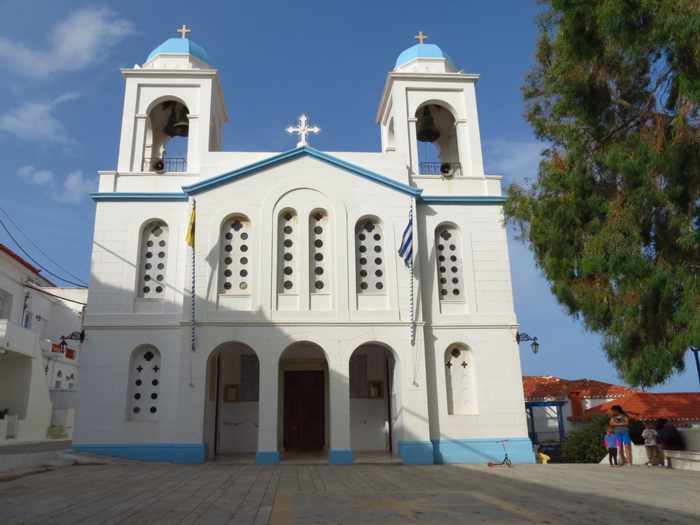 Agios Georgios Church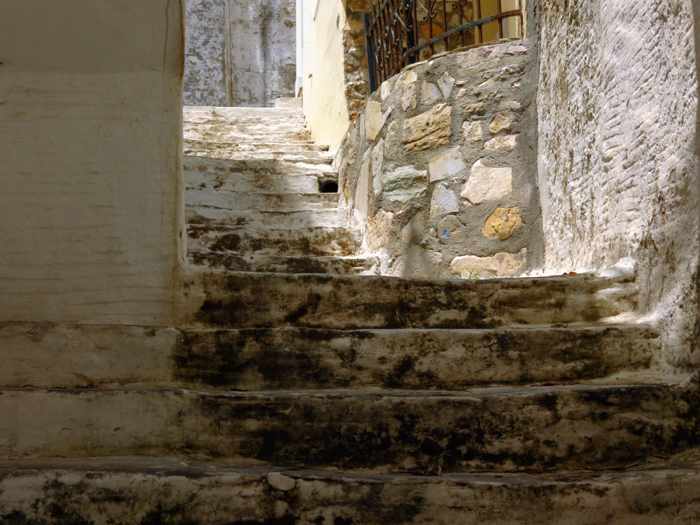 A lane of steps in Andros Town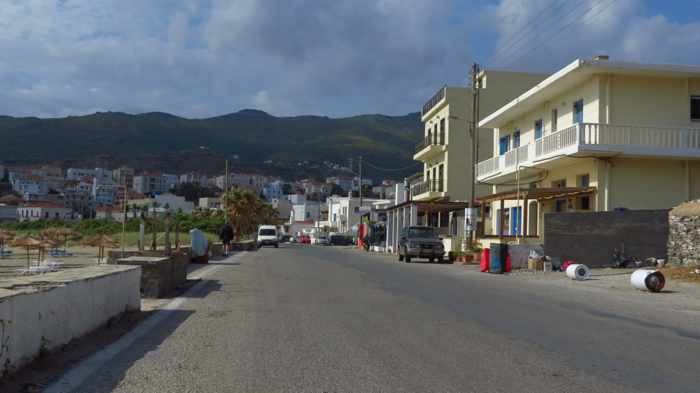 The road along Nimborio beach on the north side of Andros Town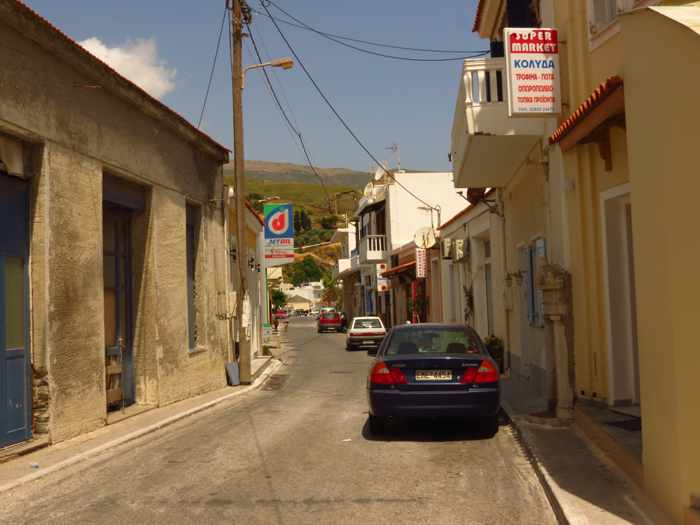 A street near Nimborio beach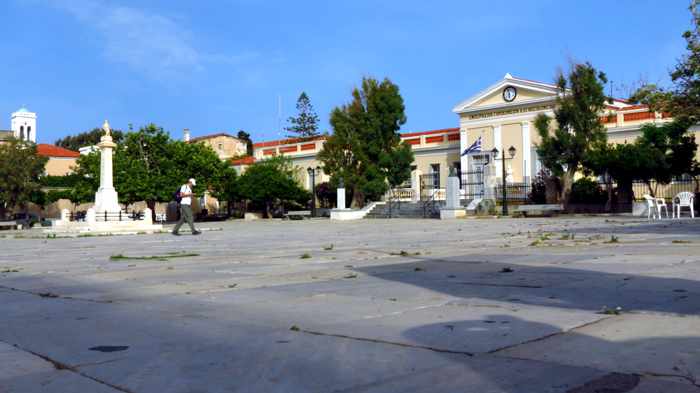 The big main square in Andros Town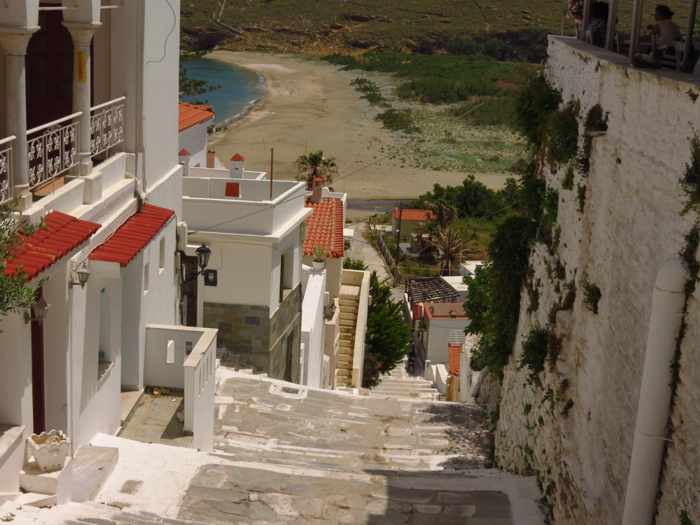 Looking down the long, steep flight of stairs leading to Paraporti beach …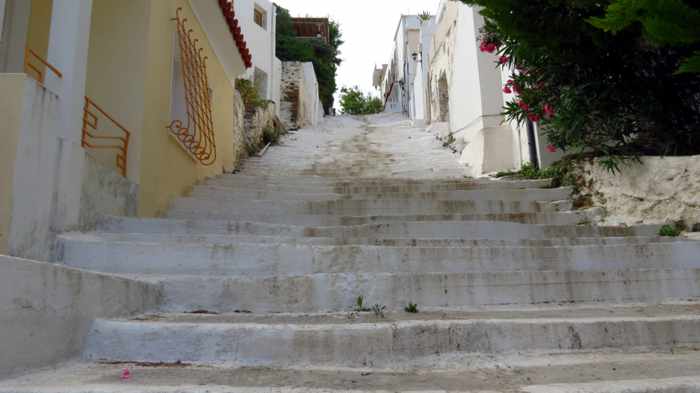 … and looking partway up the same stairs from a spot near the bottom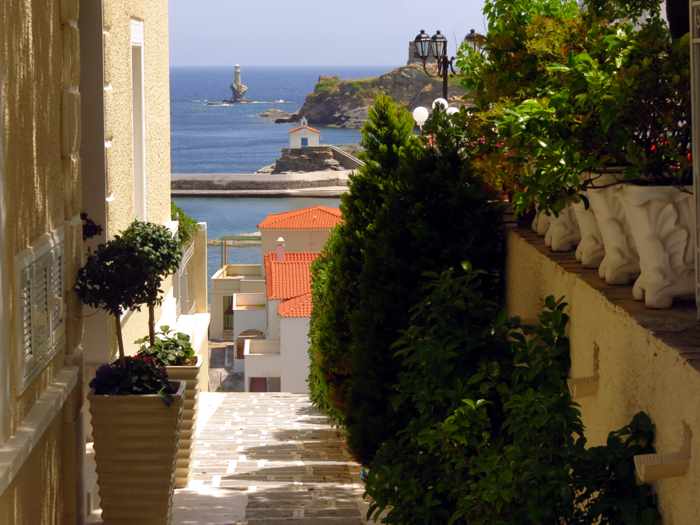 This lane has views of two of the most famous landmarks at Andros Town — the Tourlitis lighthouse and Agia Thalassini Church
Steps leading from Andros Town to the Nimborio beach area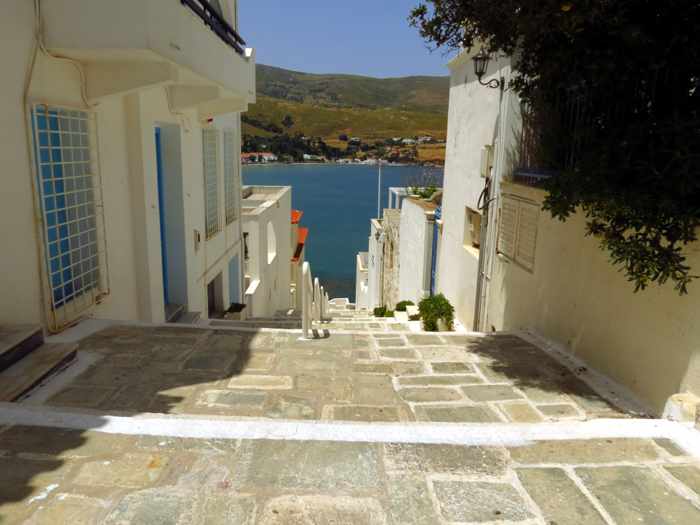 A lane high above the bay on the north side of Andros Town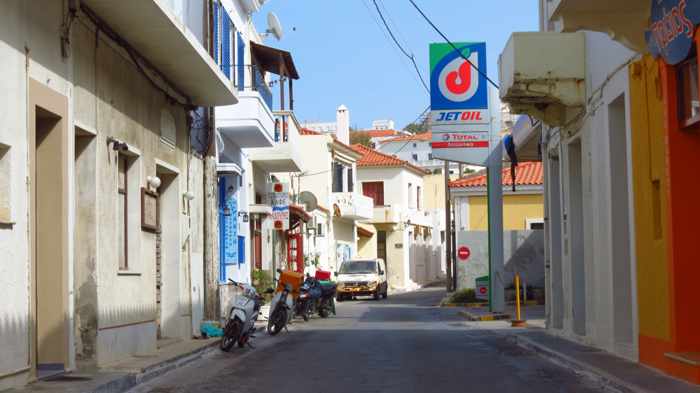 A street near Nimborio beach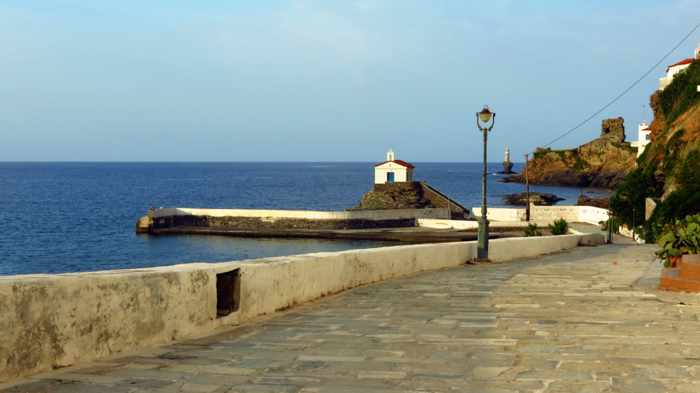 A wide waterfront promenade leads to Agia Thalassini Church on the seaside