Sacred birthplace of Apollo and Artemis
According to Greek mythology, Delos was the "cradle of the gods," the place where one of Zeus's lovers, Leto,  gave birth to Apollo and Artemis. For humans, Delos has been significant for nearly three millennia: the island's importance as a religious sanctuary was mentioned in the Odyssey, which Homer wrote around 700 B.C.. The birthplace of the deities was considered so sacred, in fact, that the island was declared off-limits for births and deaths of mortals. (Back in 450 B.C., all graves on Delos were relocated to nearby Rinia island, while an edict passed in 426 B.C. made it illegal to give birth or even to die on Delos.)
During the Hellenistic period (which lasted roughly from 320 – 30 B.C.), Delos grew into a wealthy city of nearly 30,000 residents, boasting one of the most important commercial and slave-trading ports in the Aegean. In 88 B.C., an attack by the king of Pontus left most of Delos in ruins, and two-thirds of its inhabitants dead. A second attack by pirates in 69 B.C. basically finished off the island and sealed its fate; when trade shifted to other ports in the Mediterranean, the island slipped into decline and its few remaining residents eventually abandoned it altogether.
But Delos experienced a rebirth of sorts in the mid 1800s, when Europeans began travelling there to see its extensive ruins. Tourists have been flocking there ever since, usually arriving on excursion boats from Mykonos, the closest access point. (Since the archaeological site closes in the afternoon, and visitors are not permitted to stay on the island overnight, there are no hotels or rental rooms and tourists can enjoy Delos only during daytrips.)
The admission tickets from our first Delos visit in 2004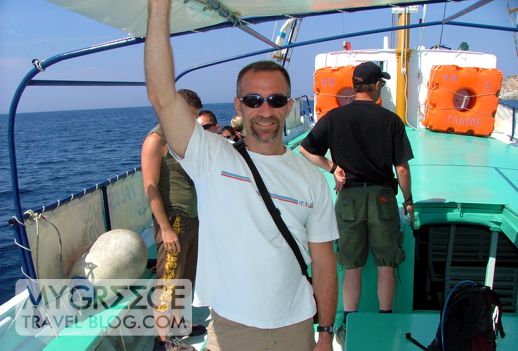 Riding from Mykonos to Delos on a traditional Greek fishing boat
First time: Our first trip to Delos was in 2004 while we were visiting Mykonos, also for the first time. We were staying at Platis Gialos beach, where we saw a sign advertising trips to Delos on caiques, traditional Greek fishing boats that have been converted into passenger shuttles. The boats were scheduled to depart the Platis Gialos pier around 10 in the morning, and to depart Delos at 3 p.m. when the island closed for the day. The price for the return boat ride was just €10 each, while admission into Delos was €5 per person, payable at the entrance upon arrival. It sounded like a fun way to spend part of a day, so after breakfast the next morning we headed straight to the dock and bought our tickets.
It was a perfect day to be on a boat at sea — sunny and warm with a light breeze and only a few waves on the deep blue water. The ride to Delos took about an hour, including a stop at Ornos beach to pick up more passengers, so it was around 11 a.m. when we passed through the entrance gates and started exploring Delos entirely on our own. We didn't have a guide or even a guidebook  — I had forgotten my copy of The Greek Islands Eyewitness travel book back in the hotel — so we made our way around using the very basic map in the Delos brochure that we received when we paid our entrance fee. Of course, we didn't have the slightest clue about the historic significance or archaeological importance of any of the ruins and antiquities we encountered. Truth be told, we didn't even know what we were looking at most of the time! It was all interesting and impressive to see nonetheless.
After looking around at ruins for over an hour, we saw people walking up a path on Mt Kynthos, and  made the spur of the moment decision to hike up there ourselves to check out the marvellous views. (I discuss that in greater detail in my post Visiting Delos: Get an overview of the ancient ruins with a scenic hike to the summit of Mt Kynthos.) Following that worthwhile trek, we headed down the mountain to visit the archaeological museum and get a much-needed break from the intense sun (there are barely any places with shade on the entire island). After a light — and very expensive — snack at the little take-out restaurant next door to the museum, we wandered through more of the ruins before returning to the caique for our ride back to Platis Gialos.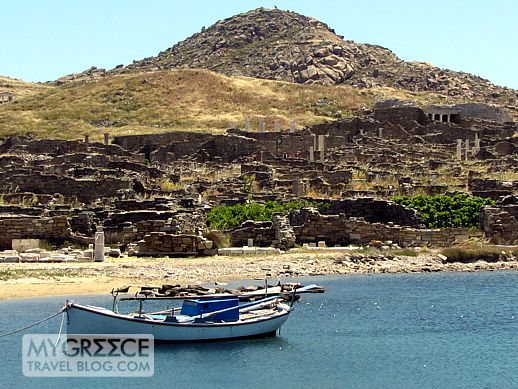 You see ruins the instant you arrive at Delos. I shot this photo from the pathway that leads from the excursion boat dock to the site entrance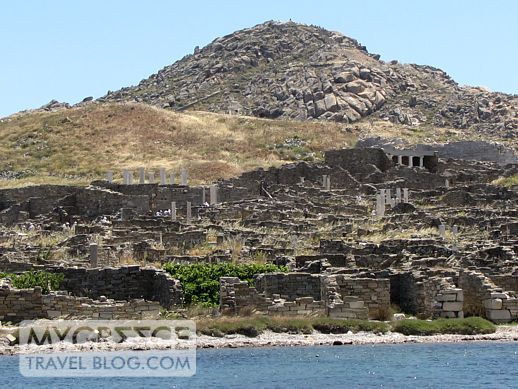 Remnants of buildings extend across the lower slopes of Mt Kynthos …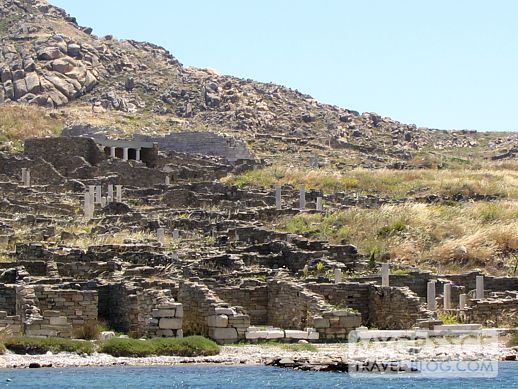 … right down to the seafront, where a bustling commercial port was a source of Delos's enormous wealth until the island was sacked by invaders in 88 B.C.

Back again: In early May 2006, we found ourselves back at Platis Gialos on Mykonos, and decided to visit Delos again. This time, we wanted to take a guided tour so we could learn about the island's history, and understand what we were seeing when we looked at the ruins. Unfortunately, the caiques weren't sailing to Delos from Platis Gialos yet — it was too soon in the season, and there just wasn't enough demand to operate the daytrips. So we had to catch one of the regular excursion boats from the harbour at Mykonos Town instead. Our tickets cost €32 per person, and included not only a guided tour, but also the admission fee to the site. (Three different boats — the Delos Express, Margarita and Orca — make return trips to Delos every day except Monday, when the island is completely closed to visitors. There's more information and photos in my post Visiting Delos: How to get there.)
It was a sunny but cool morning, and we had a chilly ride to Delos on the open upper deck of the Margarita, which left Mykonos shortly past 9 and reached Delos just before 9.30. Though we regretted wearing only shorts and T-shirts, we were glad we hadn't worn heavier clothing when we got to the island — despite the brisk winds, it was hot when we stepped off the boat.
Chaotic start to our guided tour
We arrived at the Delos entrance gate to a scene of utter chaos and confusion. Dozens of people  crowded outside the admission booth, anxiously trying to find their assigned tour groups  (guides would be speaking only in English, French, Italian, German or Greek, and would be distributing admission tickets to members of their respective groups; people not taking the organized tours had to line up at the entrance gate to pay the admission fee on their own). When we found the one and only guide giving an English-language tour, he insisted his group was already full, and he refused to accept us. But after a lengthy and frustrating back-and-forth argument with us and another couple, he begrudgingly agreed to provide admission passes and include us in his tour.
Total gridlock outside the houses with famous mosaics
And so off we went, a rather large group of more than 40 adults. Things started off well; our knowledgeable and entertaining guide gave a fascinating overview of the history and mythology of Delos, then led us to some of the most important ruins on the hillside below Mt. Kynthos. But that's where the fun — and education — came to an abrupt end. As luck would have it, all of the other tour groups were moving in the same direction, and arrived at the same ruins at almost exactly the same time. This resulted in total gridlock on the narrow trails outside each of the historic Delos houses that feature colourful and surprisingly intact mosaics: the House of Dionysos, the House of the Masks, the House of the Dolphins and the House of the Tritons.
As people bumped and jostled and stepped on each others' feet as they tried to follow their guides, sometimes rudely pushing each other out of the way, the guides tried to talk above each other, creating an incredibly annoying cacaphony of multilingual speeches that blended into one unintelligible drone of gibberish. We managed to squeeze into the House of Dionysos and walk around the cordoned-off mosaics, but couldn't hear a word our guide was saying because his voice was drowned out by the leader of a French tour behind us, who was practically shouting to his team. While trying to leave the House, we nearly had a shoving match with a group of German tourists trying to push their way inside without waiting for our group to exit first.
Wind and competing tour talks made it impossible to hear
Our tour leader took  us to the each of the other three houses that had impressive mosaics; however, they were packed with other tour groups so he led us to other nearby ruins instead. At each place, however, we couldn't hear him either because it was so windy, or because the guides of other groups standing beside ours spoke louder. We grew increasingly aggravated, and bored, because we couldn't follow the narrative. Unless we could stand within a couple of feet of the guide — something nearly impossible to do in a group of more than three dozen adults — we simply couldn't catch the descriptions and follow the stories being told. After about an hour of standing around but not getting the informative guided tour we had expected, we followed the example of a few other frustrated couples and bailed from the group, striking out on our own. It was a huge relief escaping the congestion of the groups, and we enjoyed the rest of our time alone, including another visit to the museum to get out of the sun.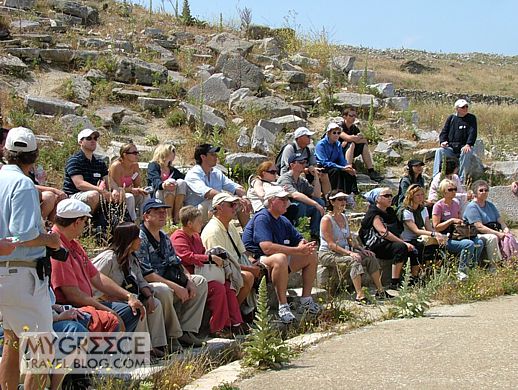 Part of our tour group at the Delos amphitheatre, which dates from around the 4th Century B.C. There were about 40 adults in our English-language group; other tours for different languages were similarly large in size.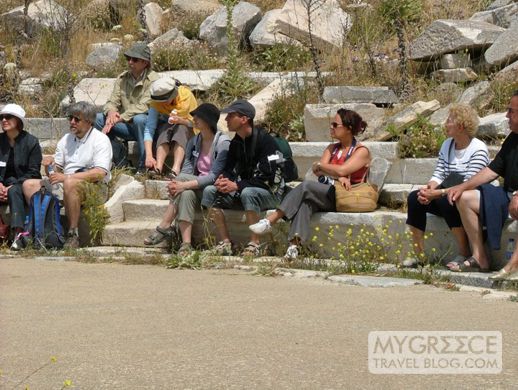 More members of our group take a rest on some of the few seats remaining from the ancient theatre. It could once accommodate over 5,000 people.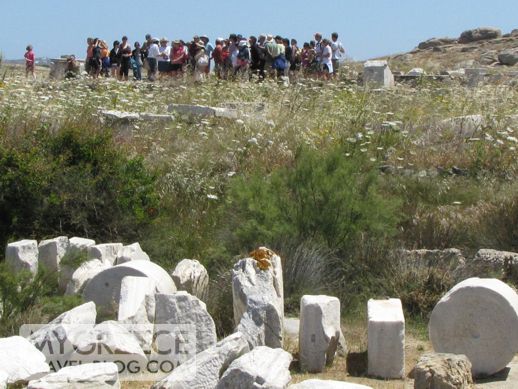 The guided groups tend to be large. We found it difficult to hear our guide most of the time, and it usually was impossible to listen to him if another tour group gathered beside us — something that happened frequently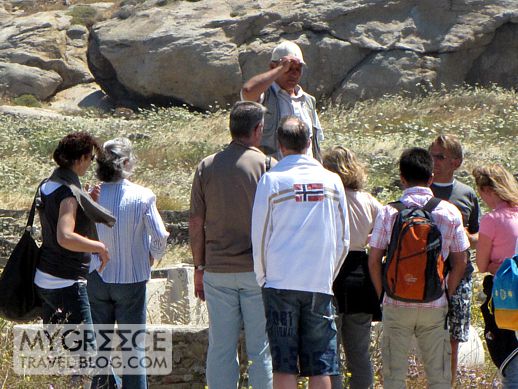 A guide stands on a rock so his audience can hear him better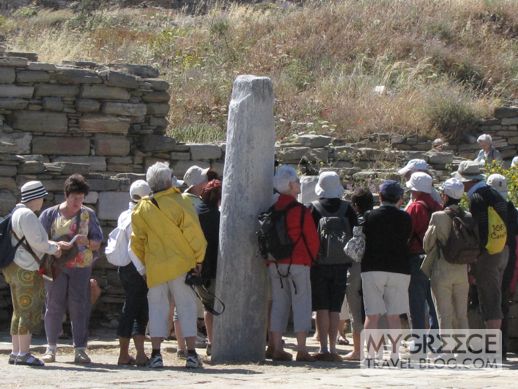 Another tour group gathers to learn the history of an ancient Delos house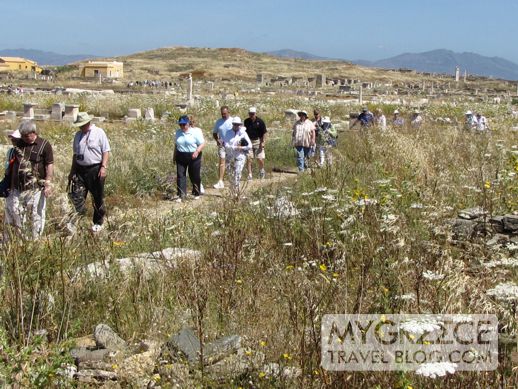 A large tour group is spread out as it snakes its way along a dirt path …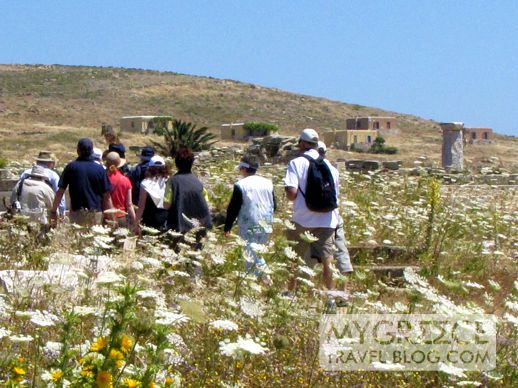 … while the tail end of another tour group passes by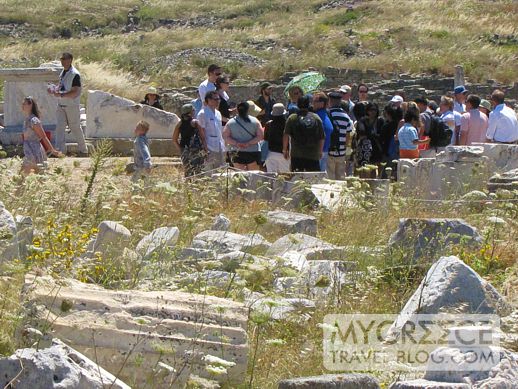 Delos tends to be breezy, so it's crucial to crowd close to your guide to listen to the narrative. Otherwise, his or her words will simply get carried away with the wind and you'll miss hearing important historical background information about the ruins and antiquities that surround you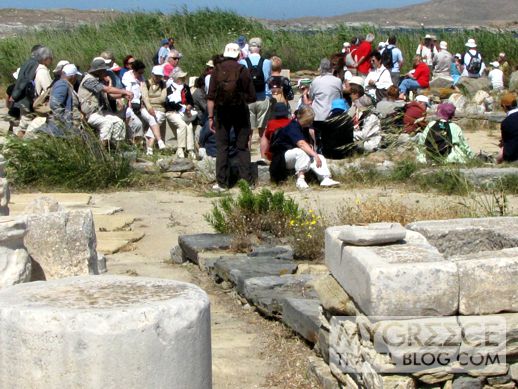 Two separate tour groups stopped side-by-side. The big groups caused traffic gridlock at some of the  significant ruins on the Mt Kynthos hillside. And when groups with leaders speaking different languages wound up at the same place at the same time, it was almost impossible to follow the narrative.
Unexpected third visit: We wound up on Delos a third time in 2009, completely unintentionally. We had been island hopping in the Cyclades, and while on Naxos checked into schedules for ferries to Mykonos, our next destination. There weren't any direct ferries on the particular day we planned to travel, so it looked like we would have to take one boat to Paros and make a connection there to catch a different ferry to Mykonos. But the ticket agency offered an alternative: we could take one of the day excursion boats that was going to Mykonos via Delos. This would get us to Mykonos at virtually the same time as the conventional ferries, and actually would cost less, so that's what we did. (I discuss Delos excursions from Naxos and Paros in my post Visiting Delos: How to get there.)
For our third time around, we decided to spend our time simply enjoying the sun and fresh air while taking a leisurely walk amongst the ruins and then visiting the archaeological museum. We avoided the areas that were clogged with large tour groups (mainly the Houses with the famous mosaics), and didn't even bother bringing my guidebook (I was travelling with my 2007 edition of Greek Island Hopping) because I didn't want to lug it around and stop to read text.
Just like our first time on Delos, it was another great day — sunny and comfortably warm, with a strong breeze. We had a good time, and we both agreed that we much preferred touring the island at our own pace rather than following a huge group of people behind a guide who could barely be heard.
However, the next time we visit Delos, we'll take a good guidebook along and make sure we explore the ruins more thoroughly — on our own. Even after three visits, we have seen just a fraction of the island's archaeological treasures, so it's good to know there is plenty of history left for us to discover.
I published photos of some of the Delos ruins, as well as pieces in the Delos Archaeological Museum, in my post Visiting Delos: So much to see, indoors & out.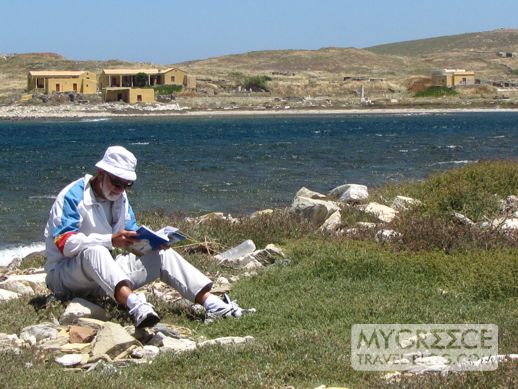 A visitor finds a quiet spot to sit and read about Delos in his travel guide

Guidebooks for Delos (and other nearby islands) are sold at souvenir stands on the Mykonos Town waterfront near the Delos excursion boat pier, as well as at other shops elsewhere in the village. If you're going to Delos but don't want to take a guided tour, look for a good reference book to bring along.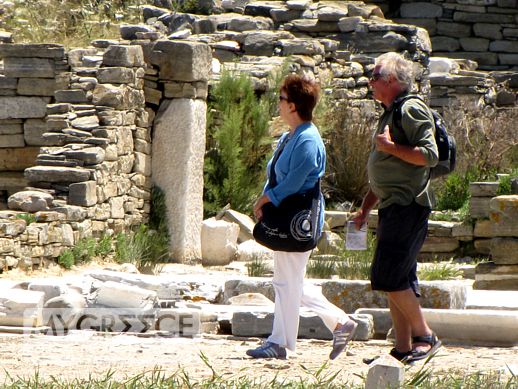 Although many people do pay the extra fee to take one of the guided tours, just as many visitors explore Delos at their own pace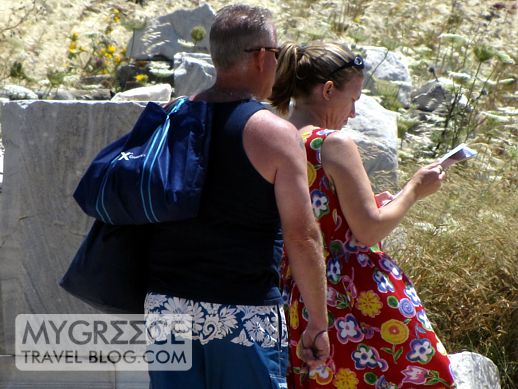 You can pick up a brochure containing a small map of Delos when you buy your admission ticket at the entrance to the archaeological site …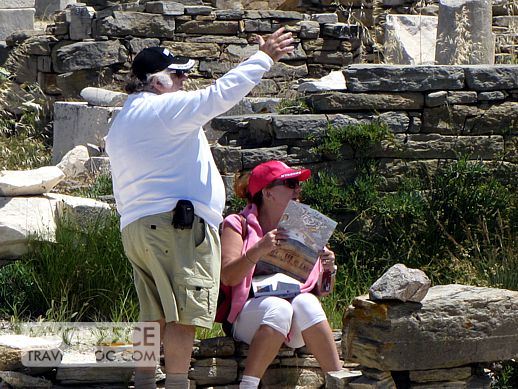 … or you can buy a better map at a bookstore or souvenir shop on Mykonos (or other Cyclades islands) before taking the excursion boat over to Delos ….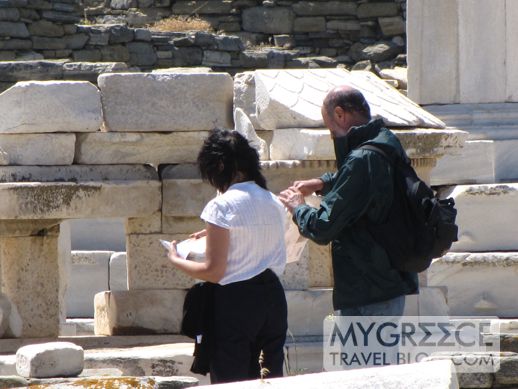 … but a guidebook with a detailed map and descriptions will help you understand and appreciate the various monuments and buildings you will encounter as you walk around the island's extensive ruins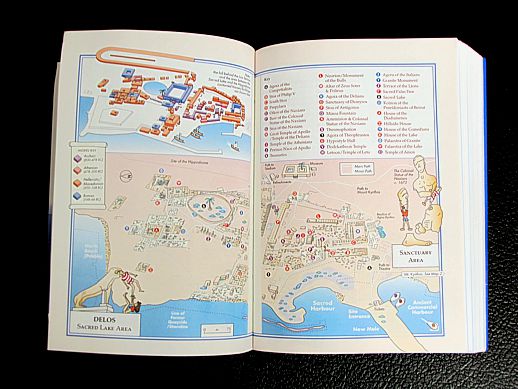 The annual Greek Island Hopping guidebook from Thomas Cook Publishing contains good maps and detailed information about the important ruins on Delos. This is a colour illustration in my copy of the book's 2007 edition.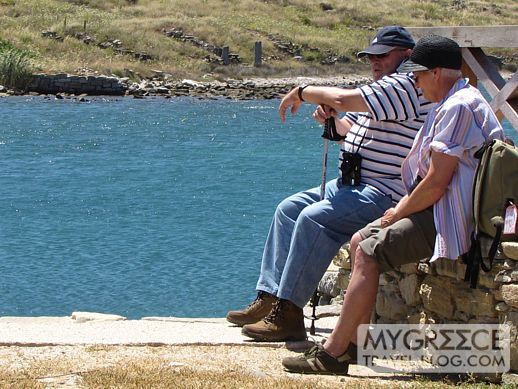 Two tourists rest on a low wall near the Delos entrance while waiting for a boat back to Mykonos. There are few places to sit on the island, and few places offering shade. Be sure to bring hats and sunscreen; the only spots to escape the sun are the expensive snack bar, and inside the archaeological museum. Also bring bottled water and a picnic lunch — the prices at the snack bar are steep.
<>