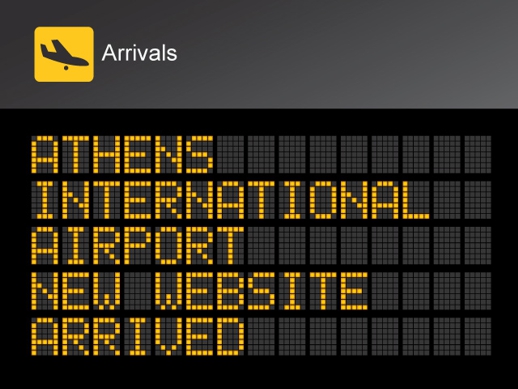 Athens International Airport new website announcement by the site's creator, Mozaik Integrated Digital Marketing Agency
Digital travel: Athens International Airport has launched a striking new website that helps enhance the airport experience for travellers and establishes an impressive "digital travelling gateway" to Greece for business and leisure visitors alike.
Designed by Mozaik  Integrated Digital Marketing Agency, the sharp-looking new website is clean, crisp and easy to navigate, offering quick-to-find information about virtually everything any traveller might need to know about the airport's services and facilities — and how and where to find them.
From real-time flight arrival and departures to airport access and transportation services, from corporate and business information to guides to duty free shops and tourism services, the website has it all — in a fun and dynamic presentation that features vivid time-lapse videoclips of scenes from the airport and Athens area.
This screen capture from the new Athens International Airport website shows one of the time-lapse video sequences that greets online visitors. This particular clip shows part of a dramatic sunset scene at spectacular Cape Sounion.
CONTINUED ON PAGE 2