May 2012 was dismal for island businesses
"May 2012 was a disaster for Mykonos," one hotel owner told me, explaining that travel dropped sharply last spring because of uncertainty about the outcome of the Greek financial crisis and the national elections. Once it became clear in June that Greece would remain in the Euro zone and that the Greek government appeared stable, bookings steadily increased and travel to Mykonos picked up during the rest of the season. Some businesses were able to recoup part of the losses they sustained during May, but many didn't recover from the dismal month, and ended the season deep in the red after paying their high taxes and high business operating costs.
That shouldn't happen this year.
During my holiday, I found Mykonos Town to be far busier than it had been in 2011 and 2012, especially when cruise ships called at the island. On those days, the town center was buzzing with activity as large tour groups from the cruise ships wandered the narrow lanes and alleys and explored the seafront and Little Venice areas. Shops were bustling with browsers and buyers, and the harbour-view tavernas along Akti Kambani street were humming, their terraces often almost full to capacity.
I heard American, Australian, Canadian and English accents everywhere I went on the island, and noticed that a large percentage of cruise ship passengers spoke French and Italian. But what was most remarkable was the number of Asian tourists, particularly Chinese, visiting the island. Usually travelling in big organized tour groups (and not from the cruise ships), the Chinese visitors were far more visible than tourists from other continents, and in many places often outnumbered other nationalities.
Hotel bookings up more than 30%
Locals confirmed my impression that tourism is on a strong upswing. Numerous hoteliers and staff at shops and restaurants told me that hotel bookings are up anywhere from 30 to 40% over the same time last year, and one said the island is expecting to receive more than 2 million visitors this season. Several hotel managers told me their properties are almost fully booked from June through to early September, and have been getting substantially more reservation inquiries by emails and through their websites than they did last year.
This supports feedback I have received on the TripAdvisor.com Mykonos forum, where many travellers planning vacations for June, July and August have repeatedly told me that the hotels they contacted have all been fully booked. 
If you're considering a trip to the Greek Islands this summer, and plan to visit Mykonos, be sure to book your accommodations as soon as possible. Rooms at popular hotels both in Mykonos Town and at beach resort areas are filling up fast!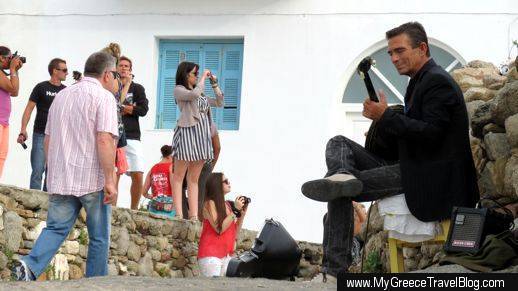 A local musician strums his bouzouki while tourists snap photos of Paraportiani Church and other scenery in the Kastro area of Mykonos Town