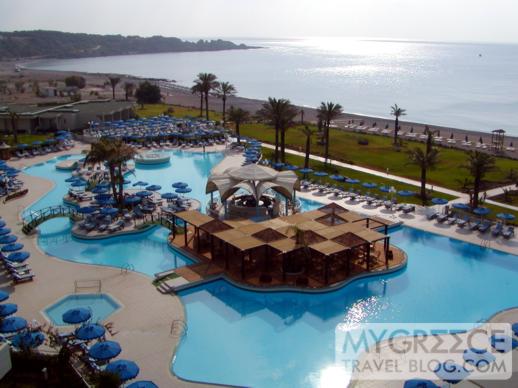 A late afternoon view of the huge free-form swimming pool at the Rodos Palladium. The pool is just steps from Kallithea beach, 8 km from Rhodes Town.

Hot and cold: The biggest hotel swimming pool we've seen in the Greek Islands — so far — was the large free-form pool at the five-star Rodos Palladium hotel, just a stone's throw from Kallithea beach on Rhodes.
We stayed at the Rodos Palladium on an island-hopping package tour during our first-ever trip to Greece back in 2004. The swimming pool and its spacious deck looked quite impressive from our hotel room balcony, and reminded us of some of the huge free-form pools we've enjoyed at resorts in the Caribbean and Central America. The big difference was the water temperature. Whereas we spent hours in the pool on our holidays to the southern destinations, we couldn't even get in the pool at the Rodos Palladium because the water was so incredibly cold! Even after laying in the sun for a couple of hours, the water was too cold to bear. We weren't the only ones who couldn't get in — very few other guests could tolerate the cold temperature, either. Only a couple of people braved the chilly water, and didn't stay in it for long.
The hotel also has an indoor heated pool, but the water temperature there was at the other extreme — way too hot! It felt like swimming in a giant hot tub, and the hot water wasn't the least bit refreshing.  We didn't get any photos of the indoor pool — the pool room was so steamy, it fogged up my camera lens — but we did take several pics of the outdoor pool, which appear below: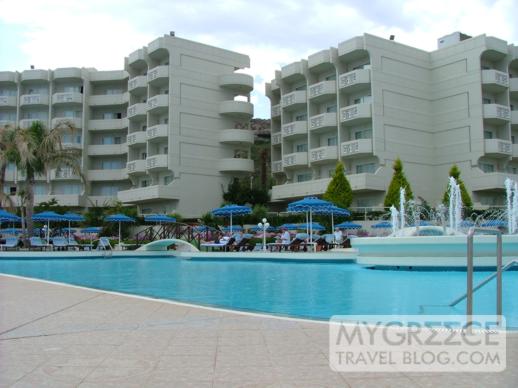 Looking across part of the outdoor swimming pool toward two of the Rodos Palladium hotel buildings …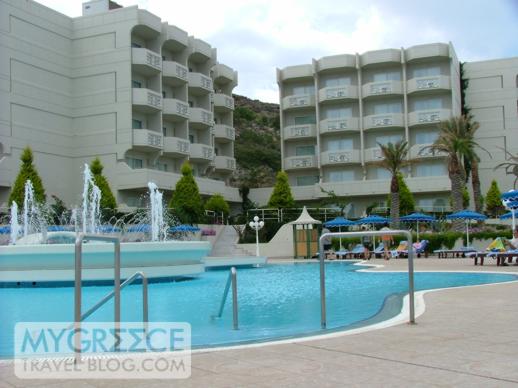 … and looking to the right, from the same position, at another hotel wing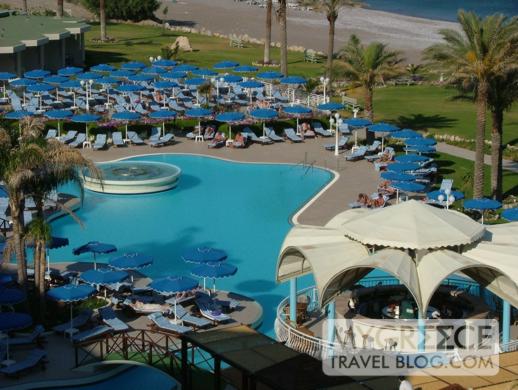 Our hotel room balcony view of the Rodos Palladium swimming pool. Note the rows of dozens of lounge chairs and umbrellas at the far end of the pool.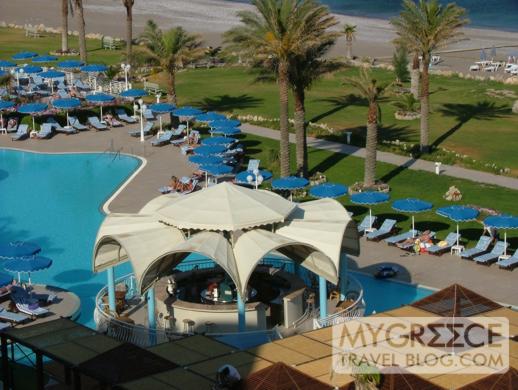 The circular bar in the middle of the Rodos Palladium pool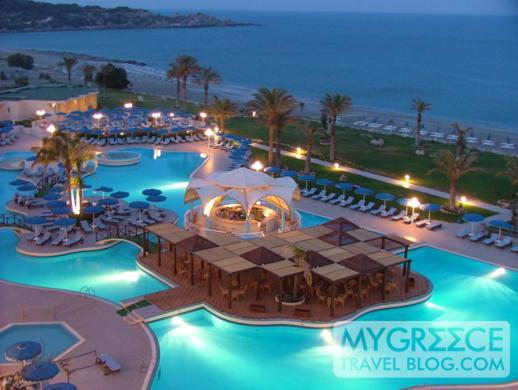 A view of the Rodos Palladium swimming pool and beach at dusk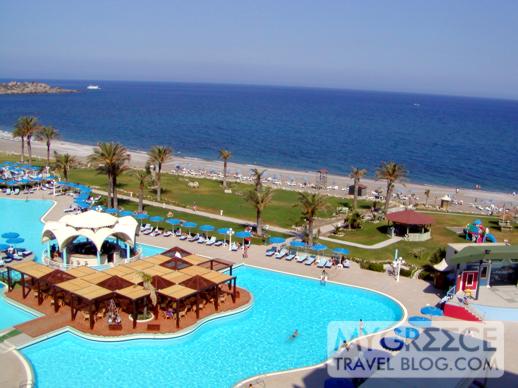 An afternoon view of the pool. Three people are visible in the pool, probably the most we saw in the bone-chilling-cold water at any one time — even though the air temperature was rather toasty, hitting the high 20s Celsius.